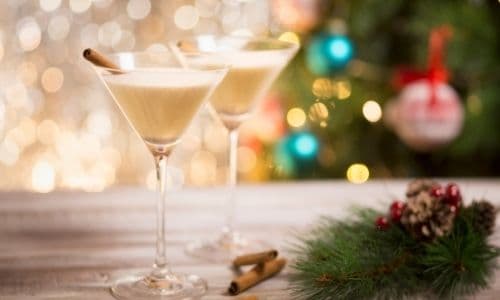 Easy Recipe for Spiked Holiday Cocktails with Eggnog
Mix up this recipe for the most delicious holiday cocktails with eggnog this holiday season!
What was your favorite holiday drink as a kid? Mine was Eggnog!
I was a huge fan of eggnog as a kid and still enjoy it in festive drinks during my Christmas celebration. It's rich, creamy, and packed with flavor-perfect for most holiday parties and can be served to all age groups.
Spike it with Irish Whiskey and make a big batch for adults. Or make your favorite traditional eggnog recipe and top it with a dash of cinnamon for the kids. It is fabulous this time of year!
This recipe for a Winter Wonderland cocktail combines eggnog with other holiday favorites like amaretto, cognac, nutmeg, and ice cream.
Cozy up with your favorite foot warmer and enjoy this cool spiked eggnog by the fire.
What are you waiting for? Get the ingredients list today and start mixing. You won't regret it.
What is Eggnog?
Eggnog is a dairy-rich drink that is typically made with milk, heavy cream, sugar, raw eggs, and nutmeg. But you can also make dairy-free eggnog, vegan eggnog, and eggnog without sugar.
I'll stick to the original delicious recipe using the basic formula with the egg yolks included, thanks.
Whether you make your own homemade eggnog recipes or use store-bought eggnog, it can be easily made festive with toppings such as a dash of nutmeg grated nutmeg or ground cinnamon, some whipped cream, and garnish with a cinnamon stick or chocolate shavings.
It is a sweet creamy drink that is a celebratory treat for both old and young! It is a great option for serving at your next holiday party.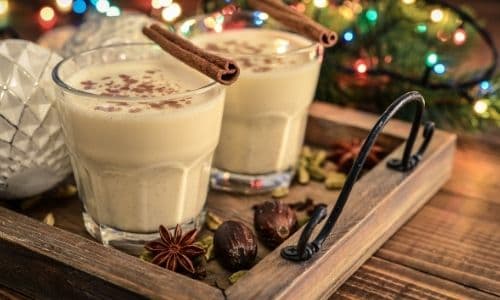 How to Serve Eggnog During the Holidays
Holiday cocktails with eggnog can be served in any kind of festive cocktail glass, chilled glass, mug, or brandy snifter.
For larger gatherings, the best way to serve a creamy eggnog cocktail or other holiday drinks is to use a punch bowl. This way guests can enjoy a festive eggnog cocktail without taking you away from other things you need to do.
You can also set up an Eggnog Bar. Set out your eggnog in something to keep it chilled and add different toppings in bowls next to it. Add interesting glasses and you're done!
What Alcohol Mixes with Eggnog?
Both homemade and commercial eggnogs are made in alcohol-free versions, but many homemade recipes incorporate brown, aged alcoholic beverages, such as bourbon, brandy, or rum.
Most alcohol is added during preparation or you can pour it directly into the cup after the nog and give it a good stir.
For example, some recipes specify dark rum or spiced rum, for extra flavor. A few recipes suggest using Bailey's Irish Cream or even Guinness stout in the drink.
Typically, rum, bourbon, Irish Whiskey, peppermint schnapps, and flavored vodkas mix well with eggnog.
A Little Bit of History on Eggnog
The beverage is believed to have originated in England where it was also called an Egg Flip as it was mixed by "flipping" or rapidly pouring the mixture between two pitchers.
One dictionary lists the word "eggnog" as an American term introduced around 1775 meaning "a strong ale" made with egg. Even though the drink was originally made for the British aristocracy, eggnog became popular on both sides of the Atlantic.
Our first president, George Washington, reportedly served an "eggnog-like drink" to visitors. His version included "rye whiskey, rum, and sherry" to warm and welcome those who came to Mount Vernon. Good man!
What Makes a Spiked Eggnog Holiday Cocktail?
Eggnog is readily available in your local grocery store, especially during the holidays from Thanksgiving to Christmas eve. But, just drinking eggnog mixed with rum, bourbon, or peppermint schnapps is pretty common. So amp up your game and lift your holiday spirit by making this amazing holiday cocktail with eggnog!
When creating a festive cocktail, you want to select ingredients that will really complement the season. Eggnog is cool and creamy, but add rum, whiskey, cognac, or amaretto and you'll warm up the eggnog flavor with some seasonal spices.
During this time we have an excuse to create and enjoy drinks with warm spices like cinnamon and nutmeg. So grab that eggnog and amp it up with this festive and delicious cocktail recipe!
What is this Delicious Holiday Cocktail with Eggnog?
Let me introduce your new favorite spiked eggnog cocktail the Winter Wonderland.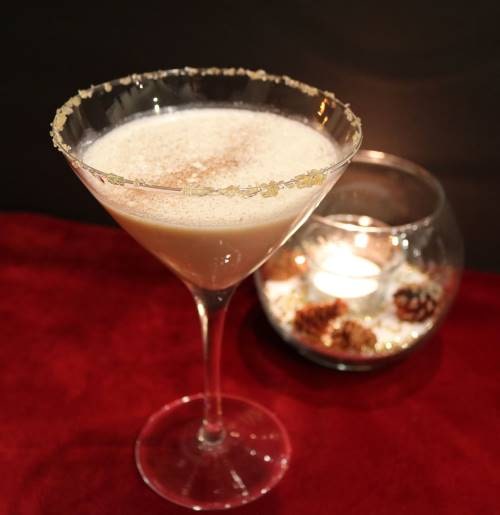 Eggnog is always present when opening Christmas gifts in my home. Back in the day, my parents would pour themselves the adult version but would serve our age-appropriate pour, sans any kind of alcohol, in the same beautiful glass. It made the drink so pretty!
After many Christmases, I still keep eggnog in my fridge for the holidays. But, for me, it is too sweet to drink straight. Adding just a shot of alcohol in it can get pretty boring. So I have worked on different eggnog cocktails to enjoy the delicious creamy concoction with an over 21 twist.
At first glance, this holiday cocktail with eggnog looks really sweet, but it isn't over the top. The eggnog and ice cream make it creamy and are balanced by the booze.
This really is a recipe for a yummy drink that will impress all your guests this year!
What is in a Winter Wonderland?
When it comes to mixing up cocktails, using quality ingredients is key. Not only will this make your drinks taste better, but it will also help you create unique and interesting concoctions.
Here are a few of my favorite cocktail ingredients to use in this special cocktail.
1. Eggnog – This classic holiday drink is rich, creamy, and packed with flavor. It's perfect for any celebration during the holiday time of the year!
2. Amaretto – This almond-flavored liqueur adds a delicious depth of flavor to cocktails. Also, caramel vodka would be an interesting addition.
3. Cognac – A good cognac will add a touch of sophistication to any drink.
4. Nutmeg – This fragrant spice is the perfect addition of nutty flavor in winter cocktails You could also try ground cinnamon.
5. Ice cream – Adding a touch of ice cream to your drink is the perfect way to kick things up a notch. Not only does this add some extra richness, but it also creates some fun texture in your drinks! Instant dessert!
Serve as a welcome cocktail or make it for the dessert-either way you'll be sure to have everyone asking for seconds!
How do You Make This Holiday Spiked Eggnog cocktail?
Dampen the rims of two martini glasses and dip them in the raw sugar to coat the rim. This is optional but makes for a pretty presentation.
Combine the ingredients list from eggnog through ice cream in a blender and process until smooth. Pour into sugar-rimmed glasses and sprinkle a little nutmeg or cinnamon on top. Voila!
What Other Winter Cocktail recipes should I try?
Here are a few ideas.
Enjoy a Spiked Eggnog Cocktail!
Eggnog is the perfect drink to enjoy during the holidays. It's rich, creamy, and packed with flavor-perfect for any celebration!
If you're looking for a way to make your holiday celebrations even more special this year, try out this Winter Wonderland cocktail recipe. This holiday cocktail with eggnog combines eggnog with other flavors like amaretto, cognac, nutmeg, and ice cream which will have everyone asking for seconds.
Giving this recipe a try this season may be just what you need in order to impress all of your guests.
Eggnog is usually great paired up with pies or cakes so why not give that a go too? There are so many delicious treats to be made during the holidays so why not try out something new this year?
Happy Holidays!
Cheers Y'all!
P.S. Caring is Sharing. Please post a link to this article on any of your social media platforms and pass on the deliciousness of an eggnog cocktail.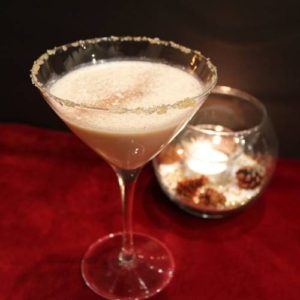 Winter Wonderland
Ingredients
Raw sugar

1

cup

eggnog

cold

¼

cup

cognac

¼

cup

amaretto liqueur

¼

tsp

ground nutmeg

2

Tbsp

vanilla ice cream

Cinnamon

for garnish
Instructions
Dampen the rims of two martini glasses and dip them in the raw sugar to coat.

Combine eggnog through ice cream in a blender and process until smooth. Pour into sugar rimmed glasses and sprinkle a little cinnamon on top.