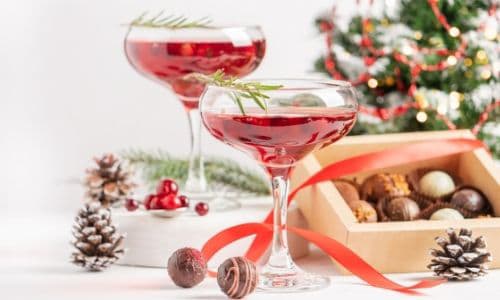 A Marvelous Berry Merry Christmas Cosmopolitan Cocktail for Cheering
Enjoy this recipe for a Christmas Cosmopolitan cocktail to make merry this season.
Christmas is one of the most festive times of the year. It's a time for celebrating, spending time with family and friends, and enjoying some delicious holiday drinks. One drink that's perfect for the occasion is a Christmas Cosmopolitan.
This fan favorite gets its name from being popularized in 1980s Hollywood. It's the perfect way to end your night or start your happy hour!
What is a Christmas Cosmopolitan?
A Christmas cosmopolitan is a drink that is perfect for the Christmas holiday season. The drink is made of cranberry juice, lime juice, vodka or gin (or both), triple sec or Cointreau, orange liqueur such as Grand Marnier or Curaçao, sugar simple syrup to taste (optional) plus ice cubes.
To make it even more festive you can garnish with an orange slice and/or cranberries.
Drizzle another 1/2 ounce of orange liquor on top of the drink to put it over the top.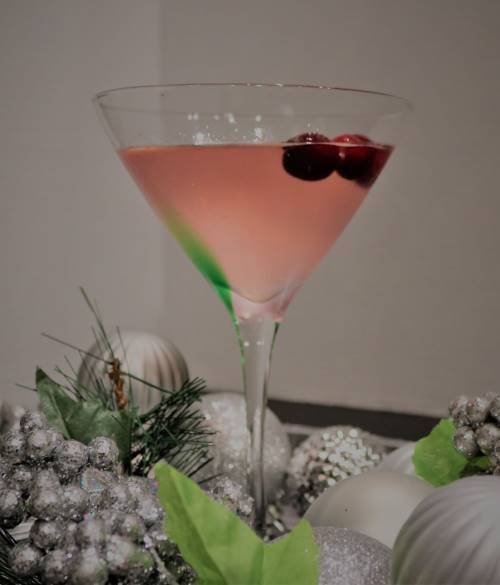 What's in a Christmas Cosmopolitan Cocktail?
Bright citrus flavors are mixed with tangy cranberry or pomegranate juice.
Ingredients
Good quality Vodka – I use Citrus vodka
Cointreau or Triple Sec
Fresh lime juice or Rose's Sweetened Lime Juice for a sweeter drink
Cranberry juice or pomegranate juice
Frozen cranberries and/or orange peel for garnish
What is the difference between Triple Sec and Cointreau?
Triple sec is a liqueur made from the skins of oranges. The alcohol content can range from 15% to 30%, depending on the brand.
Cointreau is also an orange liqueur but it is a proprietary brand. It is made from both sweet and bitter orange skins. The alcohol content is also higher at about 40%.
How to Make a Christmas Cosmopolitan Cocktail
In a cocktail shaker, combine all ingredients except cranberries and orange peel. Add ice cubes and shake until well blended. Strain into two martini glasses.
For a pretty presentation run an orange slice around the rim of the martini glass and dip in sugar before pouring the strained cocktail.
Garnish with an orange peel and/or frozen cranberries.
Is a Cosmo a Girly drink?
This Christmas Cosmopolitan is a festive take on a classic cocktail and is suitable for any gathering. It's true that the classic Cosmopolitan has a reputation of being a "girly" drink thanks to its pink color, but it really is a great classic suitable for manly occasions as well. Real men wear pink you know.
How to Enjoy your Cosmopolitan this Christmas
When entertaining family and friends this Holiday Season, mix up some Christmas Cosmos for you and your friends and try some of these ways to stay entertained during winter break.
1. Watch some of your favorite holiday movies or TV shows on Netflix or Hulu.
2. Zoom with each other while online shopping for Christmas gifts.
3. Read a new book as a club and review it together.
4. Play interactive games on your phone or computer like Jackbox games or Exploding Kittens.
5. Make a date to explore something new in your city. Have everyone do research on what to do and where to dine.
Other Holiday Cocktails to Enjoy with Friends
Explore other great winter cocktails like the spicy Gingerbread Martini, or zingy Candy Cane Russian, and deliciously relaxing Winter Wonderland on my post 8 Cozy Christmas Stocking Inspired Cocktails to Spice Up Your Holidays.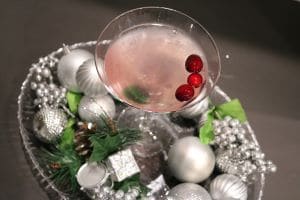 Invite Friends Over for a Christmas Cosmopolitan Cocktail
If you're looking to unwind after a long day, there's nothing quite like enjoying a holiday drink with friends. For the best and least expensive drinks in town, make them at home!
Invite some friends over and enjoy this delicious and festive Christmas Cosmopolitan cocktail. It's perfect for cheering the holidays!
Cheers Y'all!
P.S. Sharing is caring! Please post a link to this on your favorite social media and share it with your friends. Thanks!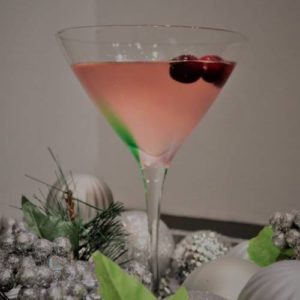 Christmas Cosmo
Ingredients
4

ounces

Vodka

2

ounce

Triple Sec

1

Tbsp

Fresh Lime Juice

2

ounce

Cranberry Juice

Frozen Cranberries
Instructions
Pour ingredients into a cocktail shaker with ice. Shake for 30 seconds and pour through a strainer into a martini glass. Garnish with a few frozen cranberries.