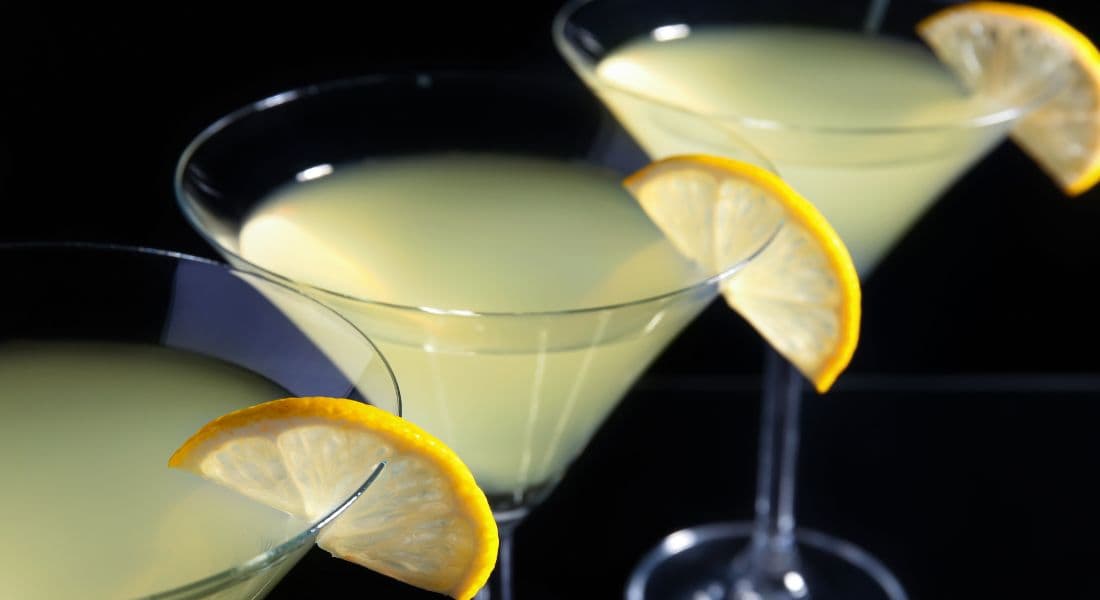 How to Make Limoncello Martini Recipe – Easy Lemon Drop Cocktail
Follow this Limoncello Martini recipe and you'll be on your way to discovering your next favorite cocktail!
Whether you're throwing a party or just want a quick and easy cocktail for a relaxing night at home, this Limoncello Martini recipe makes the perfect drink.
Made with limoncello and vodka, with a few delicious alternatives provided below, it's refreshing and flavorful. Plus, it's so easy to make that you can have your first drink ready in just minutes! Enjoy!
What is Limoncello?
Limoncello is a traditional Italian lemon liqueur originating from the Amalfi coast in the south of Italy.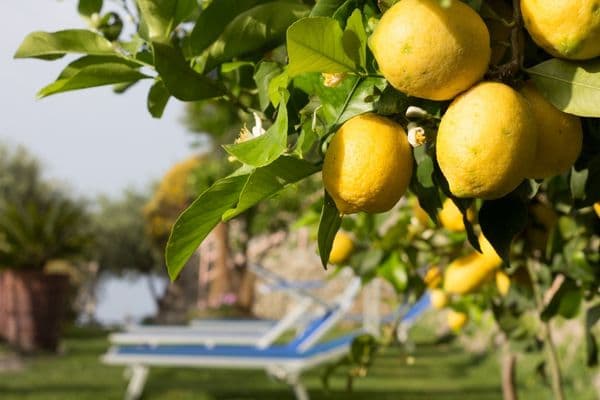 Amalfi lemons are world famous for their fresh tart flavor. These are not the typical variety of lemons you find in your grocery stores. Limoncello's history is not clearly known, but it does come from this part of the world. While it has become popular in many parts of the world, it continues to be most associated with Italian culture and heritage.
This sweet, lemon-flavored Italian liqueur is made from vodka, sugar, and the zest or oils from fresh lemons. Limoncello is usually served chilled as an after-dinner drink or digestif. It is the key ingredient in this Limoncello Martini recipe!
Whether it's being used as part of a cocktail recipe or savored on its own, limoncello can be a delightful addition to any occasion.
You can find your new favorite brand in your local liquor stores or you can make your own limoncello! Just try it!
How to Make Homemade Limoncello Recipe – Best and Authentic
You can find a great recipe here – How to Make Homemade Italian Limoncello. Make some for yourself and use the extra to gift to friends!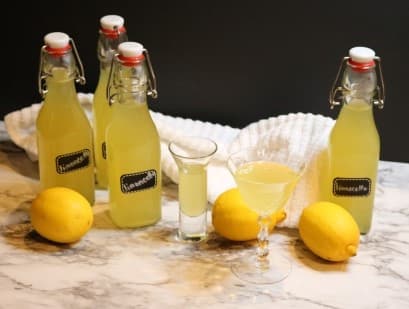 Basically, you'll need the most perfect lemons you can find. You will remove the lemon zest of 10-12 lemons using a sharp knife, fine grater, or vegetable peeler. Mix with vodka in an airtight container and let it sit for a week or so. Strain it through a fine mesh strainer into a glass jar.
Make your own simple syrup by combining a cup of water and a cup of sugar in a large pot and heat over medium heat until the sugar has dissolved. Let it cool and combine it with the infused vodka.
Serve chilled and enjoy or make the Limoncello Martini recipe below. This will become one of your favorite cocktails to make at home!
Ingredients for Limoncello Martini Recipe
Don't confuse a Limoncello Martini with a classic vodka martini. Yes, there is vodka, but the drink is entirely different. Just think of it as a lemon cocktail if the term "martini" sounds daunting.
You'll need the following ingredients to make your own delicious lemon-flavored classic cocktail:
Smooth vodka
Your favorite brand of limoncello or good quality limoncello.
Ice
Lemon Zest or lemon slice for garnish
So simple, yet so delicious!
Instead of using store-bought, you can also make your own limoncello!
How to Make this Recipe: Limoncello Martini
The best way to serve any classic martini is not at room temperature. Cool these simple ingredients down in your shaker.
You can also put your glasses in the freezer before making this drink.
Fill a cocktail shaker with ice cubes. A well-stocked cocktail bar should always have a good, tight-sealed cocktail shaker!
Add two parts vodka and one part of delicious limoncello.
Place the lid on your shaker and shake for 10-15 seconds.
Pour into a well-chilled martini glass.
Garnish and serve.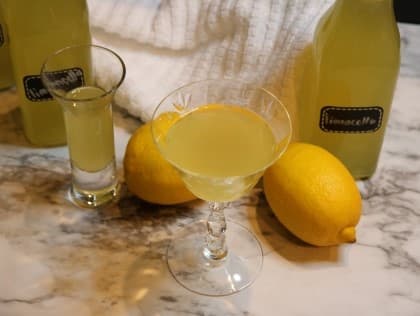 A Couple of Tips
If you like additional lemon flavor in your drink, use citrus-flavored vodka.
I don't recommend using fresh lemon juice in this particular drink due to the bitter elements of the juice.
If you want a sweeter cocktail, then use equal parts vodka and limoncello.
I'll bet this becomes one of your favorite cocktails to make any time of year!
How to Garnish and Serve
Garnishing and serving a delicious Italian limoncello martini recipe is a bit of an art form. Feel free to use martini glasses or a coupe glass to serve this delicious drink.
One lovely way to serve this Limoncello Martini is with a lemon sugar rim. Start by running a lemon wedge around the rim of the glass. Dip the rim into sugar to coat. Pour in the martini and serve.
Here are a few more ideas for serving this drink with flare:
Place a small lemon slice on the rim of the cocktail glass.
Or place a thin slice of lemon on top of the drink.
Put a fancy sugar stick in the drink.
Add herbs such as a sprig of rosemary, small mint leaves, or thyme sprigs to the top of the drink. The dark green colors provide a nice contrast to the beautiful yellow color of the limoncello.
Add fine strips of lemon peel rolled in a spiral.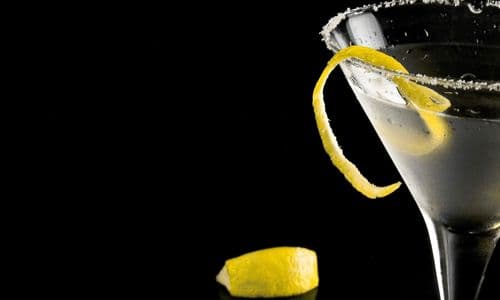 Sip slowly and enjoy the tart sweetness of this classic Italian treat. Whether served solo or with friends, it's sure to be a hit!
Recipe for Lemon Drop Martini
In case you want a more tart and citrus flavor than the Limoncello Martini recipe, here is a quick Lemon Drop recipe:
½ cup sugar
2 ounces vodka
¾ ounce Cointreau
1 ounce of lemon juice (use fresh)
Lemon twist (for serving)
Make your own simple syrup by combining ½ cup sugar and ½ cup water in a small saucepan. Heat over medium until sugar dissolves. Let cool.
Combine 2 ounces vodka, ¾ ounce Cointreau, 1-ounce fresh lemon juice, and ½ ounce simple syrup in a cocktail shaker filled with ice cubes. Shake vigorously for 10-20 seconds. Then strain the cocktail into a chilled martini glass and garnish using the ideas above.
Voila! It's so easy to make this delicious Lemon Drop Martini recipe!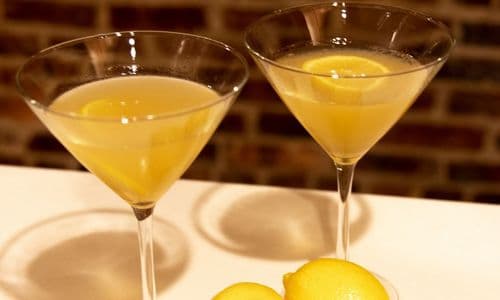 Cocktail Alternatives for a Limoncello Martini
Dish up a Raspberry Martini using equal parts of limoncello and a berry-flavored vodka.
Concoct a Limoncello Spritz. Fill a glass with ice and add one or two ounces of limoncello. Top with club soda and garnish with small mint leaves.
Make a citrus martini by adding ½ ounce of orange liquor or triple sec to the Limoncello Martini recipe.
Make a Sparkling Limoncello Cocktail by topping an ounce of limoncello with Prosecco.
Make this Limoncello Martini Recipe for your Next Gathering
When you have friends over it is a good idea to have a few cocktail recipes in your "go-to" file. This Limoncello Martini recipe makes a delicious drink that will become one of your favorite cocktails!
Make your own limoncello this season and gift it to friends! Add a small recipe card for this Limoncello Martini and your gift is ready to go!
For more inspiration on how to make and gift limoncello, see this post titled How to Make Homemade Italian Limoncello. The recipe is included and it's easier than you think!
Cheers Y'all!
P.S. Share this recipe with friends on social media! Also, if you make this recipe please rate it and comment below! Thanks!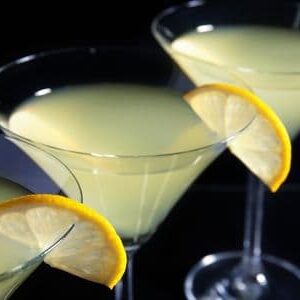 Limoncello Martini
This is a sweet tart lemon cocktail deliciously served any time of year!
Equipment
Cocktail Shaker

Small knife or vegetable peeler

To slice the lemon zest
Ingredients
2

ounces

Good quality Limoncello – or homemade!

4

ounces

smooth vodka

2

thin strips

Lemon rind or lemon slices

for garnish
Instructions
Place two martini glasses in the freezer to chill.

Fill a cocktail shaker with ice.

Add vodka and limoncello.

Place the lid on your shaker and shake for 10-15 seconds.

Pour equally into each well-chilled martini glass.

Garnish with thin strips of lemon rind or lemon slices and serve.
Notes
For a sweeter drink use equal parts limoncello and vodka.
Garnish with slices of lemon, spiral of lemon zest or lemon sugar rim on the cocktail glass.
Shared With…