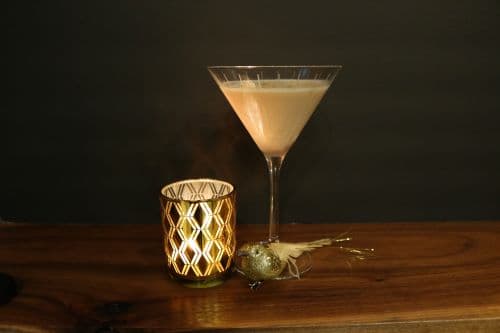 How to Make Gingerbread Martinis: Christmas Drinks with Baileys
Make this Gingerbread Martini recipe if you like Christmas drinks with Baileys. This cocktail will definitely help you make merriment this festive season and chase away the holiday blues. This delicious drink has all of the flavors of a sophisticated Christmas dessert in one glass!
This is one of the best creamy cocktails you drink! Also, it is one of the best delicious Christmas Cocktails you can make and it tastes especially good during the holiday time of year when you're feeling festive.
The sweet taste will make you forget about your worries and give you an instant mood boost. You'll be ready to face whatever life throws at you during the busy holiday season!
Don't wait until you are stressed out to try this delicious cocktail because you deserve it now!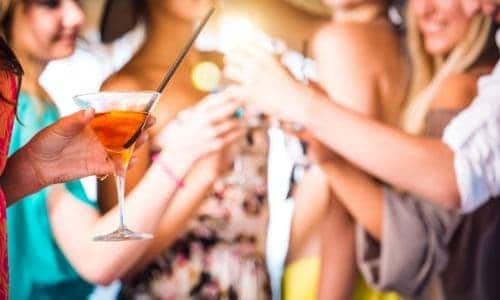 What is in a Gingerbread Martini?
A Gingerbread Martini is a delicious and sophisticated creamy drink that is a perfect cocktail for sharing at a Christmas party or whatever your next holiday party may be. It is a fantastic Christmas drink with Bailey's.
This festive cocktail is also a perfect after-dinner drink.
Additionally, enjoy it by the fire on Christmas eve after all the presents are under the tree.
This is not a gloopy drink and this Gingerbread Martini has no vanilla ice cream. It is made with a perfect balance of vodka, Bailey's Irish cream, Kahula, and ginger syrup.
This drink is sure to banish the holiday blues!
Ingredients for this Christmas Drink with Bailey's
Vodka
Irish Cream liqueur or Baileys Irish Cream
coffee liqueur or Kahlua
Ginger Syrup
Crushed gingersnap cookies for the garnish — You can also use chocolate sprinkles or a light cinnamon sprinkle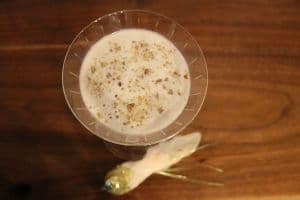 Gingerbread Cocktail Syrup
The ginger cocktail syrup comes together very quickly and makes enough for you to enjoy this winter cocktail all season long or you can use it for a big batch of Gingersnap Martinis to serve at any time. This simple syrup is made with five grocery store ingredients.
sugar
water
cloves
a cinnamon stick
a piece of fresh ginger
How to Make Syrup for Gingerbread Martini
Combine the sugar, water, cloves, cinnamon stick, and ginger in a small saucepan. Bring to a boil over medium-high heat stirring to allow the sugar to dissolve. Let cool.
You can make this ahead and keep it in your refrigerator for a couple of weeks.
How do You Make This Gingerbread Martini Recipe?
To make one Gingerbread Martini: Combine one and a half ounces of vodka, an ounce of Irish Cream or creamy Baileys, half an ounce of Kahlua or coffee liquor, and about 3/4 of an ounce of ginger syrup in a cocktail shaker with ice.
Shake well and strain into a chilled martini glass. Enjoy this delicious Christmas drink with Bailey's!
The recipe makes two servings of the Gingerbread Martini so you can easily share one of these boozy delights with a friend or three or even St. Nick himself!
Garnishing Christmas Drinks with Bailey's
Add a sprinkle of finely crushed gingersnap cookies to the top of the drink. It is a great way to garnish holiday drinks. You could even use them on top of an eggnog cocktail.
I use Trader Joe's Triple Ginger cookies for the garnish, but any hard gingersnap cookie will do. Make sure you pound the cookie into very small crumbs. You don't want chunks of your crushed cookie sinking to the bottom of your cocktail.
I don't recommend using sugar cookies for the rim. But they would taste great on a holiday dessert buffet with most Bailey's Christmas cocktails.
Additionally, you could use chocolate sprinkles, a light cinnamon sprinkle, or even a dusting of cocoa powder if you want that hint of chocolate flavor. It will be very mild, but delicious.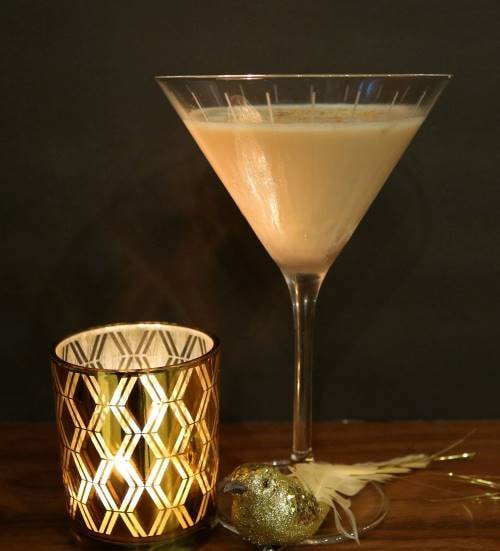 Why Does a Gingerbread Martini Taste so Good During the Holidays?
A Gingerbread Martini is a delicious drink that tastes especially good during the holidays. It is cool, sweet, and has just the right amount of spice.
It has the perfect balance of liqueur and spices and is very refreshing and zesty. The readily available ingredients used in this drink make it very easy to make and it tastes top-notch.
This Gingerbread martini actually reminds me of when my family lived in Germany. Each Christmas my Mom would pick up a tin full of lebkuchen. It is spiced gingerbread and often has dark chocolate or vanilla icing on it. Seriously, ginger cookies and dark chocolate. What's not to like?
Lebkuchen are not overly sweet cookies and I became addicted to these wonderful seasonal treats. My Mom knew how excited I was about them, so she tucked a little package of pfeffernusse cookies into my Christmas stocking. These are extra spicy ginger cookies with a glaze. Since they were in my stocking, I didn't have to share them with anyone!
More Holiday Cocktail Recipes
Looking for other cocktails to enjoy over the holidays?  Check these out:
Enjoy your holiday season with this delicious cocktail!
It became one of my favorite recipes last year. I started to call it Santa's magic potion because the creamy texture made my taste buds so happy!
The holidays are a time to be with friends and family, but they can also be stressful. There's so much planning involved for holiday gatherings that it often leads to the "holiday blues."
Luckily there are few things better than to cozy up on your couch or in front of the fireplace and relax. Why not do it with a Gingerbread Martini?
This drink will lift your holiday spirit a little bit while giving you an excuse to indulge this season. It may not last long, but you can savor this festive cocktail while you look forward to next year and have plenty more opportunities for happy times.
Cheers Y'all!
P.S. If you would please care to share I would appreciate it! Just post a link to this on your favorite social media or send it to your friends!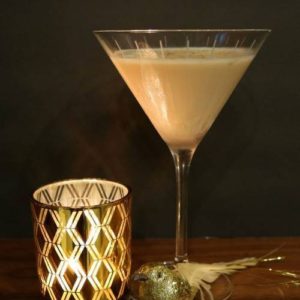 Gingerbread Martini
Ingredients
3

ounces

Vodka

2

ounces

Irish Cream liqueur or Baileys

1

ounce

coffee liqueur or Kahlua

1.5

ounces

Ginger Syrup

recipe follows

2

gingersnap cookies

crushed
Ginger Syrup:
½

cup

sugar

½

cup

water

3

cloves

1

large cinnamon stick

1

2-inch piece fresh ginger

cut into rounds
Instructions
To Make Ginger Syrup: Yield 3/4 cup
Combine the sugar, water, cloves, cinnamon stick and ginger in a small saucepan. Bring to a boil over medium-high heat stirring to allow the sugar to dissolve. Lower the heat and simmer for 5 minutes.

Remove from heat and let cool to room temperature. About 15 minutes. Cover and refrigerate for up to 2 weeks.
For the Martinis
Combine liquid ingredients in a cocktail shaker filled with ice. Shake well.

Pour into two chilled martini glasses and top with a sprinkle of crumbled gingersnap cookies.
SHARED WITH…