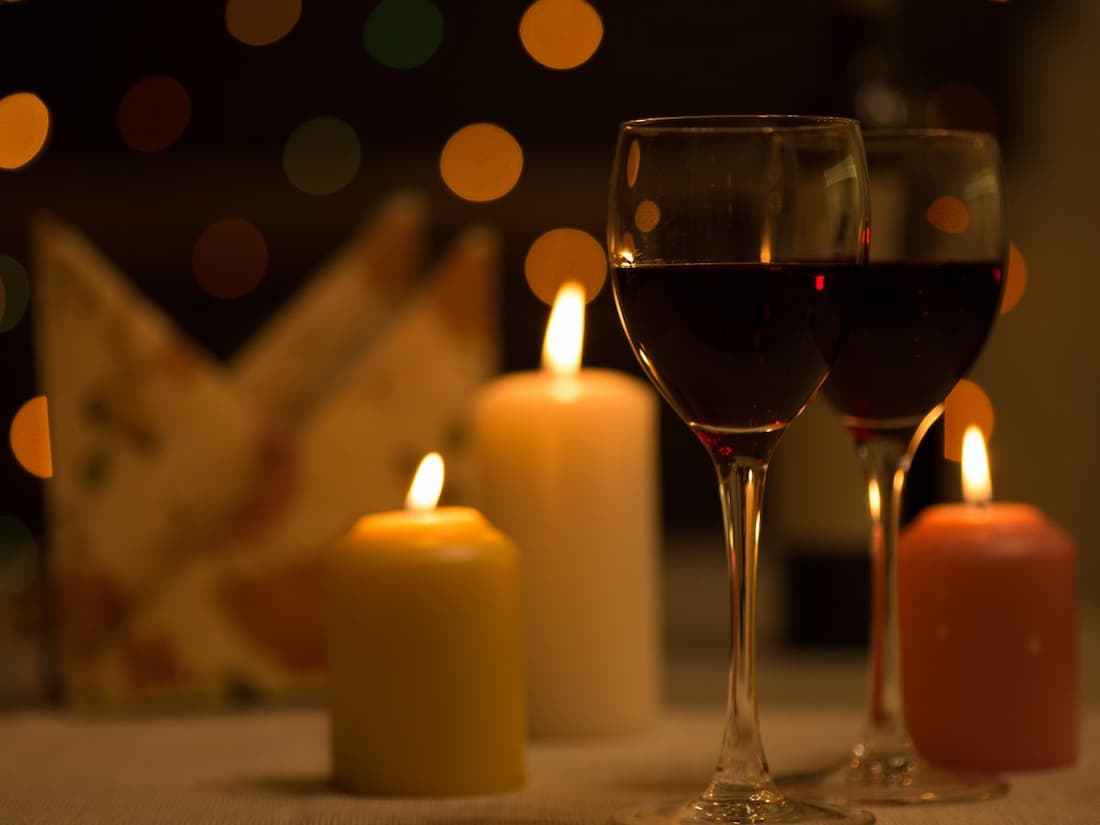 How to Make a Candlelit Romantic Steak Dinner for Two
A Candlelit Romantic Steak Dinner for Two can be the perfect solution when you are searching for romantic dinner ideas. Especially dinner on Valentine's Day.
Special Occasion Inspiration
Do you remember your first date with your special person? There was so much anticipation and planning involved to make sure everything went smoothly! A great first-date impression is critical. If it went well, maybe you are still with them.
However, maybe that was a long, long time ago.
When was the last time you made a plan for a special date night with your significant other? I'm not necessarily talking about going out for fancy dinners in the best restaurants and breaking the bank. I'm talking about a dinner date where you really focus on each other.
If you are looking for the right Valentine's Day dinner or just an impressive meal to celebrate special romantic occasions, a candlelit romantic steak dinner for two may be just the ticket.
Eating Out for Dinner on Valentine's Day
Of course, you can eat out for your romantic evening or Valentine's dinner, but make reservations early!
To find a great restaurant for romantic celebrations or Valentine's dinners, do an internet search. Many cities have a list of the best romantic restaurants that you can compare. Especially in February when romantic meals are widely advertised and a special romantic dinner menu for two pops up in most restaurants.
Big Ticket Romantic Dining
You may plan on making a reservation at that fancy French restaurant you want to try which offers a "perfect romantic evening". Indulge in their foie gras or order a classic dish like beef bourguignon. It's really just a fancy-pants version of beef stew, but so impressive sounding on the menu.
Impressive and expensive.
Favorite Restaurants for a Romantic Evening
Then again, perhaps you have your favorite Italian place picked out? Your well-known spot creates all kinds of special house-made pastas with seasonal ingredients which you look forward to enjoying on your romantic evening out.
Romantic dinners often make me think about that Lady and the Tramp moment when they are eating spaghetti and meatballs with that beautiful bright tomato sauce and then accidentally kiss at the end of the noodle. So sweet!
Sweet moments like this are what most seek on Valentine's day or for romantic celebrations. And maybe a small special gift that makes your knees a little weak. It doesn't have to be expensive. Just thoughtful and from the heart.
Of course, you can skip the big main course and opt for a grazing an a la carte menu at a great wine bar instead. It's a great way to enjoy a lighter meal and still be romantic!
Maybe you want an impressive, romantic meal, but not quite so expensive?
Maybe you waited too long and cannot score that great reservation.
Well, how about cooking at home?
How About a Candlelit Romantic Steak Dinner for Two at Home?
A romantic steak dinner for two at home may not be a unique take on your Valentine's day dinner menu, but it is a good one to consider.
Also when you think about it, cooking at home gives you a better opportunity for quiet, intimate conversation. You set your own pace, control your environment, and get to enjoy good food. And it is much less expensive than dining out!
Initially, a homemade dinner may not stoke the fires for the most romantic thing you have heard of, but what better way to show someone you love them than to cook for them?
I cook special meals for those I care about as a labor of love to show them how much they mean to me.
And I'm just sayin', a juicy steak dinner is a love potion for me!
Better yet, cook together at home! Spending time together in the kitchen, or at the grill, can become the secret ingredient in all of your romantic dinner recipes.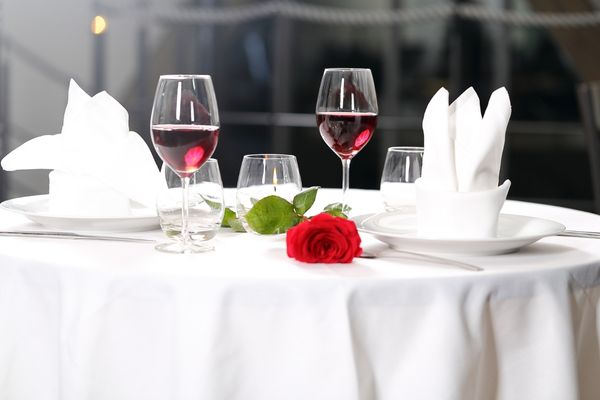 Can You Have a Romantic Dinner at Home?
If you are looking for a good reason to enjoy a candlelit dinner at home here are a few to think about.
No drinking and driving
Restaurants are packed
Restaurants are expensive
Restaurants are noisy
You can relax at home and take your time
You get to listen to the music you like
Your cozy night in can quickly become a hot night at home
Romantic Steak Dinner
A steak dinner is a simple, yet impressive meal with a little bit of extra effort.
If you are looking for advice on how to create a Perfectly Grilled Steak Dinner then this post is chock full of tips for creating a perfectly grilled steak every time.
Additionally, this is actually an easy meal, with little cleanup. So, no one is stuck in the kitchen doing loads of dishes. Relax on the couch with an after-dinner cocktail instead.
Or just leave the dishes until the morning and enjoy each other. (Cue romantic music)
How to Plan a Romantic Candlelit Steak Dinner for Two
With just a little advance work, you and pull together a very romantic evening at home.
Do Some Advance Planning
Pick a date for your celebration. If you have kids, make arrangements for them to overnight at a friend's house. You are celebrating each other and this calls for one on one time without distraction or interruption.
A few days in advance, make a playlist or choose a channel to stream good background music. You don't want anything getting in the way of intimate conversation, but you do want to set the mood. Get your sexy on!
If you are good with words, write a poem or thoughtful note to your special person. Put the note at their place setting. If you are not good at writing your own, find a romantic poem and copy part of that instead. It is still a beautiful and thoughtful sentiment.
Pick a wine deserving of your special occasion. There are many good choices under $25, so don't think you have to pick a very expensive bottle. (See recommendations below.) Decant your bottle an hour or two before dinner.
If you want a special cocktail, find it in advance. Then, get those ingredients when you purchase your wine.
Plans for the Romantic Evening
Dress nicely. Not a tuxedo or cocktail dress, but not stay-at-home sweats either. Make an effort.
Set the table with nice placemats, linen napkins, your best dishes, and low candles. Some flowers would be a lovely touch. Just something small and low so you can still look dreamily into your beloved's eyes.
Share an easy and light appetizer while prepping your dinner together. Nothing too filling or rich. Maybe something you can feed each other?
Grill the steak and Romaine when the baked potato is almost done.
Finish with a gorgeous Valentine's day dessert that you make in advance or pick up at the store.
Voila! Easy peasy.
Make this Celebratory Romantic Dinner Menu
For what you could spend on one person dining out, you should be able to spend on both of you to dine at home including a great bottle of wine and a cocktail.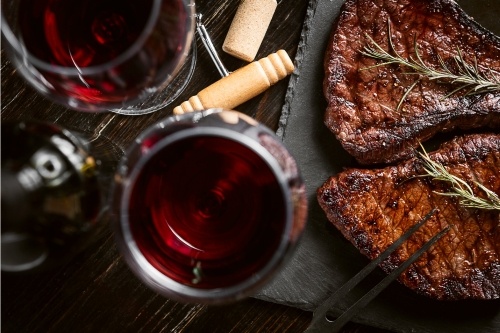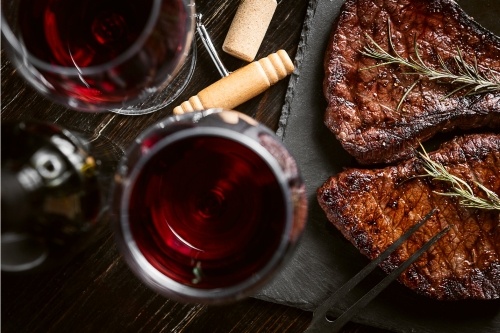 This menu includes the appetizer, steak, baked potatoes, grilled romaine, dessert, and wine in the calculation.
Shop for a higher-end, flavorful cut of meat like a filet mignon, good rib-eye, or New York strip. The strip is one of my favorite steaks for cooking at home. We usually buy one good-sized strip and split it.
If you need a little guidance on grilling a steak, here is a post with tips and advice on checking doneness and temperatures. It includes a Temperature Guide for the Best Temperature to Grill Steak.
If you are really not that into steak, you can easily replace it in this menu with short ribs or even a pork tenderloin if you prefer. The rest of the steak dinner menu can remain the same.
Add Some Surf to Your Turf
Elevate the original romantic dinner idea above with some flavorful fish or fresh seafood!
You can opt for the sweetness of fresh scallops which are great off the grill. Scallops are a delicious starter idea as well. You can grill or pan-sear your scallops. Then, when you serve them, sprinkle them with a few fresh herbs like finely chopped thyme or basil and a drizzle of melted butter
Or go all in and add lobster tails to the menu. Again, great off the grill! Serve with lemon juice and drawn butter.
Another option is shrimp. Also easy to grill and just as tasty in a smaller portion than a lobster tail.
Crab cakes are also a good option and are available already prepared in your grocery store. Just cook according to their directions and serve with some lemon slices.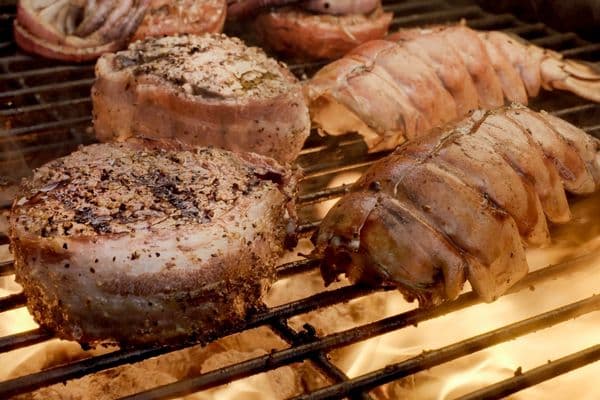 Side Dishes for a Romantic Steak Dinner
Personally, I am a big fan of the traditional baked potato with steak. For added flavor, rub your potatoes with olive oil and sprinkle them with a little sea salt before baking.
I also enjoy sweet potatoes but top them with the same savory flavor toppings as a regular potato. No brown sugar and cinnamon for me. I always break out the sour cream, chives, bacon, and cheese no matter which potato I cook.
If you are not into baked potatoes, an easy yet elegant pasta would be a good side dish. Think orzo tossed with good olive oil and a sprinkle of freshly grated Parmesan. Add a small drizzle of truffle oil and you have elegantly elevated your meal.
You can also play up the romantic red color associated with Valentine's Day and lovers by making a creamy sauce with sun-dried tomatoes and tossing your pasta with that. Gorgeous and delicious.
Another good pasta to serve with steak is creamy mac and cheese. Just find a great recipe rather than the boxed stuff. You can also swap out the cheese in the recipe for your own favorite cheese.
Salad with your Candlelit Romantic Steak Dinner for Two
For the salad with steak, I enjoy grilled Romaine. If you have never tried it, then you are in for a treat.
It is simple to prepare but tastes completely different from a regular cold salad. And it is easier to eat than the giant wedge of iceberg lettuce you find in many steak restaurants.
How to Grill Romaine
Start by cutting a Romaine heart in half. If it is very large you can cut it into quarters.
Spray your cut pieces of Romaine with good olive oil. Just a light coating is needed.
Then, lightly season the lettuce with salt and pepper.
Grill it on medium-high to high heat just before the steak. Place the Romaine cut side down on the grill over indirect heat for a very short period of time. Just until a few edges of the lettuce get charred. This takes about 30 seconds to one minute depending on your grill.
Then, turn it over and give it one to two minutes on the other side.
You are looking for light char on the tips of the leaves and some wilting as well. Keep an eye on it as it can burn quickly.
Serve this at room temperature with juicy tomatoes on top. Cut grape or cherry tomatoes in half or chop up a medium vine-ripened tomato.
Finally, top with a little Bombdiggity Blue Cheese dressing (part of a Labor Day cookout menu) and freshly ground black pepper. Simple and delicious!
Dessert for a Romantic Candlelit Dinner for Two
After a hearty steak dinner, a thick rich dessert is a bit much. Too much decadence in one night and everyone goes to bed with indigestion or heartburn. Not a romantic end to such a great evening.
Think about keeping your dessert a little lighter.
Chocolate Soufflé
If you do want a decadent, but not too heavy dessert try this recipe for From the Freezer Chocolate Soufflé. You can make these very far in advance.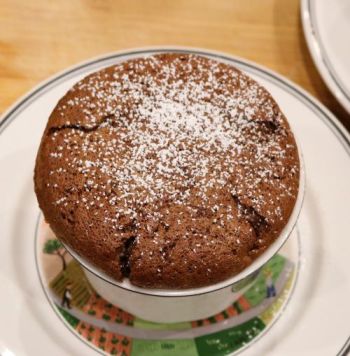 Keep them in the freezer until you are ready to cook them at the end of dinner. They will be ready when you have let your food settle a bit.
Easy Homemade Chocolate Dipping Sauce
Chocolate-dipped strawberries are a great option especially if you are having bubbles after dinner. Use this recipe for Adults Only Chocolate Dipping Sauce to create a little more heat during dessert.
Other Easy Options
Additionally, dessert is a great place to relax your cooking and find something delightful at the store. There are many grocery stores that have wonderful small cakes perfect for sharing at the end of a romantic dinner. Find something worthy of your night that you would not normally make at home.
Another easy option is to slice angel food cake and top it with macerated berries. It is light and delicious as well.
Dessert Cocktails
Or, skip the extra food and enjoy a decadent dessert cocktail.
Here are a few options:
Wine Recommendations: Candlelit Romantic Steak Dinner for Two
Red Wine
Because of the steak, I typically enjoy red wine with this special dinner. A Cabernet Sauvignon is a good standard match. But I highly recommend a juicy, bold red Zinfandel which is amazing with grilled meat. Believe me, you will enjoy this bottle of wine with your meal. And you'll get bonus points for not bringing out the same old Cab.
I am not hating on white zinfandel drinkers, but that is just not a real taste of Zinfandel. It will never hold up its end when paired with grilled meat, particularly steak. You need the original and true essence of the Zinfandel varietal for steak which is a bold, juicy red wine. No added sugar is needed.
Syrah is another bold option for steak. It's a great red wine with warm spices.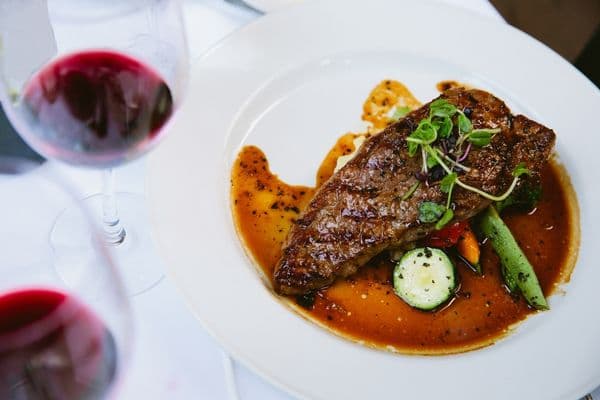 White Wine with Steak (and Lobster)?
You may also be thinking a white wine would be good to serve if you decide on the surf and turf option and you are not necessarily wrong.
If you are going for a surf and turf option, read more about The Best Steak and Lobster Wine Pairings.
If you are starting with scallops or crab cakes, I would definitely begin the meal with white wine. Lean toward a Chenin Blanc or crisp Sauvignon Blanc to enjoy with the seafood appetizer.
Make a Date to Enjoy a Romantic Candlelit Steak Dinner for Two
If you are looking for a way to celebrate a romantic, special night together then consider cooking at home. Home really is the perfect spot to have a special night and celebrate your relationship.
How you spend your time together is what makes a perfect romantic evening. And I think the best way to be romantic is to go the extra mile to cook for someone you love.
However, don't forget the candles and romantic music to accent your beautiful dish. That little bit of extra effort will make your special someone feel incredibly appreciated and cherished.
You'll be setting a romantic sail into a satisfying evening at home in no time.
Cheers Y'all!
P.S. I would so appreciate your sharing this post on your social media and comment below! Thanks in advance!
SHARED WITH…