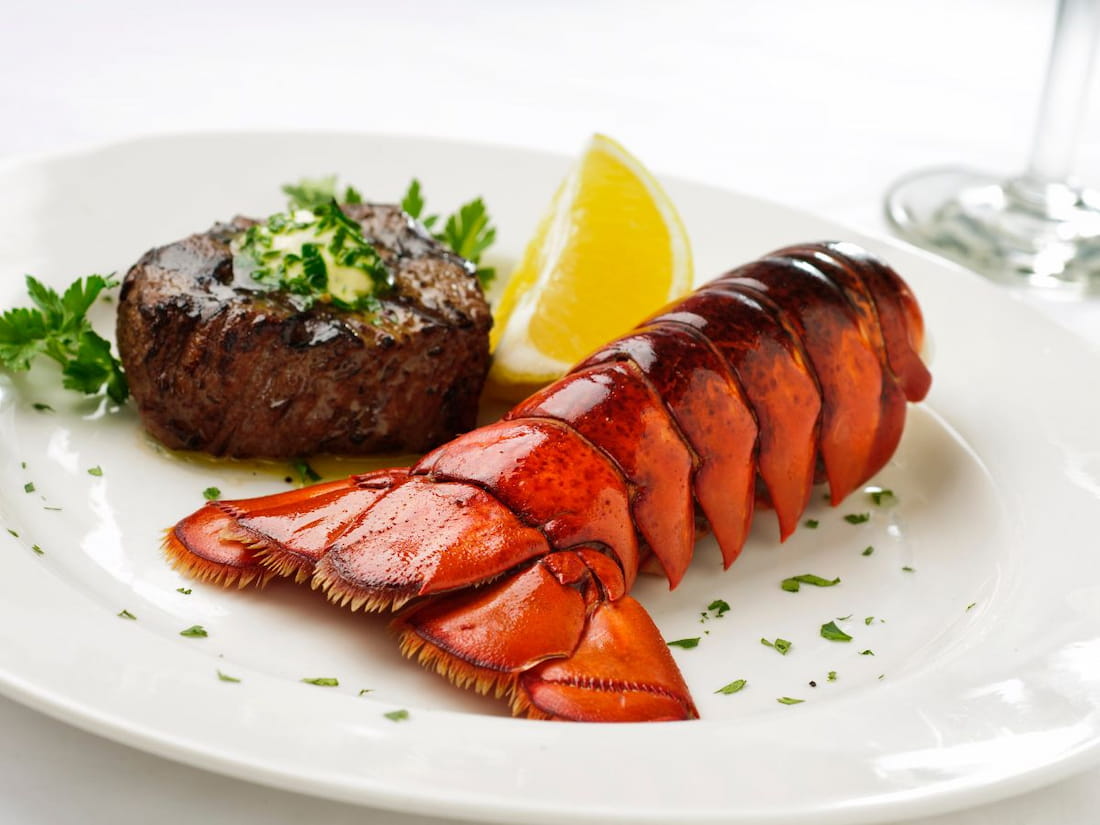 Surf and Turf: The Best Steak and Lobster Wine Pairings
Steak and lobster wine pairings will become a bit less daunting with this guide.
Steak and lobster or surf and turf brings to mind an elegant evening dining of fine dining on crisp linens with soft candlelight, romantic music, and high expectations for celebrating a special occasion.
If you are looking for the perfect wine to match your upcoming surf and turf delight, then doing a little research ahead of time is a very good idea. Whether dining out or at home, this guide will help you select a great bottle of wine.
What is a Surf and Turf Dinner?
A surf and turf dinner is considered a premium dish of red meat and seafood.
Typically, you'll find a combination of steak and lobster tails on the menu. Flavorful cuts of meat like New York strip, filet mignon, or ribeye steak are often paired with Maine lobster in high-end restaurants.
However, shrimp, scallops, and fish are sometimes combined with steak dishes for a surf and turf dinner option.
Make Surf and Turf at Home!
Surf and turf is a great menu for hosting a dinner party at home as well. It is incredibly romantic to cook for someone! And home is absolutely the right place to indulge in a great dinner while enjoying company in a relaxed and intimate atmosphere.
Add in great wine and your meal is high-end without the high price tag!
If you want to know more, read about How to Make a Candlelit Romantic Steak Dinner for Two which includes a "surf" add-on.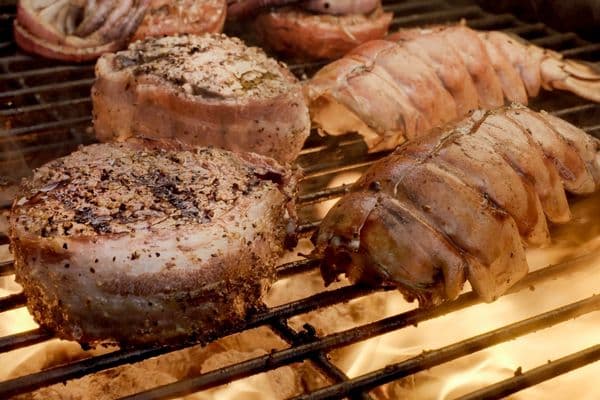 Secret: There is No One Perfect Wine Pairing
Up front, if you desire the perfect pairing to match your fine dining experience then here is some good news to take a little pressure off.
There is no one perfect match for pairing beef and seafood dishes. There is actually quite a bit of flexibility involved when making the best choice for the right wine.
The perfect wine pairing for surf and turf comes down to three key things:
The type of meat you choose.
How the seafood you choose is prepared.
Your personal preference. Although wine snobs might disagree.
For this post, we are going to focus on steak and lobster wine pairings as this surf and turf combination is incredibly beautiful, indulgent, and highly sought after.
Red Meat Wine Pairing
If you were only to pair wine with steak, then most look for a bolder flavor, fairly tannic red wine.
As a general rule, one would typically pair full-bodied red wines like a great Cabernet Sauvignon from Napa Valley with steak. But there are other options when matching the flavors of a red wine.
A jammy Zinfandel has bold spiciness and high acidity which makes it a good match for a ribeye.
Syrah or Shiraz is also an excellent choice playing up the black pepper spices in most grilled steaks.
Choose a Pinot Noir for a lighter-bodied high-tannic red wine with earthy or fruit-forward flavors.
As a rule of thumb, full-bodied red wines like Cabernet Sauvignon, Syrah, and Zinfandel pair better with fattier cuts of steak, and lighter red wines like Pinot Noir do well with leaner steaks such as filet mignon.
A Word about Tannins
Tannic reds or dry reds are a favorite red wine choice for steak dinners.
Tannins come from grape skins, seeds, and stems throughout the fermentation process. Additionally, time in oak barrels tends to create even more high tannins in red wine.
In general, tannins give red wine needed structure, but the astringency of high tannins can overwhelm or clash with delicate fish.
Best Wine Pairing for a Steak and Lobster Dinner
Steak and lobster pair amazingly well, however since their flavors and textures are on opposite sides of the scale, wine pairing is a bit complicated.
Lobster, with its delicate and crisp flavoring, is well-suited to wines with their own crisp, fresh notes.
Steak is heavy, hearty, rich, and savory.
The search for finding the middle ground between these is no easy task.
Red Wines to Consider
Some cautions to consider. There are many that think pairing red wine with lobster is completely taboo. And I might agree if you were eating lobster with lemon and butter as a stand-alone dish.
The natural saltiness in lobster tends to pull out the bitterness in red wine. And tannic red wines seem to enhance the iodine flavors in lobster. So, one-on-one the two don't usually pair well.
The idea is to tread lightly in the red wine realm with lighter-bodied, acidic red wines.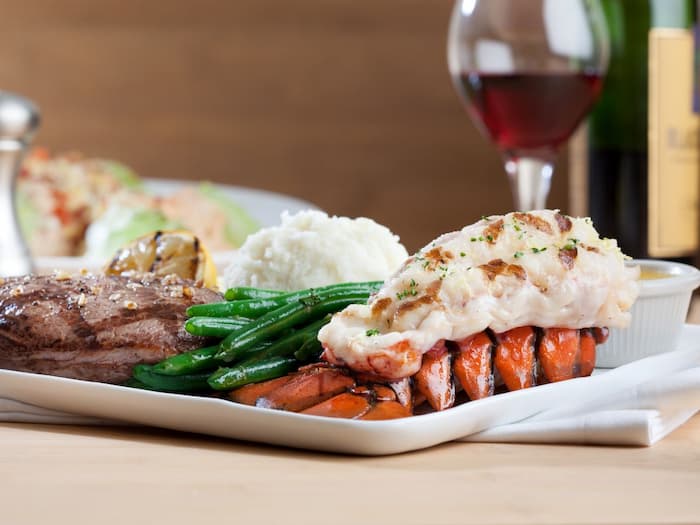 Pinot Noir
Pinot Noir is an excellent red wine for a steak and seafood pairing. It is a food-friendly red that will complement the red meat without overpowering the lobster.
This balanced light-bodied red wine stands the middle ground of bright and tangy red fruity flavors and rustic earthy flavors.
An unoaked Pinot Noir will lean toward the fruit profile of red berries and ripe cherries which will pair with both foods well.
In contrast, an oaked Pinot Noir will be on the earthy side with hints of vanilla. A flavor profile that is not too much for the lobster, but definitely enough to stand with the steak.
Chianti
Believe it or not, Italian reds such as Chianti can be an excellent pairing for surf and turf. With a few reservations.
Chianti comes from Tuscany where the red wines are primarily based on Sangiovese grapes.
The tannins are balanced by red fruit and a surprisingly perky acidity, which makes it a great red wine to cut through fattier types of steak. And this style of wine pairs well with fish such as salmon and oily fish. But what about lobster?
If you are serving your lobster with any kind of tomato sauce, say a fra Diavolo sauce, a Chianti may be a perfect choice. This style of wine has high enough acidity and lower tannins to enhance a tomato and lobster combination that can take the dish to new heights.
Rosé
A subtle Rosé can balance the delicacy of lobster without overpowering it. They can also provide enough flavor and structure to stand up to steak.
Be sure to pick a dry Rosé.
Choosing a dry, French-style Rosé made from Pinot Noir, Malbec, or Sangiovese will be a unique and unexpected choice for your dinner guests without putting off those who claim not to enjoy red wine.
White Wines for Steak and Lobster Wine Pairing
If you prefer white, look for a rich white wine that is bright and fresh with higher acidity. This is going to complement your lobster dishes (think about that squeeze of lemon juice), but will also cut through the fat of your steak or rich sauce accompanying it.
Chardonnay
Many agree the best white wine and king of seafood wine pairings is Chardonnay. Also known as White Burgundy in France.
This fragrant, decadent, and full-bodied white wine made from Chardonnay grapes has moderate tannins and acidity. Full-bodied whites come in many styles to complement fish and shellfish, but slightly oaked Chardonnay pairs really well with lobster.
The characteristically buttery Chardonnay flavor is accompanied by vanilla notes and a creamy mouthfeel. And the flavor profile of an oaked bottle will make your lobster taste all the richer.
Additionally, Chardonnay is one of the best white wines to pair with steak, especially filet mignon. It is a good choice because the acidity of the wine has a similar effect on the fat in steak as the tannins in red wine.
Enjoy a glass of Chardonnay with your favorite seafood and steak dish especially if you have melted butter with your lobster.
Marsanne
This medium-body, off-dry white wine boasts fruit flavors like mandarin orange, the essence of lemon, honey, and toasted almond notes that will shine a new light on your surf and turf.
We are not matching flavors with this wine but contrasting them against the food. As surf and turf is a fairly fatty and salty dish, we need to contrast it with wine to enhance the overall flavors.
Additionally, this wine boasts a heavier mouthfeel and can often mimic Chardonnay's weight and creaminess.
Marsanne is one of the best dry white wines and can be a very wise choice for balancing out the salt and fats of surf and turf. It is worth seeking out.
Albariño
Looking for something more interesting and lighter wine than Chardonnay? You should check out Albariño.
If you are not familiar with Albariño, it hails from Spain but is being grown more in the United States.
It is a crisp wine that pairs perfectly with shellfish such as clams, scallops, crab, and lobster. Additionally, its profile of bright citrusy flavors, notes of lemon, and dry, acidic style make it a good pairing with surf and turf. The citrus fruitiness of the wine really balances out the meaty flavors and pumps up your shellfish with a nutty finish.
Other Options
Just in case you cannot make up your mind, you can always order a glass of wine from the reds and a glass of wine from the whites.
Other interesting acidic options from the white wine list include a dry Riesling, light Sauvignon Blanc, or fresh Pinot Grigio.
I also enjoy a Pinot Gris or Chenin Blanc from South Africa with seafood and heartier fare.
Sparkling Wines for your Surf and Turf Dinner
Champagne, or sparkling wine made in the traditional method, goes very well with lobster and steak and just about anything else.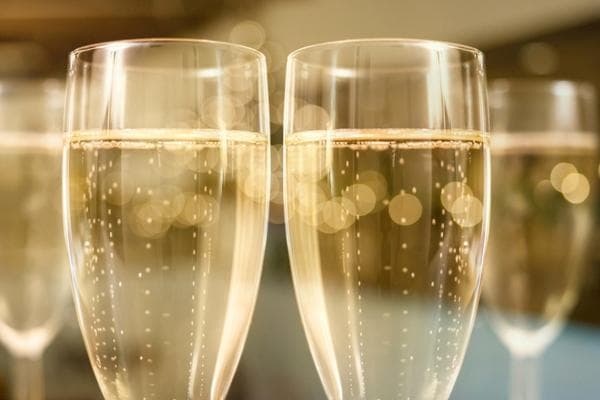 Brut Champagne is best when paired with steak cuts higher in fat content due to the acidity of the wine. This acidity helps to cleanse the palate and provides a great contrast with steak.
Dry Champagne also pairs nicely with lobster as it is light, crisp, and fresh. A glass of Champagne, or even a Rosé Champagne, can complement grilled lobster. Other sparkling wines like Prosecco with a slightly sweet flavor and Cava are good options as well that will complement lobster without overshadowing it.
However, for the surf and turf option, I would choose either the Brut Champagne or the Rosé Champagne.
If you want to know more about specific styles of sparkling wine read on with this post on Great Sparkling Wines and the Best Champagne. Although it is focused on Thanksgiving dinner, it gives a good breakdown of the styles of Champagne.
Wine Pairings for Steak and Lobster
As a rule of thumb, the best wine pairings should include the ability for you to drink the kind of wine you enjoy.
Here we have examined red and white wines with great acidity for the main dish of surf and turf.
There are many higher-acidity wines that make an excellent choice for this food pairing. Matching both the sweetness of the lobster and the bold flavors of the steak is a challenge.
My top two are Chardonnay and Pinot Noir. Either type of wine can be a great choice for such an elevated dinner whether you dine out or in.
Cheers Y'all!
P.S. Sharing is really appreciated! Post a link to this on your favorite social media to share with friends!
SHARED WITH…