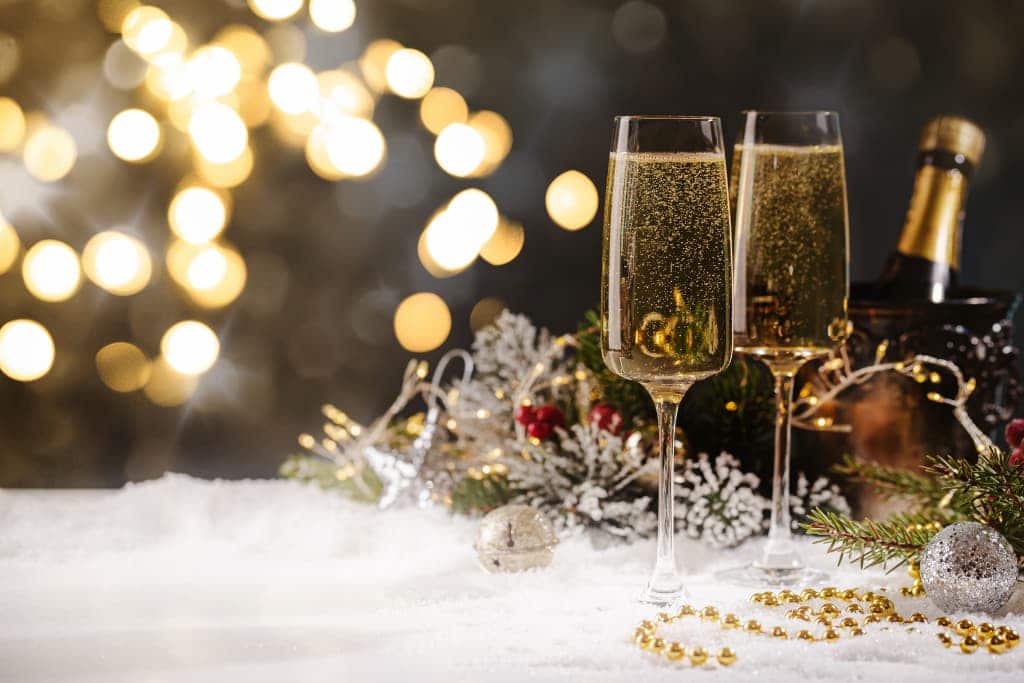 Make Christmas Prosecco Cocktails for a Dazzling Holiday Soiree
Make this Christmas Prosecco Cocktail recipe for a dazzling holiday soiree or at any celebration all winter long. This is a rich glass of bubbly for any celebration. Simple, elegant, divine!
Looking for an easy way to make your party or gathering even more festive? This drink is perfect for the holidays since we're in that celebratory season. Plus, it's a great excuse to indulge and enjoy some winter cheer all year round!
Is this just another Champagne Cocktail Recipe?
No, not really. The drink starts with sugar and bitters. Then Prosecco or sparkling wine is added, giving the drink its bubbles and festive flavor. After that, just add a slender peel of orange for a pretty and tasty garnish. What a great way to celebrate with friends!
What are the Ingredients in a Christmas Prosecco Cocktail?
Prosecco
Prosecco is a light and sweet wine that originates from the Veneto region of Italy. This sparkling wine is made from at least 85% Glera, which is an aromatic white grape known for its fruitiness and floral aromas. Other grapes are allowed in smaller quantities, including chardonnay and pinot noir. These are also two of the main grapes in Champagne.
Prosecco is usually consumed as an aperitif before dinner and it's perfect for any celebration and special occasion.
Sugar Cubes
Sugar cubes are a classic way to add sweetness and flavor to cocktails. They also balance the bitters. They're also a great way to decorate your drink and make it look extra festive for the holidays.
Bitters
Bitters are a type of alcohol that is made from herbs, spices, and botanical ingredients. They're used to add flavor and complexity to cocktails, and they can also be used to balance sweetness and acidity. There are a variety of different bitters brands on the market, so you can find the perfect one for your tastes. Some of our favorites include Angostura Bitters, Peychaud's Bitters, and Orange Bitters. Oh! Give cocoa bitters a try as well.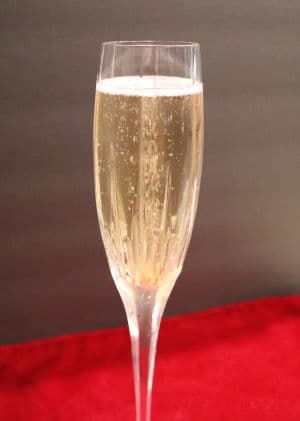 How do you make a Christmas Prosecco Cocktail?
The drink starts by combining sugar and orange bitters in a champagne flute. Drop the cubes in the flute and top with the bitters. Sugar can be substituted with honey if desired, but this will change the flavor profile slightly.
The next step is adding chilled Prosecco, which gives the cocktail its beautiful bubbles and makes it more festive for holiday celebrations. Adding just enough sweetener balances out the acidity of the wine while giving that needed bitterness that cuts through its sweetness. Finally, garnish with an orange peel and you're ready to celebrate!
Is Drinking Prosecco Healthy?
First of all, experts stress people still need to drink responsibly. But there are some surprising health benefits of consuming Prosecco.
It's been linked to lowering blood pressure – seriously.
According to a University of Reading study from 2009, two glasses of sparkling wine a day could be good for your heart and blood circulation. The polyphenols (a type of plant chemical used to produce Prosecco) slow the removal of nitric oxide from our blood. This increases blood flow which then decreases blood pressure. The researchers linked this to a possible reduction in the risk of cardiovascular diseases and heart attacks.
It might help your lungs function
Prosecco is made from white wine, which is linked to improved lung function.
Research published in the European Respiratory Journal in 2012 found drinking wine to have a positive effect on lung function over a lifetime. But let's not get carried away. This was a small study with limited findings.
It's a better diet option compared to other types of wine
For those looking to lose a few pounds, Prosecco is very much the way to go compared to regular wines because it's lower in sugar and calories and carbs. And don't we all complain about gaining weight over the holidays?
How Much Sugar is in Prosecco?
According to Wine Folly, there are three types of Prosecco: Brut, Extra Dry, and Dry. Which translates into three levels of sugar, carbs, and calories. However, it all depends on the vintner and how the Prosecco is made.
There are 3 sweetness levels available in Prosecco wine:
Brut: Has the lowest amount of residual sugar, and just under 2 carbs per 5 ounce serving.
Extra Dry: Has a bit more residual sugar, about 12–17 grams per liter. These wines have about just under 2 -3 carbs per glass or a standard pour.
Dry: These wines have the highest amount of residual sugar and between just over 2 –5 carbs per 5 ounce serving.
How Many Calories are in Prosecco?
Calories range from 80 – 100 for a 5 ounce pour, but it depends on the Prosecco.
Many Prosecco cocktails require less than a 5 ounce pour, but it depends on what else is in the recipe. This Christmas Prosecco Cocktail is about a 4 – 5 ounce pour depending on your glass.
Prosecco and Diabetes: A Low Sugar Wine Option
This recipe for a Christmas Prosecco Cocktail has sugar cubes in it, but you can leave them out for your diabetic guests.
Prosecco itself could be a safer celebratory beverage than still wines. According to Wine Spectator, those diabetics "who also happen to be wine lovers don't have to skip the Champagne this holiday season."
However, it is very important to consult your doctor and make an informed decision.
Gotta say upfront for everyone, always drink in moderation. Seriously. Nuff said.
Moving on. In the article, Dr. Cruz Bravo recommends alcohol intake should be limited to one drink a day for women and two for men. But especially for those with diabetes, "dry wines, especially sparkling, are the lowest in carbohydrates and make for the safest option". Champagne, Prosecco, and Cava have about 2 grams of sugar per serving with makes them low in carbohydrates. And drier brut or extra brut Champagnes can be a better option for your health as they have lower amounts of residual sugar.
Enjoy Prosecco or Champagne Cocktails with Brunch!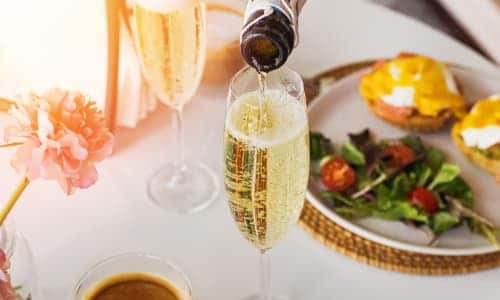 Champagne or Prosecco cocktails are the perfect drink to enjoy while celebrating special occasions or spending time with friends. They're light, refreshing, and perfect for sipping on while enjoying a delicious brunch as bubbly pairs well with food.
Christmas Prosecco cocktails are just as delicious as Champagne cocktails, but they're less expensive to make. Traditional Prosecco cocktails can be on the sweet side, so this recipe tends to balance the sweet by adding some orange bitters for additional flavor and depth.
What Other Celebratory Cocktails Should I Try?
Make any gathering large or small, more festive with one of these great cocktails. Want to learn more? Check out the post on 8 Cozy Christmas Stocking Inspired Cocktails to Spice Up Your Holidays.
Make a Christmas Prosecco Cocktail this Winter!
So if you're looking for a delicious and festive drink to celebrate the holidays, try making this Prosecco cocktail! Three simple ingredients and you'll be on your to celebrating the season in style.
It'll be sure to put you in the holiday spirit.
Cheers Y'all!
P.S. You know you want to post this on your Facebook feed or Instagram! Go ahead and I'll thank you now.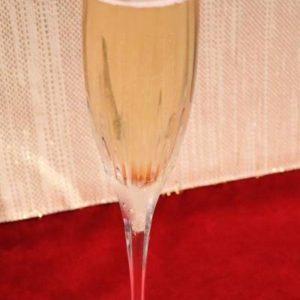 Christmas Prosecco Cocktail
This is a rich glass of bubbly for any celebration. Simple, elegant, divine!
Ingredients
2

sugar cubes

Angostura Bitters

Prosecco

chilled

Orange twist

for garnish
Instructions
Sprinkle several drops of Angostura Bitters on each sugar cube. Place the cube in the bottom of a champagne flute and fill with Prosecco. Garnish with a small orange twist.