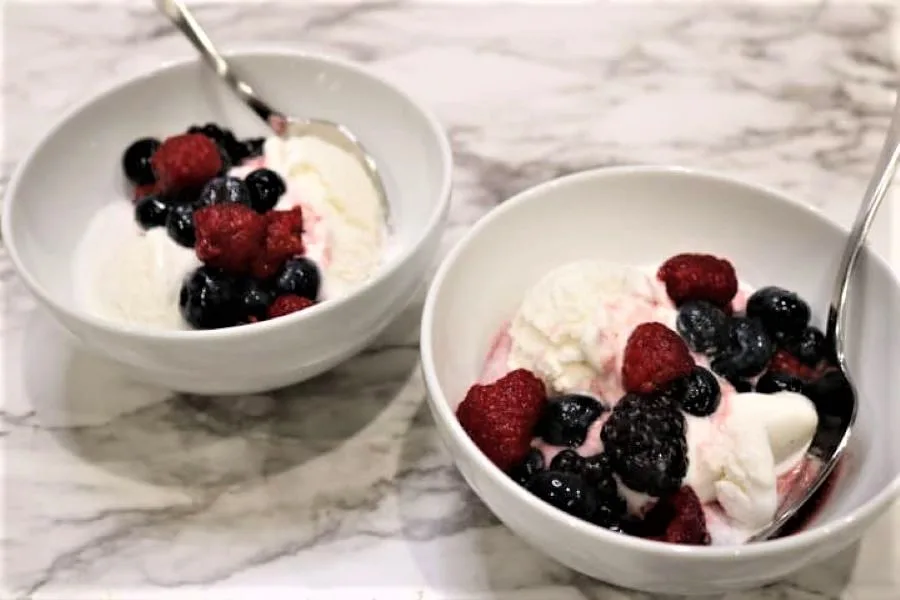 Easy Mixed Berry Sauce Recipe for a Grown-Up Dessert
This Sangria Mixed Berry Sauce recipe makes a deliciously flavorful sauce starring juicy berries in a Sangria-style sauce. It is a simple fruit sauce recipe that makes a dessert topping worthy of a special occasion.
This recipe uses very little sugar, so it does not make a dessert that will shock your palate after a dinner of savory dishes.
And, it is quite different from a mixed berry compote or a raspberry coulis as you do not cook this sauce. And I think this makes it a perfect dish to serve in the warmer months!
Print off the recipe card at the bottom of this post for a good way to use up your favorite berries when berry season is in full swing.
This post may contain affiliate links for products LSG loves. Lone Star Gatherings earns a small commission on these links at no additional cost to you. Please read my DISCLOSURE POLICY for more info.
Ingredients for Sangria Mixed Berry Sauce Recipe
I call this recipe a triple berry sauce and it is one of my favorite ways to make an easy, light dessert topping when I am entertaining my friends.
The ingredients in this easy berry sauce are easy to find in your local grocery store or farmer's market. Using fresh fruit when it is in season makes the best homemade sauce. However, you could use frozen berries if you can't find good mixed berries in the produce section of your market.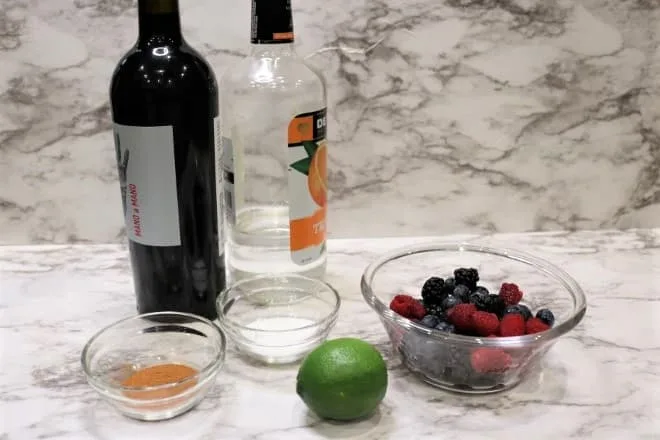 2 cups mixed berries such as fresh raspberries, blueberries, or blackberries. If you use a mix of strawberries, remove the stems and cut them in half if they are small or quarters if they are large.
2 tablespoons Triple Sec or Grand Marnier
1 cup dry red wine
¼ teaspoon cinnamon
Lime juice of one lime or 2 – 3 tablespoons.
2 tablespoons granulated sugar or agave syrup
It may sound like a lot of berries, but this recipe serves six to eight people. And you can easily change the ingredient amounts to serve a crowd or just two for an intimate dinner.
When it comes to fruit sauces or a berry compote recipe, you'll find they call for up to a cup of sugar. However, this recipe does not call for a large amount of sugar as the fresh berries are the star attraction. If you like a sweeter sauce you can add more sugar. But just add a little bit of sugar at a time until you get to the level of sweetness you desire.
I do not recommend substituting maple syrup if you don't have agave syrup, as it will change the flavor profile. Stick with sugar if you cannot locate agave syrup.
This recipe is so delicious and easy that I am sure it will become one of your favorite desserts to make for friends.
How to Make Sangria Mixed Berry Sauce
This quick berry sauce recipe calls for three kinds of berries, but you can use any mix of your favorite berries or whatever is in season. These are easy ingredients to change as you like.
There is no cooking time for this simple fruit sauce as we are not making a fruit compote. The goal is to produce a light, vibrant sauce full of delicious juicy berries that you use to top ice cream, frozen yogurt, or slices of delicious cake.
First, wash and thoroughly drain berries on a towel-lined rimmed baking sheet. When dry place them in a medium sized bowl.
While the berries are drying, combine the wet ingredients (Triple Sec, red wine, and lime juice), in a pourable measuring cup or bowl. Add the cinnamon and syrup or sugar and whisk occasionally until the sugar begins to dissolve. It should take less than 4-5 minutes for the sugar to dissolve.
Pour the mixture over the berries in the bowl and let stand at room temperature for at least one hour.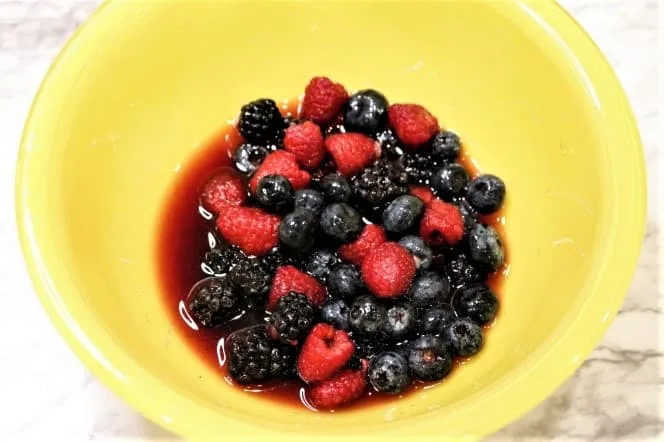 Spoon 1/3 to ¼ cup berries and sauce over vanilla ice cream or cake when ready to serve.
Enjoy!
Add this Dessert to Cookout Menus
This is the perfect dessert to serve during the spring and summer. The weather is warm and cookouts are going strong, so make dessert cool and easy with this recipe for mixed berry sauce.
It is an amazing addition to the following menu:
Start with this Easy Mexican Layered Dip which does not require any cooking!
Then for the main dish, fire up your grill and cook these Marinated Pork Shish Kabobs and veggies.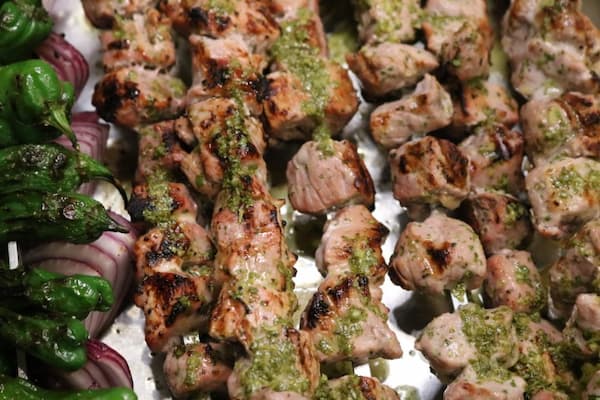 Boost the veggies and keep it low carb with this recipe for Grilled Zucchini with Cilantro Vinaigrette.
When you add this dessert to the menu, you have an easy cookout menu that does not require you to heat up your kitchen!
How to Make a Thicker Sauce
If you are looking for a berry sauce with a thicker desired consistency, this can be achieved in a couple of ways.
First, to make a thick sauce follow this easy recipe. Place all of the ingredients in the berry sauce recipe above into a food processor. Blend on medium-high until the berries are pureed. If you don't want the seeds, strain them through a fine mesh strainer. You can also place all the ingredients in a large bowl and use an immersion blender to puree.
The second option is to cook the sauce for a few minutes and make a delicious berry compote. Place the washed berries in a large bowl. Then add all of the other ingredients to a sauce pan. You can also add a teaspoon of vanilla extract and a little lemon zest if you like.
Use a medium saucepan if you are making 6 – 8 servings. If you are making 10 or more servings then use a large saucepan.
Remove two tablespoons of the liquid place it in a small bowl and whisk in ½ teaspoon corn corn starch to make a slurry. Then, whisk the slurry into the sauce in the pan.
Cook over medium heat stirring occasionally until the sauce begins to thicken. When it coats the back of a spoon, it is ready. If it thickens too much you can whisk in a few tablespoons of water, but just add a little bit at a time.
Let cool, add berries, and serve over ice cream, frozen yogurt, or cake.
How to Store This Dessert Sauce
Store the leftover sauce in an airtight container in the coldest part of your refrigerator. It should be good for a couple of weeks, but I bet it won't last that long.
What to Serve With Sangria Mixed Berry Sauce
This recipe for Sangria Mixed Berry Sauce is a perfect topping for rich vanilla ice cream. It is a fabulous dessert topping in the warmer months of the year.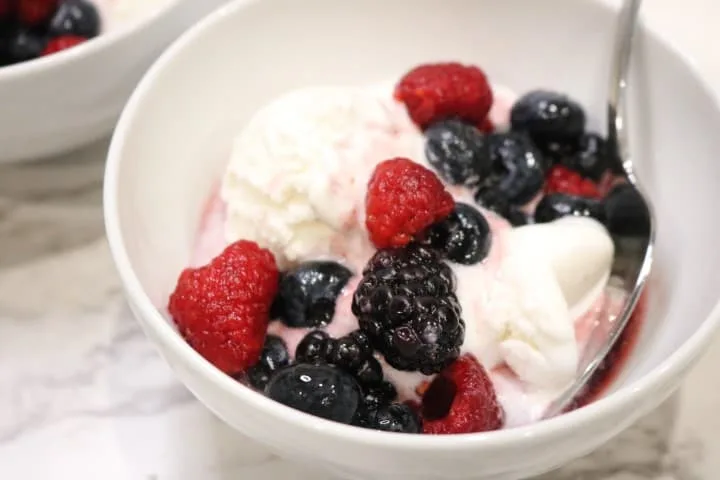 You can also add it to Greek yogurt for a tangy bite. And it is an excellent topping for angel food cake or pound cake which you can pick up in your grocery store. Purchasing the cake is a great way to keep heat out of your kitchen and make this dessert even easier to serve.
For a pretty garnish, take a few strawberries and cut them in half. Place a small dollop of whipped cream on the mixed berry sauce after you put it on ice cream or cake. Then use the cut half strawberries to top the whipped cream.
Substitutions for Alcohol-Free Berry Sauce
If you want a delicious berry sauce without the alcohol then swap it out for fruit juice. Try orange juice mixed with cranberry juice for a sweet and tangy flavor. Or orange juice with a few tablespoons of fresh lemon juice to brighten the flavors.
Some great additions to an alcohol-free sauce are lemon zest and vanilla extract. These will help give it a fuller flavor.
Use this version of the mixed berry sauce as a topping for French toast, yogurt bowls, or smoothie bowls.
It will also be an excellent layer in a yogurt parfait or mixed into overnight oats.
The idea is you can take this simple recipe and make your own berry sauce to use just the way you like it.
Invite Friends Over for a Cookout and Cool Mixed Berry Sauce Dessert
Invite friends over for dinner! Then keep the dessert easy with this recipe for Sangria Mixed Berry Sauce.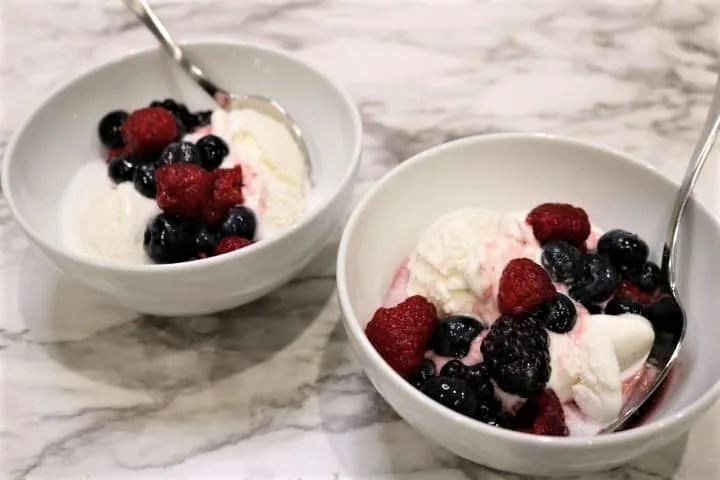 I hope this will become a favorite sauce for you to make when fresh berries are in season. This simple berry sauce is a delicious and elegant topping for many dessert sweets. And, although it uses simple ingredients, this mixed berry sauce will wow your guests while allowing you to relax and enjoy their company.
Cheers Y'all!
P.S. Sharing is Caring. Please share on your social media sites! Thanks in advance. And comment below when you make this delicious recipe!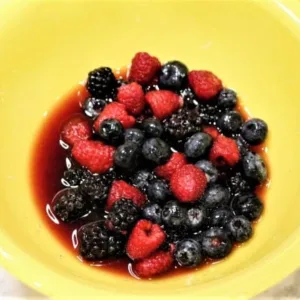 Sangria Mixed Berry Sauce
An elegant sauce using juicy berries to top ice cream, cake, or chocolate torte.
Ingredients
2

cups

mixed berries

raspberries, blueberries, blackberries, or strawberries cored and quartered

2

Tbsp

Triple Sec

1

cup

dry red wine

¼

tsp

cinnamon

Juice of one lime

2

Tbsp

granulated sugar or agave syrup
Instructions
Wash and drain berries and put in a medium sized bowl.

Combine triple sec through sugar in a bowl and stir with a whisk until sugar begins to dissolve.

Pour mixture over berries and let stand at least one hour.

Spoon ¼ cup berries and sauce over vanilla ice cream or pound cake.