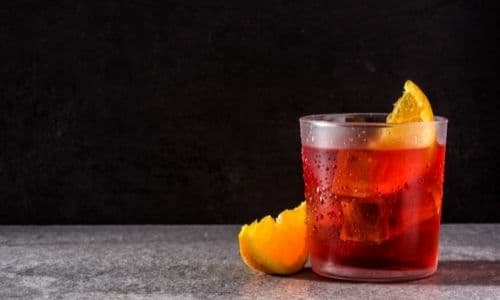 Best Classic Negroni Cocktail Recipe to Warm Up Your Winter
Make this classic Negroni cocktail recipe to warm up your winter and chase away your blues.
This Negroni cocktail will not only warm you up but it will make entertaining friends a breeze. This is a fail-proof recipe for the gin-based beverage and will soothe away your holiday stress and delight your sophisticated guests.
I really enjoy a good belly warmer cocktail by the fire. This one is a classic and certainly was not invented by me, but I drink it all winter long. It reminds me of this cherry cordial candy I found in my stocking every year. The chocolate outside gave way to a cherry cream that would inevitably run all over my hands. Despite the mess I knew was coming, I always bit these chocolates in half to try to see the cherry inside. This is my grown-up cherry candy.
What is a Negroni?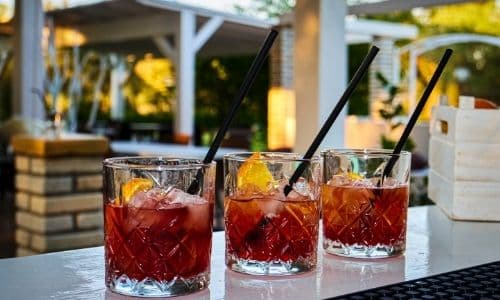 Wikipedia states "A Negroni is an Italian cocktail, made of one part gin, one part vermouth Rosso (red, semi-sweet), and one part Campari, garnished with orange peel."  
Negronis can be used as an after-dinner drink or "Digestivo". The Italians traditionally enjoy an array of drinks with their meals with each having a particular purpose. At the end of the meal, after dessert, they make time for a digestive. It typically has an herbaceous flavor profile and is supposed to help settle the stomach.
A traditional Negroni is typically stirred, not shaken, as it gives the cocktail a velvety experience. It is stirred with ice to bring the temperature down but is not meant to be served extremely cold as that can dull some of the flavors.  It is, however, poured over ice and usually served in an old-fashioned or rocks glass.
The Italian garnish is an orange slice, however, outside of Italy, an orange peel is often used as the garnish. An impressive way to amp up the garnish is to warm the peel with a lighter and then twist the peel over the glass and drop it into the drink. It adds to the orange aroma and taste.
What does a Classic Negroni Cocktail Taste Like?
I think it is refreshingly semisweet with the perfect balance of bitter notes, some sweetness of cherries, fruity citrus flavor, a bit of vanilla, and some herbal flavors like mild juniper from the gin.
It exudes sophistication and coolness and is not considered to be a cocktail for beginner drinkers. Not because you can't be cool, but simply this drink is a bit of an acquired taste.
Is Negroni a Sweet Drink?
Some say the cocktail tastes like cherries, wine, and citrus, but with noticeable bitter notes. It can be considered a bittersweet drink. Despite the red candy color from the sweet Vermouth and Campari, It is not a sweet drink.
How do you make a Negroni taste better?
As I said, the classic Negroni cocktail is a bit of an acquired taste, but there are options to tailor it to your palate.
You can change out the base spirit if you are not a gin drinker, but it won't be a classic Negroni.
If you don't like gin you can leave out the gin and add a splash of soda and you have an Americano. Or replace the gin with sparkling white wine or Prosecco and you have a Negroni sbagliato.
If you prefer tequila, you can use that in place of gin and you'll have a "Tegroni" instead.
You can also use different types of sweet vermouth for slightly different flavors, but keep the Campari or you won't have a Negroni at all. 
What is the Best Vermouth for a Negroni Cocktail Recipe?
Look for a good quality Italian vermouth. Here are some vermouth options.
Cinzano 1757 Rosso
Cocchi Vermouth di Torino
Carpano Antica Formula
Martini and Rossi – not the best but budget-friendly
How do You Make a Classic Negroni Cocktail?
Mix equal parts gin, sweet vermouth, and Campari in a cocktail shaker or glass and stir to combine.  Pour over ice.  Garnish with an orange twist.
What Other Winter Cocktail Recipes Should I Try?
Here are a few ideas for a few sweet cocktails and some sparkling cocktails this winter.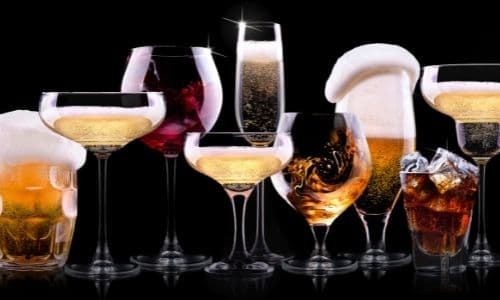 Make this Classic Negroni Cocktail for Friends!
This Negroni cocktail recipe will warm up your winter and make entertaining a breeze. It is an acquired taste, but the recipe below should help you create this drink with ease.
If you like gin-based beverages then this post has been perfect for you! We hope that our list of tips on how to mix one of these drinks helped give you some ideas about where to start in experimenting with different flavors and ingredients when making one at home or serving them at your next soiree.
Now go out there and impress all of your friends with knowledge about this cool sophisticated cocktail!
Cheers Y'all!
P.S. Caring is Sharing! I would really appreciate it if you would share this post with friends on your favorite social media platform. Thanks!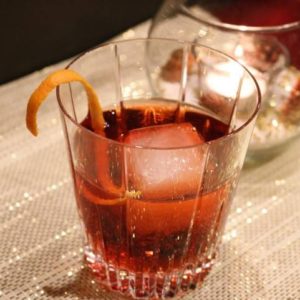 Negroni
A classic to keep you warm by the fire.
Ingredients
1

ounce

Gin

1

ounce

Sweet Vermouth

1

ounce

Campari

1

orange

for garnish
Instructions
Mix equal parts gin, sweet vermouth and Campari in a cocktail shaker or glass and stir to combine. Pour over a large ice cube. Garnish with an orange twist.