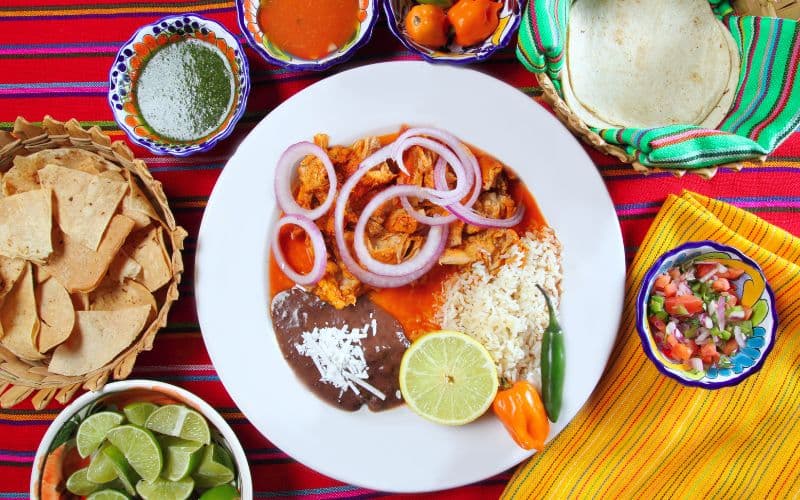 What to Serve with Fajitas – Easy Menu and Side Dishes
In the mood for fajitas but not sure what to serve with fajitas? Here is a full list of ideas for toppings, side dishes, and beverages for making a delicious fajita dinner at home.
This post may contain affiliate links, meaning I get a small commission if you decide to make a purchase through my links. There is no additional cost to you. Please read my DISCLOSURE POLICY for more info.
Fajitas are a perfect meal for the whole family to share. It is a great choice for dinner especially in the summer months.
Homemade fajitas are easy to prepare any night of the week. And leftovers are even better the next day.
You can use simple ingredients right from your grocery store to make this delicious meal.
What Are Fajitas?
Many people think fajitas are a Mexican dish, but it really is a Tex-Mex food.
Fajita (fah-hee-tuh) is usually grilled strips of meat that are served with sliced and grilled peppers and onions. It is usually served wrapped in a flour or corn tortilla.
Fajita is a Texan-Mexican American or Tejano, a diminutive term for little strips of meat cut from the beef skirt, the most common cut used to make fajitas.
The word faja is Spanish for "strip", or "belt". It refers to skirt steak which is the original meat used in fajitas. This cut of meat is from the beef's diaphragm muscle, which is long and thin like a belt.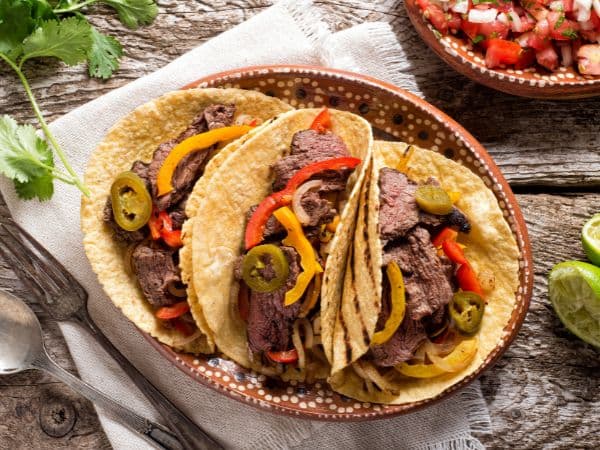 According to Wikipedia, the word fajita goes back as far as the 1930s in the ranch lands of South and West Texas. During cattle roundups, cows were butchered regularly to feed the Mexican cowboys or vaqueros as part of their pay. The beef was cooked over an open fire and served with tortillas which is a staple of Mexican food.
The dish became commercially popular in the 1970s after it was introduced to the general public in Kyle, Texas.
What Kinds of Fajitas Are There?
The different types of fajitas that are served as a main dish include:
Beef Fajitas – typically made from skirt steak or flank steak
Chicken Fajitas – often made with chicken thighs
Shrimp Fajitas
Vegetarian or Vegan Fajitas — loads of peppers, onions, portobello mushrooms, and more
In Mexican food restaurants fajitas are served on a sizzling hot skillet along with grilled onions and peppers. Hot flour tortillas or corn tortillas arrive with your meal as well.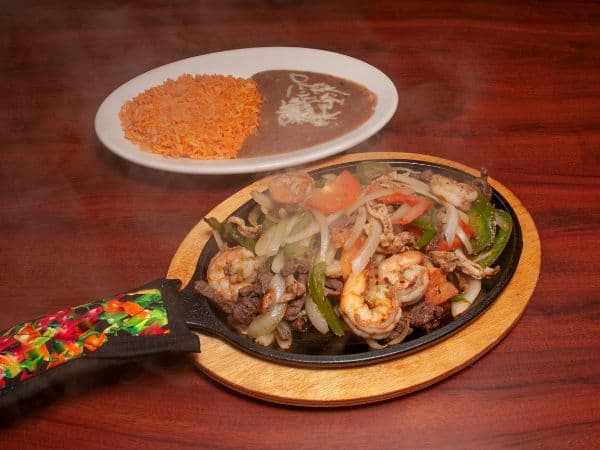 Typically you'll see sour cream, guacamole, pico de gallo, refried beans, and Mexican rice on the side. No matter which type of fajitas you order the sides and toppings are usually the same.
A vegetarian fajita dish is usually made with options like green, red, and yellow peppers, onions, chilies, and jalapeño peppers can also be found in many Tex-Mex restaurants.
How Do You Eat Fajitas?
You take strips of fajita meat and place them in the middle of a tortilla. Add the toppings you desire and roll or fold the tortilla up like a tortilla wrap.
Take a big bite, close your eyes, and enjoy the incredible flavors that will make your taste buds dance!
How Do You Make Fajitas?
There are many ways people claim you can make fajitas.
Grilling is the traditional way and is the best way to make this delicious meal. Only the grill provides that next level smoky flavor which makes the taste buds really happy.
Here is a great recipe for Beef Flank Steak Fajitas from your grill.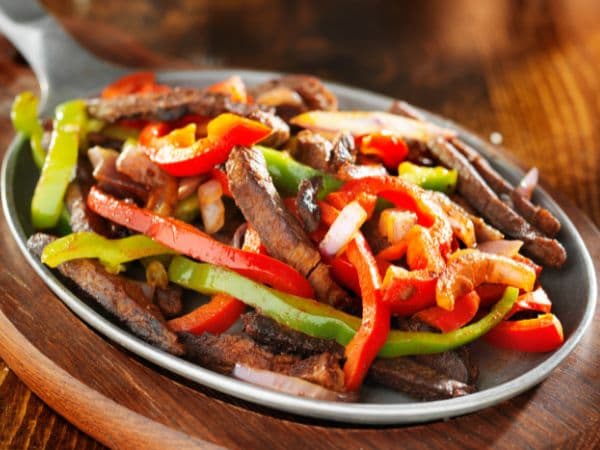 Whether you make fajitas with a meat protein or vegetarian fajitas, all of the main ingredients should be grilled.
Serve up an authentic experience using this Fajita Cast Iron Skillet and Wood Base. Take your fajitas from the cutting board to the table with sizzling style.
A really good fajita recipe will have spicy flavors in the marinade and incorporate bell peppers, onions (red onion, sweet onion, or white onion), and sometimes jalapeno or poblano peppers.
Many easy chicken fajitas recipes say to cook the meat, onions, and peppers on a sheet pan in the oven. This is easy, but you will miss out on the delicious flavor that comes from the grill.
The best thing is you can change the recipe to suit your taste. There are so many ways to make fajitas!
Toppings to Serve With Fajitas
The key to fajita toppings is to use fresh ingredients that can heat up the spice levels as well as cool your palate down.
Fresh Salsa Ideas
A great accompaniment to fajitas is homemade fresh salsa. This recipe for a Keto-Friendly Fresh Homemade Salsa is a great way to add fresh flavors to your fajitas. It is such an easy recipe using a food processor. And it uses healthy olive oil.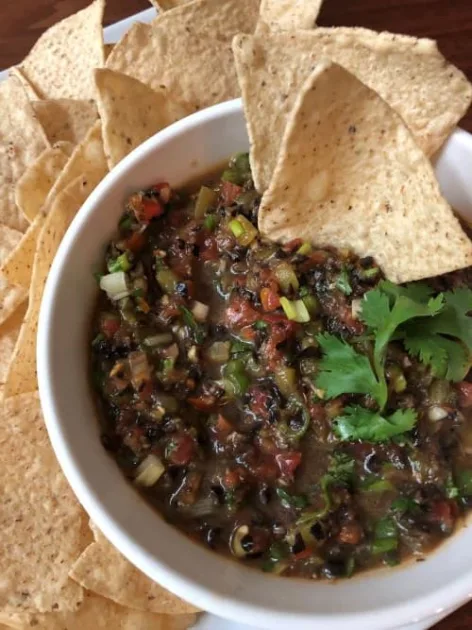 You can also make your own pico de gallo. Just combine finely diced ripe tomatoes, white onion, jalapeño, and cilantro. Add a little lime juice and salt and top your food. It is a great addition to fajitas or as a condiment on eggs, tacos, or roast chicken.
Another good salsa topping is salsa verde. This bright green sauce is also made from fresh ingredients. You combine chopped roasted tomatillos, onion, jalapeño or green chiles, lime, and fresh herbs like cilantro. It is excellent on shrimp or chicken fajitas.
You can also make a habanero mango salsa if you like. It is a pretty spicy addition to shrimp fajitas or vegetarian fajitas.
Must Serve Bell Peppers and Onions With Fajitas
It is hard to imagine enjoying fajitas without the key ingredients of bell peppers and onions. You can use red, yellow, or orange bell peppers, but green bell peppers are the most common pepper when cooking fajitas.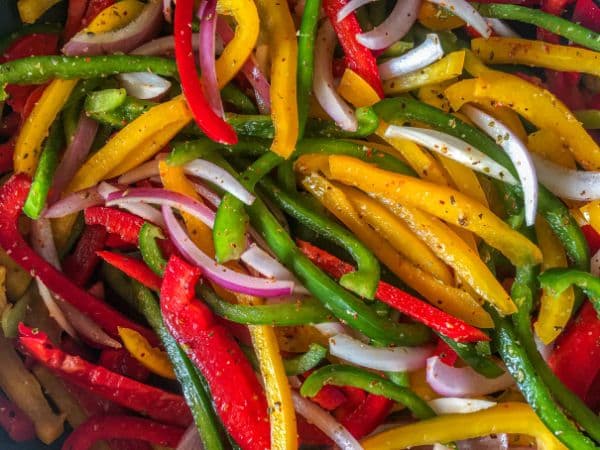 A great way to cook them is on the grill!
Here is an easy recipe for How to Cook Bell Peppers and Onions for Fajitas. You can use red onion or sweet onion in the recipe. The post also has ideas for making Vegetarian Fajitas as well.
Leave them on the grill until the onions are golden brown and all the veggies have a little char.
The best way to grill veggies is to use a vegetable grill pan, which looks like a frying pan with small holes in it. You can find this online or in the grilling section of most grocery stores or hardware stores.
If you don't have a grill then you can cook these on the stove. Take the time to cook the onions until they look like caramelized onions for the best flavor.
Serve Corn or Flour Tortillas with Fajitas – Low-Carb Options too
Most people will serve flour tortillas with fajitas, but lots of people prefer corn.
They have more fiber and a great nutty taste to them. There are also flour tortillas that have some corn meal mixed in them as well. Sort of a hybrid tortilla.
You have many options for low-carb tortillas these days. And to keep it super low carb, use Boston lettuce leaves for your wrap and skip the tortilla altogether.
Set Up a Toppings Bar to Serve with Fajitas
The easy way to serve a fajita meal with all the different toppings is to set up a toppings bar. The best part is your guests serve themselves.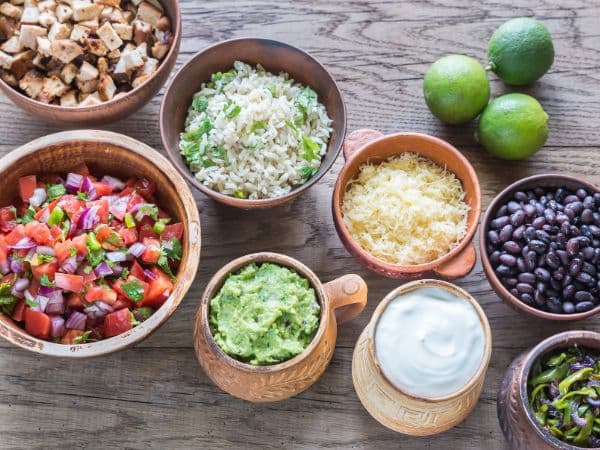 Here are some ideas for what to include in a toppings bar:
sour cream
avocado slices
guacamole – homemade is the best
grilled ripe avocados – if you have not grilled avocados before you gotta try it!
shredded Mexican blend cheese
Cotija cheese – like feta cheese, but a little saltier and firmer
chopped ripe red tomatoes
pico de gallo
grilled jalapenos
green chilies
fresh cilantro
chopped jalapenos – fresh or pickled
finely diced red or sweet onion
lime slices for fresh lime juice – a better food brightener than salt
What are the Best Side Dishes to Serve With Fajitas Dinner?
When you make fajitas for dinner there are many different options for a great side dish. for the best Mexican cuisine side dishes to include with your menu!
Here is a list of sides that will enhance your fajitas dinner.
Easy Side Dishes with Beans
Black Beans
A perfect side dish for fajitas is this recipe for Slow Cooker Mexican Black Beans. This recipe is healthier than the standard easy refried beans from a can.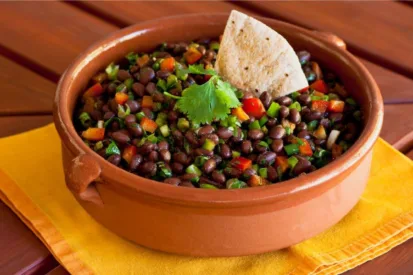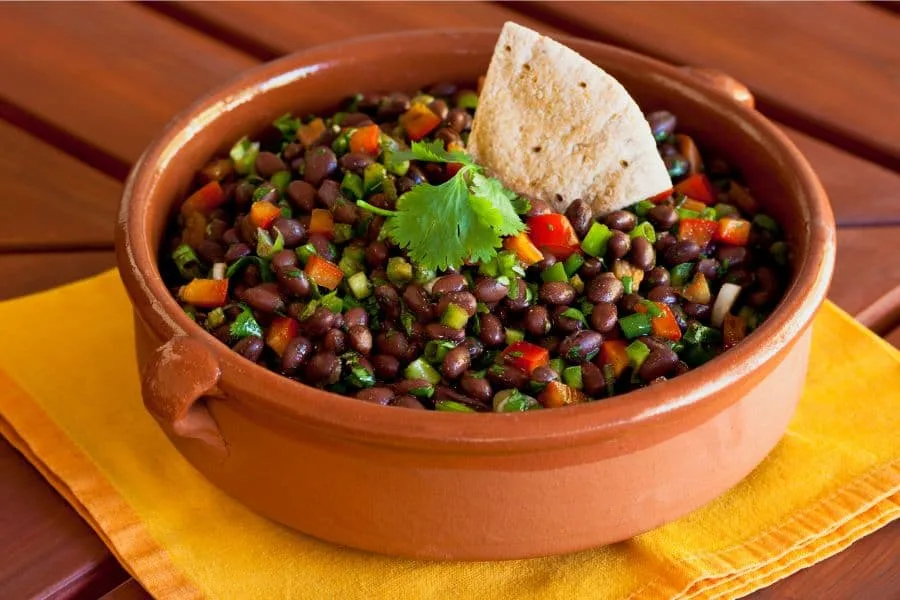 If you want to know more about the nutritional aspects of black beans and refried beans you can read more on the Refried Beans vs. Black Beans: What is the Nutritional Difference?
Refried Beans
Refried beans are a typical and simple side dish served with fajitas in restaurants. I find this dish rather bland and not very healthy, so I make these Slow Cooker Mexican Black Beans to go with my fajitas regardless of the protein choice in the main dish.
If you do decide to go with the refried canned beans mix in a little taco seasoning to spice them up a little.
Pinto Beans
If you like pinto beans then Borracho Beans is a good choice and more flavorful than refried. Pinto beans are simmered in a beer broth with bacon, onions, tomatoes, and spices like chili powder and cumin until they are tender and creamy.
When it comes to easy side dishes Borracho Beans (or Frijoles Borrachos) are a delicious option.
Rice – a Simple Side Dish to Serve with Fajitas
Mexican Rice
Another delicious side dish is Mexican rice. You'll find this is served with almost any Mexican cuisine in restaurants.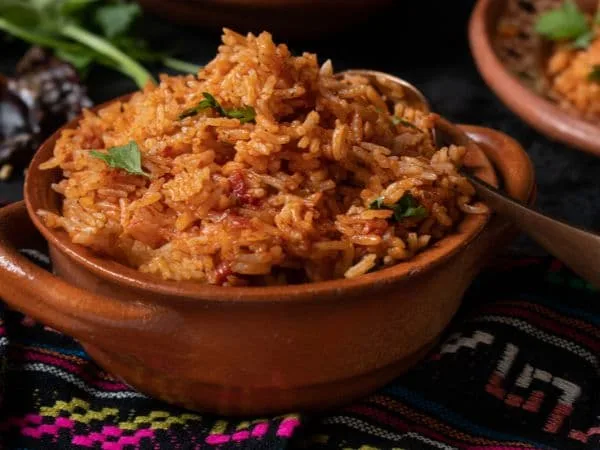 It is quite different from Spanish rice as it is fluffier and contains tomatoes or tomato sauce and cumin which gives it a reddish-brown color. Spanish rice is also a different color. It has a yellow hue due to the saffron in the dish.
Mexican rice is a great flavor combination with fajitas.
Cilantro Lime Rice
Also, consider another flavorful rice dish which is Cilantro Lime Rice. This unique side dish makes a particularly delicious combination with shrimp fajitas. It is also an easy one to make in the Instant Pot.
Best Sides Using Corn to Serve With Fajitas
Elotes
Grilled Mexican Street Corn or Elotes, is a great side dish for fajitas. After grilling the corn you then slather it with a spicy creamy Cotija cheese spiked sauce.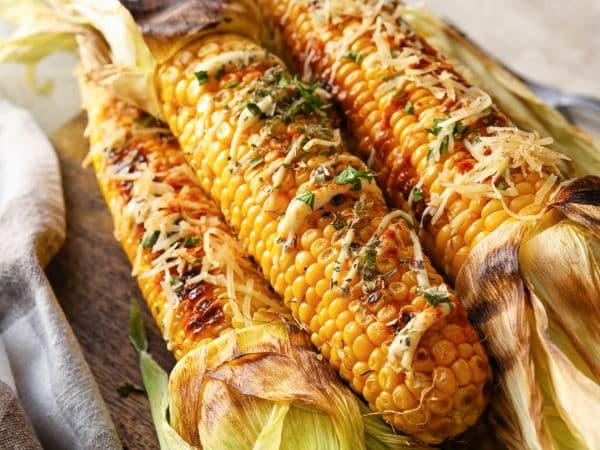 Grilling shucked ears of corn directly over very hot coals is a great way to bring out the corn's nutty flavor and slightly char the kernels.
You make a sauce out of a blend of garlic, cilantro, chili powder, mayo, and Cotija cheese. Then you add a final squeeze of lime before slathering it all over the grilled corn cobs.
These flavor combinations make the corn sweet, salty, savory, nutty, creamy, and tart all at the same time.
Use any leftovers to make a Mexican Street Corn Salad for a family dinner later in the week.
Tortilla Chips
Corn tortilla chips are a staple in Mexican food restaurants. Make them an easy side dish or appetizer with your fresh homemade salsa and guacamole.
If you are looking for low-carb or keto chips there are many options these days!
What Drinks to Serve With Fajitas? Wine Recommendations!
Of course, there are always the standard Margaritas and Lager beers. Nothing wrong with these standards, but what about wine?
For those who prefer wine, (yes, you can serve wine with Mexican foods), use this Guide for the Best Wine Pairing with Fajitas for some assistance. You'll be surprised!
Invite Friends Over for a Homemade Fajita Dinner
The next time you think about a fajita dinner at your local Mexican restaurants, try planning a fajita night at home.
The food will be delicious. The company is amazing. And you'll be able to hear the conversation while dining at your own pace. No being rushed out or waiting for a long time for your food.
Cheers Y'all!
P.S. Sharing is Caring. Please share this post on your favorite social media platform.
Shopping Resources
Shared With…