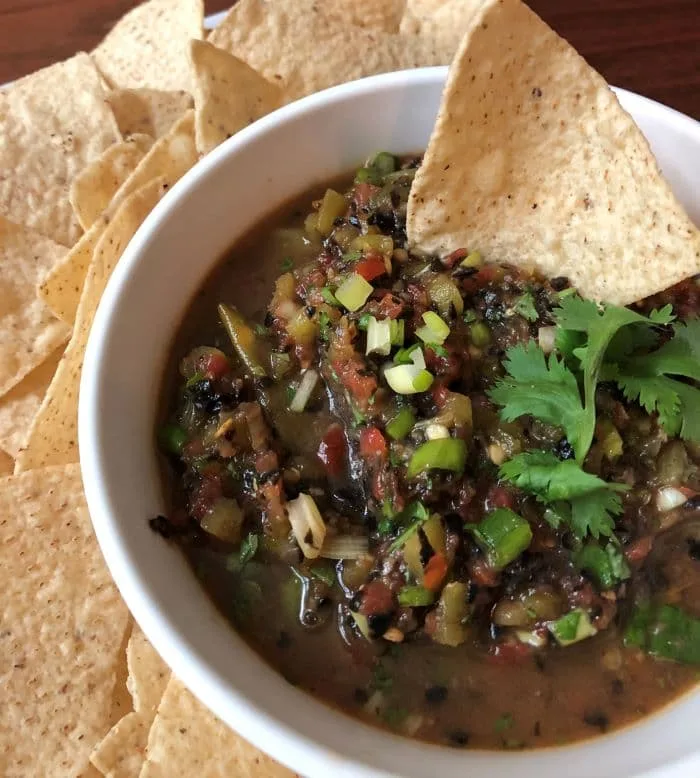 Homemade Recipe for the Best Salsa for Keto Diets
Here is a recipe for the best salsa for keto dieters or anyone looking for low-carb recipes. Make this keto-friendly salsa recipe and enjoy the fresh flavors for an appetizer, snack, or as a condiment for your main course.
This post may contain affiliate links, meaning I get a small commission if you decide to make a purchase through my links. This is at no additional cost to you. Please read my DISCLOSURE POLICY for more info.
This is an easy recipe for you to make your own salsa which is a better option than store-bought salsa.
Follow this best keto salsa recipe to enjoy a bright, fresh, and very easy-to-make dish. You can serve it as a condiment with any meal or even in place of salad dressings.
You might be asking why you should make salsa when you can easily pick up a jar of salsa at your grocery store.
Homemade is always the best! You control the ingredients, the salt, and the heat. Making this best keto salsa won't take 10 minutes once you get the groceries home.
I bet this recipe will become one of your favorite things to make when fresh produce is plentiful.
Serve this keto recipe for salsa with chips as an appetizer for this Fajitas Menu.
What is a Ketogenic Diet?
According to Healthline, the ketogenic diet, also known as the keto diet, is a low-carbohydrate, high-fat diet that offers many health benefits.
Studies show that this type of diet can help you lose weight and improve your overall health. It lowers blood sugar and insulin levels and shifts the body's metabolism away from carbs and toward fat and ketones to burn for energy.
Ketogenic diets may even have benefits against diabetes, cancer, epilepsy, and Alzheimer's disease.
For diabetics, the ketogenic diet can boost insulin sensitivity and cause fat loss. This can lead to significant health benefits for people with type 2 diabetes or even prediabetes.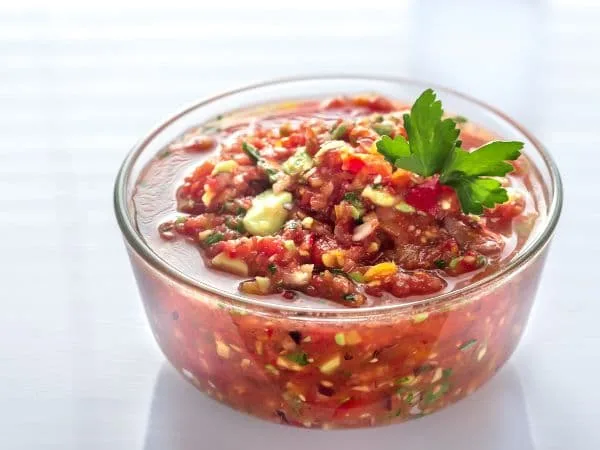 Is Salsa Keto Diet-Friendly?
One of the main reasons this salsa is good for a ketogenic diet is due to the low-carb vegetables in the recipe.
One of the main differences between making your own keto salsa and opening a jar of traditional salsa is this recipe does not use tomato puree. You find this ingredient in many tomato-based salsas and it has added sugar.
This low-carb salsa recipe is made with simple ingredients. You can easily use substitute ingredients to make your own keto salsa the way you like it.
It is a fresh tomato salsa but also uses canned tomatoes for texture and richness, which are very low in sugar.
What are the ingredients in this Keto Diet Salsa?
This recipe uses natural ingredients and fresh ingredients. It does not call for high-carb ingredients. All of these ingredients can be picked up in your grocery store, but I also like to use the local store or farmer's market for the produce.
A can of ROTEL Tomatoes-n-Chiles
Fresh tomatoes, cherry sized
Green onions
Fresh cilantro
Extra virgin olive oil
Fresh Lime Juice
Small can of chopped black olives
Small can of jalapeno relish or one large jalapeño pepper, roasted, peeled, and seeded
Garlic salt or sea salt
This low carb salsa has a much better flavor than regular hot sauce which can be mostly ground cayenne peppers.
It does not have much fat as there is only one tablespoon of olive oil in the entire recipe.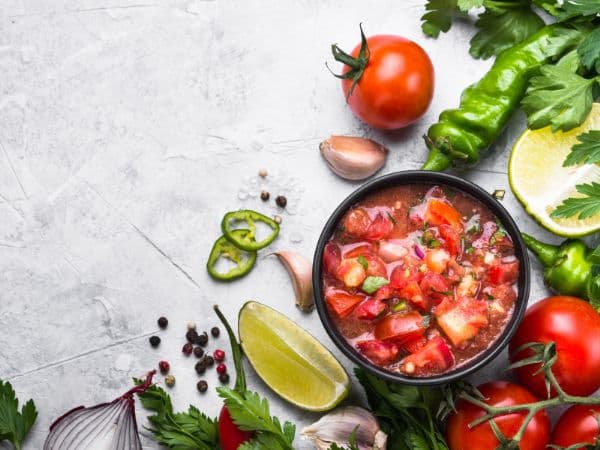 Substitutions for the Best Keto Diet Salsa Recipe
Here are some substitutions for this recipe so you can make it your own with what you have on hand.
Tomatoes. You can use diced canned tomatoes in place of fresh ones, but you won't have as bright a flavor profile.
In place of the Rotel, use one cup of peeled, seeded, and chopped fresh tomatoes plus one small roasted and peeled Anaheim or Hatch green chile.
Green onions. Use ½ cup of chopped yellow or white onions or 1/3 cup of red onion if you do not have scallions.
Lime Juice. You can use lemon juice, but reduce it to 2 teaspoons.
Black Olives. I do not recommend using Kalamata olives. They are more briny and tart which will change the flavor profile of the salsa.
Jalapeno peppers or relish. If these are too hot then use the same amount of green chilies either fresh or canned. Or substitute green bell peppers.
Salt. If you are reducing your salt intake then use garlic powder instead of the garlic salt and add one more teaspoon of lime juice.
Garlic. Add a clove of garlic for some kick.
Avocado. Add some chopped avocado for creamy bites.
Remember you can always skip any ingredient that disagrees with you!
How to Make This Keto-Friendly Condiment
The good news is you only need a knife and food processor to make this fresh salsa.
Combine the first six ingredients in a food processor. Note: if you are using a whole roasted jalapeno or two instead of the relish, add this to the food processor with the other ingredients.
Pulse for 10 – 15 seconds until the ingredients are chopped smaller than pico de gallo. Or pretty fine but not pureed.
Pour into a bowl, add the small can of chopped black olives, and stir well. Add 2 teaspoons of jalapeno relish, if using, and ½ teaspoon of Garlic salt or powder. Stir and taste.
Add more jalapeno relish and garlic salt to your liking.
Store in an airtight container in your refrigerator until ready to use.
Is This Homemade Keto Salsa Recipe Healthy?
This recipe for the best salsa for a keto diet is very healthy!
All of the ingredients are low-fat, whole foods with very few food additives. The low carb vegetables are a great keto diet addition.
Here is some nutritional information about the ingredients in this delicious salsa.
Tomatoes are the major dietary source of the antioxidant lycopene, which has been linked to many health benefits, including reduced risk of heart disease and cancer. They are also a great source of essential nutrients like vitamin C, potassium, folate, and vitamin K.
Green onions are a good source of vitamin K, which helps your blood clot and keeps your bones strong.
Cilantro is a natural medicinal herb from ancient times. Recent studies show it has the capability to reduce anxiety, lower blood sugar levels, and prevent foodborne illnesses.
Black olives are a good source of fiber and are low in cholesterol.
The antioxidants in olive oil may help protect the body from cellular damage that can lead to a range of health conditions and diseases. Olive oils are full of healthy fats and are a major component of the Mediterranean Diet which is one of the healthiest diets on the planet.
Lime juice consumption may reduce heart disease risk factors, improve immunity, prevent kidney stones, and even promote healthy skin.
Jalapeño peppers are not just in here for the heat. These chili peppers are low-calorie and full of vitamins, minerals, fiber, and antioxidants.
Green chilies are low in calories, virtually fat-free, and rich in nutrients and vitamins that can enhance your health.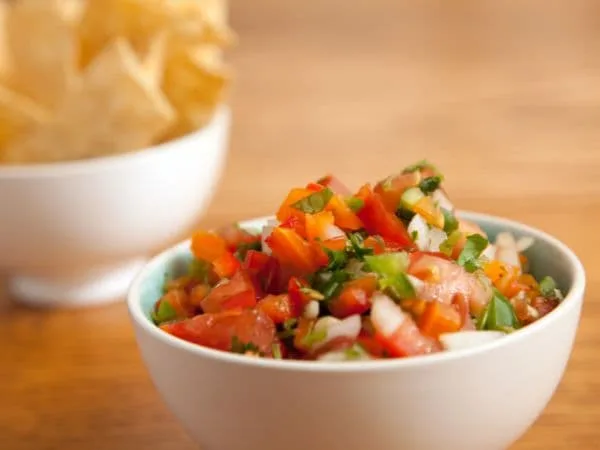 Nutritional Values
A portion size of this recipe is considered about 1/3 cup. This recipe makes 6 – 8 servings.
Amount per serving: Calories 43
Total Fat: 3.7 g
Saturated: 0.3 g fat
Cholesterol 0 mg
Sodium 110 mg
Total Carbohydrate: 2.8 grams of carbs
Dietary Fiber 0.3 g
Total Sugars 0.8 g
Protein is pretty low at 0.2g g protein
Vitamin D 0mcg
Calcium 7 mg
Iron 0 mg
Potassium 32 mg
There are 2.5 g net carbs for each serving in this recipe. And this salsa is easily part of a low-carbohydrate diet when you see such a low number of grams of net carbs and sugar in the recipe.
What about Food Additives in this Best Keto Diet Salsa Recipe?
If you are worried about the citric acid and calcium chloride in the tomatoes and green chilies you can relax. A bit.
What is Citric Acid?
According to Healthline.com, citric acid is naturally occurring in citrus fruits. It is a compound originally derived from lemon juice.
Today, citric acid is made from a specific type of mold and is used to boost acidity, enhance flavor, and preserve ingredients. It's also used to stabilize or preserve medicines and as a disinfectant against viruses and bacteria.
In fact, manufactured citric acid is one of the most common food additives in the world. Sodas, juices, powdered beverages, candies, frozen foods, and some dairy products often contain manufactured citric acid.
Calcium Chloride is not Salt
It has a salty flavor but is a food additive to help with keeping foods firm, lowers the freezing point of some products, and is used as an electrolyte in some drinks.
Does Homemade Salsa Need to be Processed?
If you are going to make a big batch and store your salsa in mason jars then you should process it properly.
However, this recipe is meant to be eaten when it is freshly made in just a few days if not a few minutes!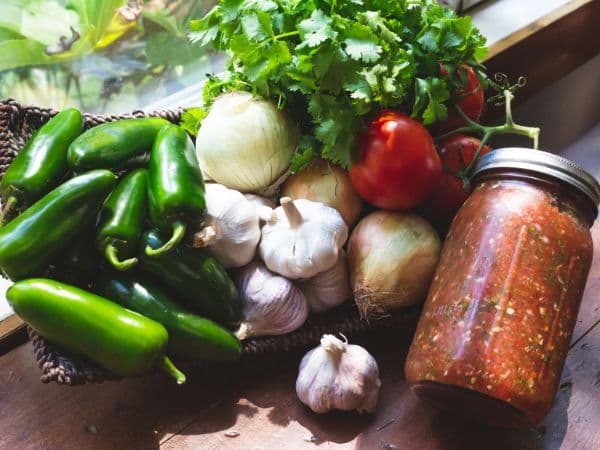 Will this Best Salsa for Keto Diets be Better the Next Day?
Heck yes! This delicious salsa is actually better a day after you make it. Time lets the flavors meld and bloom a bit.
If you want to make it richer then throw it in a saucepan and cook on low for 30 minutes.
What to Serve with Keto Salsa?
A great way to enjoy this salsa as an appetizer is with traditional tortilla chips. However, to keep it keto diet friendly, you can serve these low carb chips.
Or skip the chips and serve the keto salsa recipe with pork rinds for scooping. Make sure to buy the plain, unflavored variety. And make sure they are made only of pork skins and salt to have zero carbs like these pork rinds.
Keto salsa is a great option to use in place of salad dressing on taco salad.
It is also a great addition to a dinner with this recipe for Beef Flank Steak Fajitas. Serve them with the Best Grilled Bell Peppers and Onions. Roll it all up in these low carb tortillas. Or substitute egg white wraps or use Boston lettuce leaves to keep the carbs ultra-low.
Invite Friends Over for Some Healthy Chips and the Best Keto Diet Salsa
If this is your first time trying to make homemade salsa you will find this is one of the tastiest and easiest recipes to make. There are many ways to add this delicious condiment to a keto meal.
Print off the recipe card below and head to the store. Then call some friends and invite them over for a delicious meal!
Cheers Y'all!
P.S. Please share with your friends on social media!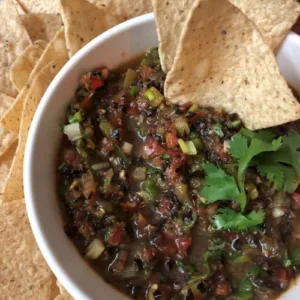 Fresh Keto Salsa
Enjoy the fresh salsa flavors for an appetizer, snack, or as a condiment for your main course.
Ingredients
1

can ROTEL Diced Tomatoes & Green Chiles

6

cherry tomatoes

3

– 5 green onions

rough chop

1

Tablespoon

Fresh cilantro

rough chop

1

Tablespoon

extra virgin olive oil

1

Tablespoon

fresh Lime Juice

1

small can chopped black olives

1

small can jalapeno relish

use 1 – 5 tsp to taste

½

teaspoon

Garlic salt

+ more to taste
Instructions
Combine first six ingredients in a food processor. Pulse until chopped very small, but not pureed.

Pour into a bowl and add the chopped black olives to taste. Stir well.

Add 2 teaspoons jalapeno relish and ½ teaspoon Garlic salt. Stir and taste.

Add more jalapeno relish and garlic salt to taste.

Serve with low carb tortilla chips.
Notes
Note: It is even better after sitting overnight. You can also add a peeled garlic clove for some zip.
Substitutions on Best Salsa for Keto Diet Post
Shopping Resources