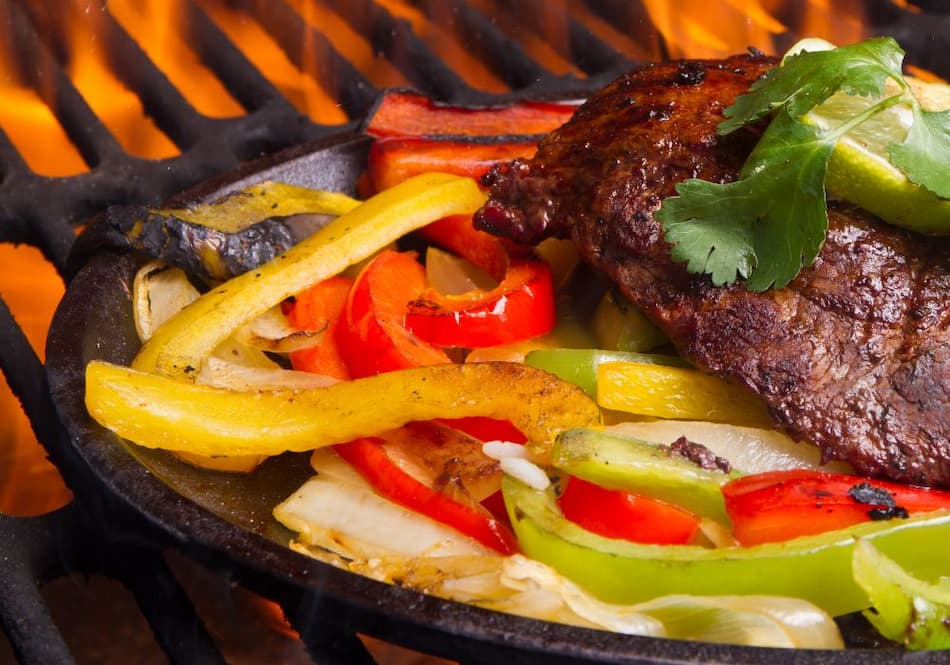 How to Cook Bell Peppers and Onions for Fajitas
If you want to make your own fajitas at home then you need to know how to cook bell peppers and onions for fajitas! This recipe will show any home chef how to make the best fajita veggies to go with any kind of fajita!
This post may contain affiliate links, meaning I get a small commission if you decide to make a purchase through my links. This is at no additional cost to you. Please read my DISCLOSURE POLICY for more info.
Every time I go to my favorite Mexican restaurant, there are always sizzling fajitas being carted to tables. It makes me hungry for them, but I really enjoy making my own at home.
Fajitas are a delicious and easy dish to make in your own home. Even if this is the first time you are attempting to cook them at home, you'll find some easy recipes and ideas here for making fajita vegetables.
What Vegetables Should You Serve With Fajitas?
The most popular vegetables to serve with fajitas are bell peppers and onions.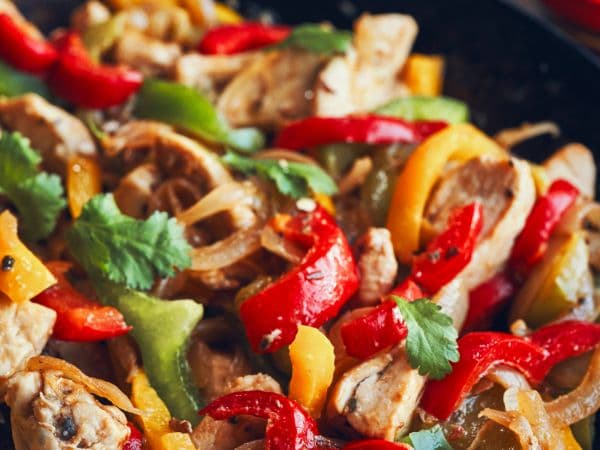 Sautéed bell peppers and onions are an excellent side dish for any kind of fajitas. You can use any kind of bell pepper, but red and green bell peppers are the most popular fajita veggies.
I have cooked both sweet yellow onions and red onions for fajitas and other Mexican dishes. However, I really like the bolder flavor of the red onions when it comes to fajitas. White onions just don't have as much flavor as I like for this dish.
Vegetarian Fajitas
A great thing about this recipe is it doesn't just have to be an easy side dish. You can make an entire Mexican dinner with vegetable fajitas as your main dish!
Feel free to add sliced portobello mushrooms to the mix. Also, sliced zucchini tastes great from the grill!
You can even add summer squash, eggplant, or any in-season produce that you enjoy grilling.
Use halved sweet mini bell peppers instead of large bell peppers if you prefer.
For an extra kick add some thinly sliced poblano chiles or sliced jalapenos to your grilled veggie fajitas.
Nutrition Of Bell Peppers And Onions
According to Healthline, bell peppers are loaded with vitamins and minerals.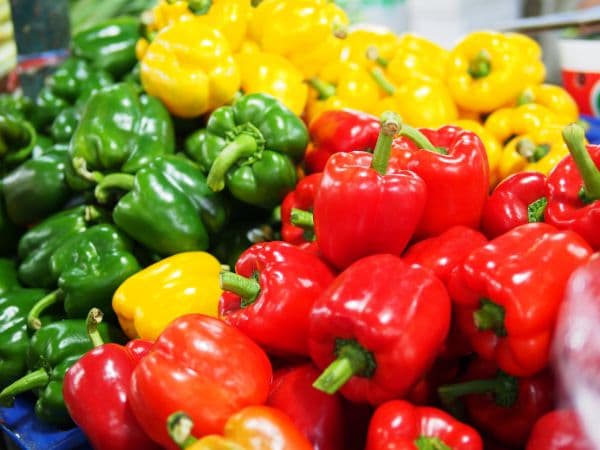 Vitamin C: One medium-sized red bell pepper provides 169% of the recommended daily values for vitamin C, making it one of the richest dietary sources of this essential nutrient.
Vitamin B6: Important for the formation of red blood cells.
Vitamin K1: K1 is important for blood clotting and bone health.
Potassium: This essential mineral may improve heart health.
Folate: Also known as vitamin B9, folate has a variety of functions in your body.
Vitamin E: A powerful antioxidant, vitamin E is essential for healthy nerves and muscles. The best dietary sources of this fat-soluble vitamin are oils, nuts, seeds, and vegetables.
Vitamin A: Red bell peppers are high in pro-vitamin A or beta carotene.
And at 32 calories in a half cup, bell peppers can easily be part of a low-calorie diet.
According to WebMD, red onions are linked with many health benefits mostly due to the antioxidants they contain. Research shows that one particular antioxidant, called quercetin fights inflammation and boosts the immune system. Additionally, these antioxidants can help fight cancer.
Other nutrition facts for onions reveal the following:
Onions may kill a wide range of bacteria.
They help increase bone density which helps prevent osteoporosis.
Onions contain fructooligosaccharides, substances that act as prebiotics that help gut health.
Ingredients for Fajita Veggies
What do you need for this recipe? Simple ingredients.
First, you want to start with great spices. You can use store-bought fajita seasoning or make your own.
Seasoning for Fajita Vegetables
Here are the main ingredients for your homemade fajita seasoning mix.
1 tbsp chili powder
1 ½ tsp kosher salt
2 tsp smoked paprika
1½ tsp ground cumin
1½ tsp garlic powder
1 tsp onion powder
1/4 tsp cayenne pepper (optional). If you think this is too hot, then substitute black pepper instead.
Mix in a small bowl and store in an airtight container.
Fajita Vegetables
Next, find the best produce to use for your fajita vegetables.
To make the Fajita Vegetables you will need the following ingredients:
One large red onion
Two sweet bell peppers such as orange and red bell pepper, or yellow bell pepper
One green bell pepper
One to two medium poblano peppers
2 garlic cloves
Avocado oil or olive oil
Kosher Salt
Black Pepper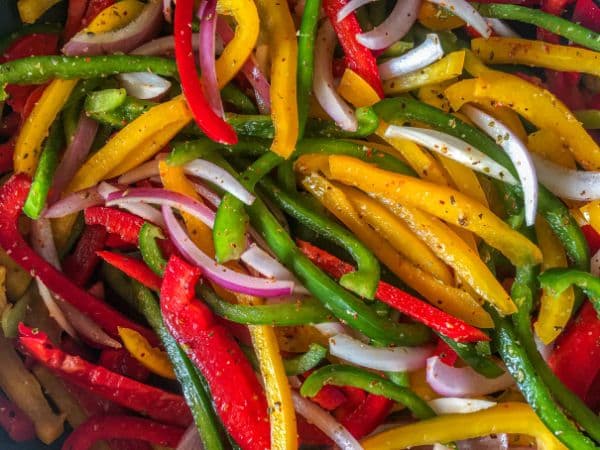 Substitutions
You can certainly substitute yellow onions of you don't like or don't have red onions.
You may also use vegetable oil or canola oil in place of avocado oil. Keep in mind olive oil has a lower smoke point than the other oils.
You can use ancho powder in place of the chili powder.
How to Cook Bell Peppers and Onions for Fajitas Recipe
Wash and dry your peppers.
Using a clean cutting board, cut the peppers in half. Remove the stems, seeds, and white parts of the peppers. Then with the skin side down, cut the peppers into thin strips.
Cut the root and top off the onion, then cut in half from these ends. Peel the out layers off. Place on the cutting board cut side down and cut thin slices starting horizontally at the root end.
Smash each of the garlic cloves, remove the skins, and set aside.
Using a large bowl, toss the bell peppers, onion, and garlic cloves with 2 tablespoons of olive oil or avocado oil. Then toss with 2 tablespoons of the fajita seasoning.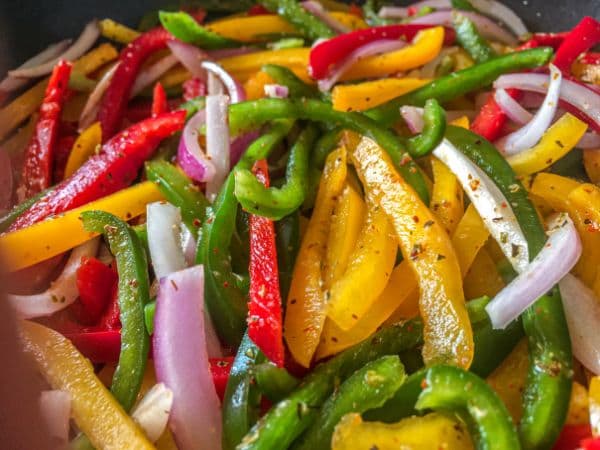 How To Cook Bell Peppers And Onions For Fajitas
There are several ways to cook bell peppers and onions for fajitas, but for the best results grill them over medium-high heat. Grilling is one of my favorite ways to cook any kind of vegetable.
As the peppers and onions are thinly sliced they will be quick-cooking vegetables. So keep an eye on them while cooking.
On a Grill
This easy side dish or main entree of vegetables is great off the grill. You just cannot beat that awesome smokey flavor that only the grill provides.
Heat your grill to medium-high heat while you prep the fajita veggies. Clean your grill grates and lower to medium heat, or use indirect heat, when you begin to grill the vegetables.
If you like a little more char on your vegetables, then cook them on the grill using a grill basket. I use this grill basket all the time. There are many kinds of grill baskets out there, but the open ones I think are best as you can move the vegetables around with long tongs more ensuring none burn.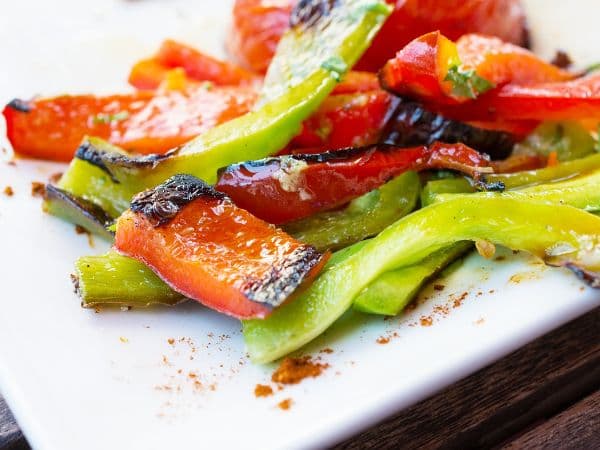 If you do not have a grill basket, after you prepare the vegetables put them in foil packets before placing them on the grill. It makes for easy cooking and quick clean-up.
Grill these packets on a cooler area of the grill at the same time you grill your Beef Flank Steak Fajitas. Grill for five minutes foil packet seam down. Turn over and grill for three more minutes. Check the vegetables and continue grilling with the seam open until soft and charred a little.
How to Cook Bell Peppers and Onions for Fajitas in Cast Iron Skillet or Grill Pan
The second best way to cook bell peppers and onions for fajitas is using a grill pan or large cast-iron skillet.
Add a tablespoon of oil to your grill pan or skillet and place over medium-high heat.
Add the prepared pepper slices and cook for 2 – 3 minutes. As the sautéed peppers start to soften, add the onions. You'll know the sauteed onions are almost finished when they are translucent and start to take on some char. About 15 minutes.
For even more kick, finish with some fresh lime juice and a pinch of cracked red pepper flakes.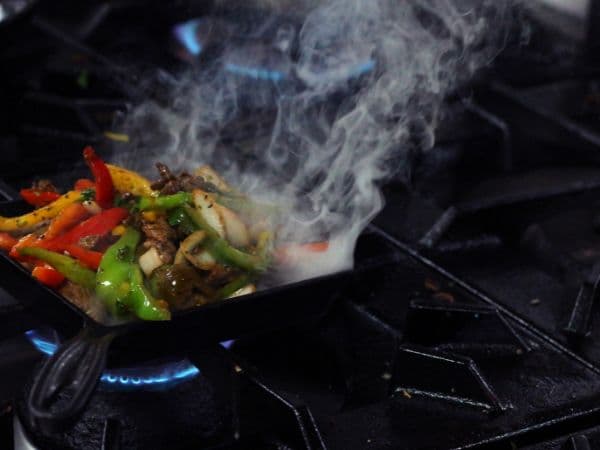 How to Cook Bell Peppers and Onions for Fajitas in a Pan
When you sauté peppers and onions in a large skillet, non-stick or stainless, you still get a great-tasting dish. However, you lose the char flavors of the previous two methods.
However, sautéed veggies for your fajitas are still very good this way.
Place a large pan on your stove top over medium-high heat and add one tablespoon of olive oil. When it is hot, add the peppers to the hot pan and cook for 2 – 3 minutes before adding the onion slices. Then turn the heat down to medium and cook the veggies until the onions start to turn a golden brown. About 20 minutes.
Sheet Pan in the Oven
This cooking process is my least favorite as it doesn't have as much flavor as grilling or using a large cast iron skillet. Personally, I'd skip it.
Fajitas Recipe And Menu For Summer Grilling
Get ready to make your own fajitas and add this delicious side dish of sauteed peppers and onions.
Top your fajitas with sour cream, avocado slices, or guacamole and fresh chopped tomatoes and cilantro. Add Mexican Style beans, rice, and guacamole or green salad for a complete dinner.
Start your meal with Cheesy Grilled Jalapenos and a Blueberry Margarita to both heat up your taste buds and cool you down.
You can make your own Beef Flank Steak Fajitas to add to the peppers and onions. Serve on warm tortillas either corn tortillas or flour tortillas. Just pop foil-wrapped tortillas in the oven for a few minutes before serving.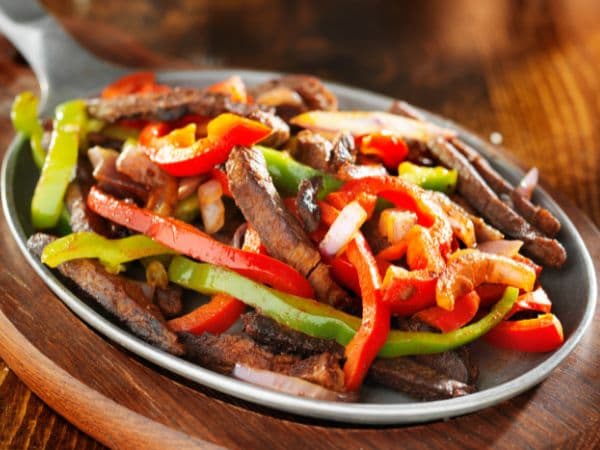 Make these Mexican or Southwest Style Slow Cooker black beans as a great side dish.
Finish with these Salty Chocolate Chunk Cookies and vanilla ice cream.
Chicken Fajitas
If you prefer chicken fajitas you can follow the flank steak fajitas recipe and replace the beef with chicken breast meat. For really easy chicken fajitas, toss one cup of rotisserie chicken with a teaspoon of fajita seasoning and saute in a pan until warm. Finish with a squeeze of lime juice and serve with tortillas.
How to Use Leftover Cooked Bell Peppers and Onions
Use leftover fajita vegetables to make burrito bowls like those you see at a Chipotle restaurant.
Or put it on top of a taco salad for a rich flavor addition.
You can also top your scrambled eggs with them!
They are delicious in so many dishes!
Invite Friends Over and Share a Meal
Use the recipe card below to learn how to cook bell peppers and onions for fajitas.
Add them to a protein like steak, chicken, or shrimp for a great fajitas meal. Or add sliced portobello mushrooms or zucchini slices to this recipe and serve vegetarian fajitas.
There are all sorts of Mexican recipes that can benefit from grilled peppers and onions. So start making this your next favorite recipe today!
Cheers Y'all!
P.S. Sharing is Caring. I would really appreciate it if you would share this post on your favorite social media site. Thanks so much!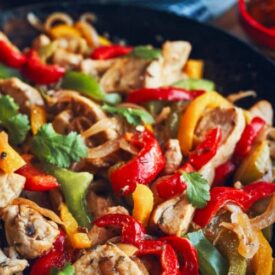 Fajita Vegetables
Here's the best combination of fajita veggies to use with any protein!
Equipment
grill

grill basket

long grill tongs
Ingredients
1

large red onion

2

sweet bell peppers

orange, red, or yellow bell pepper

1

green bell pepper

1

medium poblano pepper

2

garlic cloves

skins removed

3

Tbsp

Avocado or olive oil

½

tsp

Kosher Salt

¼

tsp

Black Pepper

2

Tbsp

Fajita Seasoning

Store bought or homemade
Instructions
Heat grill to medium-high or light one chimney of charcoal.

Wash and dry peppers.

On a cutting board, cut the peppers in half. Remove the stems, seeds and white flesh.

With the skin side down, cut the bell peppers into ¼ inch wide strips. Cut the poblano pepper horizontally into ¼ inch strips.

Cut the root and stem off of the onion, then cut in half from stem to root. Remove skin and place on cutting board cut side down. Cut ¼ inch wide half moon slices starting horizontally at the root end.

Smash garlic cloves and set aside.

Using a large bowl, toss the peppers, onion and garlic cloves with 2 tablespoons oil. Add 2 tablespoons fajita seasoning and toss again to coat.

When grill is hot or coals are coated with white ash, pour charcoal into bottom of grill, clean the grates and place a grill basket on the top grate.

Add a thick layer of peppers and onions to the grill basket. Grill stirring frequently until the vegetables begin to char in spots. Place in a clean bowl and continue grilling the remaining vegetables.

Serve with tortillas, sour cream, chopped tomatoes, chopped cilantro, salsa, jalapeno slices, and refried or black beans.
Resources
Grill Basket
Long Grill Tongs
Cast Iron Skillet
Grill Pan
P.S.