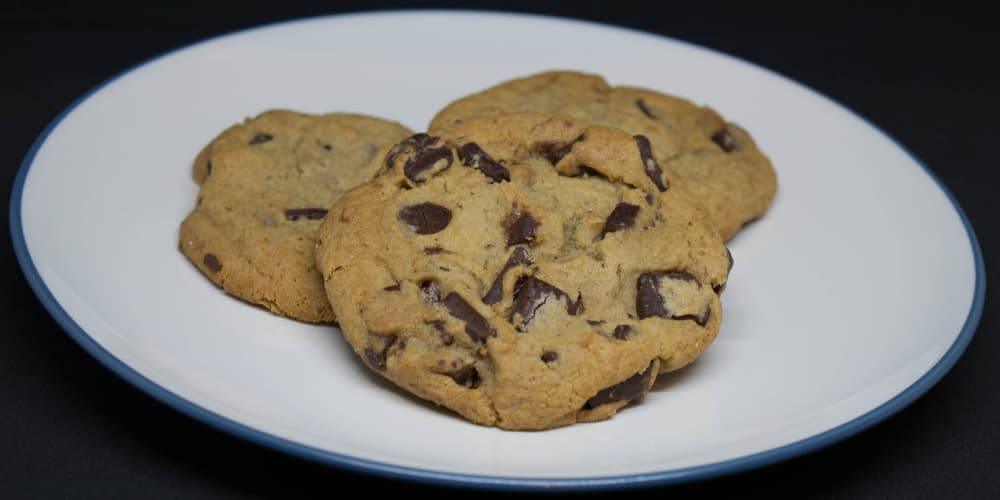 The Best Homemade Salty Chunky Chocolate Chip Cookies
These Salty Chunky Chocolate chip cookies are some of the best homemade cookies I have ever made! I hope you will enjoy them too.
Is this an Easy Cookie Recipe?
It is a very easy cookie recipe! And I believe it is the best cookie recipe I have ever made involving chocolate chips! There are a million different recipes out there for easy homemade cookies, but the easy chocolate chip cookie recipe remains incredibly popular.
You need good quality ingredients and a little time, but every minute is worth the smiles and adoration you will receive for your efforts.
How many servings are in this homemade chocolate chip cookies recipe?
This Salty Chunky chocolate chip cookies recipe for homemade deliciousness makes enough servings for one or MAYBE two people in my estimation. Seriously. Love. These Cookies!
That said, there are not enough "servings", but it does make about 16 -20 large cookies or 25 – 30 small ones depending on if you use a scoop or smaller tablespoon-sized portions. Just make sure they are all the same size for even baking.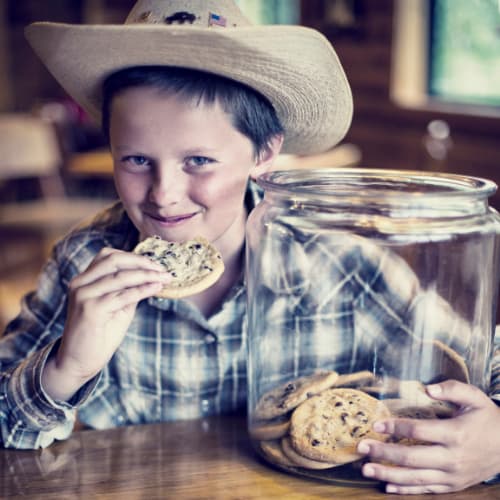 How do you make this recipe for more chewy cookies?
Some people claim a secret baker's trick to chewy cookies is to rest your cookie dough in the fridge. Others claim you should use melted butter or use more brown sugar than white sugar. Some say the key is to use dark brown sugar!
My personal favorite two-part trick, which typically works for me, is to add an extra egg yolk to any cookie recipe and reduce the cooking time by a minute or two. I do this to guarantee I make the chewiest salty chunky chocolate cookies ever!
What are the recipe ingredients?
Always work with the freshest ingredients and high-quality chocolate. Don't skimp on your happiness flavor factor.
Basically, the ingredients for these Salty Chocolate Chunk cookies are:
all-purpose flour
baking powder
kosher salt
baking soda
unsalted butter
light brown sugar
granulated sugar
powdered sugar
eggs
Mexican vanilla
bittersweet chocolate – 60% is recommended, but do not exceed 72% cacao
flaky sea salt
What are the best chocolate chips for baking these cookies?
Quality ingredients are critical to making the best chocolate chip cookies ever!
It all starts with the chocolate! Everyone has their favorite chocolate chip, right? I personally go for Ghirardelli chocolate in my cookies, but there are some really great alternatives out there.
What do you know? The favorite chocolate chips at Epicurious are also my favorite — especially for these cookies! They have a pretty good review of chocolate chips on their site.
I use Ghirardelli Bittersweet Chocolate 60% Cacao Baking Bars chopped into chunks in these cookies. However, they also have bittersweet chocolate baking chips if you want a more uniform look to your chocolate chip cookies.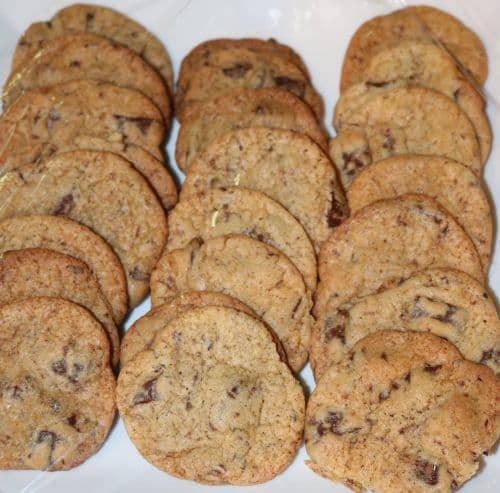 How do you make this Salty Chunky Chocolate Chip cookie recipe?
Directions are, in a nutshell, as follows:
Preheat to 375°.
Whisk dry ingredients in a medium bowl and set aside.
Cream the softened butter and sugars using an electric mixer. Beat until light and fluffy.
Lightly beat the egg yolks, egg, and vanilla and add to the butter mixture.
The mixture should become pale and fluffy.
Then you slowly add the dry ingredients, mixing just to blend. Do not over mix.
Finally, fold in the chocolate. If you haven't snacked on all of it yet!
Drop rounded tablespoonfuls of cookie dough about 2 inches apart on parchment paper-lined baking sheets.
Sprinkle cookies with a little sea salt and bake.
Cool slightly.
Pour that glass of milk and enjoy!
What is the most famous chocolate chip cookie in the world?
It would be easy to convince just about anyone that the most famous chocolate chip cookie in the world is the Nestle Toll House Chocolate Chip Cookie. Especially if the question is asked in America.
Nestle may be a Swiss company, but it has deep roots in America.
According to an article in the New York Times, in 1867, a German-born pharmacist, Henri Nestlé, began a milk-food production company in a small town in Switzerland.
His first product was cereal for infants that was created for mothers who couldn't breastfeed. It was a quick success.
Nestlé's main competitor in Switzerland at the time was the Anglo-Swiss Condensed Milk Company founded by three American brothers.
After decades of fierce competition, the two rival companies finally merged in 1905 to form the Nestlé and Anglo-Swiss Condensed Milk Company.
It wasn't until 1929, however, long after Nestle sold his company, that a European chocolate company specializing in baker's chocolate was purchased by the Nestle owners. The combination of these two companies resulted in the world's first milk chocolate, using Nestle's condensed milk.
In 1939, the company introduced its "morsels", and the rest, as they say, is history.
What is the history of original Nestle Toll House Chocolate Chip Cookie recipe?
The New York Times also published a pretty thorough clip on the creation of Toll House Chocolate Chip cookies as well as their take on the recipe.
Reportedly, Ruth Wakefield is given credit as the inventor of the chocolate chip cookie. In the 1930s, she and her husband ran the Toll House Inn, a restaurant located in Massachusetts. Apparently, she used an ice pick to break a semisweet chocolate bar into little bits, mixed them into brown sugar dough, baked them, and the chocolate chip cookie was born.
In 1939, Nestlé bought the rights to reproduce Ruth Wakefield's original recipe on its packages for a very low price. They also hired her to write recipes for the company. Rumor has it, Nestlé supplied her with free chocolate for life. I'll sign up for that job!
What do you serve with these fabulous cookies?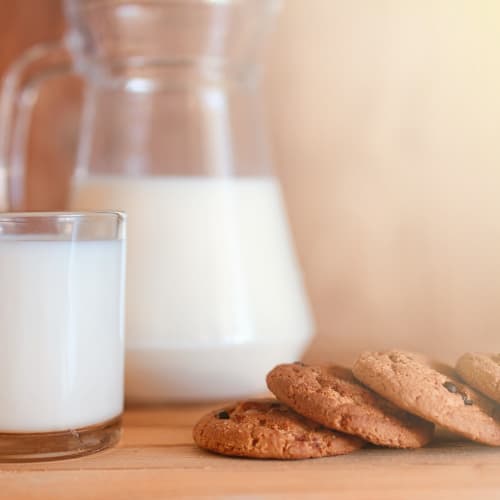 Well, vanilla ice cream of course. Or ice cold creamy milk! Or, for the adults, a tawny port is divine!
These cookies are the crowning dessert to my Phenomenal Father's Day Fajitas Menu which focuses on delicious grilled food! It's not just for Father's Day but is a good menu to tap into throughout your grilling season.
This is the best chocolate chip cookie recipe ever!
These homemade Salty Chunky Chocolate Cookies will put a smile on anyone's face and warmth in your heart. They don't take long and the recipe is pretty easy.
Pass the milk, please!
Cheers Y'all!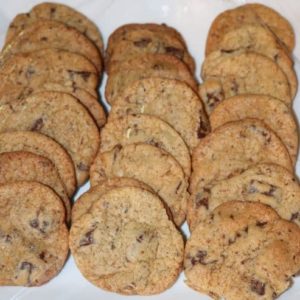 Salty Chocolate Chunk Cookies
(Adapted from Bon Appetit)
Equipment
Sheet pan

Cooling Rack

electric mixer
Ingredients
1 1/2

cups

all-purpose flour

1

tsp

baking powder

1/2

tsp

kosher salt

1/4

tsp

baking soda

1/2

cup

1 stick unsalted butter, room temperature

3/4

cup

packed light brown sugar

1/2

cup

sugar

1/4

cup

powdered sugar

2

large egg yolks

1

large egg

1

tsp

vanilla extract

Mexican if you have it

8

ounces

semisweet or bittersweet chocolate

do not exceed 72% cacao, coarsely chopped

Maldon or other flaky sea salt
Instructions
Place racks in upper and lower thirds of oven and preheat to 375°. Whisk, do not sift, flour, baking powder, kosher salt, and baking soda in a medium bowl; set aside.

Put softened butter, brown sugar, sugar, and powdered sugar into a mixing bowl and using an electric mixer on medium speed, beat until light and fluffy. About 3-4 minutes.

Lightly beat the egg yolks, egg, and vanilla. Add to the butter mixture. Beat while occasionally scraping down the sides of the bowl. The mixture should become pale and fluffy, 4-5 minutes.

Reduce mixer speed to low; slowly add dry ingredients, mixing just to blend. Do not over mix. Using a spatula, fold in chocolate.

Spoon rounded tablespoonfuls of cookie dough onto 2 parchment paper-lined baking sheets, spacing 2 inches apart. Sprinkle cookies with sea salt.

Bake cookies, rotating sheets halfway through, until just golden brown around the edges, 10-12 minutes. The cookies will firm up as they cool. Let cool slightly on baking sheets, then transfer to wire racks; let cool completely.
P.S. Sharing is Caring! If you like this post please make the recipe and rate it. Share with friends, family and your social media platforms. Cheers!