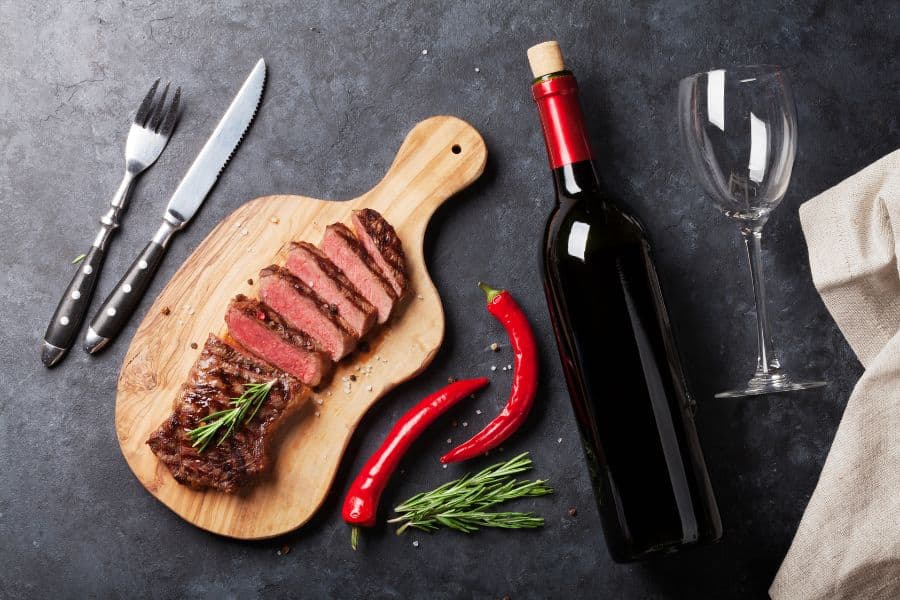 Guide for the Best Wine Pairing with Beef Fajitas
Looking for a great wine pairing with your fajitas? Then read on about how to pair wine with this favorite Mexican dish and other spicy foods.
This post may contain affiliate links, meaning I get a small commission if you decide to make a purchase through my links. This is at no additional cost to you. Please read my DISCLOSURE POLICY for more info.
When it comes to Mexican cuisine most people don't think of wine with their food. The typical beverage of choice includes Mexican beer, tequila, or sangria. Sangria is actually from Spain, not Mexico, but it is on the menu of many Mexican food restaurants for a good reason which we will discuss below.
There is a wide range of flavors, spices, and ingredients in real Mexican food that can be enhanced by a well-paired wine. But keep in mind there is no one perfect wine pairing or the perfect match for Mexican or Tex-Mex foods.
You need to take into consideration your main course sauce or spices as well as the protein. We'll break it down a bit and give you some food for thought.
Is there Mexican Wine?
Did you know Mexico has been producing wine since the 16th century?
Mexico is not a long-standing, traditional wine-drinking country like most of Europe. Traditionally it is known for other alcoholic drinks like beer or cerveza, tequila, and mezcal, the smokey cousin of tequila.
According to Wikipedia, Mexican wine-making began with the arrival of the Spanish in the 16th century. These settlers brought vines from Europe to make their own wine and basically established the oldest wine-growing region in the Americas. Later, Jesuit priests established the first vineyards in Baja California, Mexico, in 1701 at the Loreto Mission.
However, Mexican food and wine culture did not develop in the same way as Europe's cuisine and wine traditions. Although the culinary dishes go back centuries, significant wine production did not begin until the1980s.
Since then premium wine production in Mexico has increased in both quantity and quality.
The Baja California area produces 90% of Mexico's wine today. It has several microclimates much like the Mediterranean due to the sea breezes and fog that develop due to the Pacific Ocean. It is somewhat warmer and drier than the state of California, US, but produces many of the same varietals which originated in Europe.
Wines from Mexico are not particularly plentiful in other countries, but with a little searching, you can find them.
Pairing Wine with Mexican Cuisine
According to Wine Folly, there are a few general wine pairing ideas to keep in mind when pairing wine with fajitas or any other popular Mexican dish.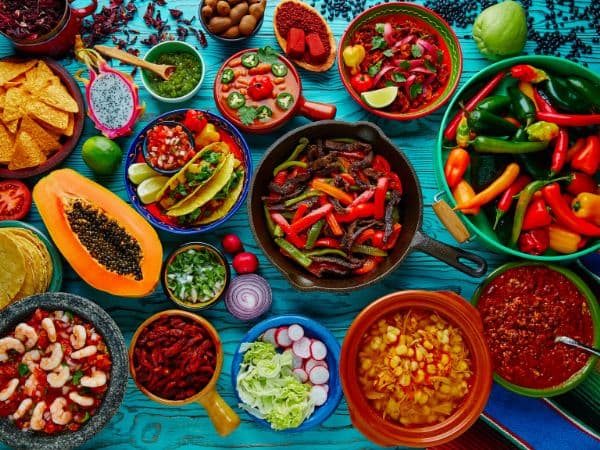 The first general rule is to consider the level of spiciness in a dish. Generally, with hot spicy foods, you need a colder, sweeter, and lighter wine which will counter the spiciness in the food. The coldness of the wine helps quench your palate and a sweet wine will coat your tongue. The low alcohol wines allow you to drink more to help reduce the lingering burning sensation of capsicum or the heat in the chilies and spices.
Second, stick with the white meat = white wine and red meat = red wine rule. Don't overthink this when it comes to Mexican foods. Just make your decision to pair wine a little easier. Beef fajitas = red wine. Chicken fajitas = white wine.
Third, match wines with herb colors. Green herbs like cilantro, thyme, and Mexican oregano are in many Mexican dishes. These beg for wines that have a high acidity and herbaceous flavors much like Sauvignon Blanc or Albariño. However, since Mexican foods can be very spicy, look for a more fruit-forward such as a New Zealand Sauvignon Blanc.
For matching green herbs with red wine, both Cabernet Sauvignon and Merlot have some herbaceous flavors, but they are not as pronounced as those flavors are in white wines.
What to Look for in a Wine Pairing with Fajitas
Mexican food should be paired with lively, playful, fruit-forward wines that also offer some structure.
In a cluster, select wines that are:
Low in tannin
High in acidity
Serve at a cooler temperature
When it comes to Mexican dishes or spicy hot flavors in food, a great pairing will involve wines with low tannins and medium acidity that have been cooled down.
First, lower tannin wines will reduce and not heighten the spiciness of a dish.
Second, the acidity in wine is going to make you salivate, which cleanses your palate. A good reset between spicy bites.
Finally, and seriously, throw that red wine in the refrigerator. If you put a slight chill on a red wine, the change in temperature is very refreshing and helps quench your thirst when a five-alarm fire is going off in your mouth. Just pop it in the fridge for 15 minutes before serving.
Other Considerations When Pairing Wine with Spicy Foods
Other things to consider include aromatic wines, low-alcohol wines, fruit-forward, and sweeter wines.
Aromatic wines are those with notable floral aromas. These are found in some white varietals such as Riesling and Sauvignon Blanc. But some red wines do have this flavor profile on a milder level.
Consider choosing a light-bodied, fruit-forward, low-alcohol red wine like a Pinot Noir from Washington State, Zinfandel from Texas, or Grenache made with a light hand.
For a lot of Mexican dishes with spicy red meat, a rich fruit-forward wine like a Zinfandel, Malbec, or a red blend is a good match. Just look for Zinfandels and red blends that are lower in alcohol than 14%.
These more fruity-tasting wines help moderate the spiciness of the food. In other words, the sweetness or fruit-forward elements, of the wine acts like a fire extinguisher to the spiciness of the dish. This includes red and white wines that are just fruit-forward and wines that have some residual sweetness like a Riesling or Gewurztraminer.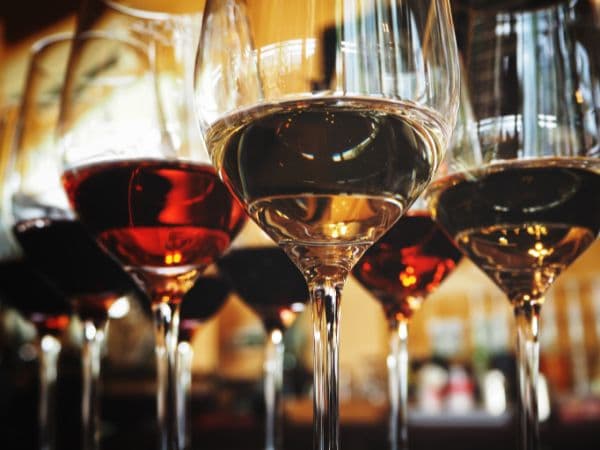 What to Avoid When Pairing Wine with Fajitas
Mexican Food Doesn't Pair Well with Wines that have:
High Tannin Levels
Dominant flavors of oak
Contain high alcohol
You really want to steer clear of wines that are high in tannins and alcohol. High tannin wines or high alcohol wines can heighten the level of spiciness in food making your delicious food taste like it is full of cayenne pepper.
Also, avoid wines with significant spiciness as they can conflict with the spices in the dish. Think about leaving a heavy Syrah or Petite Sirah in the wine cabinet. Spicy foods benefit from the cooling effects of the right wine which will not overwhelm your palate. Sort of like your palate becoming numb.
Additionally, full-bodied red wines can cause problems with avocado and guacamole. The high tannin red wines will clash with the high oil content in avocados.
Steer clear of Chardonnay or heavily oaked red wines like those from Napa Valley. The oak can dull the flavors in a spicy dish. Choose a dry white wine like a Pinot Gris or Chenin Blanc instead.
High alcohol will also increase the heat in your mouth. I like to taste my food not endure a five-alarm fire.
Make Your Own Beef Fajitas for Wine Pairings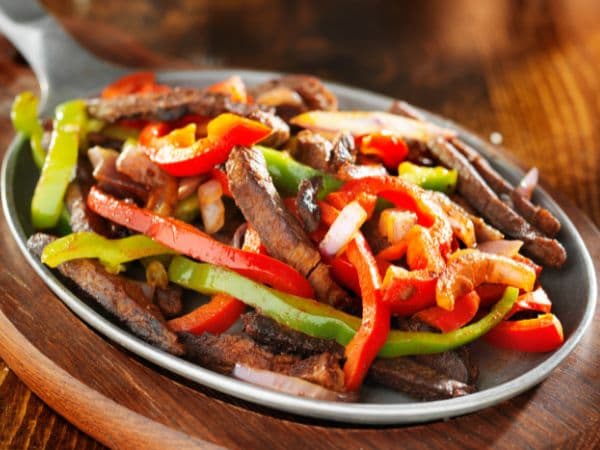 For recipes and ideas to make a fajitas dinner, check out The Best Beef Flank Steak Fajitas Recipe post.
It provides a delicious recipe for steak fajitas as well as recipes for the sides, cooking techniques, and an easy dessert.
Best Wine Pairings for Beef Fajitas
Beef fajitas is a dish full of amazingly bright and rich flavors. Beef seasoned with spices, sauteed onions, bell peppers, and all the zippy and creamy toppings needs a particular wine to compliment the many bold flavors.
There is spiciness in this dish but we also need to pair wine with sour cream, flour tortillas, hot sauce or salsa, and beans and rice that are typically in the dinner. And what about lime juice? It can be there as well.
The following are my recommendations for the best wine pairings with fajitas.
We'll start with the best red wines.
Zinfandel – Number One Wine Pairing with Beef Fajitas
Zinfandel is absolutely my number one choice to pair with fajitas. Actually, this fruity red wine is perfect with anything Tex-Mex based. Zinfandels made in Texas dance your taste buds in perfect harmony with beef fajitas.
A mid-range Zinfandel (in the $15 – $30 range) won't be overly complex and will feature medium tannin levels and medium bright acidity to enhance the flavors in your food. So it will not overshadow the salsa, pico de gallo, bell peppers, onions, or refried beans in your dinner.
Also, the acidity in this wine will help wash away the taste bud coating fats in your beef and avocado. So by the time you're on your last bite, the fajitas will taste just as amazing as your first.
The tartness of the blackberry, black cherry, plum, and raspberry flavors will keep your mouth refreshed. The rounded, soft cherry and strawberry notes also offer assistance with its gorgeous fruit flavors.
You'll also enjoy notes of black pepper, herbs, and leathery smoke that blends well with grilled steak fajitas and lend a complex finish to your fajita meal.
Leave the expensive Zinfandels in your wine cellar. These typically are oaked, have a higher alcohol content, and boast intense notes of chocolate, vanilla, and fruit bomb jamminess. Reserve these Zins for heavy meat dishes like your next New York Strip steak dinner or hearty venison stew.
Carménère
Carménère is a medium-bodied red wine that originated in Bordeaux, France, and now grows almost only in Chile. It is very similar to Merlot.
In fact, a test of Chilean Merlot conducted in 1994 revealed that most of what was thought to be Chilean Merlot was really Carménère from Bordeaux.
The wine is hailed for its supple, fruity plum and blackberry flavors, tart flavors of raspberry, and herbaceous green peppercorn notes.
Carménère makes an excellent wine pairing with fajitas. It has high acidity and an herbaceous peppercorn-like flavor that often embellishes roasted meats.
Additionally, the lower tannin in this red wine makes it a friendly option for lighter, less fatty dishes, such as the lean beef used in fajitas.
Cabernet Franc
Cabernet Franc is rarely thought of as a single-varietal wine unless wine snobs are discussing grapes in the Bordeaux region of France.
It is a shame. I fell in love with Cabernet Franc when I lived in Virginia where I was introduced to bottles of the single varietal grown and bottled there.
Cabernet Franc is a lovely medium tannin, high-acidity red wine. You'll find velvety black fruit like currant, blackberry, and plum, as well as tart raspberry and cherry notes.
It is a good choice with beef fajitas as the fruitiness and bell pepper flavors in the wine will complement the sauteed onion and peppers in this Tex-Mex dish.
The wine also has notes of savory green herbs with will pair well with the veggies, salsa, and beans along with the beef.
Cabernet Franc is also exceptional with chicken and vegetarian fajitas.
Malbec
When enjoying Mexican dishes with red meat and spice such as beef fajitas, you will find a lighter-weight Malbec to be a great match. These wines are both fruity and refreshing.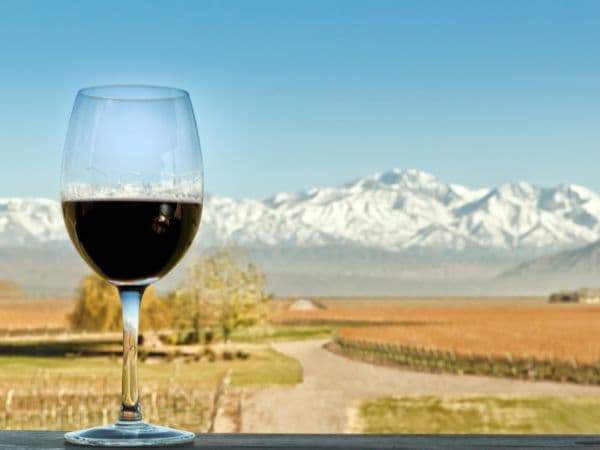 Malbec is actually an easy choice to pair with beef fajitas due to its slightly fruit-forward profile. And roasted meat is a mainstay in Argentina, which is the epicenter of amazing Malbec wines, so this pairing makes total sense.
The dark ripe fruit aromas, spice, and medium to full-bodied characteristics compliment leaner meats used in typical fajitas like skirt steak, hanger steak, or flank steak.
Seek out an Argentinian Malbec from Mendoza for both flavor and price value.
Spanish Garnacha or Rhône Valley Grenache
Garnacha or Grenache has spicy fruits, leather, herbs, and red fruit in its flavor profile. This beautiful and bright-colored red is full of rich aromas of smoked tobacco, fig, plum, and dark fruits as well.
This dry red wine has good acidity and moderate tannins to balance the spices in fajitas.
Be aware that Grenache tends to have a higher alcohol content than other reds here. So look for one on the lower end of the boozy scale.
You won't be disappointed serving this medium-bodied red which has a good level of acidity alongside your beef fajitas.
Dry Rosé
Of course, when it comes to spicy foods and Tex-Mex, it's hard not to mention Rosé wines.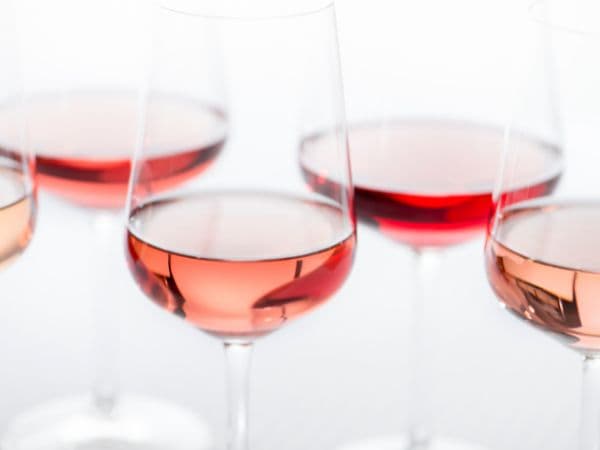 Dry Rosé wines are admired for their bright acidity, varied fruit flavors, and lack of sugary sweetness. Don't let the pink color fool you into thinking it has significant residual sugar.
Depending on the grapes selected by the winemaker, dry Rosé wines can feature notes of red fruits like strawberry, cherry, and raspberry. And they often have hints of citrus, melon, or peach. Floral, herbaceous, and mineral notes can also be present.
The body of dry Rosé can range from light to medium, making it a highly food-friendly wine with a wide array of pairing possibilities.
For beef fajitas look for a dry Rosé made from Grenache, Malbec, or a Bordeaux Rosé.
And if you're sharing a table of varied plates, don't overthink it. Get a delicious Rosé from Spain…You'll never order a fruit-flavored Margarita again.
Sparkling Wine Pairing with Fajitas
Sparkling wines, Cava, Prosecco, and Champagne make for an excellent pairing with a wide range of spicy foods. Most are subtly sweet with high acidity and low tannins. Plus the bubbles help cleanse the palate which is really helpful when eating spicy foods.
When choosing a sparkling look for a dry or "brut" bottle as it will work with all kinds of Mexican foods.
Also, sparkling wines that are not very sweet can be consumed straight through a meal from appetizers to desserts.
Prosecco is typically sweeter than Champagne. It is light, fizzy, refreshing, and can have a pleasant sweetness if you choose an extra dry style. The sweetness will balance out the heat in Mexican dishes, and the bubbles will keep your palate clean.
Lambrusco
This is an interesting bubbly with a little sweetness which can be a great conversation starter. There are both red and white versions, but pick the red sparkler for beef.
The red sparkling wine version is an excellent choice for spicy food as it has the body to pair with beef dishes.
The typical flavors in Lambrusco can include rhubarb, sour cherry, wild strawberry, boysenberry, and blueberry.
This fruitier style of sparkling red wine often has a touch of sweetness. It can vary in sweetness from dry (Secco) to very sweet (Dulce).
Lambrusco is significantly less effervescent when you compare it to other sparkling wines like Champagne but has more fizz than frizzante wines.
This sparkling wine is low to medium tannin with a medium body and is one of the lower alcohol wines as compared to some of the full-bodied wines listed here. It is also higher on the acidity scale.
The sweetness will definitely combat the heat in spicy fajitas with chili peppers.
Chicken Fajita Options
White wine lovers, the good news is that light, crispy, and acidic whites are also a go-to option for fajitas especially if you are going for chicken or veggies instead of beef.
The citrus and herbaceous notes of a Sauvignon Blanc will balance out the smokiness that comes from fajitas.
Other good options include Pinot Grigio, Pinot Gris, and Chenin Blanc.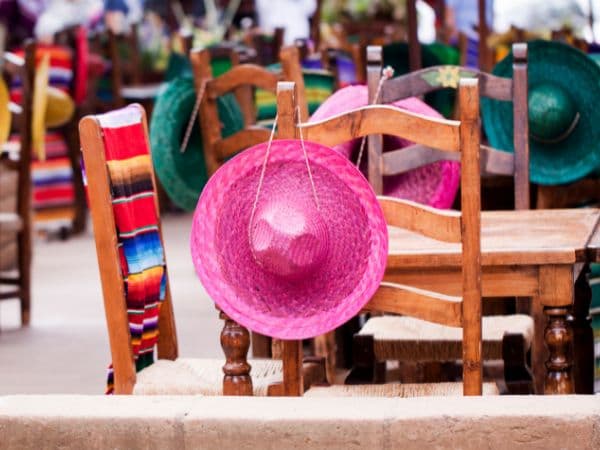 Wine Pairing with Fajitas in a Restaurant with a Limited Wine List
Unfortunately, it is a challenge to find Mexican wines in most Mexican or Tex-Mex restaurants. So if you really want to have wine with your restaurant dinner then here are a few options.
Merlot or Cabernet Sauvignon
Most restaurants have a Merlot or Cabernet Sauvignon on the wine list by the glass. Bonus credit if they are from Argentina. Typically, the by-the-glass Merlot available on the menu will be medium-bodied and friendly enough to pair up with your beef fajitas.
Full-bodied Merlot is expensive, it will have more oak, and often won't be offered by the glass. These bottles will often be from Bordeaux, Napa Valley, or Washington state.
Bubbles
There is almost always some kind of Prosecco on most restaurant menus. Go for it.
Sangria
You can always try the local sangria. The recipe varies in restaurants, so it is easy to experiment.
This is typically a red wine blended with fruits and spices and sometimes fortified with brandy. Although the cheaper versions typically leave brandy out and add orange juice.
It is a pretty good alternative to the margarita if you don't care for tequila and none of the available wines suit your taste.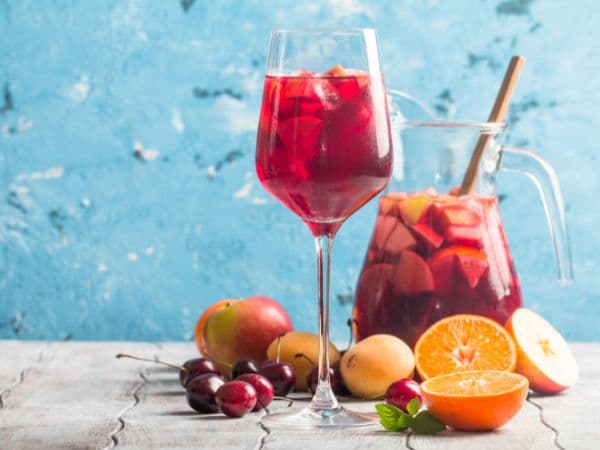 Invite Folks Over and Enjoy These Wine Pairings With Fajitas
Fajitas make any gathering fun as they are a great option for a casual dinner party on the patio.
Here is a complete Fajitas menu and the recipes for this Beef Flank Steak Fajitas dinner.
The best part is that you don't need fancy wines to pair with this rich and exotic dish.
A good idea is to print off this list of the right wine to pair with fajitas and head to your local wine store.
Cheers Y'all!
P.S. Please share this post with your social media friends!