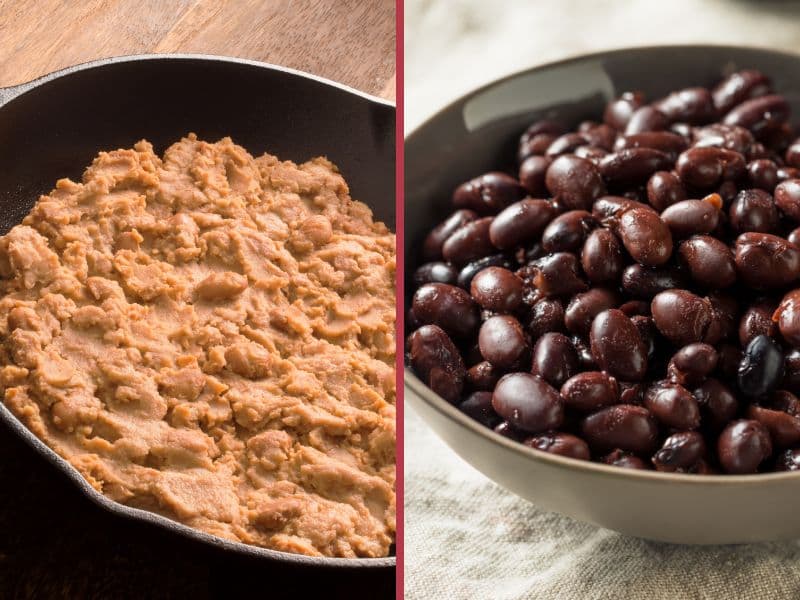 Refried Beans vs. Black Beans: What is the Nutritional Difference?
What is the difference between black beans vs. refried beans?
Key Difference between Black and Refried Beans
Refried beans are a way of preparing beans. Black beans are a type of bean.
What are Black Beans?
Black beans are a type of common bean that is native to Central and South America.
According to WebMD, black beans have been a staple of North American diets for at least 7,000 years. They are commonly referred to as "turtle beans" in English and frijoles negros in Spanish.
Black beans are whole beans typically colored black or dark grey and can be used in a variety of recipes. Black beans are typically cooked and left fairly plain before being added to soups or main dishes.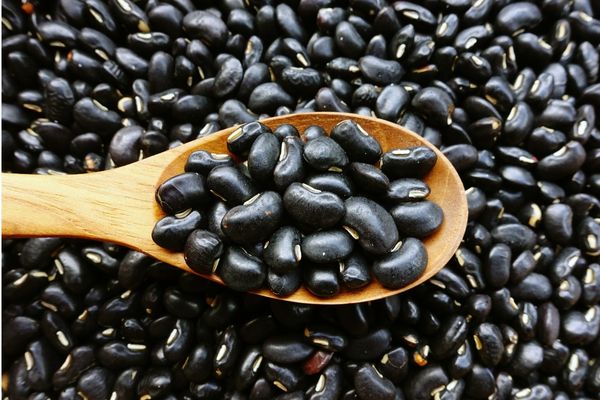 What are the Different Kinds of Black Beans?
There are many different varieties of black beans, but they all share a common black color.
The black turtle bean is the most widely cultivated variety of black beans. It is named for its small, black, turtle-like shape. Black turtle beans are often used in Mexican and South American dishes, such as chili, and can also be made into refried beans.
Another popular variety of black beans is the black soybean. Native to East Asia, black soybeans are smaller and sweeter than other types of soybeans. They are often used in Chinese and Korean cuisine.
Whether you're cooking up a pot of chili or making a batch of Black Bean soup, black beans are a versatile ingredient that can add flavor, fiber, and healthy nutrition to any dish.
What are Refried Beans?
In the United States, you'll find pinto beans are the most common bean used to make refried beans.
Refried beans, or frijoles refritos, are made by boiling and frying whole pinto beans and then mashing them into a paste usually with lard and or broth added to make them creamy. They are usually seasoned with spices but are not typically spicy hot.
They are a staple in Tex-Mex cuisine and are served in any Mexican Restaurant. You will find them on the menu served as side dishes to enchiladas, fajitas, or burritos.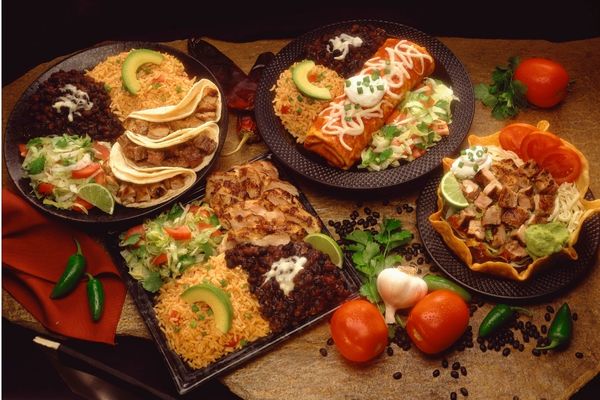 Many people believe refried beans are actually deep-fried, but this is not the case. Rather, they are pinto beans that are cooked and then pan-fried in lard and salt.
Some recipes call for cooking the beans until they soften and eventually form a paste. Other recipes have you cook the beans and then mash them with a potato masher or semi-puree them in a food processor. You can also add seasonings like onion, garlic, and peppers for flavor.
Refried beans may be healthy, but it depends on the preparation. Commercially sold refried beans are not particularly healthy due to the amount of lard and salt added. You can make a healthier version at home using olive oil.
Additionally, you can find variations of refried beans made with red kidney beans or black beans and different seasonings.
What are the Nutritional Differences?
Black beans and pinto beans are two of the most nutritional available, packing a powerful punch in terms of vitamins and minerals. They both are excellent sources of fiber, protein, vitamin b, and iron. They also contain high levels of vitamins and minerals.
Black Beans
Black beans, for example, contain antioxidants, fiber, protein, and carbohydrates that make them nutritionally powerful. A diet rich in beans can reduce your risk of several serious medical conditions and help your body process calories more effectively.
Nutrients per Serving of Black Beans
A one-cup serving of cooked black beans contains:
Calories: 228
Protein: 16 grams
Fat: 0 grams
Carbohydrates: 40 grams
Fiber: 14 grams
Sugar: 0 grams
Additionally, black beans have a higher concentration of antioxidants than pinto beans. Antioxidants can help reduce your risk of health conditions like heart disease and cancer.
Moreover, they have a lower glycemic index, which means they are less likely to cause spikes in blood sugar levels. If you're considering refried beans vs. black beans and are looking for a low-fat, high-fiber option, black beans are definitely a good choice.
Pinto Beans
Pinto beans are also a good source of magnesium and iron, both of which are essential for maintaining good health.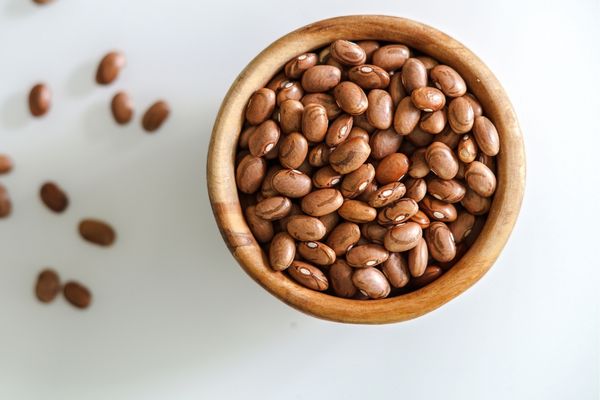 Nutrients per Serving of Pinto Beans
One cup of pinto beans boiled with salt provides (1Trusted Source):
Calories: 245
Carbs: 45 grams
Fiber: 15 grams
Protein: 15 grams
Fat: 1 gram
Sodium: 407 mg
Thiamine: 28% of the Daily Value (DV)
Iron: 20% of the DV
Magnesium: 21% of the DV
Phosphorus: 20% of the DV
Potassium: 16% of the DV
According to Healthline, pinto beans boast a good amount of thiamine (vitamin B1), which is an essential vitamin that helps your body convert food into energy.
Refried Beans
The nutritional values of refried beans vs. black beans are a challenge as recipes differ in their amounts of added oil or lard. If you were to use a minimal amount of oil or lard when making your own refried beans you can add the following to your pinto bean nutritional information according to Nutritionvalue.org.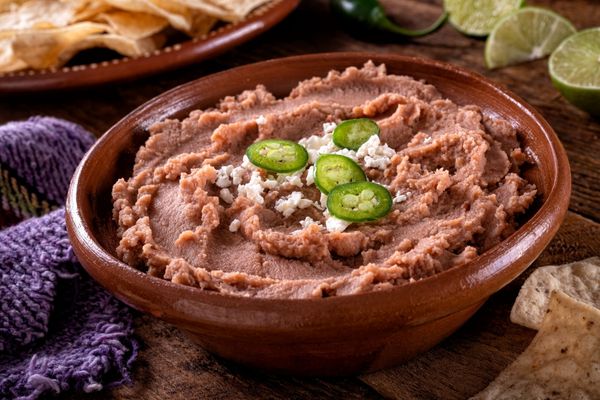 Nutrients per Serving of Refried Beans Made with Lard
Adding 1 tablespoon of lard per cup of cooked pinto beans increases these values.
Calories: 350
Total Fat: 14g
Saturated Fat: 5g
Cholesterol: 12mg
Total Carbohydrate: 45g
Dietary Fiber: 15g
Sugar: 0g
Protein: 15g
So, if you're looking to add some extra protein to your diet without packing on the pounds, black beans are the way to go. You can also make your refried beans with less oil and use vegetable stock for a healthier option.
How do you Cook These Beans?
Using dry beans is an economical way to stretch many dishes and add great nutritional value.
Refried Beans
Refried beans vs. black beans are made by boiling whole beans, usually pinto, and then frying them in lard, vegetable oil, or canola oil. After they are soft you mash them into a paste to make them creamy. Seasonings for these beans include onions, garlic, and spices like chili powder or chili peppers but are not typically spicy hot.
Black Beans
Many start with an overnight soak. First, rinse a pound of dried beans and check them for stones and debris. Then, add the beans to a large bowl and cover them with water by at least 4 inches. Next, cover and let soak for at least 6 hours and up to overnight. Finally, drain, discard the soaking liquid, and rinse the beans with cool running water. Put them in a large pot and cook according to package directions typically using high heat to boil them. Then, use them in your recipe.
You can also "quick soak" your black beans. Begin by checking your dried beans for stones and debris. Then rinse them and add them to a large saucepan or pot. Add water to the pot to cover the beans by 2 inches. Bring beans to a boil and cook for 2 minutes. Remove the saucepan from heat, cover, and let the beans sit for 1 hour. Drain and discard the soaking liquid. Rinse beans with cool running water. Use them in your recipe.
You can also cook black beans in an instant pot, pressure cooker, or on the stove.
Recipe Ideas for Refried or Black Bean Dishes
Black beans are a staple in many Latin American dishes, and there are endless possibilities for how to prepare them.
Southwest Style Beans
If you're looking for a delicious and nutritious way to cook black beans, try making this recipe for Southwest Style Black Beans from your slow cooker.
Slow Cooker Southwest Black Beans are a great side dish for these fajitas!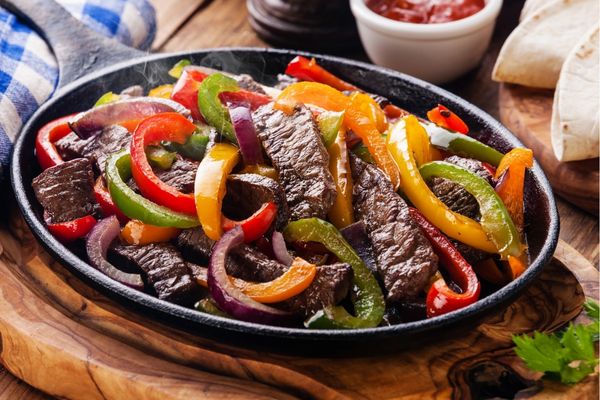 Easy Black Beans and Rice
Make this recipe for Black Beans and Rice with Sausage. It is delicious for a quick weeknight meal or for entertaining friends on a movie night.
Refried Black Beans Recipe
You can also make homemade refried black beans instead of using standard pinto beans. This dish is typically made by mashing or puréeing cooked black beans, then frying them in lard or vegetable oil with onions and garlic. You can also add spices like chili powder or cumin to give the refried beans a little extra flavor. The resulting mixture is thick and creamy, and pairs perfectly as a side dish for Mexican cuisine or added to Mexican recipes.
You can also add a little extra chili pepper to refried beans and serve as a stand-alone bean dip. Just serve this creamy texture dip with tortilla chips.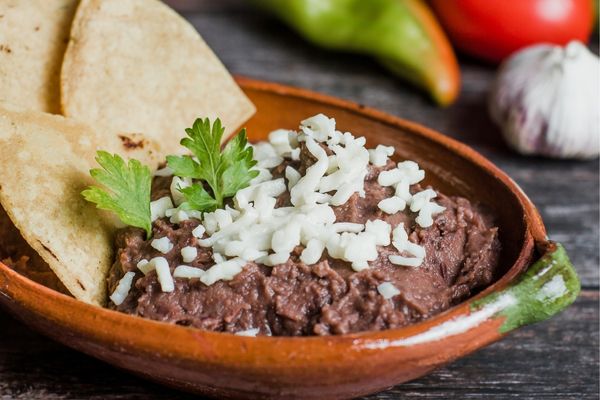 To make refried black beans in a pressure cooker, start by adding the beans, water, and seasonings to the pot. Set the pressure cooker to high pressure and cook for 30 minutes. Once the cooking time is up, let the pressure release naturally for 10 minutes, then use the quick-release valve to release any remaining pressure. Drain the beans, reserving the cooking liquid.
In a large skillet, heat oil over medium heat. Add the onions and garlic and cook until softened. Add the cooked beans and 1/2 cup of the reserved cooking liquid. Use a potato masher or immersion blender to mash or purée the mixture to your desired consistency. Season with salt and pepper to taste. Serve hot as a side dish or mix with rice and roll in tortillas for a vegetarian burrito.
Black Bean Chili
Another popular way to use black beans is to make black bean chili. To do this, simply simmer black beans with spices like cumin, chili powder, and garlic. Then, add sauteed onions and chili peppers. You can garnish it with queso fresco and fresh cilantro. For a heartier dish, add some diced tomatoes or corn.
Dessert
For a truly indulgent treat, try black bean brownies. Seriously! Puree the cooked black beans and add them to your favorite brownie recipe. You'll sneak a great source of protein and fiber into this all-American dessert.
Whether you're looking for a simple side dish or a hearty main course, black beans are sure to please.
Recipe Ideas featuring Refried Pinto Beans
Refried beans are a staple of Mexican cuisine and are a feature in Tex-Mex restaurants.
These hearty, delicious beans are often a side dish for a variety of foods, from simple tacos to sophisticated enchiladas.
For a quick and easy meal, try refried beans on whole wheat or regular tortillas with shredded cheese and salsa.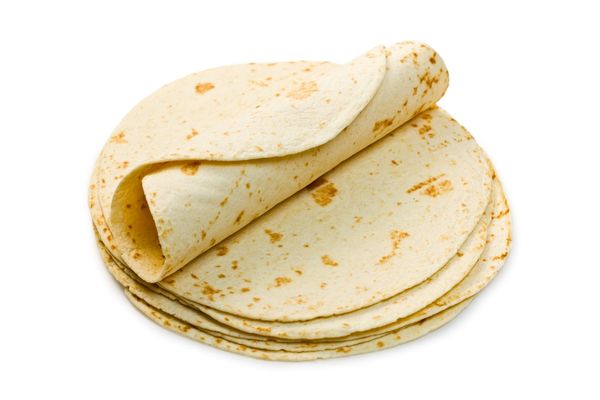 Or, for something a little heartier, try refried beans in a quesadilla with grilled chicken and peppers. Layer the beans with chicken, peppers, and cheese on half a tortilla. Fold and fry in a large skillet until the tortilla is crisp and the cheese is melted. Serve with salsa and sour cream.
The Verdict: Refried Beans vs. Black Beans
When it comes to southwest-style beans, there are two main camps: black beans and refried beans. Each has its own distinct flavor and texture, making it ideal for different dishes. So, which one should you choose? It depends on your taste, what else you are serving, and health concerns.
Black beans have a nutty flavor that pairs well with rice and other hearty ingredients. They're also a good source of fiber and protein, making them a filling and satisfying option. However, black beans can be tough to digest, so if you're prone to stomach issues, you may want to steer clear.
Refried beans are a classic ingredient in Mexican dishes like tacos and burritos. They're creamy and flavorful, thanks to the addition of spices like cumin and chili powder. Some say that refried beans are easier to digest than black beans, which may make them a better choice if you have tummy troubles. However, depending on the recipe, they can be high in fat and calories. So if you're watching your waistline, black beans may be the better option.
Ultimately, it's up to you to decide which type of bean is right for you based on your own dietary needs and preferences.
At the end of the day, the decision of which bean to eat is a personal one.
Invite friends over to try them both!
Cheers Y'all!
P.S. Sharing is Caring. I would really appreciate it if you would post this to your favorite social media sites! We can all use a little help and I appreciate yours!