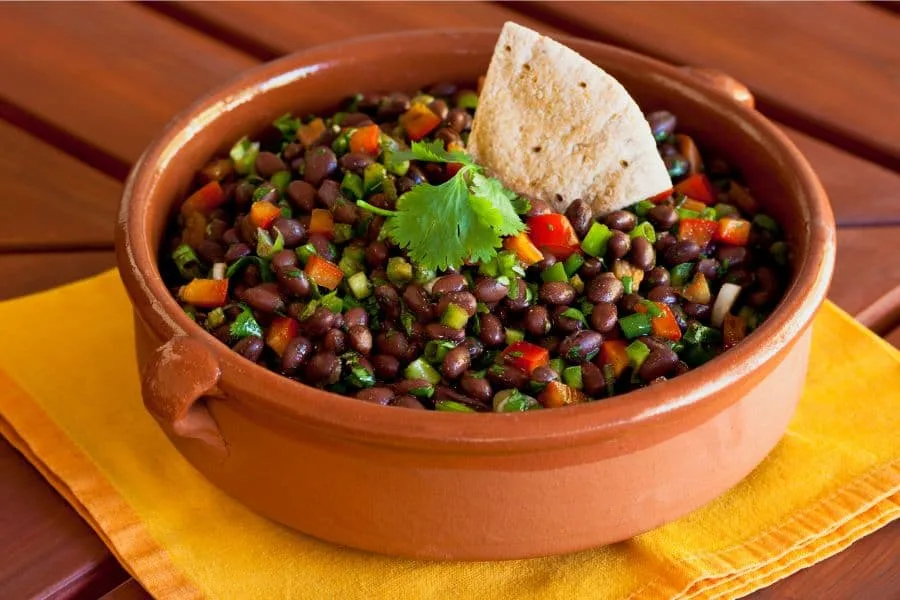 Make This Easy Slow Cooker Mexican Style Black Beans Recipe
These Slow Cooker Mexican Black Beans which can also be considered Tex-Mex or Southwest due to the flavors. Start with dried black beans which means they might require a bit more effort than just heating up a can, but it is 100% worth the effort.
This post may contain affiliate links, meaning I get a small commission if you decide to make a purchase through my links. This is at no additional cost to you. Please read my DISCLOSURE POLICY for more info.
You'll find this recipe produces slow cooker black beans that are made with deeply flavorful aromatics and spices which give them a Tex-Mex or Southwest flare. And these delicious black beans are ultra-flavorful and creamy. They taste so much better than canned beans or even refried beans!
Plus, using your slow cooker is a great way to reduce heat in the kitchen! It also frees up your time to take care of other things like enjoying a beverage on the patio with your guests!
How do You Cook Dried Beans?
An easy way to begin the process is to soak the dry beans overnight or do a quick soak (see below) and then cook them.
You can skip the soak and throw them in a crockpot or slow cooker after rinsing and cook for four hours on high heat. Then turn to low heat for four more hours until they are tender and creamy. It really is that easy.
It may seem like a long time for the slow cooker Mexican black beans to come together, but after you put everything in your slow cooker you can dedicate your time to something else during the cooking process. So, really it saves you time and reduces heat in your kitchen.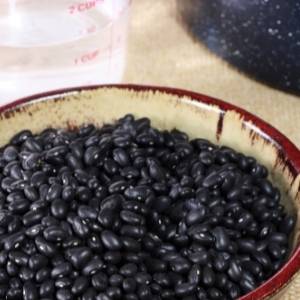 When you cook cook the beans with aromatics and spices they are so much more flavorful than adding these things after the beans are cooked. It is amazing what a little onion, garlic, and bay leaf can do for these beans.
And don't be afraid of salt. They can use a good portion of that as well for great flavor.
Can you really cook dried beans in a crock pot?
Absolutely! Just put everything in the cooker on your way out the door in the morning and by dinner time you've got a full-flavored side dish loaded with soft, tender beans and all the spicy elements you expect from black beans made Southwest style.
How do you cook dried black beans in a slow cooker?
You really can start this side dish with next to no advanced prep work — meaning you can skip the time-consuming task of soaking dried beans, but be sure to rinse and sort the beans.
Then, an all-day simmer of eight to 10 hours in the slow cooker is more than enough time to soften the beans. Start your slow cooker for four hours on high and then four to six hours on low heat.
By the time you're ready for dinner, the beans will reach the perfect level of tenderness.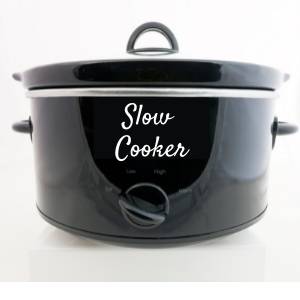 What is the Best Slow Cooker to Use?
Looking for a slow cooker recommendation to update your small appliance? Good Housekeeping has a round-up of the Top 12 Best Slow Cookers this year. Check out their appliance expert recommendations to update your kitchen helper.
My two favorites are the portable Hamilton Beach 7-Quart slow cooker and the large-capacity Hamilton Beach 8-Quart slow cooker. I have been using these slow cookers for years.
How Long Do You Soak Dried Beans?
Actually, you don't have to soak the beans at all. It takes longer for the bean to cook if you don't soak them, but they will still cook. You might want to give the timer closer to 10 hours than 8 to make sure the beans are fully cooked and tender.
However, if you decide to soak the beans there are basically three soaking methods for dried beans.
Overnight Soak
First, before putting the Mexican black beans in your slow cooker, you'll need to soak them. Your first option is the overnight soak. This is a necessary step with beans, but soaking also reduces cooking time.
Place the plain black beans in a collander and rinse thoroughly with cold water. Drain and remove any small stones and debris.
Add beans to a large bowl and fill the bowl with fresh water to cover the amount of beans by at least 4 inches. Cover and let soak for at least 6 hours and up to overnight.
Then, drain and discard soaking liquid.
After that, rinse beans with cool running water. And finally, use in your recipe.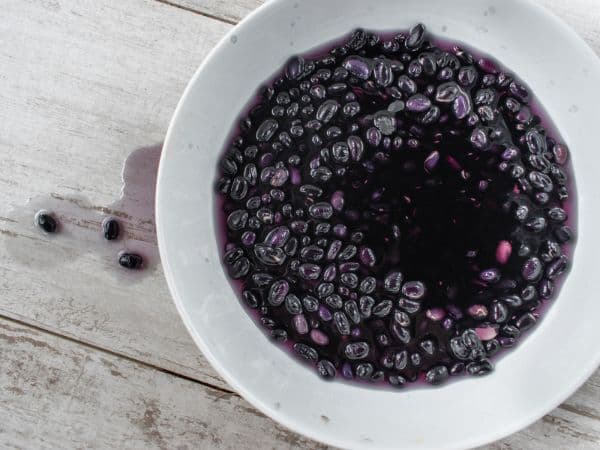 Quick Soak
Second, you can use a quick-soaking method for beans.
Begin by rinsing the beans and check for stones and debris.
Next, to a large saucepan, add beans and enough liquid to cover them by 2 inches. Bring beans to a boil and cook for 2 minutes. Remove saucepan from heat, cover, and let beans sit for 1 hour.
Afterward, drain and discard soaking liquid. Then, rinse beans with cool running water.
Finally, use in your recipe.
Hot Soak
Third, consider the Hot Soak method. This method is a little bit longer but recommended because it reduces cooking time even more and supposedly removes some of the gas-producing compounds in the beans.
First, place beans in a large pot and add 10 cups of water for every 2 cups of beans. Then. bring the water to a boil and boil the beans for an additional 2 to 3 minutes.
Next, remove beans from heat, cover, and let stand for 4 hours.
Once the soak is complete, drain and discard the soaking liquid. Then, rinse beans with cool running water.
Afterward, use this recipe to make Slow Cooker Mexican Black Beans.
Slow Cooker Mexican Black Beans are Easy to Make!
With this recipe, you cook the aromatics and spices to bloom before adding them to the slow cooker. It adds depth of flavor to the dish.
If you don't have time for an overnight soak, you can dump everything into the slow cooker in the morning. Program the slow cooker for high heat for four hours and low heat for the remainder of the time.
The beans will still be done and tasty by dinnertime!
You can make this easy recipe using your slow cooker or an Instant Pot. The recipe will work in a pressure cooker as well if you have one on hand. Cooking time will be different, but it works pretty well.
What Are The Ingredients for Slow Cooker Mexican Style Black Beans?
Generally, I use the following ingredients allowing for modifications as my mood leads me.
Occasionally, I feel extra spicy flavors are needed and I add a little extra chili powder or a few pinches of red pepper flakes for some zip!
The good news is these simple ingredients can be picked up in your local store.
Dried black beans
Extra virgin olive oil
Yellow onions or red onions
Poblano peppers or a jalapeno pepper for more heat
Several cloves of garlic
Can of Chipotle peppers in adobo sauce
Ground cumin, Mexican oregano, cilantro, and chili powder
Bay leaves
Water, vegetable broth, or chicken broth, homemade is preferred
Fresh lime juice
Salt and freshly ground black pepper
How Do You Make Slow Cooker Mexican Black Beans Recipe?
You can use a Dutch oven or Instant Pot to start the recipe. And you can cook all of it in an Instant Pot instead of a slow cooker or crockpot.
Heat extra virgin olive oil in a Dutch oven. Add the onion, poblano pepper (or use a red bell pepper if poblano is too much heat for you), garlic, and chipotle pepper and cook until fragrant.
Next, add the spices and cook for 1 minute.
Then, add the soaked beans, bay leaves, and water or broth, and bring to a boil.
After that transfer it to a slow cooker and cook for four to five hours on high or 8 hours on low.
When the beans are soft and you are ready to serve, add the lime juice, and season to taste with salt and pepper. Add a sprinkle of cilantro to serve.
If you don't have dry black beans, you can substitute canned black beans. Just shorten the slow cooker time to three hours on low and add a little water if needed.
You can also substitute pinto beans or kidney beans for the black beans in this recipe.
Store any leftovers in an airtight container.
If you are not going to use them in the next four days then put them in freezer bags and keep them in your freezer for a month.
What do I Serve With Slow Cooker Mexican Black Beans?
There are so many ways to enjoy this delicious dish.
This recipe for Mexican Black Beans is a perfect side dish for many of your favorite Mexican dishes or your favorite Tex-Mex recipes. Like fajitas!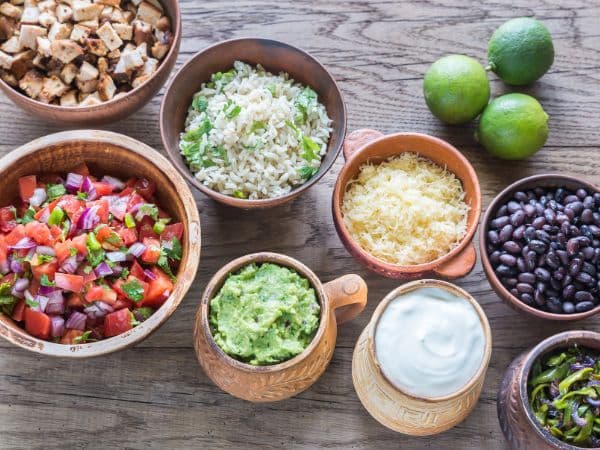 There is a great recipe for beef fajitas in How to Grill the Best Beef Flank Steak Fajitas! You can cook up all of the recipes in the entire fajitas menu in this Phenomenal Father's Day Fajitas Menu.
Additionally, add this delicious side dish to any barbeque buffet.
This black bean side dish is great with barbeque chicken, pork sliders, or hamburgers with a side of chips.
Also, these beans will be a great addition to the ribs from the July 4th Grilling: Patriotic Pork Menu.
Not crazy about cauliflower? You can certainly substitute this recipe for the grilled cauliflower in the Grill Out for Labor Day Menu. Both are good in my book!
Weeknight Meal Prep
Moreover, make a big batch of these Mexican beans and use them in all sorts of recipes to make weeknight cooking a breeze.
Another way to serve these Mexican style black beans is to make black bean tacos. Set up a toppings bar to include sour cream, chopped fresh onion, chopped tomatoes, and shredded cheese for a fun dinner party idea.
Or try vegetarian enchiladas or add them to burrito bowls and skip the tortillas.
Invite Friends Over for a Cookout With These Slow Cooker Mexican Black Beans
All in all, these Slow Cooker Mexican Black Beans are a great addition to your epic barbeques, summertime cookouts, and all sorts of large-crowd events.
This is a versatile and easy-to-make side dish you can enjoy all year long.
So invite friends over, run to the grocery store, and get cooking!
Cheers Y'all!
P.S. Sharing is Caring. Please put links to this post on your favorite social media!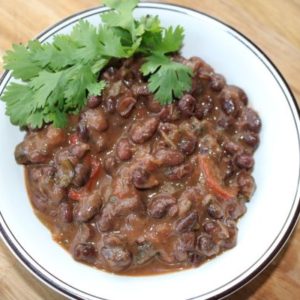 Slow Cooker Mexican Black Beans
Use as a side for fajitas, enchiladas, or barbecued meats. Use the leftovers for bean burritos, in a taco salad or vegetarian enchiladas.
Equipment
Slow Cooker

Dutch Oven or deep skillet
Ingredients
2

Tbsp

extra virgin olive oil

2

medium onions

chopped

1

poblano pepper or red bell pepper

seeded and diced

6

cloves

garlic

minced

2

chipotle peppers plus 2 teaspoons adobo sauce from can

3

tsp

cumin

1 ½

tsp

dried oregano

Mexican if you have it

1

pound

dried black beans rinsed and sorted

2

bay leaves

6

cups

water

enough to cover beans

fresh lime juice to taste

Salt and freshly ground black pepper

2

tsp

fresh Cilantro

chopped + more for garnish (optional)
Instructions
Soak the beans overnight.

Heat oil in dutch oven or deep skillet until shimmering. Add onions and poblano or red bell pepper, sprinkle with a pinch of salt and pepper. Cook until soft and onion becomes tranlucent. Stir in garlic and cook until fragrant.

Add chipotle peppers with adobo and smash into onion and pepper mixture just to break up the peppers. Add the ground cumin and oregano and cook 1 minute.

Add beans, bay leaves, and enough water to cover by a 1 inch.

Bring to a rolling boil. Transfer to a slow cooker. Cook on HIGH for 3 to 4 hours or LOW for 6 to 8 hours until beans are tender.

Remove bay leaves. Add lime juice, 2 tsp cilantro, and salt and pepper to taste.
Notes
Overnight-Soaking Method for Beans:
Pick through and rinse 1 pound of dried beans.

Place in a bowl large enough to cover with water 4 inches above the beans and soak overnight.

Drain and discard the soaking liquid.
Quick-Soaking Method for Beans:
Pick through and rinse 1 pound of dried beans.
To a large saucepan, add beans and enough liquid to cover them by 2 inches.
Bring beans to a boil and cook for 2 minutes.
Remove the saucepan from heat, cover, and let the beans sit for 1 hour.
Drain and discard the soaking liquid.
Shopping Resources