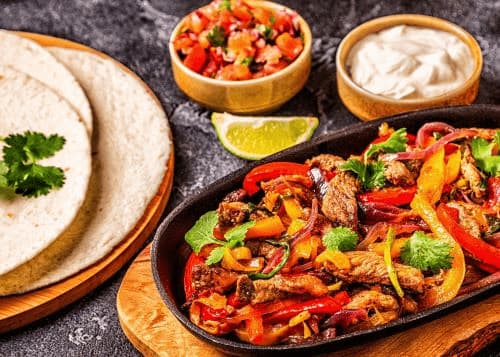 Great Steak Fajitas Recipe for Summertime Grilling
One of the best ways to enjoy summertime grilling on your porch is to make this great Steak Fajitas recipe. This is a quick-cooking main dish for lunch or dinner that is a definite crowd-pleaser.
This Steak Fajitas recipe is great for a quick supper on weeknights. It is even better to enjoy it on a leisurely weekend for a celebration with friends.
You start the night before by marinating the flank steak which saves prep time when you make dinner. Also, by cooking the steak on the grill you'll keep the heat out of the kitchen!
Meal Prep for the Great Steak Fajitas Recipe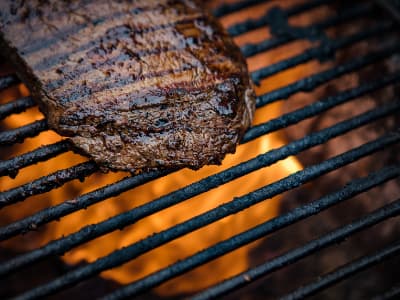 The night before, slice the peppers and onions and put them in a sealable bag or container with a lid.
Lightly score the meat across the grain. Or, jab a fork into the steak all over the surface. A little tenderizing if you will. Then, rub the steak all over with store-bought fajitas seasoning. Or, better yet, make your own homemade smoky fajita seasoning (see below).
Place the steak in another resealable bag and add the beer. Try to squeeze out as much air as possible before sealing the bag. This keeps the liquid in contact with the steak.
Next, put it all in the fridge and let the steak marinate overnight!
Let the steak rest for 30 – 45 minutes on your kitchen counter before grilling. And be sure to let it rest after removing it from the heat as well.
What is a good marinade for beef fajitas?
A dark beer or Mexican beer such as Negra Modelo is a great liquid for the marinade. Also, I add fajita spices to my steak before marinating it in the beer.
I have also been known to marinate the steak in red wine with the fajita spices. Delish either way!
What is a good recipe for homemade fajita seasoning?
Yes, Virginia, there is a recipe for homemade steak fajita seasoning! Follow the recipe below for your own Smoky Steak Fajita Seasoning! You probably have most of the ingredients in your pantry.
1 tbsp chili powder
1 tbsp kosher salt
2 tsp smoked paprika
1½ tsp ground cumin
1 tsp granulated sugar
1½ tsp garlic powder
1 tsp onion powder
1/4 tsp cayenne pepper
Mix all ingredients and store in airtight container.
What is the best steak for fajitas?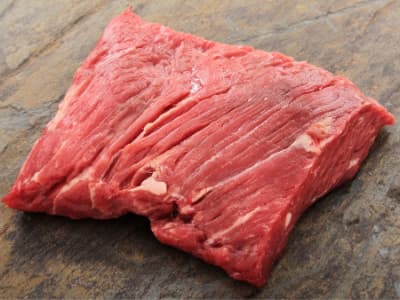 Flank, Flank Baby!
Flank steak is usually recommended and is my personal favorite. It is a leaner cut of meat which I cook medium-rare.
Additionally, some recommend using skirt steak. Either could work. It might just depend on what is on sale in your grocer's meat department?
What are the ingredients for this recipe?
One 2 – 3 pound flank steak
Mexican beer such as Negra Modelo
Fajita seasoning (see recipe above)
Large Onion
Red or orange bell pepper
Green bell pepper
Poblano peppers or Jalapeno peppers if you like more heat
Olive oil
Spices such as cumin and chili powder
Serve the sliced steak in flour or corn tortillas
How do you make the Great Steak Fajitas recipe?
Get ready for some delish summertime grilling!
To begin, rub the flank steak down with fajita seasoning either storebought or homemade. Then, put the steak in a gallon Ziploc bag and add the beer. Marinate the flank steak overnight.
Take it out of the refrigerator and let it rest for about 30 – 45 minutes. Remove the steak from the marinade and put it on the grill.
Cook until the internal temperature comes to 130°F for medium-rare. About 4 – 5 minutes each side. The steak will climb another five or so degrees when it rests.
If you prefer rare steak, shoot for 125°F and 145°F for medium.
How do you cook the steak?
My favorite way to cook the steak is to season, marinate, and grill the steak on a charcoal grill. Otherwise, you can cook the beef in the oven, but to me, it just isn't the same without that smokey char from the grill.
Sheet pan recipes abound for steak fajitas and some other recipes call for a crockpot. Just so you know, by using these methods you'll miss out on that great smoky flavor that only a barbeque grill can provide.
You can cook the steak in a cast iron skillet as well. Again, no smoky flavor, but it does give a nice char to the meat.
What do you serve with steak fajitas?
The short answer is everything on the Father's Day Fajitas Menu! Or here is a quick list.
What's for dessert? The best chocolate chip cookies ever — Salty Chocolate Chunk Cookies!
How do you cut flank steak for fajitas?
Most importantly, you should tent the steak with foil and let it rest for at least 15 minutes before slicing. Additionally, when you slice the flank steak, make sure you cut diagonally across the grain. Also, keep the slices on the thin side about ¼ – ½ inch thick. Otherwise, you will have tough and stringy-looking slices.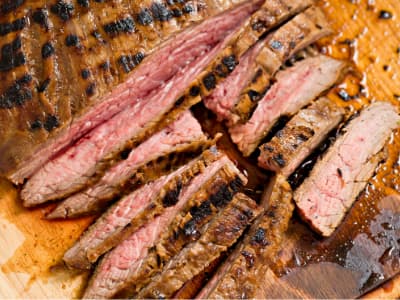 Enjoy grilling out on your porch!
Here is my favorite and great Steak Fajitas Recipe with grilled onions and peppers which I hope you enjoy time and time again.
The bottom line is have some friends over, crack a cold beer, pop open some wine, and enjoy summertime grilling on your porch!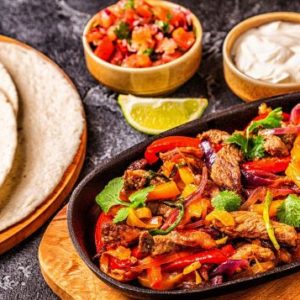 Steak Fajitas with Grilled Onions and Peppers
Great meal for grilling in the summer.
Ingredients
One 3 – 3 1/2 pound flank steak

One Mexican beer or dark beer

like Negra Modelo

Fajita seasoning

or homemade, see notes

1

large onion

1

red or orange bell pepper

1

green bell pepper

1 – 2

Poblano peppers

Olive oil

2

tsp

cumin

2

tsp

chili powder

Kosher salt

12-18

Medium sized flour or corn tortillas
Instructions
Remove flank steak from package and pat with paper towels. Score both sides of the meat across the grain slicing 1/8 inch deep, not all the way through.

Rub steak on both sides with 2 round tablespoons or two cupped palms of fajita seasoning. Place in a Ziploc bag. Pour in enough beer to cover the steak. Seal and marinate overnight.

Remove from refrigerator 30 minutes prior to grilling.

Slice onions in half moon rings ¼ inch thick. Slice peppers in half and remove the seeds. Slice bell peppers in ¼ in strips. Slice poblano pepper halves in 1/8 inch strips horizontally.

Combine onion and peppers in a large piece of heavy duty tin foil. Drizzle with olive oil, sprinkle with cumin, chili powder and ½ tsp salt. Mix together. Seal foil packet length wise and on the ends so nothing falls out.

Remove steak from beer marinade.

Place onion and pepper packet on grill, seam side down. Grill 5 minutes and turn over. Loosen top seal of foil to let some steam escape. Cook another five minutes while steak is grilling to medium rare about 130F.

Remove from grill and tent steak with foil. Let rest 10 – 15 minutes.

Cut steak across the grain in ½ inch thick slices. Serve with onion and pepper mixture and warm tortillas. Add toppings of sliced avocado or guacamole, cheese, sour cream, fresh tomatoes, and salsa.
Notes
Make your own Smoky Steak Fajita Seasoning
1 tbsp chili powder
1 tbsp kosher salt
2 tsp smoked paprika
1 ½ tsp ground cumin
1 tsp granulated sugar
1 ½ tsp garlic powder
1 tsp onion powder
1/4 tsp cayenne pepper
Mix all ingredients and store in an airtight container.
Cheers Y'all!
P.S. Sharing is caring! Pass this post along via email, post it on Facebook or Instagram away! I appreciate your help!