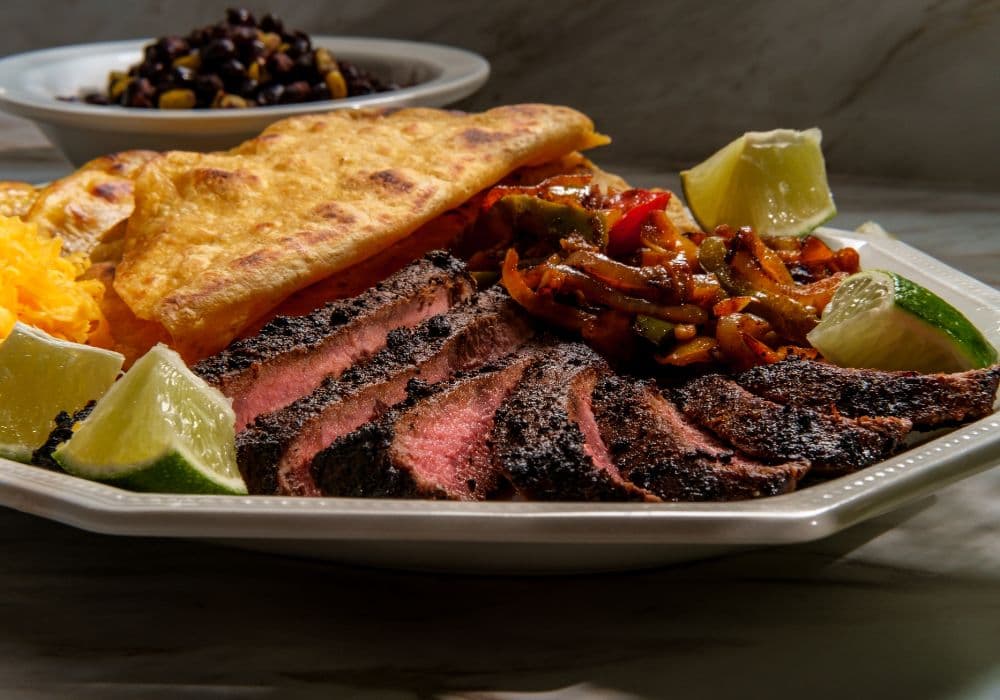 How to Grill the Best Beef Flank Steak Fajitas Recipe
Looking for the best beef flank steak recipes? Then read on to learn how to make this easy flank steak recipe for beef fajitas.
One of my favorite ways to enjoy the summertime grilling season on my patio is to make my favorite Flank Steak Fajitas recipe. It is a fast-cooking main dish for lunch or an easy steak dinner that is a definite crowd-pleaser.
This is one of the most delicious flank steak recipes and is great for a quick supper on weeknights or weekend celebrations with friends. No need to hit a specialty butcher. Everything you need for this easy flank steak dinner can be purchased in your local grocery stores.
You start the night before by making the best favorite flank steak marinade which is outlined below. It helps tenderize which saves prep time when you make dinner.
Also, by cooking the steak on the grill you'll keep the heat out of the kitchen!
This post may contain affiliate links, meaning I get a small commission if you decide to make a purchase through my links. There is no additional cost to you. Please read my DISCLOSURE POLICY for more info.
What is the best steak for fajitas?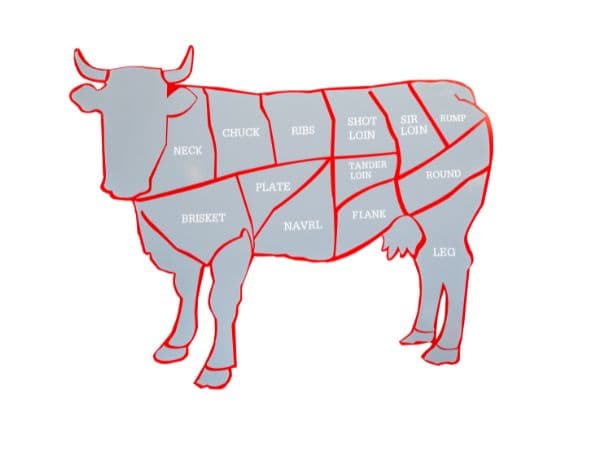 Flank, Flank Baby!
Beef flank steak is usually recommended for fajitas and is my personal favorite.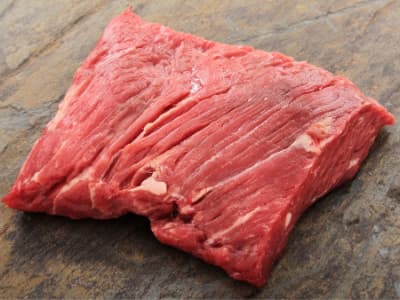 Flank steak is a cut of beef steak taken from the abdominal muscles of the cow, located just behind the plate and in front of the rear quarter. It is a long, flat cut with a significant grain which can make it a tough cut of beef. It is known for its bold flavor and chewiness.
Flank steak is a flavorful cut of beef used in a variety of dishes including London broil and traditional steak fajitas. It can be grilled, pan-fried, broiled, or braised for increased tenderness.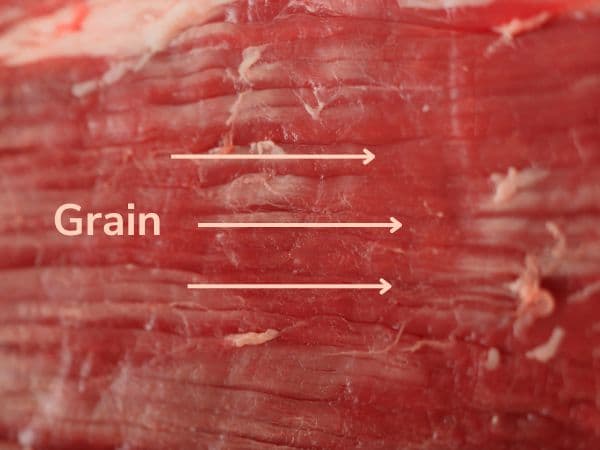 The grain or muscle fibers of the meat are very apparent in flank steaks, as it comes from a well-exercised part of the cow. Most recommend cutting this steak across the grain of the meat to make it more tender meat before or after cooking.
Skirt Steak
Some also recommend skirt steak for fajitas which is another lean cut of beef.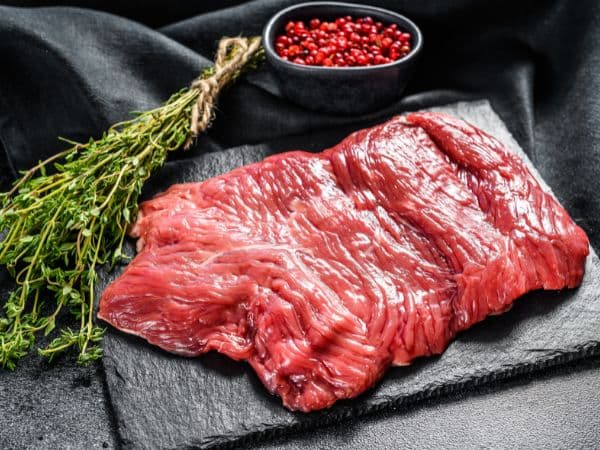 Skirt steak is a cut of beef steak from the plate. It is long, flat, and prized for its flavor rather than tenderness.
Although it is from a different part of the animal, its general characteristics and uses cause it to be confused with both flank steak, taken from the flank behind the plate, and the flap meat from the bottom sirloin behind the flank and above the rear quarter.
Hanger Steak
Another good lean cut of meat from the plate, or upper belly, which is prized for its flavor is hanger steak.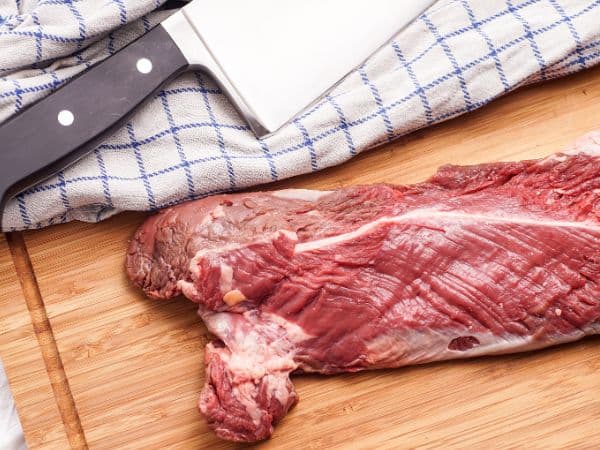 A hanger steak is also known as butcher's steak or hanging tenderloin. According to Wikipedia, it was among several cuts of beef sometimes known as "butcher's steak", because butchers would often keep it for themselves rather than offer it for sale. This is because the general populace believed this to be a crude cut of meat, although it is actually one of the most tender. Similar to filet mignon.
Hanger steak really does resemble flank steak in both texture and flavor. Flank steak is typically a bit oval in shape and the hanger steak is sort of a V-shaped pair of muscles with a long, inedible membrane running down the middle.
Most people don't know that hanger steak is usually the most tender cut on an animal, aside from the tenderloin, which has no fat.
Meal Prep for the Great Steak Fajitas Recipe
The night before, slice the peppers and onions and put them in a sealable bag or container with a lid.
Lightly score the meat across the grain. Or, jab a fork into the steak all over the surface. A little tenderizing if you will. Then, rub the steak all over with store-bought fajitas seasoning. Or, better yet, make your own homemade smoky fajita seasoning (see below).
Place the steak in another resealable bag and add the beer. Try to squeeze out as much air as possible before sealing the bag. This keeps the liquid in contact with the steak.
Next, put it all in the fridge and let the steak marinate overnight!
Let the steak rest for 30 – 45 minutes on your kitchen counter before grilling. And be sure to let it rest after removing it from the heat as well.
Best Beef Flank Steak Recipes for Marinade
A lot of recipes call for soy sauce, brown sugar, garlic powder, and Worcestershire sauce in the marinade, but when I hear these ingredients I think of pork roasts, not a tender steak dinner.
So for my favorite flank steak marinade for fajitas, I start with a dark beer or Mexican beer such as Negra Modelo. It is a great liquid for the marinade.
Rub the flank steak with a little avocado oil, vegetable oil, or olive oil. I often use avocado oil as it has a higher smoke temperature than olive oil.
Sprinkle with kosher salt and freshly ground black pepper. Then rub all over with about a tablespoon of the Smoky Steak Fajita seasoning below, or use your favorite store-bought fajita spice mix, before marinating in the beer overnight.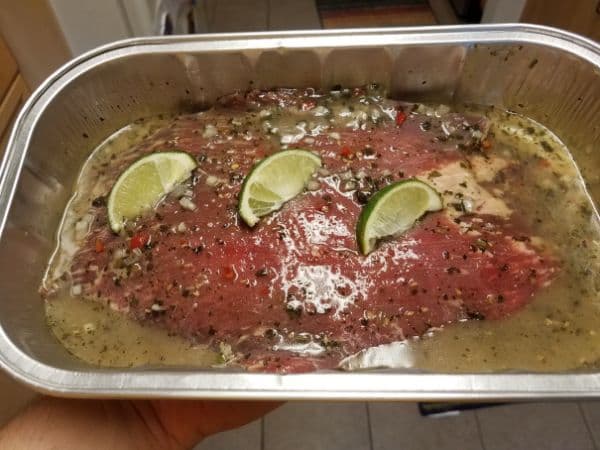 What is a good recipe for homemade fajita seasoning?
Yes, Virginia, there is a recipe for homemade steak fajita seasoning! Follow the recipe below for your own Smoky Steak Fajita Seasoning! You probably have most of the ingredients in your pantry.
1 tbsp chili powder
11/2 tsp kosher salt
2 tsp smoked paprika
1½ tsp ground cumin
1½ tsp garlic powder
1 tsp onion powder
1/4 tsp cayenne pepper (optional)
Mix all ingredients and store them in an airtight container.
What are the Ingredients for this Flank Steak Recipe?
One 2 – 3 pound flank steak
Mexican beer such as Negra Modelo
Fajita seasoning (see recipe above)
Large Yellow or Red Onion
Green, Red or orange bell pepper
Poblano peppers or Jalapeno peppers if you like more heat
Avocado or Olive oil
Spices such as cumin and chili powder
Flour or corn tortillas for serving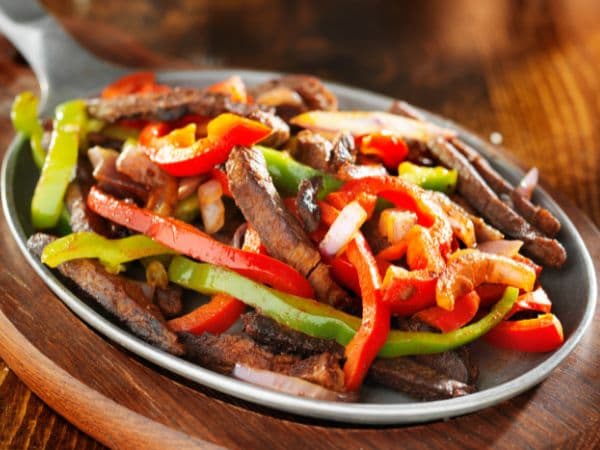 How do You Make the Beef Flank Steak Recipe for Fajitas?
First, pound the flank steak with a meat tenderizer or mallet. This will help tenderize the muscle fibers of the steak and you can even out any thicker spots on your cut of beef so it cooks evenly.
Score the meat diagonally against the grain. Just shallow cuts.
Rub the flank steak down with a little avocado oil and sprinkle with kosher salt and pepper. Rub in the fajita seasoning either store-bought or homemade.
Put the steak in a gallon Ziploc bag and add the beer. Squeeze out as much air as possible before sealing to ensure the good marinade surrounds the meat.
Marinate the flank steak in the refrigerator overnight or at least four hours. You want the meat to have plenty of time to soak up all the great flavors you added to the bag. Moreover, the longer your flank steak marinates, the more tender this cut of beef becomes.
Remove it from the refrigerator and let it rest at room temperature for 30 minutes.
While the steak is coming to room temperature, preheat your grill to medium-high heat.
Then, remove the steak from the marinade. But before you grill it remove excess marinade and pat the meat dry with paper towels. If you put wet meat straight on the grill, you will not get nice grill marks or much of a sear. So, remove the excess wet marinade from the fajita beef to increase the sear.
Cook until the internal temperature comes to 130°F for medium rare. About 4 – 5 minutes a side. It will climb another five or so degrees when it rests.
If you prefer rare steak, shoot for an internal temperature of 125°F. For the medium degree of doneness wait until it reaches 145°F.
The best way to tell if your steak is done is to use a meat thermometer.
How do you Cook this Beef Flank Steak Recipe?
My favorite way of cooking flank steak recipes, especially for fajitas, is on a charcoal grill. High-quality beef begs to be cooked on a grill. Although there are some that would argue this is not the only cooking method to produce a tender flank steak.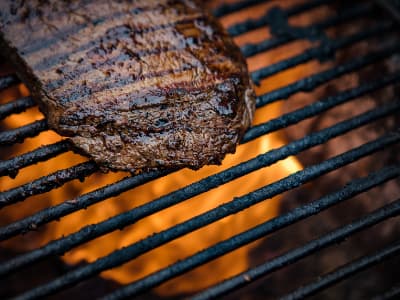 Sheet pan recipes abound for steak fajitas. There are also slow cooker recipes for fajitas using the old crock pot and even those calling for a pressure cooker. But these recipes don't do justice to a great flank steak recipe. Plus, you'll miss out on that great smoky flavor that only a barbecue grill can provide.
You can cook the beef on the stove using a cast iron skillet or grill pan, but to me, it just isn't the same as a charcoal grill. With this cooking process, you miss out on that fabulous smoky flavor and really beefy taste, but it can give a nice char to the meat.
How do you Cut Flank Steak for Fajitas?
First, when you remove the steak from the grill be sure to tent the steak with foil and let it rest for at least 10-15 minutes before slicing.
When you're cooking steak at a high temperature, you're heating the muscle fibers and proteins in the meat. The longer the meat is cooked, the more set the proteins or fibers become. This is why meat feels firmer when cooked.
As the fibers set, they push the meat's juices toward the center of the cut. If you cut meat immediately after cooking it, all of that delicious moisture in the center will drain out. This will reduce your flavor and create tougher meat for the outcome. Not to dismiss the fact that it makes a "bloody" mess on your cutting board.
However, by letting the steak rest after grilling, the temperature will slowly reduce. This allows the juices to redistribute into the meat where the fibers will absorb it. And this allows you to enjoy a tender, juicy steak.
Place the steak on a cutting board after you let it rest.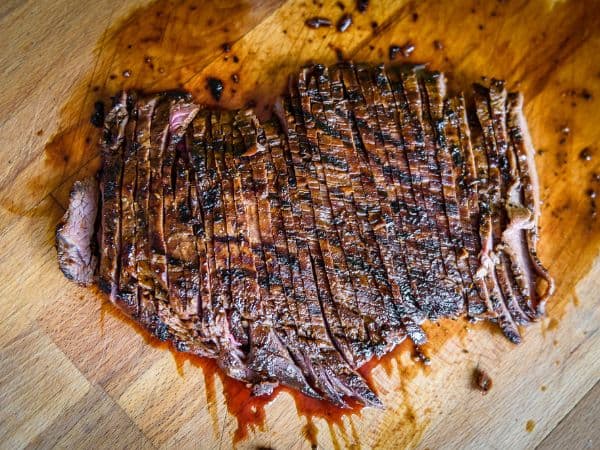 Use a very sharp knife when you cut the flank steak. This is one of my best knives that I use every day in the kitchen!
When you slice the flank steak, make sure you cut it perpendicular to the grain. Typically the fibers in a flank steak run the long way from the shorter ends. Cutting against the grain shortens the muscle fibers and makes chewing easier.
Also, keep the slices on the thin side about ¼ inch thick. Otherwise, you will have tough and stringy-looking slices.
What do you serve with steak fajitas?
The short answer is everything on the Father's Day Fajitas Menu! 
There are more ideas in What To Serve With Fajitas. This post gives you loads of ideas for toppings and side dishes.
Or here is a quick list.
Corn or flour tortillas
Use large lettuce leaves for a no-carb or Keto steak fajita
Black or refried beans — Try these Slow Cooker Southwest Black Beans
Sour Cream
Avocado slices or guacamole
Shredded cheese
Fresh Homemade Keto-Friendly Salsa – Try the Hot Stuff Salsa Recipe
Fresh lime slices for a little lime juice on top of your fajita if you like
What's for dessert? The best chocolate chip cookies ever — Salty Chocolate Chunk Cookies!
What Wine Can You Serve With Fajitas?
Looking for wine recommendations for fajitas can be a daunting task.
Most people go for a margarita or beer, but wine can really be a challenge.
I love wine with my fajitas and I did a lot of research to pick the best wines for this delicious food.
You can read all about the Best Wine Pairing With Fajitas in the guide I wrote. I hope you find it helpful!
Leftover Flank Steak
If you actually have leftovers, you can easily use them in many ways.
Chop up the leftover steak and put it on top of greens and grilled veggies for a hearty steak salad. Serve with a drizzle of balsamic vinegar or a vinaigrette made with red wine vinegar.
Make flank steak tacos by chopping the meat up and adding it to soft or crunchy corn tortillas. Top with some chopped tomato, diced green onion, lettuce, cheese, and sour cream.
Invite Friends Over for Fajitas
Father's Day is a great time to grill these fajitas. But you don't need a special occasion for a delicious flank steak dinner. Just call some friends and get cooking.
Here is my favorite Flank Steak Fajita Recipe which I hope you will enjoy time and time again. Have some friends over, crack a cold beer, pop open some wine, and enjoy summertime grilling on your patio!
Cheers Y'all!
P.S. Sharing is caring! Pass this post along via email, post it on Facebook or Instagram away! I appreciate your help!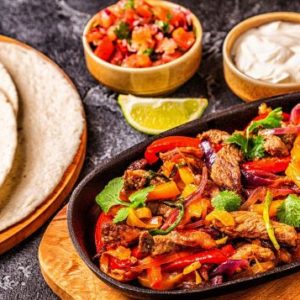 Steak Fajitas with Grilled Onions and Peppers
Great meal for grilling in the summer.
Equipment
grill

Grill Pan

for onions and peppers
Ingredients
One 3 – 3 1/2 pound flank steak

One Mexican beer or dark beer

like Negra Modelo

Fajita seasoning

or homemade, see notes

1

large onion

Yellow or Red

1

red or orange bell pepper

1

green bell pepper

1 – 2

Poblano peppers

Avocado or Olive oil

2

tsp

cumin

2

tsp

chili powder

1

tsp

Kosher salt

1/2

tsp

Black Pepper

12-18

Medium sized flour or corn tortillas
Instructions
Remove flank steak from package and pat with paper towels. Score both sides of the meat across the grain slicing 1/8 inch deep, not all the way through.

Rub steak on both sides with 2 round tablespoons or two cupped palms of fajita seasoning. Place in a Ziploc bag. Pour in enough beer to cover the steak. Seal and marinate overnight.

Remove from refrigerator 30 minutes prior to grilling.

Slice onions in half moon rings ¼ inch thick. Slice peppers in half and remove the seeds. Slice bell peppers in ¼ in strips. Slice poblano pepper halves in 1/8 inch strips horizontally.

Combine onion and peppers in a large piece of heavy duty tin foil. Drizzle with olive oil, sprinkle with cumin, chili powder and ½ tsp salt. Mix together. Seal foil packet length wise and on the ends so nothing falls out.

Remove steak from beer marinade.

Place onion and pepper packet on grill, seam side down. Grill 5 minutes and turn over. Loosen top seal of foil to let some steam escape. Cook another five minutes while steak is grilling to medium rare about 130F.

Remove from grill and tent steak with foil. Let rest 10 – 15 minutes.

Cut steak across the grain in ½ inch thick slices. Serve with onion and pepper mixture and warm tortillas. Add toppings of sliced avocado or guacamole, cheese, sour cream, fresh tomatoes, and salsa.
Notes
Make your own Smoky Steak Fajita Seasoning
1 tbsp chili powder

1 ½ tsp kosher salt

2 tsp smoked paprika

1½ tsp ground cumin

1½ tsp garlic powder

1 tsp onion powder

1/4 tsp cayenne pepper (optional)
Mix all ingredients and store in an airtight container.
Shopping Resources
Shared With…