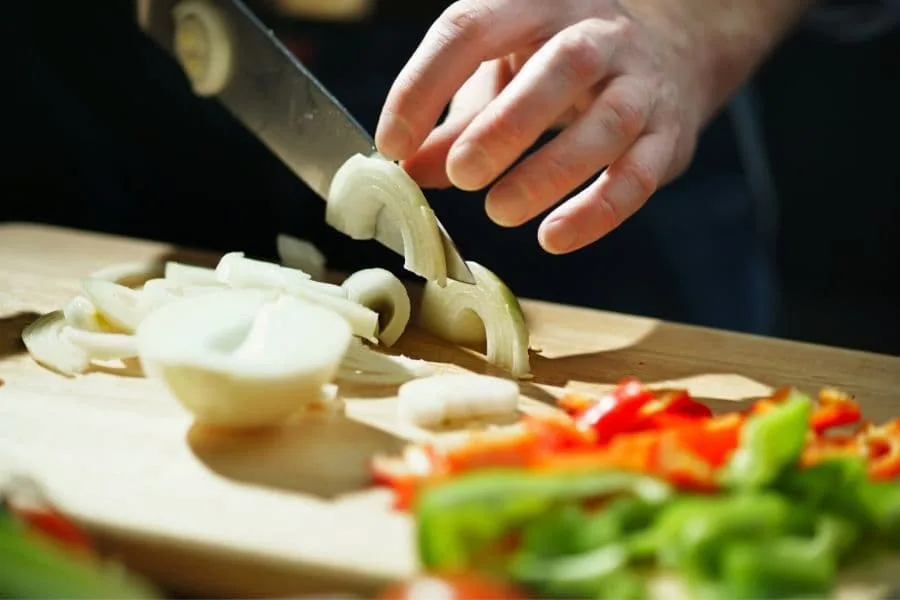 How To Cut Onions for Fajitas the Easy Way
Many people love fajitas but are not sure how to cook them or how to cut onions for fajitas at home. Cutting the onions properly to achieve a restaurant-worthy-looking dish is a seemingly simple task, but it can take time to master.
This post may contain affiliate links for products LSG loves. Lone Star Gatherings earns a small commission on these links at no additional cost to you. Please read my DISCLOSURE POLICY for more info.
If you could ask Julia Child how important it is to learn to cut onions properly, she would have a lot to say! She worked diligently to master cutting onions when she was in culinary school.
Are Fajitas Mexican Cuisine?
For those of you who are not familiar with the history of fajitas, let me introduce them.
Fajitas are not considered traditional Mexican food. They actually fall into the category of a Tex-Mex dish. Mexican cuisine has a strong presence of grilled meats, but the history of fajitas began in Texas.
Basically, you start with a flavorful skirt steak or flank steak and rub it down with fajita seasoning which often includes some chili powder, dried oregano, and other spices.
Next, marinate the meat overnight. The marinade ingredients typically involve lime juice and beer.
Then you grill the meat or cook it on the stove in a stovetop grill pan if you have one. When it is done slice it into thin strips. Be sure to slice against the grain of the meat to make it even more tender.
Serve the meat sizzling in a hot pan with warm tortillas.
You can also make easy chicken fajitas, shrimp fajitas, or even vegetarian fajitas.
A great recipe for steak fajitas is on the post How to Grill Beef Flank Steak for Fajitas.
How to Cut Onions for Fajitas
First, no matter what kind of onion you are using, try not to buy onions of different sizes. It is much easier to ensure even cooking when the onions are about the same size and cut.
Here are the simple steps for cutting onions for fajitas to get great results every time.
Prep the Onion
Place the Onion. Place an onion on a cutting board on its side. The side of the onion means the long way with the stem and root ends on the left and right.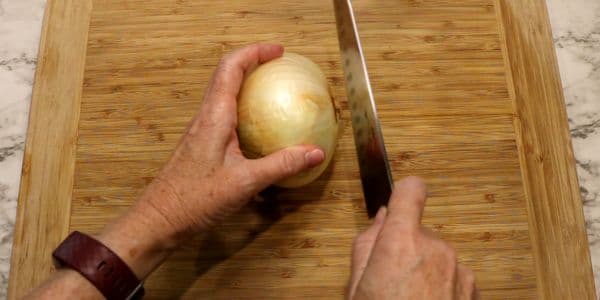 Above All – Safety First. This protects your fingertips!
Firstly, curl the fingers of the hand you will hold the onion with just under your knuckles. Like you are making a claw-looking hand.
Secondly, tightly grip the food with your claw hand, using all five fingers to hold it steady. The thumb and pinky finger will stabilize the sides of the onion.
Make sure your fingertips remain farther back from the knife edge than your knuckles.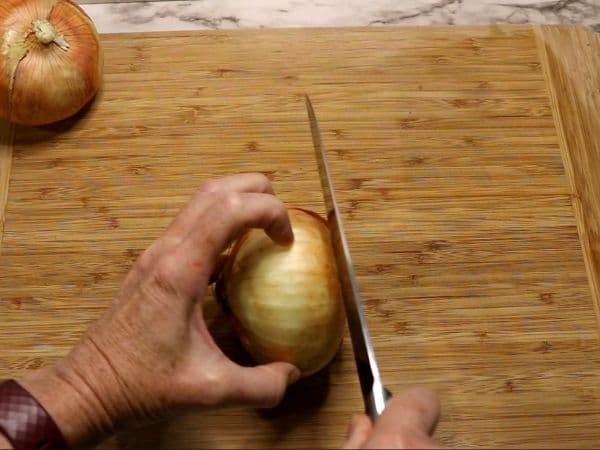 Cut the Onion
Trim One End. Using a very sharp knife, cut a small piece off of the root end of the onion or the bottom of the onion. My MAC Mighty knife cuts up onions very easily.
Cut in Half. Then put the cut side down so you have a solid surface to make the onion stable.
Next, cut the onion in half through the stem.
Specifically, cut the onion long ways down through the middle of the stem. We are working toward cutting half-moon circles to cook onions for fajitas, not onion rings.
Trim the Other End. After that, rotate the onion half to cut off the stem end of the onion. Make a cut in each onion half about the size you did at the root end. You just want to remove a little bit of the top of the onion. Discard the end slices.
Remove the Skins. Remove the skins from the outside of each half. If they do not come off easily, you may have to remove the outer layer of the onion.
Cut Onion Strips. Place half of the onion cut side down on the cutting board with the stem and root ends on the left and right. Then, make horizontal cuts of similar size across the onion layers against the grain.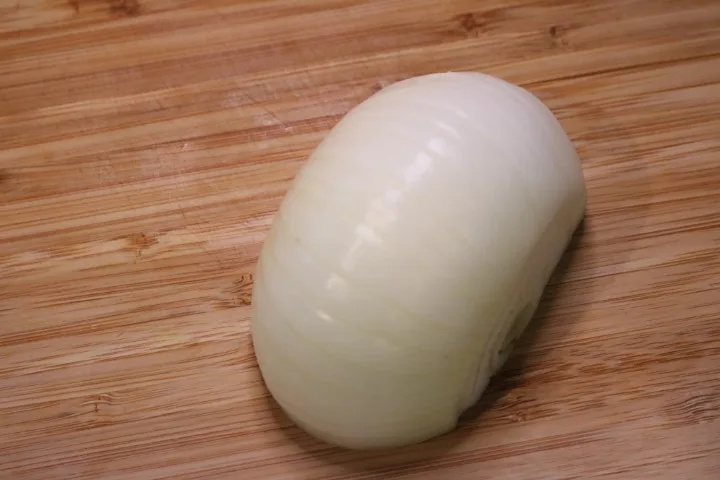 The lines across the onion layer show the grain. Against the grain means to cut across these lines. You do not cut with the lines.
Meaning you cut across the horizontal onion line, not from stem to root. Cut horizontal slices in equal parts about ¼ to ½ inch wide for thin strips.
How to Cut Onions for Fajitas – Video
Place the strips on a sheet pan or in a bowl to toss with oil, salt, and pepper before cooking.
What Kind of Onions Should You Cut for Fajitas?
The type of onion you use I really up to you.
Most restaurants serve sweet onions or yellow onions with fajitas as their flavor pairs well with the meat and spicy side dishes. They caramelize very well.
For instance, you can use Walla Walla, Vidalia, or Oso sweet onions in fajitas. If you find them, they are delicious! And they are particularly good with shrimp fajitas. They are also very good raw as they are mild and sweet.
Additionally, the flavor of grilled red onions is a little caramelized with a bit of zip to them. This particular onion is really good with beef and chicken fajitas.
If you like white onions then use them. But the flavor can be a bit more pungent than the other onions when cooked.
Basically, pick out whatever works for you and is available at your local grocery store or farmer's market.
How to Cook Onions and Bell Peppers for Fajitas
After cutting your onions for fajitas, there are many ways to cook them.
You can cook bell pepper and onion slices on a sheet pan in the oven.
But a better way is to use a large skillet on the stove with a tablespoon of oil, a few pinches of Mexican oregano, salt, and black pepper. A cast iron skillet would give them the best char marks on the stove.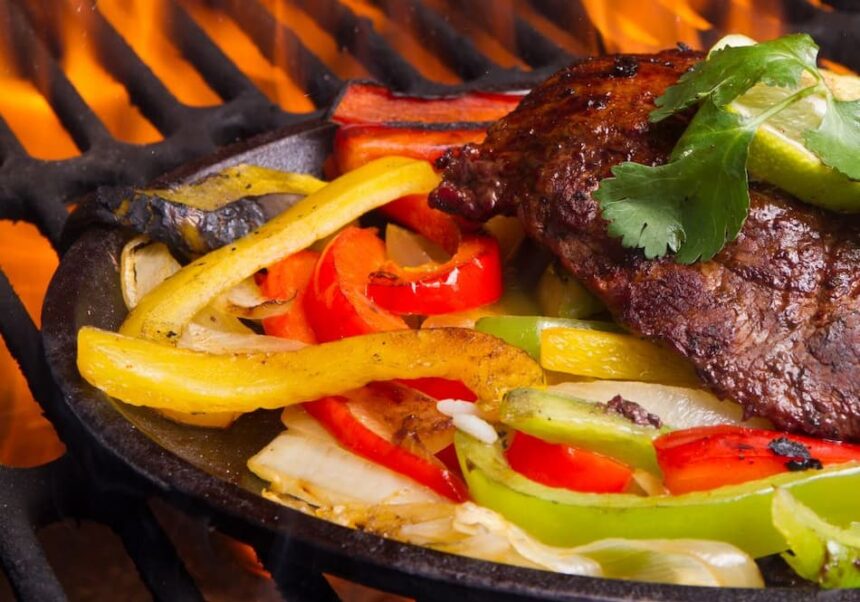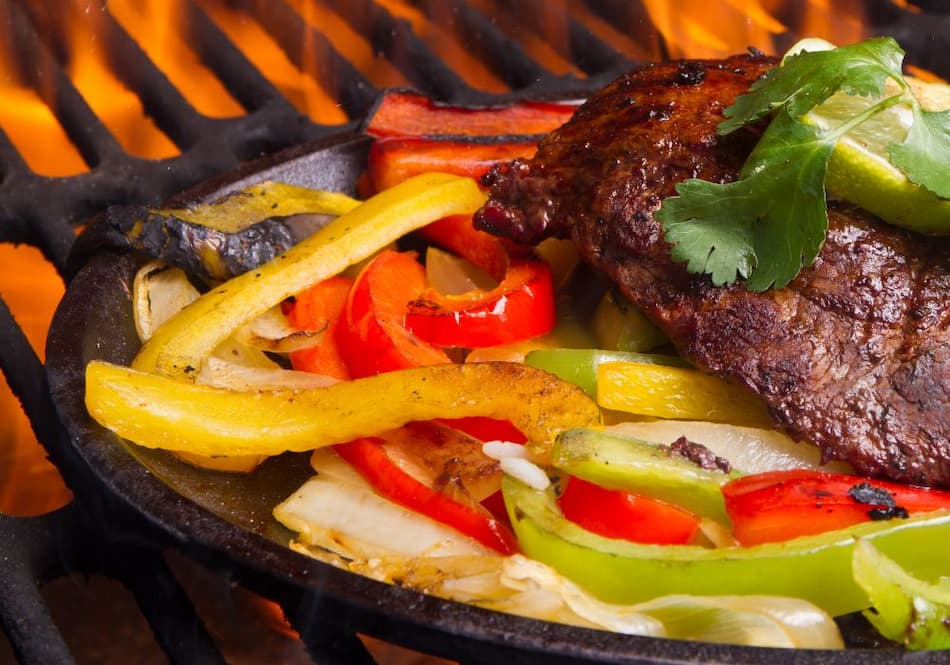 The best way to give fajita veggies great flavor is to grill them over medium-high heat.
So, use this easy recipe for How To Cook Onions and Bell Peppers for Fajitas. It has a complete ingredient list and step-by-step instructions. You can use traditional green bell peppers or add red, orange, or yellow to the mix.
You can wrap the fajitas in aluminum foil with a little vegetable oil or, better yet, extra virgin olive oil.
How to Cook Fajitas With Cut Onions and Bell Peppers
If you are looking for an easy recipe to make fajitas as you find in Mexican restaurants, then check out How to Grill the Best Beef Flank Steak Fajitas. The recipe is very easy and incredibly flavorful.
Grill the steak until it reaches an internal temperature of 140 degrees F and remove it from the grill. Use a meat thermometer to get the most accurate reading. This will give you medium-rare steak which ensures you have juicy, flavorful fajitas.
Then cut across the grain into thin slices.
You can substitute chicken breasts for the steak if you like. Chicken cooks a bit faster than beef, so keep an eye on the grill. Grill until the chicken cooks to 165 degrees F and let rest before slicing.
What to Serve With Fajitas – Side Dishes and Toppings
There are so many good dishes to serve with traditional fajitas to make a delicious meal the whole family will enjoy.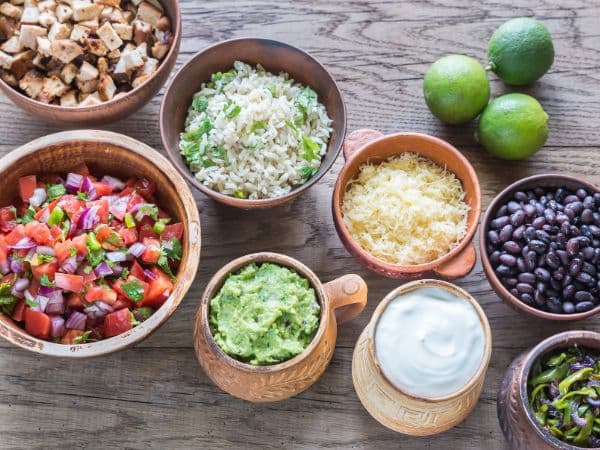 By all means, for great side dish ideas and a complete list of toppings check out What to Serve With Fajitas. It goes way beyond the bland refried beans.
Obviously, the best part is you can go crazy with the toppings! Just pick out a few and put each of them in a small bowl to create a toppings bar. This way your guests will enjoy their fajitas in their own unique and different ways.
Some favorite toppings include:
sour cream
fresh cilantro
shredded cheese
fresh lime juice – serve sliced lime wedges
salsa – make a delicious homemade version like this Hot Stuff Keto Friendly Salsa
Make sure you have plenty of flour tortillas on hand. Flour is typically served with fajitas, but corn tortillas are good as well.
What Can You Do With Leftover Onions Cut for Fajitas?
If you have ground beef in the freezer reheat the onions and put them on top of burgers. Soooo good!
Also, grilled onions are also good in salads, especially taco or leftover fajita salad.
Use them on grilled chicken as well.
Additionally, chop them up and add them to soups or stews.
Invite Friends Over and Make Delicious Fajitas
If you are looking to create a fajitas dinner at home use the steps above to learn how to cut onions for fajitas the easy way.
Invite friends over for dinner and enjoy a delicious fajitas meal in the comfort of your own home.
Cheers Y'all!
P.S. Sharing is Caring. Please share the post on your favorite social media platforms. And if this cooking technique post or any Lone Star Gathering recipes help you, please give them a five star rating. Don't forget to comment below!
Shopping Resources