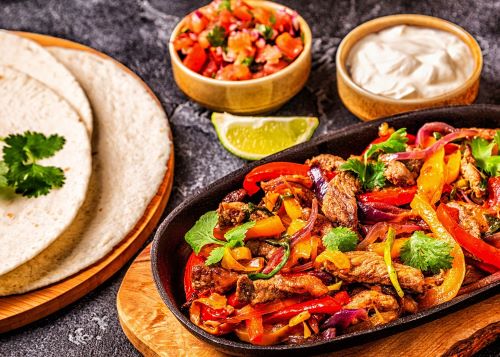 Grill Out with this Phenomenal Father's Day Fajitas Menu
Here is a complete Father's Day Fajitas menu so you know exactly what to cook for Dad's special day. All the recipes are attached at the bottom of this post. Everything from the appetizer to dessert is included!
Appetizer for the Father's Day Fajitas Menu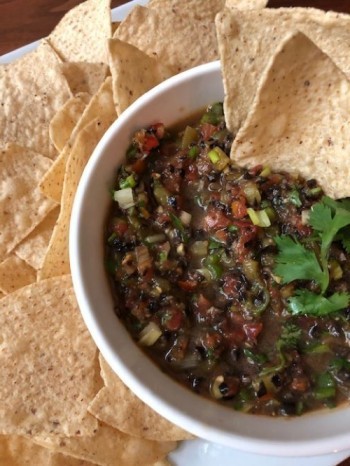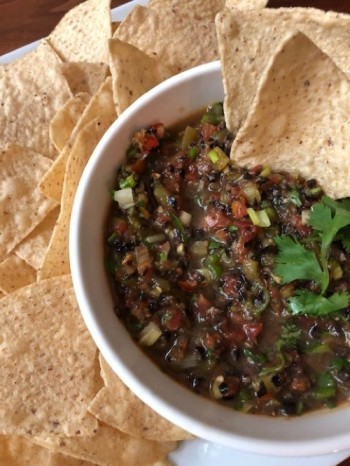 This is such a delicious and easy homemade salsa recipe that you'll make it over and over. This Hot Stuff Salsa is bright, fresh, and very easy to make, but you control the heat! You can serve it as a condiment with any meal.
You might be asking why you should make salsa when there are about 10, 342 kinds on the shelves of grocery stores all across the nation. Not to mention those you can pick up at your local farmer's market!
Homemade is always the best! You control the ingredients, the salt, and the heat. There are no surprises when you put this on the table. And, this won't take 10 minutes once you get the groceries home.
Father's Day Fajitas Menu Main Course Keeps the Heat out of the Kitchen
One of my favorite things to grill is Steak Fajitas. This recipe is the main event for the Father's Day Fajitas menu. It is a fast-cooking main dish for lunch or dinner that is a definite crowd-pleaser. Enjoy it with friends on a leisurely weekend.
You start the night before by marinating the flank steak which saves prep time when you make dinner. Also, by cooking the steak on the grill you'll keep the heat out of the kitchen!
How to Meal Prep the Steak Fajita Recipe
The night before, slice the peppers and onions and put them in a container with a lid or ziploc bag.
Tenderize the meat a bit by jabbing a fork all over the surface of the steak. Then, apply a store-bought, or make your own homemade fajita seasoning, all over the surface of the steak.
Drop the steak in a Ziploc bag and add a bottle or can of beer. Squeeze out as much air as possible before sealing the bag. You want the liquid to remain in contact with the steak.
Let everything hang out in the fridge overnight so the steak can marinate while you snooze! This allows for very little prep on the day of the event. You know Dad won't even mind doing the grilling. Make sure he has an ice-cold beer or crisp glass of wine and enjoy his smile.
Slow Cooker Southwest Black Beans on the Side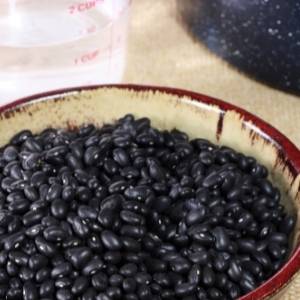 These Slow Cooker Southwest Black Beans start with dried black beans which means they might require a bit more effort than just heating up a can, but it is 100% worth the effort. Slow-cooking the beans with some aromatics and spices means these beans are ultra-flavorful, creamy, and taste so much better than canned. 
Plus, the slow cooker reduces heat in the kitchen! It also frees up your time to take care of other things like enjoying a beverage on the porch with your guests!
Need a recommendation for a good slow cooker? Good Housekeeping has rounded up a list of the most recommended slow cookers of the year. Check it out for assistance in selecting your kitchen helper.
What's for Dessert?
What could top this Father's Day Fajitas Menu? How about a big batch of Salty Chocolate Chunk Cookies? These are just about the best chocolate chip cookies ever!
These big chewy cookies don't have silly, tiny chips – they have CHUNKS! They are a little salty and a little sweet making a great chocolate chewy combination of goodness. Guaranteed to please your gathered guests.
Pass the milk! But, for the adults, the Zinfandel wine goes pretty darn good with them as well.
Wine Recommendations
Serve with Ice Cold Beer or wine. Wine recommendations include a zippy, crisp Sauvignon Blanc with the salsa and chips. Then you can branch out a bit and enjoy a little spice and everything nice red Zinfandel with the fajitas.
The Zin could also workwith the entire Father's Day Fajitas Menu! It is a great grilled beef and red wine match.
Making the Father's Day Fajitas Menu
Print the Grocery List below and shop for the goods three to four days in advance. Chill your beer and wine when you get them home so you don't forget.
Make the cookies two days ahead and hide them. Believe me, these will disappear FAST.
Make the Hot Stuff Salsa, soak the beans, and marinate the steak one day ahead. The flavors can meld and bloom.
Throw the beans in the slow cooker the morning of the meal and it all comes together quickly and easily.
Don't Sweat this Father's Day
Cook up this Father's Day Fajitas Menu and everyone will enjoy a meal on the porch.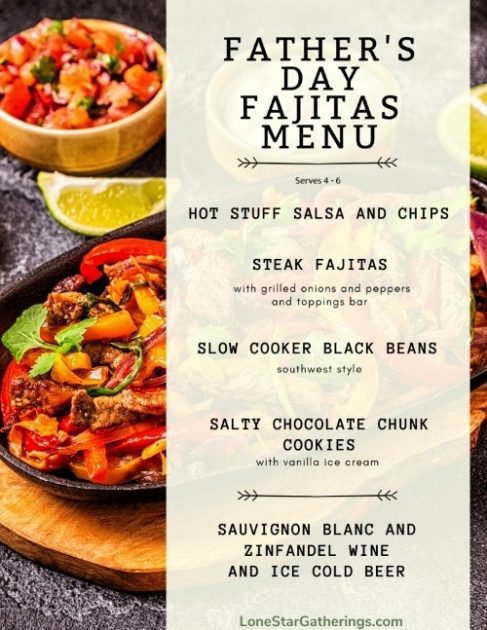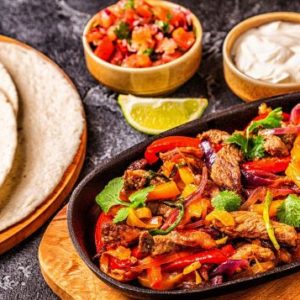 Steak Fajitas with Grilled Onions and Peppers
Great meal for grilling in the summer.
Ingredients
One 3 – 3 1/2 pound flank steak

One Mexican beer or dark beer

like Negra Modelo

Fajita seasoning

or homemade, see notes

1

large onion

Yellow or Red

1

red or orange bell pepper

1

green bell pepper

1 – 2

Poblano peppers

Avocado or Olive oil

2

tsp

cumin

2

tsp

chili powder

Kosher salt

12-18

Medium sized flour or corn tortillas
Instructions
Remove flank steak from package and pat with paper towels. Score both sides of the meat across the grain slicing 1/8 inch deep, not all the way through.

Rub steak on both sides with 2 round tablespoons or two cupped palms of fajita seasoning. Place in a Ziploc bag. Pour in enough beer to cover the steak. Seal and marinate overnight.

Remove from refrigerator 30 minutes prior to grilling.

Slice onions in half moon rings ¼ inch thick. Slice peppers in half and remove the seeds. Slice bell peppers in ¼ in strips. Slice poblano pepper halves in 1/8 inch strips horizontally.

Combine onion and peppers in a large piece of heavy duty tin foil. Drizzle with olive oil, sprinkle with cumin, chili powder and ½ tsp salt. Mix together. Seal foil packet length wise and on the ends so nothing falls out.

Remove steak from beer marinade.

Place onion and pepper packet on grill, seam side down. Grill 5 minutes and turn over. Loosen top seal of foil to let some steam escape. Cook another five minutes while steak is grilling to medium rare about 130F.

Remove from grill and tent steak with foil. Let rest 10 – 15 minutes.

Cut steak across the grain in ½ inch thick slices. Serve with onion and pepper mixture and warm tortillas. Add toppings of sliced avocado or guacamole, cheese, sour cream, fresh tomatoes, and salsa.
Notes
Make your own Smoky Steak Fajita Seasoning
1 tbsp chili powder
1 tbsp kosher salt
2 tsp smoked paprika
1 ½ tsp ground cumin
1 tsp granulated sugar
1 ½ tsp garlic powder
1 tsp onion powder
1/4 tsp cayenne pepper
Mix all ingredients and store in an airtight container.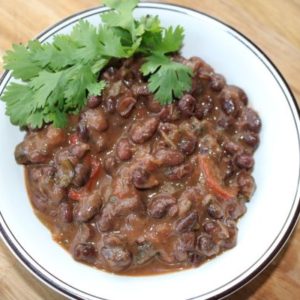 Slow Cooker Southwest Black Beans
Use as a side for fajitas, enchiladas, or grilled chicken. Use the leftovers for bean burritos or in a taco salad or quinoa salad.
Ingredients
2

Tbsp

extra virgin olive oil

2

medium onions

chopped

1

poblano pepper or red bell pepper

seeded and diced

6

cloves

garlic

minced

2

chipotle chilies plus 2 teaspoons adobo sauce from can

3

tsp

cumin

1 ½

tsp

dried oregano

Mexican if you have it

1

pound

dried black beans rinsed and sorted

2

bay leaves

6

cups

water

enough to cover beans

fresh lime juice to taste

Salt and freshly ground black pepper

2

tsp

fresh Cilantro

chopped + more for garnish (optional)
Instructions
Heat oil in dutch oven or deep skillet until shimmering. Add onions and poblano or red bell pepper, sprinkle with a pinch of salt and pepper and cook until softened. Stir in garlic and cook until fragrant. Add chipotle chiles and adobo and smash into onion and pepper mixture just to break up the chiles. Add cumin and oregano and cook 1 minute.

Add beans, bay leaves, and enough water to cover.

Bring to a rolling boil. Transfer to a slow cooker. Cook on HIGH for 3 to 4 hours or LOW for 6 to 8 hours until beans are tender.

Remove bay leaves. Add lime juice, 2 tsp cilantro, and salt and pepper to taste.
Notes
Overnight-Soaking Method for beans:
Pick through and rinse 1 pound beans.

Place in a bowl large enough to cover with water 4 inches above the beans and soak overnight.

Drain and discard soaking liquid.
Quick-Soaking Method for beans:
Pick through and rinse 1 pound beans.
To a large saucepan, add beans and enough liquid to cover them by 2 inches.
Bring beans to a boil and cook for 2 minutes.
Remove saucepan from heat, cover, and let beans sit for 1 hour.
Drain and discard soaking liquid.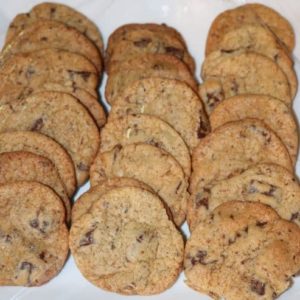 Salty Chocolate Chunk Cookies
(Adapted from Bon Appetit)
Equipment
Sheet pan

Cooling Rack

electric mixer
Ingredients
1 1/2

cups

all-purpose flour

1

tsp

baking powder

1/2

tsp

kosher salt

1/4

tsp

baking soda

1/2

cup

1 stick unsalted butter, room temperature

3/4

cup

packed light brown sugar

1/2

cup

sugar

1/4

cup

powdered sugar

2

large egg yolks

1

large egg

1

tsp

vanilla extract

Mexican if you have it

8

ounces

semisweet or bittersweet chocolate

do not exceed 72% cacao, coarsely chopped

Maldon or other flaky sea salt
Instructions
Place racks in upper and lower thirds of oven and preheat to 375°. Whisk, do not sift, flour, baking powder, kosher salt, and baking soda in a medium bowl; set aside.

Put softened butter, brown sugar, sugar, and powdered sugar into a mixing bowl and using an electric mixer on medium speed, beat until light and fluffy. About 3-4 minutes.

Lightly beat the egg yolks, egg, and vanilla. Add to the butter mixture. Beat while occasionally scraping down the sides of the bowl. The mixture should become pale and fluffy, 4-5 minutes.

Reduce mixer speed to low; slowly add dry ingredients, mixing just to blend. Do not over mix. Using a spatula, fold in chocolate.

Spoon rounded tablespoonfuls of cookie dough onto 2 parchment paper-lined baking sheets, spacing 2 inches apart. Sprinkle cookies with sea salt.

Bake cookies, rotating sheets halfway through, until just golden brown around the edges, 10-12 minutes. The cookies will firm up as they cool. Let cool slightly on baking sheets, then transfer to wire racks; let cool completely.
Cheers Y'all!