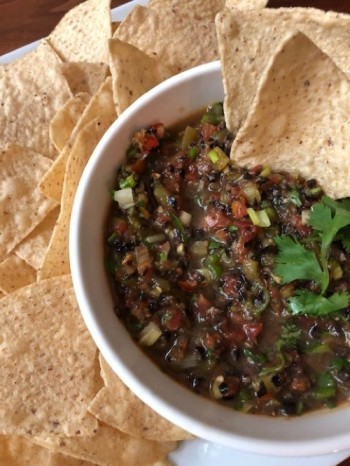 Delicious and Easy Homemade Salsa Recipe
This is such a delicious and easy homemade salsa recipe that you'll make it over and over. This Hot Stuff Salsa is bright, fresh, and very easy to make, but you control the heat! You can serve it as a condiment with any meal.
You might be asking why you should make salsa when there are about 10,342 kinds on the shelves of grocery stores all across the nation. Not to mention those you can pick up at your local farmer's market!
NO, the best salsa is not from a grocery shelf. The Farmer's Market is better, but it is less expensive to make homemade salsa and you can do it in less time than it takes to drive to the market.
What makes this salsa recipe easy?
Homemade is always the best! You control the ingredients, the salt, and the heat. There are no surprises when you put this on the table.
And, this won't take 10 minutes once you get the groceries home. Plug in your food processor and let it do the work for you!
Not sure what to eat with salsa besides chips?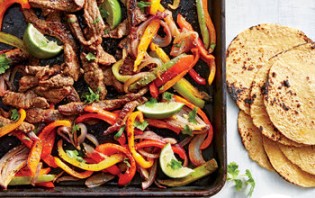 Sure you can serve this Hot Stuff Salsa with chips as an easy appetizer. It is absolutely wonderful with the Father's Day Fajitas Menu.
But you can also use it on fish, chicken, vegetable fajitas, or even as a salad dressing! It can be very refreshing in the heat of summer right out of your refrigerator.
Is homemade salsa healthy?
The short answer is YES! All of the ingredients are low-fat, whole foods with very few food additives as most are right out of the produce department.
Tomatoes are the major dietary source of the antioxidant lycopene, which has been linked to many health benefits, including reduced risk of heart disease and cancer. They are also a great source of vitamin C, potassium, folate, and vitamin K.
Green onions are a good source of vitamin K, which helps your blood clot and keeps your bones strong.
Cilantro is a natural medicinal herb from ancient times. Recent studies show it has the capability to reduce anxiety, lower blood sugar, and prevent foodborne illnesses.
Black olives are a good source of fiber and are low in cholesterol.
The antioxidants in olive oil may help protect the body from cellular damage that can lead to a range of health conditions and diseases. It a major component of the Mediterranean diet known as one of the healthiest diets on the planet.
Lime juice consumption may reduce heart disease risk factors, improve immunity, prevent kidney stones, and even promote healthy skin. It is so good you might want to add more to this easy homemade salsa recipe.
Jalapeños are not just in here for the heat. These peppers are low calorie and full of vitamins, minerals, fiber, and antioxidants.
Green chilies are low in calories, virtually fat-free, and rich in nutrients and vitamins that can enhance your health.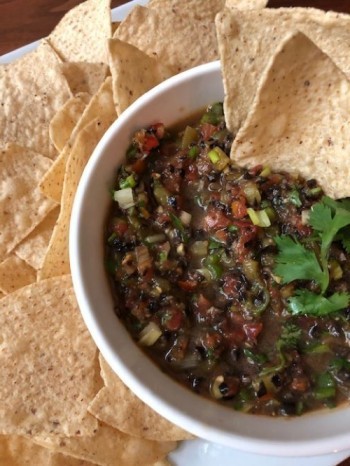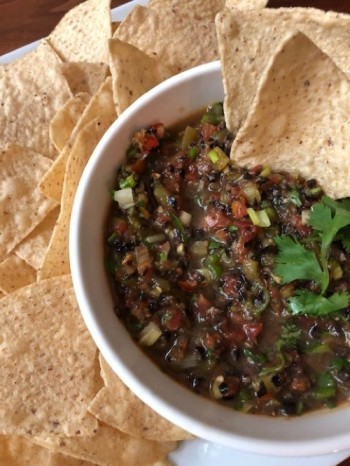 How do you make homemade salsa with fresh cherry tomatoes?
That is why you are here isn't it? Very simply, follow the instructions for the Hot Stuff Salsa recipe below.
The fresh cherry tomatoes give the salsa a bright, vibrant flavor. Just toss them in the food processor with the other ingredients and pulse it to the consistency you desire. If you are using it as a sauce, I would pulse it longer for a finer chop. But if you are using the salsa as a dip, I would make the salsa a bit chunkier like a restaurant quality salsa.
Fresh Salsa Ingredients for Hot Stuff Salsa
1 can Old El Paso or Rotel Tomatoes-n-Chilies
6 – 8 cherry tomatoes chopped
3 – 5 green onions chopped
Fresh cilantro chopped
Small amount of Olive oil
Lime Juice
Small can chopped black olives
Jalapeno relish use 1 – 5 tsp to taste
½ tsp Garlic salt + more to taste
What about those food additives?
If you are worried about the citric acid and calcium chloride in the canned goods (like the tomatoes and chilies) you can relax. A bit.
Is Citric Acid safe?
According to Healthline.com, citric acid is naturally occurring in citrus fruits. It is a compound originally derived from lemon juice.
Today, citric acid is made from a specific type of mold and is used to boost acidity, enhance flavor, and preserve ingredients. It's also used to stabilize or preserve medicines and as a disinfectant against viruses and bacteria.
In fact, manufactured citric acid is one of the most common food additives in the world. Sodas, juices, powdered beverages, candies, frozen foods, and some dairy products often contain manufactured citric acid.
Calcium Chloride is not Salt.
It has a salty flavor but is a food additive. It helps to keep foods firm, lowering the freezing point of some products, and is also used as an electrolyte in some drinks.  Although it is also an ingredient in concrete mixes and is used in road surfacing agents, the Food and Drug Administration labels calcium chloride as generally recognized as safe (GRAS).
Does salsa need to be processed?
If you are going to can your salsa then yes. However, this easy homemade salsa recipe is meant to be eaten in just a few days if not a few minutes! So you can make it and put it right on the table. However, if you make it a day early (recommended) keep it in a covered container in the refrigerator. Let it come to room temperature before serving.
Is homemade salsa better the next day?
Heck yes! This Hot Stuff Salsa is actually better a day after you make it. Time lets the flavors meld and bloom a bit. If you want to make it richer then throw it in a saucepan and cook on low for 30 minutes. But it isn't necessary.
Substitutions for this Easy Homemade Salsa Recipe.
Tomatoes. You can use diced canned tomatoes in place of the fresh, but you won't have as bright a flavor profile.
Green onions. Use a quarter of a yellow onion if you cannot find scallions.
Lime Juice. You can use lemon juice, but reduce the amount to 2 teaspoons.
Black Olives. I do not recommend using Kalamata olives. They are brinier and tart which will change the flavor profile of the salsa.
Jalapeno relish. If jalapenos are too hot then use the same amount of green chilies either fresh or canned. Or if you prefer, use one to two fresh jalapenos cut to a small dice. Add the seeds for more heat.
Salt. If you are reducing your salt intake then use garlic powder instead of the garlic salt and add one more teaspoon of lime juice.
Remember you can always skip any ingredient that disagrees with you!
Enjoy this Easy Homemade Salsa Recipe!
Enjoy this delicious and easy homemade salsa recipe I fondly call Hot Stuff Salsa. It is fast and easy to make and incredibly delicious on a variety of foods!
Hot Stuff Salsa
Ingredients
1

can Old El Paso or

Rotel Tomatoes-n-Chilies

6 – 8

cherry tomatoes

chopped

3

– 5 green onions

chopped

1

Tbsp

Fresh cilantro

chopped

1

Tbsp

Olive oil

1

Tbsp

Lime Juice

1

small can chopped black olives

1

small can jalapeno relish

use 1 – 5 tsp to taste

½

tsp

Garlic salt

+ more to taste
Instructions
Combine first seven ingredients and stir well. Or for a finer salsa, use a food processor and pulse until incorporated.

Add 2 tsp jalapeno relish and ½ tsp Garlic salt. Stir and taste. Add more jalapeno relish and garlic salt to taste. Serve with tortilla chips.
Notes
Note: It is even better after sitting overnight.
Cheers Y'all!
P.S. Y'all know Sharing is Caring! I would really appreciate it if you would share this on your Facebook page, Instagram Feed or Twitter it out! Whatever Social Media rocks your boat, post away! Thanks in advance.