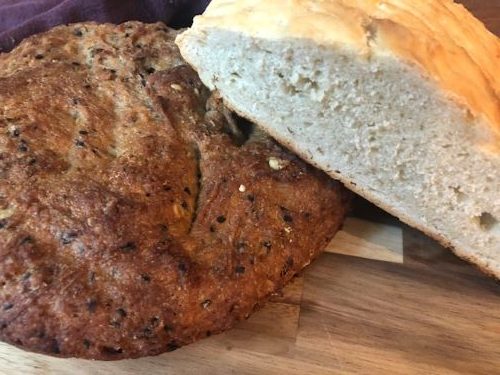 How to bake bread without yeast!
It has been popping up everywhere on the net –  Stress Baking.  Pins reading "101 Desserts to Stress Bake".  Or "22 Delicious Sourdough Loaves" to make with that sourdough experiment you recently started.  But where is the assistance to stress-bake bread without yeast in less than the time it takes to create a sourdough starter? Right here! ( I have three recipes for you.)
New quotes about stress baking are popping up every day. "Stop hating, start baking." Wouldn't the world be a better place if we could just settle all of our arguments over a batch of warm chocolate chip cookies?
One of my favorites reads "Baking can be a good stress reliever; when else can you whip, beat, chop, and cut something all you want and be granted delicious results?"  Another to raise eyebrows is "I bake because punching someone is frowned upon".  I would love to see that t-shirt on Duff Goldman.
There is some serious science behind baking for stress relief, especially when you bake for someone else. Baking can allow people to express themselves in ways words fail. Taking food to someone who is dealing with the loss of a loved one is a cultural norm. In today's environment, handing someone a batch of homemade chocolate chip cookies is like giving them a warm loving hug. One bite and they know how much you appreciate them. No words required.
For me, the savory gal, I love home baked bread. I don't think anything makes the house smell more homey than fresh baked bread. I mostly make bread in the fall and winter to go with all the great soups and stews for that time of year.
But this stay at home time changed that a bit. Unfortunately, with the current state of affairs, I have found the time to bake bread, but not the ingredients. My yeast had run out and I had not replaced it. How was I going to stress bake my favorite bread with no yeast?
Sure I could make a batch of cookies or brownies every week, but my waistline may hate me soon. I hear some of you calling out my bread carb belly, but at least the sugar is dramatically lower in bread. Hey, I make the win where ever I can.
When I finally got my head on straight after the whole stay at home shock leveled off, I headed to the store to find what I needed for a little stress lowering loaf making. I knew there was a run on meat and paper goods, but I didn't expect what I found.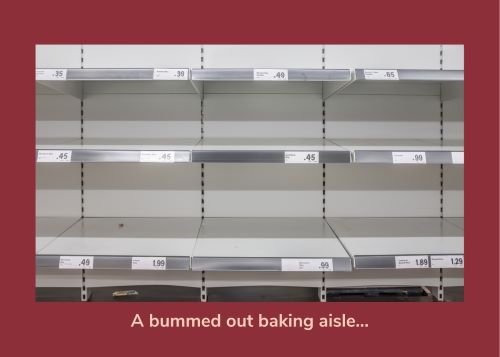 The yolk was on me for the shelves were bare of flour and yeast. I tried to give myself a pass as this is my first pandemic, but I was really upset that I didn't think of this sooner and get what I needed when I was busy sourcing meat.
It made me reflect on the stories my grandmother told me about rationing in World War II. Butter, eggs, and sugar were really hard to come by during the war. Canned goods went to the war effort and folks stateside had to make do. She learned to make some pretty impressive meals on precious few ingredients to feed her family. She admits they were better off than during the Depression. So are we.
I even tried to trade some toilet paper for yeast, but my neighbor declined, claiming her sanity was more important and stress baking was keeping her kids in check. Can't blame her.
I returned to the baking aisle every trip to the store, but nothing showed up. The news kept showing pictures of empty shelves in normally overflowing grocery stores and it made the mind run away a bit. I put yeast on every grocery list and kept my fingers crossed.
Recipes to Bake Bread without Yeast!
In the meantime, I wanted to find a way to produce some comfort from the ingredients I had on hand. For years I have been making Irish Soda Bread and I knew that did not require yeast, so all was not lost.
I dug out my trusted Irish soda bread recipe and made two loaves. I made one traditional and sweet with raisins and the other a savory brown bread. We had homemade bread and the house smelled great – no problem.
But what else could I pull together for a homemade loaf? I was making Italian for dinner a couple of weeks ago and I wanted some hearty garlic bread to go with it. The brown bread just wasn't what I wanted for the base of my garlic bread. It was time to do a little digging in my recipe stash.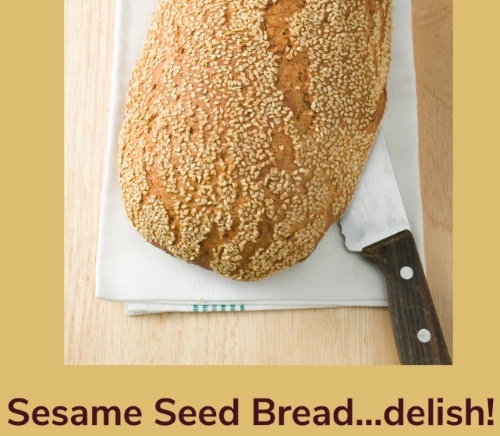 The crust is every kind of crunchy you want, but with a soft springy center.
I found a recipe my Mom had given me years ago for a Quick Sesame Loaf. It came together quickly with everything I had in my pantry and refrigerator. It is a light and spongy bread that is great for cleaning that last bit of sauce or soup out of the bowl.
It just wasn't quite right for this particular meal. I wanted something a bit heartier, so I kept digging.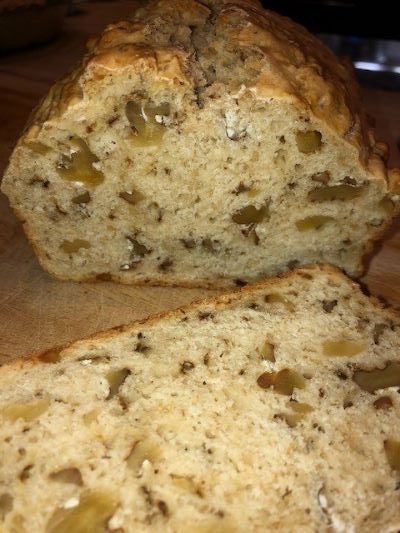 Finally, I found the recipe for savory bread that I could bake, without yeast, that would work with my Italian meal. It's the little things in life that make us happy. For my husband, it's watching America's Funniest Home Videos. For me, it is baking bread.
The last time I made this version of bread it was in 2001.  No wonder it didn't pop up in my brain right away.  I have made it multiple times in the last couple of weeks and am enjoying the many variations.   It's basically a quick bread so you can do a lot with the basic recipe.  I used darker beer and added toasted walnuts for one loaf.  I used a lighter beer, basil, and garlic butter in another.  I also doubled the sugar and added dried cranberries and toasted pecans for a breakfast loaf.   Let your imagination run wild and have some fun!
Check out the Elegant Instant Pot Gathering menu and use this beer bread recipe to make for your hearty bread. Delish! You will use this easy recipe to make great bread over and over again.
Where there is a will there is a way. So don't give up on stress baking bread without yeast in your pantry. One of these three recipes will have you stress free through baking!
So, crack open a beer and bake away!
Cheers Y'all!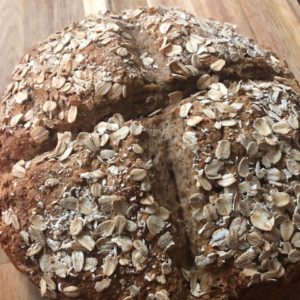 Irish Brown Soda Bread
Fantastic no yeast brown bread to savor with soups, sauces, or just good quality butter.
Ingredients
2

c

All Purpose flour

2

c

Whole Wheat flour

1 ½

tsp

baking soda

1 ½

tsp

salt

2

c

buttermilk

2

T

Oats
Instructions
Preheat the oven to 425°F. Lightly grease a baking sheet.

In a large bowl, whisk together whole wheat flour, white flour, baking soda and salt.

Gently mix in the buttermilk until a soft dough is formed. Knead very lightly. The dough should be soft, but not too sticky. Dust hands with flour if needed.

Turn onto a floured work surface and work dough into a round about 1 ½ inches thick.

Place on a baking sheet.

Score the loaf with an 'X' about ½ inch deep.

Glaze the bread with the leftover bit of buttermilk and dust the top with rolled oats.

Bake for 15 minutes, then turn down the oven to 400°F and bake for 30 minutes more or until golden brown. When done, the loaf will sound slightly hollow when tapped with a wooden spoon.

Remove from the baking sheet and place on a wire rack to cool.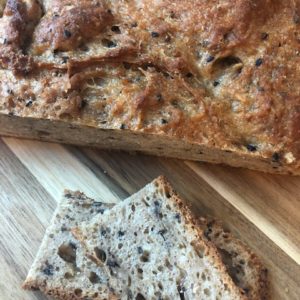 Quick Sesame Loaf
A crusty outside and soft inside.
Ingredients
3

c

All Purpose flour

2

T

sugar

2

T

Baking Powder

1 ½

tsp

salt

3

eggs

beaten

1 ¾

c

milk

¼

c

vegetable oil

Sesame seeds
Instructions
Preheat oven to 375F.

Combine first 4 ingredients in a large mixing bowl and stir well with a whisk.

Mix eggs, milk, and oil and add all at once to flour mixture stirring only until flour is moistened and mixture is well blended, but not smooth.

Pour into greased 9x5x3 loaf pan.

Sprinkle with sesame seeds and bake in a preheated oven 55 – 65 minutes or until golden.

Cool on rack for 5 minutes then remove from pan.
Notes
I mixed 3 T black sesame seeds into the dough as well as sprinkled 1 T on top.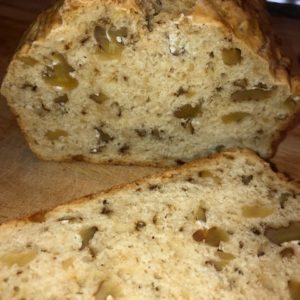 No Yeast Beer Bread
This is a quick, very yummy bread. The only beer you taste is the one in your hand.
Ingredients
3

c

All Purpose flour

1

T

Baking Powder

2

T

Sugar

1½

tsp

Salt

1

Bottled Beer

12 ounces

1

T

Unsalted Butter

melted
Instructions
Preheat the oven to 375F. In a medium mixing bowl, combine all the dry ingredients. Add the beer all at once, mixing gently. The batter should be a little lumpy.

Spray a loaf pan with cooking spray. Pour beer batter into loaf pan. Brush the top with the melted butter. Bake on the oven rack 1/3 from the bottom of the oven for 35 – 40 minutes, or until a skewer inserted in the middle of the loaf comes out clean.

Remove from pan and cool on a rack.
Notes
You can use a light beer for a lighter loaf or a darker beer for more flavor, but you don't taste the beer in this bread.  Add nuts, seeds or dried fruits.  The pictured beer bread has toasted walnuts added.