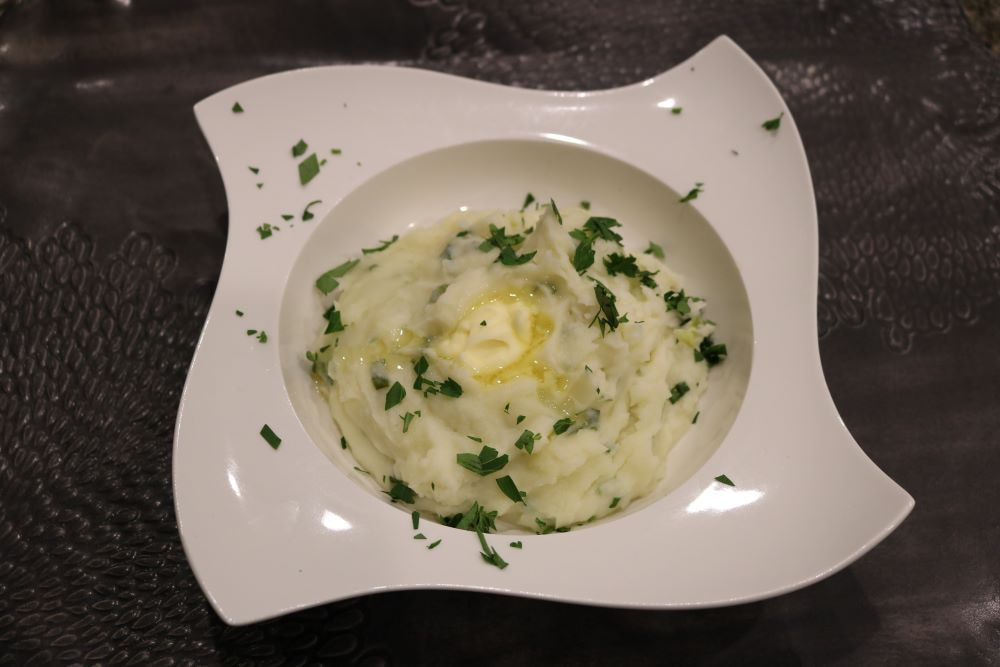 How to Make this Recipe For Slow Cooker Mashed Potatoes with Roasted Garlic
This is a fabulously easy recipe for slow cooker mashed potatoes!
Mashed potatoes are a classic dish that can be made in so many ways. You can add different herbs and spices, or use different types of milk, cheese, or butter. But sometimes, the simplest recipes are the best.
And this is definitely true for slow cooker mashed potatoes. These potatoes are velvety rich and flavorful, and they require no boiling or standing over the stove. Just put everything in the slow cooker and let it do its magic!
Mashed Potatoes are a Staple Dish all Winter Long
Mashed potatoes are a staple dish all winter long. They are perfect for the holidays and can be served with any recipe you would like to make as part of your St. Patrick's Day menu or Thanksgiving dinner. But they also work great as a side dish on any given night of the week, especially when made in the slow cooker!
Making mashed potatoes from scratch is often time-consuming, as there is usually lots of boiling and standing over the stove involved. Not so with this recipe! With this recipe for slow cooker mashed potatoes, you just have to dump everything into your crockpot and wait for it to cook so that you end up with smooth, creamy mashed potatoes without all the fuss.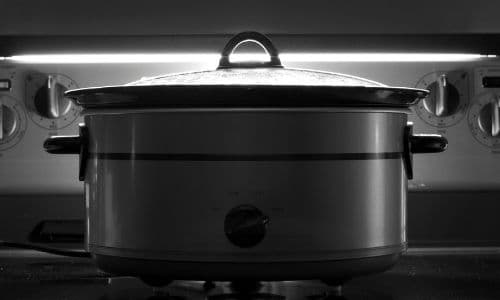 Are These Slow Cooker Mashed Potatoes a Make Ahead Recipe?
Absolutely! You can make these mashed potatoes hours ahead. When they are done cooking, finish the recipe with the additional ingredients and turn the slow cooker to warm.
If you leave them a long time you might need to add a little liquid or extra sour cream to loosen them up to the right consistency.
If you make the Slow Cooker Guinness Beef Stew and don't have a second slow cooker for the mashed potatoes, never fear! Simply make the mashed potatoes in advance, even a few days before making the stew. Then refrigerate until ready to use. Simply warm them on the stove with a little liquid or reheat in the oven at 300 degrees F for 20 minutes. Then stir, garnish and serve.
What are the Ingredients for this Recipe?
Here's what you will need to make this recipe.
Russet Potatoes
Chicken broth or vegetable broth
A whole head of garlic – but this is optional
Unsalted Butter
Sour Cream
Milk – 2% or whole is fine
Kosher salt
Freshly ground black pepper
Fresh chives for the garnish or you could use Parsley.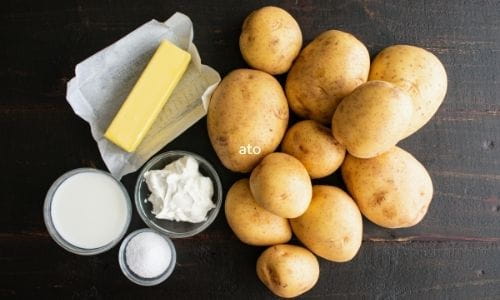 These ingredients are all it takes to create a rich and flavorful recipe for slow cooker mashed potatoes. The recipe calls for the addition of butter and you could add 2 tablespoons of cream cheese when you add the sour cream, but you don't need to do this for creamy potatoes.
In other words, make your choices based on what you prefer! And if you're not sure how much of each ingredient should go into your recipe just add a little at a time to your taste.
How to Make this Recipe for Slow Cooker Mashed Potatoes
To get started on this recipe, simply scrub and peel your potatoes before cutting them into one-inch pieces. Place the cut potatoes in the slow cooker in an even layer.
Next up is butter which should be softened at room temperature beforehand so that it becomes easy to mix in. You can either do this by letting it sit out for a while or microwaving it for about 15 seconds.
Once the butter is ready, place it and the chicken or vegetable broth into your slow cooker and stir until well combined. Give everything a good mix until all of the ingredients are evenly distributed and pop on the lid.
Now it's time to set your slow cooker on low heat and let it cook for about four hours on high or 7 hours on low. Basically, you cook until the potatoes are fork-tender.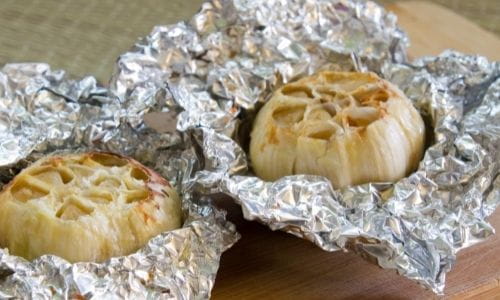 Roasted Garlic for Extra Deliciousness
While the potatoes are cooking in the slow cooker you can roast your garlic. Cut the top ¼ inch off a head of garlic. Then, place it in a piece of tin foil large enough to wrap the garlic completely. Drizzle a little olive oil over the garlic, add a pinch of salt and pepper and wrap in the foil. Place the packet in a preheated oven at 400 degrees F and cook for 40 to 50 minutes. The garlic cloves should be soft and slightly caramelized in color when done.
Remove from the oven and allow to cool. When you can handle the cooled garlic, gently squeeze the cloves from the paper skin and set them aside until you are ready to add them to the cooked potatoes. Discard the empty garlic sheath.
Time to Mash Up your Slow Cooker Potatoes
When the potatoes are soft, simply mash them up with a potato masher or an immersion blender right in the pot! Careful not to overwork the potatoes as they can get gummy the longer you process them.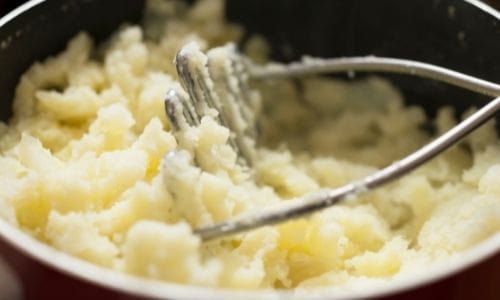 Once the potatoes are smashed and still a bit chunky, add in the roasted garlic cloves if you are using this ingredient. Also add the remaining butter, sour cream, and ½ cup of warm milk. Stir or mash until fairly smooth.
If you find that your slow cooker mashed potatoes are too thick, you can stir in additional warm milk, some additional broth, or a little cream until you reach the desired consistency.
If you are not ready to serve, simply lower the slow cooker temperature to warm, replace the lid and serve when you are ready. Just give them a little stir and garnish with the chives before serving.
And that's all there is to it! These slow cooker mashed potatoes are velvety rich and flavorful without all the work. Serve them with your St. Patrick's Day menu or as part of your Thanksgiving dinner this year and everyone will love them!
Do you Really Need Side Dishes?
Side dishes are often overlooked or left out of dinner altogether. But I find they come in really handy. I serve my side dishes along with dinner and am happy to include them in the leftovers later in the week. But side dishes can also become the main event when I enjoy a Meatless Monday menu.
Additionally, side dishes can help fill the bill if you have extra hungry guests. Or maybe your main dish did not turn out as marvelous as expected. And maybe you just want lots of leftovers to enjoy later in the week.
Have you ever had a guest show up and then tell you they are allergic to something you cooked? Hello, side dish to the rescue! Fill them up on a salad, side dishes, and anything else you have prepared that they can eat.
So, you see, the side dish, and honestly anything with potatoes, can easily help your menu.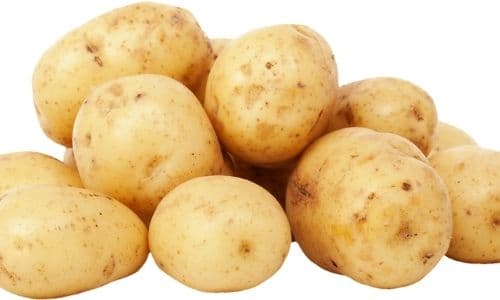 Can you Put Raw Potatoes in your Slow Cooker?
You can put raw potatoes in your slow cooker. They actually cook really well in a crock pot or slow cooker. You can leave them whole and bake them in your slow cooker.
Also, raw potatoes are great to add to soups or stews you are making in your slow cooker. But make sure your cut pieces are about one inch. If you cut them too small and cook the soup all day the potatoes can fall apart and make your soup mealy.
How Long do you Cook Potatoes in a Slow Cooker?
For this recipe, cook on low heat for about six to seven hours or high heat for three to four hours. You'll know when it is time to mash them because they should easily fall apart with a fork poked into them.
What should I Serve with Mashed Potatoes?
Make this recipe for slow cooker mashed potatoes to serve as part of your Thanksgiving or Christmas dinner.
This is also a great dish as part of your St. Patrick's Day Buffet!
Serve the mashed potatoes as a base for this Irish-style Slow Cooker Guinness Beef Stew.
Add some hearty Irish Brown Soda Bread along with them.
Boost your fiber and buffet with a very green Simple Green Salad with homemade vinaigrette.
What are Some Uses for Leftover Mashed Potatoes?
There are so many things you can do with leftover mashed potatoes.
You could make a shepherd's pie, add them to an omelet or frittata, put them in some breakfast burritos, turn them into potato pancakes or croquettes and the list goes on and on.
So don't fret if you have leftovers. Turn them into something new and delicious for lunch or dinner the next day. Or highlight them on a Meatless Monday.
Invite Friends Over for a Delicious and Hearty Winter Meal
This Slow Cooker Mashed Potato recipe is great because you can make the whole dish just in your slow cooker. You don't need an extra burner on the stove or use up an extra pot like mashed potatoes recipes often do. And they are rich and creamy with only a little butter, sour cream, and milk.
Don't skip out on this delicious side dish recipe idea for St. Patrick's Day, Thanksgiving, or even Christmas Day dinner! It's always good to have an option for easy potato side dishes when making hearty winter meals.
Cheers Y'all!
P.S. Share this post on your favorite social media site. And let me know when you make it! Comment below and rate the recipe.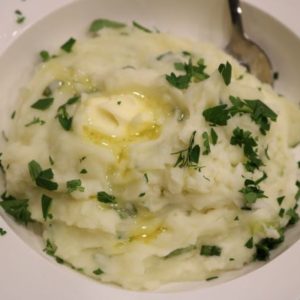 Slow Cooker Mashed Potatoes with Roasted Garlic
Easy, creamy mashed potatoes made in your slow cooker make for a hearty winter side dish.
Ingredients
5

pounds

russet potatoes

¾

cup

chicken broth or vegetable broth

1

head garlic

optional

1

Tablespoon

extra virgin olive oil

¼

cup

butter

room temperature, divided

1

cup

sour cream

1

– 2 cups milk

warm

Kosher salt

Freshly ground black pepper

1

Tablespoon

fresh chives

chopped
Instructions
Scrub and peel potatoes and cut into 1-inch chunks.

Place potatoes, chicken broth, and 1 tablespoon butter into a 6-quart slow cooker. Cover and cook until tender about 3 – 4 hours on high heat or 6-7 hours on low. Stir twice while cooking. (It is okay if the potatoes brown slightly in a few spots.)

For garlic (if using), preheat oven to 400 Degrees F. Cut top ¼ inch off garlic head exposing the cloves, and place in a sheet of foil. Drizzle with olive oil and season with a little salt and pepper. Wrap foil around garlic head and roast for 40 – 50 minutes or cloves are soft and golden. Set aside to cool. Squeeze out the garlic cloves and set aside.

When potatoes can easily be pierced with a fork, remove lid and break up the potatoes in the slow cooker using a potato masher. Add roasted garlic cloves, remaining butter, sour cream, and ½ cup warm milk and mash until fairly smooth. If potatoes need to be thinned out, add more warm milk and season to taste with additional salt and pepper. Garnish with chives and serve warm.
Notes
 Turn slow cooker to warm until ready to serve. You can make ahead and reheat on the stove or in the oven at 325 degrees F for 20 minutes.