8 Cozy Christmas Stocking Inspired Cocktails to Spice Up Your Holidays
These 8 Cozy Christmas Stocking Inspired Cocktails will spice up your holidays and keep you warm all winter long!
Merry Christmas, Happy Hanukkah, and Happy Kwanzaa – may your celebration this season be blessed!
For those that celebrate Christmas, do you remember waking up on Christmas morning so excited to tear into those beautifully wrapped packages under the tree? I would race downstairs and gawk at the Christmas tree with great anticipation of the fun and merriment that was about to take place. I got a little carried away last year and was fully awake at 4 AM. Hey, still a kid at heart.
Even if I have a pretty good idea of what I am going to get from under the tree, the stockings are shrouded in mystery. It is almost a competition to surprise everyone with something really funny or odd. I don't know about you, but my favorite part of Christmas morning is opening the stockings. As a kid, they were the last thing we opened. We found them full of candy, fruit, peppermint sticks, and goofy little gifts that always made us laugh. I have gathered the adult version I call Christmas Stocking Cocktails in honor of those yummy surprise treats.
Cozy Christmas Stocking Cocktail Inspiration
Many delicious memories gave me inspiration for these drinks.

Candy Cane Russian: My grandmother always gave us peppermint sticks around Christmas. They were in our stockings, hanging on the tree, and decorated more than one Santa Claus caddy in the house. To this day peppermint is still my favorite candy.
Christmas Cosmo: There isn't any chocolate in this drink. But it reminds me of the dark chocolate covered cranberries that made an appearance in my stocking when I was in my 20s. I wish they had arrived sooner! I adore cranberry anything this time of year.
Gingerbread Martini: When we lived in Germany my Mom would pick up a tin full of lebkuchen every Christmas. It is spiced gingerbread and can have dark chocolate or vanilla icing. They are actually not overly sweet cookies and I became addicted to these wonderful seasonal treats. My Mom knew how excited I was about them, so she tucked a little package of pfeffernusse cookies into my Christmas stocking. These are extra spicy ginger cookies which I did not have to share with anyone!
Vermont Kiss: One Christmas a beautiful maple leaf shaped candy came out of my stocking. Its sugared exterior sparkled like falling snow. It was so pretty I did not want to eat it, so I took a tiny bite out of the stem. Wow, it was so sweet it took me a week to finish it! This cocktail is a nod to that maple leaf without the super sugar charge.
Bubbly Bourbon Cocktail: My grandmother made these fantastic Bourbon Balls each Christmas which we just loved. Although they were not technically in my stocking, they were one of the treats we enjoyed while unwrapping gifts on Christmas morning.
Negroni: I really enjoy a good belly warmer cocktail by the fire. This one is a classic and certainly was not invented by me, but I really enjoy it. It reminds me of this cherry cordial candy I found in my stocking every year. The chocolate outside gave way to a cherry cream that would inevitably run all over my hands. Despite the mess I knew was coming, I always bit these chocolates in half to try to see the cherry inside. Sticky handprints everywhere.
Winter Wonderland: Ok, so you don't typically find eggnog in your stocking. However, we did drink it Christmas morning while opening gifts, so I count it as part of the Christmas Stocking event. At first glance this drink looks really sweet, but it isn't over the top. The eggnog and ice cream make it creamy and are balanced by the booze.
Christmas Prosecco Cocktail: As an adult, I now enjoy a little bubbly while unwrapping our Christmas gifts. This is a richer, sweeter glass of bubbly to enjoy. No rules, just bubbles!
Cocktail Recipe Links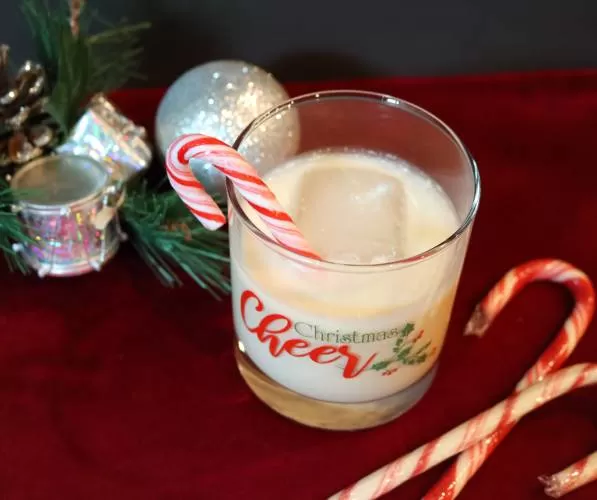 Candy Cane Russian: This vodka and Kahlua drink dances like a White Russian but with added peppermint zing.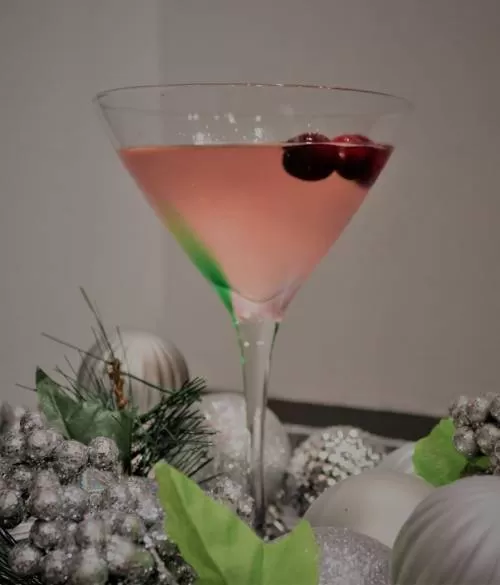 Share a Cozy Christmas Stocking Cocktail
I get that Christmas is really supposed to be for the kids, but we don't have to stand by and let them have all the fun! Grab your shaker and these recipes and get celebrating!
There are not too many oddball spirits in these recipes. So if you have a well-stocked bar you probably have everything you need on hand. If not, then pick up a small bottle of the spirit required in the recipe of your choice that you don't normally keep on hand. Also, the mini bottles are great ways to try out something new without having to make an investment and you won't be stuck with a liqueur you rarely use.
I made the Vermont Kiss because I have a four-year-old bottle of Buttershots in the back of my bar. It is pretty darn good, but I rarely reach for it. After finding this drink, I'll be using that bottle up!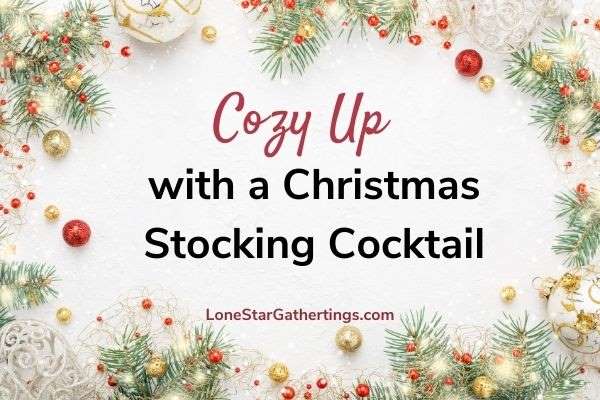 Cozy Up with a Christmas Stocking Cocktail
Make one of these bright and fun cocktails to enjoy while you load up the stockings on Christmas Eve. Surely you can multi-task a cocktail in one hand and still put cookies out for Santa with the other hand!
You might need something stronger if you are building a bike for Christmas morning, but these cocktails will at least take the edge off. Just sayin'.
Enjoy savoring your choice of these 8 cozy Christmas Stocking Cocktails as your after-dinner dessert. Or why not have one as your pre-dinner dessert? Hey, no judging on the order of things this season. There should not be any rules for how we enjoy ourselves at the end of this crazy year!
Invite a few friends over for a holiday movie and start the night with a cocktail instead of the usual bottle of wine. It will look like you really made an effort and will elevate everyone's celebratory mood. Just mix up the ingredients, keep chilled and serve in a pitcher next to a shaker and bucket of ice. Your guests can pour and shake their cocktails when they arrive which frees you up to put out the appetizers.
Christmas Stocking Cocktail Gift Ideas
You can turn these recipes into Christmas or hostess gifts as well. Just purchase a nice set of martini or rocks glasses and gift wrap them with the minis and a recipe card. Voila! Party in a bag!
Don't need the glasses? Purchase a good-sized bottle of the base spirit and add the minis and recipe cards for a couple of the drinks that strike your fancy.
Barware makes a particularly nice gift around the holidays and is good for anyone that appreciates a cocktail from time to time. Don't believe me? Just take a good bar set to a white elephant gift exchange and see how many times it is stolen!
Blessings this Season and Next
However full your house is this season, I hope you are full in heart. If things are great, make a Cozy Christmas Stocking Cocktail and toast your blessings with gratitude. If things are not so great, make a Cozy Christmas Stocking Cocktail and toast the blessings that will find you in the New Year.
For me, the beauty of this season is the hope that surrounds it. I hope that your 2022 is full of beautiful Gatherings and memories made while sharing a great meal or two with friends and family.
Cheers Y'all!
P.S. Give your friends some cocktail inspiration and share this post with them!