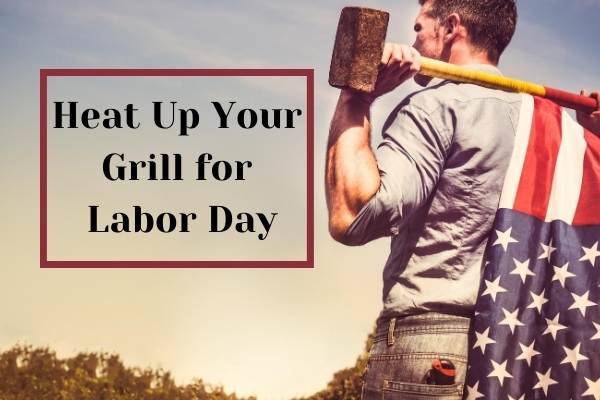 Labor Day is traditionally celebrated across America with parades, picnics, barbecues, fireworks displays, and other public gatherings. But this year, well, this year continues to be different. With a nod to recommended size limitations and CDC guidelines for our gatherings, I am grilling out for Labor Day!
The Labor Day Grill Menu is below, but first a little background.
For most folks, particularly those of school age, Labor Day represents the end of their summer and the start of the back-to-school season. Most parents typically rejoice, but since back-to-school this year does not necessarily mean education inside a school, there is hesitation in the rejoicing.
Beyond the unanswered questions and grind of the sensationalist news media, there is the American spirit longing for a bit of normalcy. Let's take control of our thoughts, turn off the TVs and other screens, back away from the "new normal" ideas, and enjoy a meal on the patio in as normal a fashion as we can.
Gather with friends, gather with family, and simply enjoy good conversation over a good meal.
Grill Out for Labor Day
Here is what you need to grill for Labor Day! The menu and recipes are at the bottom of the post.
While you are grilling this fantastic flavor explosion Labor Day menu I have below, have a little fun on the patio with Labor Day trivia. The following is brought to you by your favorite History channel.
Why do we celebrate Labor Day in America?
Labor Day is an annual celebration of workers and their achievements, but it originated from a dismal chapter in American history. During the height of the Industrial Revolution in the United States, the average American worked 12-hour days and seven-day weeks, but they barely make a basic living. Things had to improve.
During the Labor Movement, workers united to reduce the workweek, move away from child labor, and improve wages. One step toward improvement was the idea of creating a "workingmen's holiday," and it caught on in industrial centers across the country. Many states passed legislation recognizing it.
How was Labor Day created?
Poor workers often faced extremely unsafe working conditions. They lacked access to fresh air, sanitary facilities and breaks.
Labor unions, which first appeared in the late 18th century, began to grow and become more vocal. Strikes were organized to protest poor working conditions and compel employers to renegotiate hours and pay.
There were many rallies and protests over the years, but a significant event brought workers' rights squarely into the public's view. On May 11, 1894, employees of the Pullman Palace Car Company in Chicago went on strike to protest wage cuts and the firing of union representatives. The federal government stepped in and dispatched troops to Chicago. This unleashed a wave of riots and more than a dozen workers were killed.
Who created Labor Day?
In the wake of this massive unrest and in an attempt to repair ties with American workers, Congress passed an act making Labor Day a legal holiday. On June 28, 1894, President Grover Cleveland signed it into law.
More than a century later, the true founder of Labor Day has yet to be identified. It seems to be a group effort over several years to bring it to light.
When was the first Labor Day celebration?
On September 5, 1882, 10,000 workers in New York City took unpaid time off. They marched from City Hall to Union Square, holding the nation's first Labor Day parade.
It would be 12 more years before Labor Day becomes a national non-working holiday.
The holiday is viewed differently now. Basically it marks the end of summer as the school year begins. Vacations are over and everyone, even children, go "back to work".
Given our current circumstances, one might not think there is much reason to celebrate. I beg to differ. There are many things to celebrate on a daily basis. Social celebration keeps us sane as we are social creatures. So celebrate your sanity if nothing else.
Grill Out for Labor Day: The Menu
As it is still hot, my sanity desires very little excess heat in the kitchen. So this menu is mostly from the grill. The images for the flavor explosion dishes are above.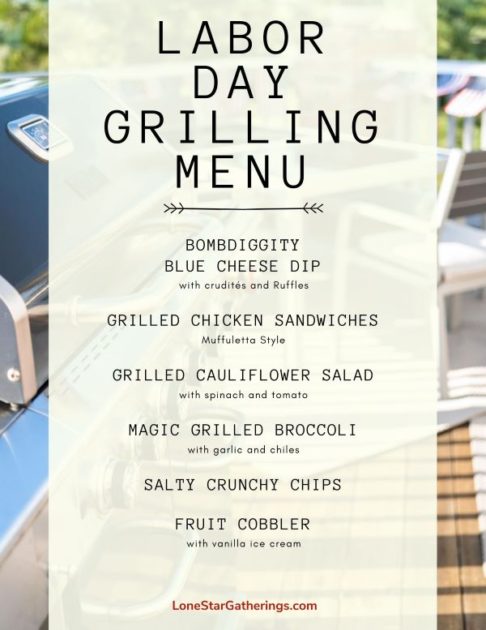 Wine Pairings
I recommend serving this meal with a Sauvignon Blanc (check out my review of Oyster Bay) or with a lovely crisp Vinho Verde (see my Casal Garcia review). I would not mind a dry or French-style Rose either to compliment this meal. Factor a half bottle of wine for each person. Don't forget the ice-cold water in a cooler for guests. If they desire beer, go for a light lager.
Gather with Friends on Labor Day
Why be locked in the kitchen when you can enjoy your company in the fresh air on your patio? Sipping a lovely vino of course!
Don't fret this Labor Day. There is no need to focus on what we don't have when you fill your table with the blessings you do have. Friends, family and those you want to know better will keep isolation and unanswered questions at bay – at least for a day.
I didn't say abandon all reason regarding safety! So with a nod to CDC guidelines keep the hand sanitizer close by, masks on when not eating, dine outside, and place the chairs 6 feet apart.
Despite this pandemic, we must honor that we are social creatures and need face to face time. But please be safe and check the latest CDC recommendations!
So enjoy a bit of safe normalcy and gather with friends on the patio when you Grill Out for Labor Day!
Recipes: Labor Day Grilling Menu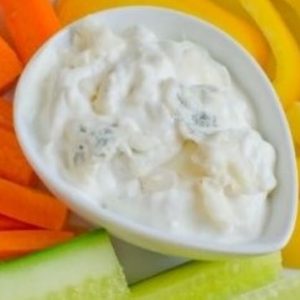 Bombdiggity Blue Cheese Dip
Wonderful cool dip with veggies and chips.
Ingredients
1

tsp

Lemon Juice

1/8

c

white vinegar

2

tsp

sugar

1

Garlic clove

minced

1

c

mayonnaise

1 ½

c

Sour Cream

5

oz

Crumbled Blue cheese
Instructions
Mix Lemon Juice, white vinegar and sugar in a non reactive bowl. Allow sugar to dissolve in vinegar.

Mix garlic, mayo, and sour cream together and add to vinegar mixture. Whisk well.

Fold in crumbled blue cheese.
Notes
Store in an air-tight container. Best if used in four days.
Serve with vegetables of your choice or potato chips.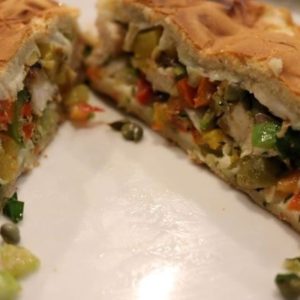 Grilled Chicken Muffuletta Style Sandwiches
Tangy chicken sandwiches from your grill.
Equipment
grill

grill pan or vegetable grill basket
Ingredients
Spicy Olive Relish (See Note)
2

medium red bell peppers

grilled, peeled, seeded, and diced

2

medium yellow bell peppers

grilled, peeled, seeded, and diced

2

serrano chiles

grilled and finely diced

2

medium red onions

cut into ½ inch thick slices, grilled, and coarsely chopped

4

cloves

garlic

finely chopped

3/4

c

green olives

pitted and coarsely chopped

1

large stalk celery

finely diced

3

Tbsp

capers

drained

1/3

c

red wine vinegar

4

Tbsp

extra-virgin olive oil

4

Tbsp

chopped fresh flat-leaf parsley leaves

1 1/2

Tbsp

finely chopped fresh oregano leaves

Kosher salt and freshly ground black pepper
Sandwiches
6 – 8

soft hero rolls, one per person (See Note)

12 -16

thick slices provolone cheese, 2 per sandwich

6

Large

Boneless Chicken Breasts, skin on or off, grilled and sliced 1/2 inch thick
Instructions
For the Spicy Olive Relish:
Heat your grill to high (450F) and prepare to cook over direct heat.

Cut the bell peppers and serrano chile in half lengthwise. Remove stems and seeds. Place peppers on cutting board and flatten with your hand. Just so they can lay fairly flat on the grill. Cut the onion into ½ inch thick slices to make rings. Brush the bell pepper, chile, and onion slices with 2 Tbsp of olive oil and sprinkle with salt and pepper. 

Place a grill pan or basket over direct heat (see note), grill onion slices 3-4 minutes a side until slightly charred and cooked through. Set aside. Grill the peppers skin side down until skin is charred 7 – 9 minutes. Remove and place in a bowl. Cover with plastic wrap and set aside for 10 minutes. Then peel. Discard skin and dice peppers.

Combine diced peppers, diced chile, coarsely chopped grilled onion, garlic, olives, celery, capers, vinegar, 2Tbsp oil, parsley, and oregano in a bowl. Season with salt and pepper and stir to combine. Let sit at room temperature for 1 hour before serving.

Better yet, make one day ahead, cover and refrigerate overnight. The next day, let come to room temperature before using.
For the Sandwiches:
Heat the grill to high.

Place chicken breast between 2 sheets of plastic wrap. Using a meat mallet, rolling pin or skillet, pound the chicken lightly to an even thickness. About ½ inch.

Brush both sides of the chicken with olive oil and season with salt and pepper.

If the chicken breast still has skin, cook on grill skin side down 4-5 minutes until golden. Flip over and cook another 3-4 minutes or to 155F internal temperature. ( It will finish cooking another 10 degrees or so after removed from the grill.) Remove from grill and tent with foil to keep warm.

While chicken is resting, slice the rolls horizontally almost all the way through leaving an inch connected. Place 1 slice of provolone on each bottom half and top with some olive relish.

Discard chicken skin if you prefer. Cut the chicken in ½ inch strips. Place sliced chicken on top of the relish, then top the chicken with more relish, and another piece of cheese. Tightly close the sandwiches and wrap each sandwich in aluminum foil.

Place 4 sandwiches, foil fold side down, on the grill close together. Place a cast iron skillet or bricks on top of the sandwiches. Grill for 2 minutes, remove the skillet or bricks and turn over. Replace the skillet or bricks and continue to grill for 2 – 3 more minutes or until the bread is quite crisp and the cheese oozes. Repeat with remaining sandwiches.

Place foil-wrapped sandwiches on a platter and serve family style.
Notes
Notes – Recommendation: Make the Spicy Olive Relish a day in advance and place in a covered container overnight for the flavors to meld.
Use a roll that is crustier than a hamburger bun. The relish will soak into the bread and make it soggy if you use an overly soft bun. Careful when you slice them to leave an edge intact.
If you do not have a grill pan, use aluminum foil so the onion does not drop through the grate.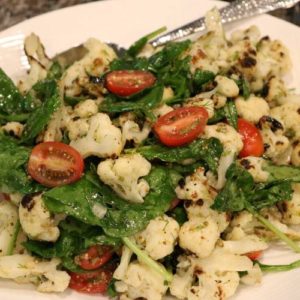 Grilled Cauliflower Salad
Easy grilled salad with explosive flavor!
Ingredients
4

Tbsp

capers

drained and coarsely chopped

2

Tbsp

French whole-grain style mustard

3

cloves

garlic

crushed

2

Tbsp

apple cider vinegar

1

C

olive oil

1

large or two medium cauliflower

divided into medium florets

2

Tbsp

chopped dill

3

cups

baby spinach leaves

packed

40

cherry tomatoes

halved

Sea salt and freshly ground black pepper
Instructions
Make the dressing. Whisk in a bowl or use an empty jar with a lid. Mix together the capers, mustard, garlic, vinegar, and a few pinches of salt and pepper. Whisk vigorously while adding half the oil in a slow trickle. If using a jar, add the oil, screw on lid and shake vigorously. You should get a thick, creamy dressing. Taste and adjust the seasoning. Can make one day ahead and store in the refrigerator.

Add the cauliflower florets to large pan of boiling salted water and simmer for only 3 minutes. Drain in a colander and run under cold water to stop the cooking immediately. Leave in the colander to dry well. (You can do this the night before and store in the refrigerator.) (See note.)

Once dry, place in a mixing bowl with the remaining olive oil and some salt and pepper. Toss well.

Place a grill pan or basket over the direct heat on the grill and leave it for 5 minutes, until very hot. Grill the cauliflower in a few batches making sure the florets are not cramped. Turn them as they grill to get a nice char and transfer to a bowl. While cauliflower is hot, add the dressing, dill, spinach, and tomatoes. Stir together well, then taste and adjust the seasoning.

Serve warm or at room temperature, adjust the seasoning if needed.
Notes
Adapted from Ottolenghi, The Cookbook.
Note: For faster drying, place a tea towel on a rimmed baking sheet. After rinsing the cauliflower in cold water and allowing it to drain, spread it out on the towel to dry. You can complete the recipe to this point and store dried cauliflower in a sealed container in the refrigerator overnight. Continue recipe with step 3 the next day.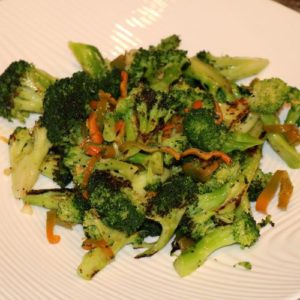 Magic Grilled Broccoli
The "magic" is how this recipe brings fairly boring broccoli to tasty life!
Ingredients
3

heads broccoli

1 ½ pounds

½

cup

+ 2Tbsp olive oil

6

cloves

garlic

thinly sliced

3

mild red chiles

thinly sliced

Sea salt and ground black pepper

Toasted almond slivers or lemon sliced thin with skin for garnish
Instructions
Cut the broccoli into small florets with some stem 1 – 2 inches. Bring a large saucepan (that can hold the broccoli) of water to a boil. Blanch the broccoli for 2 minutes, no longer. Using a large slotted spoon, quickly transfer the broccoli to a colander and plunge into a bowl full of ice-cold water. This should stop the cooking process. Remove colander from water and allow broccoli to drain in the colander. Allow it to dry completely before proceeding. (See note.)

When the broccoli is dry and you are ready to proceed, toss it with 4 Tbsp olive oil and sprinkle with salt and pepper.

Heat grill to high. Place a grill pan over direct heat and leave it there for at least 5 minutes or until very hot. Depending on the size of your pan grill the broccoli in several batches making sure not to crowd the pan. Turn the florets as they grill to get a good char all over. Transfer to a heatproof bowl and continue with another batch.

While grilling the broccoli, place the remaining 6 Tbsp oil in a small saucepan with the garlic and chiles. Cook over medium heat until the garlic barely begins to hint at a golden brown. Do not brown – the garlic will keep cooking off the heat in the pan so transfer oil mixture to a heatproof bowl.

When broccoli is finished on the grill, pour the oil, garlic, and chile over the hot broccoli and toss together well. Taste and adjust the seasoning.

Serve warm or at room temperature. Garnish the broccoli with almonds or lemon just before serving.
Notes
Note: For faster drying, place a tea towel on a rimmed baking sheet. After draining the broccoli, spread it out on the towel to dry. You can complete the recipe to this point and store dried broccoli in a sealed container in the refrigerator overnight. Continue recipe with step 2 the next day.
Adapted from Ottolenghi, The Cookbook.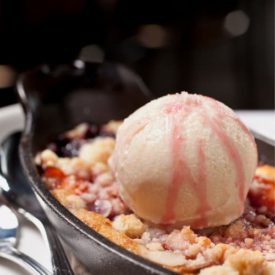 Fruit Cobbler
Delish fruit cobbler for a summertime dessert.
Ingredients
5

peaches

peeled, cored and sliced (about 4 cups)

1

cup

raspberries or blueberries

2

T

dark brown sugar

½

tsp

ground ginger

Zest of 1 lemon

¼

tsp

salt

1

c

granulated sugar

divided

6

T

butter

1

cup

all purpose flour

2

tsp

baking powder

¾

cup

milk

1

tsp

vanilla
Instructions
Put peaches and berries in a large bowl. Add brown sugar, ginger, lemon zest, ¼ cup granulated sugar and toss to combine. Let sit at least 20 minutes while you prepare the batter.

Preheat oven to 350⁰F.

Slice butter into pieces and add to a 9×13 inch baking dish. Place the pan in the oven while it preheats, to allow the butter to melt.

In a large bowl mix together the flour, ¾ cup sugar, baking powder, and salt. Stir in the milk and vanilla, just until combined.

Remove the pan with melted butter from the oven and pour the batter into the baking dish pushing it into the corners, but do not mix with the butter. Just let the butter swirl around the batter.

Top with the fruit mixture. Sprinkle a little cinnamon on top. Bake at 350 degrees for 40 – 45 minutes until golden brown and bubbling around the edges.

Serve warm with vanilla ice cream, if desired.
Notes
Note: Can make one day ahead. Keep overnight in the refrigerator. Bring to room temperature or warm before serving.
Cheers Y'all!