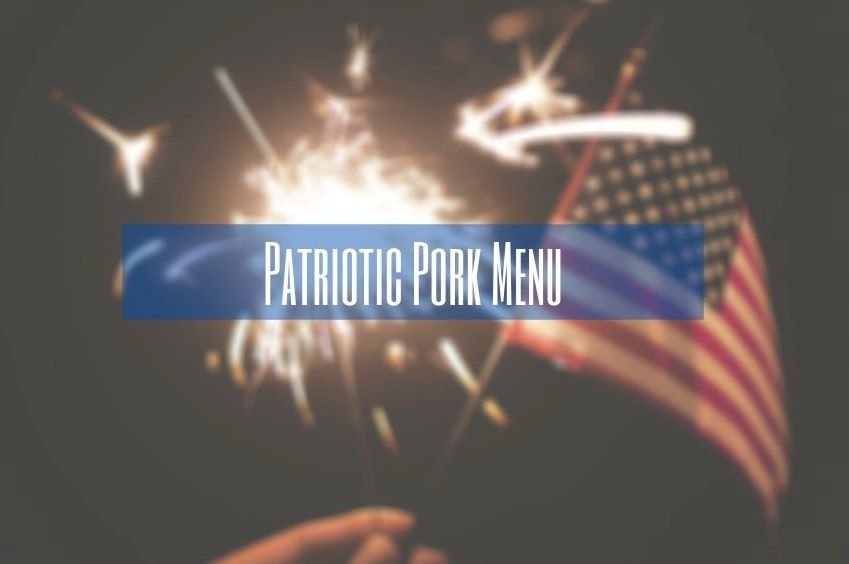 Grill Out July 4th: Patriotic Pork on Your Patio
Why not grill out July 4th with this Patriotic Pork menu to enjoy on your patio. Because you know — the fourth of July is coming! The fourth of July is coming!
I don't know about you but on a hot summer 4th of July, I am going to have a gathering on the patio and grill out! With this July 4th grilling in mind, I have prepared a Patriotic Pork Menu for you to enjoy on your patio. It is enough for 6-8 to be satisfied and need an afternoon nap.
No cooking for the appetizer except to toast the bread, but if it is too hot you can forgo that. The goat cheese will provide enough of a barrier to keep the bread from getting soggy.
The ribs and corn are cooked on the grill which will save you some of the air conditioning bill.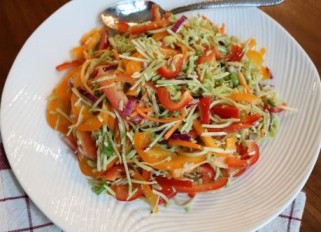 A Different Slaw
The beautiful four pepper slaw requires no fire, just chopping and tossing. It is a light, flavorful slaw that I make with a broccoli base. The recommended package of chopped broccoli is found in the produce section of most grocery stores. If you have not tried it, give it a chance!
At Versus.com you can find a good comparison between the health benefits of broccoli and cabbage. Broccoli is a winner with 5x more vitamin E, 4% more dietary fiber, 17.5% more calcium, and 1.55x more iron per 100g. And as far as the texture is concerned, raw shredded broccoli still packs a good crunch punch much like the bland-looking cabbage. Throw all those yummy peppers in the mix and you have a delicious mayonnaise-free slaw on your table.
What is the Best Way to Make Fruit Cobbler?
Cook your peach cobbler the night before or the morning of the 4th and serve it at room temperature. If you want to warm it up, toss it in the oven when the bread is toasted. When you take the bread out, turn off the oven, but leave the cobbler in and let it warm up. Good stuff no matter what temperature you serve it. That baking pan will be empty! Throw a scoop of vanilla ice cream on top if you like to cool things down even more.
Grill out July 4th Wine Recommendations
Here are some wine recommendations for this Patriotic Pork Party Menu.
The key to successful wine-food pairing for outdoor dining is to keep it simple. The patio is a casual enough setting and does not need a fussy wine, so don't stress out about this. The wines I am suggesting will definitely fit the food, but they also are in line with the casual mood of your gathering.
If you want to start with a nice porch sipper, I recommend a Sauvignon Blanc. You can read a review of Josh Sauvignon Blanc and a review of Oyster Bay Sauvignon Blanc to see if either of these entices your palate.
WineFolly.com says you could "serve a glass of Ruby Port on ice alongside your slow smoked pork, which would easily serve as the sweet "sauce" and provide you with an exceptional explosion of flavor". Personally, I don't favor sweeter drinks. However, if you do they propose an intriguing idea. This would also work if you added a sweeter sauce to the ribs.
The Dry Rub Rib recipe on the menu does not lend to the sweet. It actually is a bit spicy. So I am moving in a different direction for the wine selections. For those of you who favor white wines, I recommend a Dry Riesling also known as "Troken". It will work to cut back on the spice notes and match the tang in the slaw. Chateau St. Michelle makes a lovely one at a good value.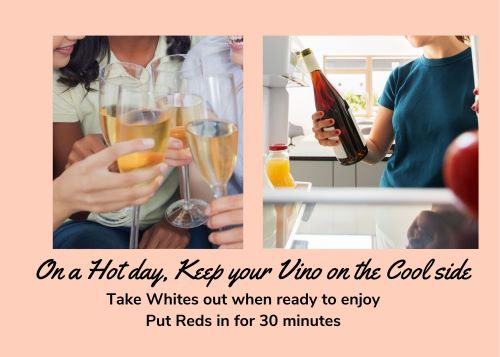 For the red wine drinkers, I am recommending a Shiraz or a Tempranillo. These wines will balance the grill smoke and the dry rub spices in the grilled pork. Both lend similar smoky and spicy flavors with a nice dark fruit component.
I have my favorites, but here are a couple of recommendations that are fairly easily found in larger wine stores. Shotfire Shiraz from Barossa Valley Australia is a big wine with loads of spice. This is a heavy red, but plays well with the spices in the rib recipe. Closer to home is Charles Smith Syrah Boom Boom, Columbia Valley, Washington. I could write pages on his wines! This Syrah is a bit more fruit-forward than the Shotfire, so it has the essence of the spice but is not as broad-shouldered as its Australian counterpart.
Enjoy your Grill Out July 4th Celebration!
Where ever you are celebrating Independence Day I hope you have a grand one! From giant fireworks demonstrations on TV or in socially distanced locations with a few friends and a sparkler or two, adding company to your gathering will make the day merrier.
So fire up the grill and salute your 4th of July with this Patriotic Pork Party Menu.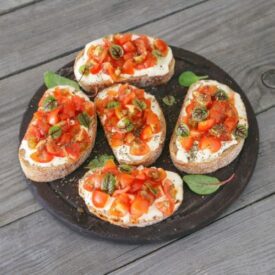 Tomato and Goat Cheese Bruschetta
A simple lively appetizer for a summer meal on the patio.
Ingredients
6

roma

plum tomatoes, diced and most seeds removed

⅓

cup

chopped fresh basil

2

cloves

garlic

minced

1

T

balsamic vinegar

1

T

olive oil

1/2

teaspoon

kosher salt

¼

teaspoon

freshly ground black pepper

4

oz

goat cheese

1

baguette

sliced horizontally into ½ inch slices and toasted
Instructions
In a bowl, toss together the tomatoes, half the basil, and garlic. Mix in the balsamic vinegar, olive oil, kosher salt, and pepper. Let stand 1 – 2 hours.

Spread a thin layer of goat cheese on toasted bread slices.

Top with tomato mixture, sprinkle with the other half of the basil and serve.
Notes
If you can let the tomato mixture sit for 1 – 2 hours the flavors will really meld.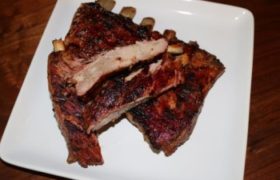 Grilled Dry Rub Ribs
Ingredients
3

racks ribs

St Louis Style, 2 1/2 -3 pounds each

1/3

C

smoked paprika

3

T

ancho chili powder

3

T

New Mexico chili powder

1

T

Corriander

1

T

Cumin

1

T

granulated garlic

2

T

kosher salt

3

tsp

black pepper
Instructions
Prepare the grill for indirect cooking over very low heat (225° to 275°F). If using wood chips, soak them in water for at least 30 minutes prior to putting on fire.

In a small bowl stir together all the rub ingredients.

Place the racks, bone side up, on a cutting board. If the racks still have the membrane attached, remove it: Slide the tip of a knife under the membrane covering the back of each rack. Lift and loosen the membrane until you can pry it up, then grab a corner of it with a paper towel and pull it off.

Season the racks on both sides with the rub putting the majority of it on the meaty side. Rub and press it into the meat. Let sit 20 minutes to sweat a bit.

Drain the wood chips and add four handfuls to the grill, following manufacturer's instructions, and close the lid. When the wood begins to smoke, add the rib racks and cook, meaty side up, over indirect very low heat (225° to 275°F), with the lid closed, for 1½ hours.

Add the remaining wood chips to the grill. Cook the racks for 1½ to 3 hours longer. After each hour, rotate the position of each rack so they cook evenly. Keep the temperature of the grill between 225° to 275°F.

The ribs are done when the meat has shrunk back from the bones by at least ½ inch and you can easily slide a skewer through the meat between the bones.

Transfer the racks to a cutting board. Let rest for 5 to 10 minutes. Cut between the bones into individual ribs. Serve warm, and if you prefer, with sauce on the side.
Notes
(Adapted from Weber) 

Another good test is to lift a rack by picking up one end with tongs. If the rack bends in the middle and the meat tears easily, the ribs are ready.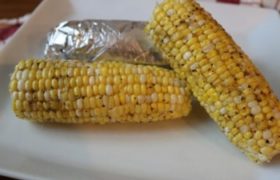 Grilled Corn on the Cob
Let the corn get soft and even charred a bit if you are cooking on high heat.
Ingredients
8

ears corn, shucked

½

stick butter

1 1/2

tsp

Kosher salt

1/2

tsp

Pepper

1

T

Granulated garlic

1

T

mild chili powder
Instructions
Mix chili powder and garlic together in a small bowl.

Rub corn with butter, sprinkle with salt and pepper. Sprinkle with chili garlic mixture and rub into the corn.

Roll corn in heavy duty foil and seal.

Grill, turning frequently, until tender for 20 – 25 minutes on low (if cooking with the ribs) and 15 – 20 minutes on high heat (400⁰F).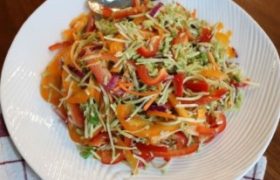 Pepper Slaw
Easy picnic side or serve with grilled foods. Make it early and let it sit to absorb the flavors.
Ingredients
1/2

cup

thinly sliced red bell pepper strips

1/2

cup

thinly sliced green bell pepper strips

1/2

cup

thinly sliced orange bell pepper strips

1/4

cup

finely chopped seeded jalapeño pepper

optional

1/3

cup

chopped green onions

1

10-ounce package angel hair coleslaw or broccoli slaw (about 6 cups)

1/4

cup

white wine vinegar

2

T

fresh lime juice

2

tsp

extra virgin olive oil

1/2

tsp

salt

½

tsp

freshly ground pepper
Instructions
Place first 6 ingredients in a large bowl, tossing to combine.

Combine vinegar and remaining ingredients in a small bowl, stirring with a whisk. Pour vinegar mixture over cabbage mixture, tossing to coat.

Serve room temperature.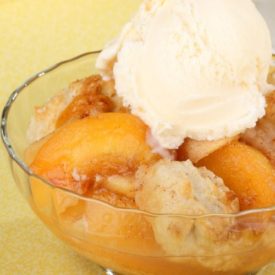 Peach Cobbler
Unbelieveably good and so simple!
Ingredients
5

peaches

peeled, cored and sliced (about 4 cups)

2

T

dark brown sugar

1

tsp

ground cinnamon

¼

tsp

salt

1

c

granulated sugar

divided

6

T

butter

1

cup

all purpose flour

2

tsp

baking powder

¾

cup

milk

1

tsp

vanilla
Instructions
Put peaches in a large bowl. Add brown sugar, cinnamon, ¼ cup granulated sugar and toss to combine. Let sit at least 20 minutes while you prepare the batter.

Preheat oven to 350⁰F.

Slice butter into pieces and add to a 9×13 inch baking dish. Place the pan in the oven while it preheats, to allow the butter to melt.

In a large bowl mix together the flour, ¾ cup sugar, baking powder, and salt. Stir in the milk and vanilla, just until combined.

Remove the pan with melted butter from the oven and pour the batter into the baking dish pushing it into the corners, but do not mix with the butter. Just let the butter swirl around the batter.

Top with the peaches. Sprinkle a little extra cinnamon on top. Bake at 350 degrees for 40 – 45 minutes until golden brown and bubbling around the edges.

Serve warm with vanilla ice cream, if desired.
Cheers Y'all!