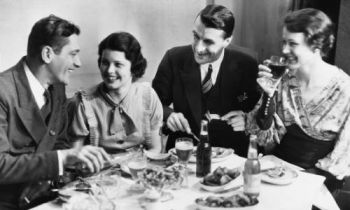 5 Easy Steps: Host Your Fabulous Budget-Friendly Double Date Dinner
Here are 5 easy steps to host your very own budget-friendly Double Date Dinner at home. This menu costs less than the price for one couple to eat out at a nice restaurant – wine included!
I know some folks are running for the restaurants after cooking at home for so long. However, I contend fine dining at home is achievable and far more relaxing than fighting the restaurant scene for a date night.
A few days ago I had friends over for our own fabulous Double Date Dinner. Of course, the CDC safety guidelines were kept in mind. We kept it low key giving each other plenty of room. The appetizer and sunset were enjoyed outside on the porch. And by hosting at home, we easily relaxed after dinner with our conversation lasting deliciously late into the night.
We all had a marvelous time!
I did consider a restaurant for dinner, but time together without waiters hustling us to move along became more important. Moreover, we all agreed that shouting across the table to hear each other over the music and echo of the restaurant noise is not as relaxing as my Bossa Nova radio mix at home. The time to connect was truly uplifting and it was a blessing to each and every one of us.
With some planning and a little preparation, your budget-friendly Double Date Dinner will be relaxing as well. This three-course meal comes together very quickly and you won't be chained to your stove all night.
Your Fabulous Double Date Dinner Menu: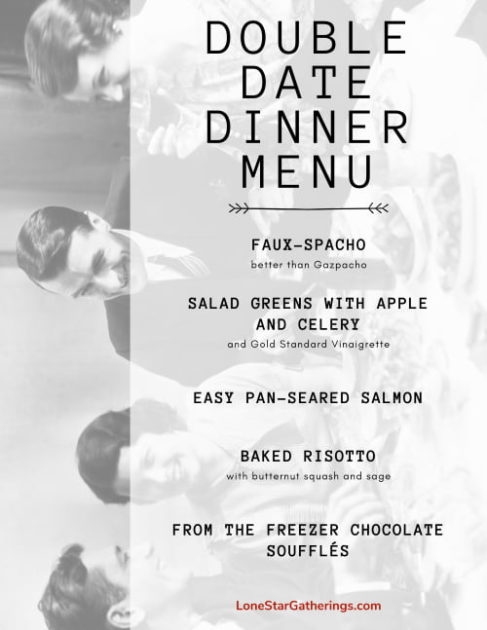 Wait!! Chocolate Soufflés???
Do not fear! These are straightforward, individual chocolate soufflés that you make a couple of days in advance and freeze. They go straight from the freezer to the oven and are on your table in 18 minutes. Easy, elegant, and a "wow" dessert for your special night.
5 Easy Steps to Host Your Budget-Friendly Double Date Dinner
Step 1: Shop in Advance.
Shop five days before the event and put perishable items together in the refrigerator.
In addition, pull your pantry items together and leave the nonperishable items in the grocery bags in one place. Make sure everyone knows these items are off-limits! This way you do not waste time trying to find what you purchased for your menu.
Don't be embarrassed to save time with precut foods. If you can spare a couple of extra bucks, the recipes have options to use precut packages of butternut squash and salad greens. It's your call, chef!
Step 2: Use this Soufflé Support.
To begin, make sure all of your ingredients are room temperature, especially the eggs. Room temperature egg whites will whip up tall and strong and will provide structure for the soufflé. Without them you just have custard.
And speaking of the egg whites, make sure your egg whites are perfectly separated. Carefully remove even the tiniest particle of yolk, as it will interfere with the volume of the whites.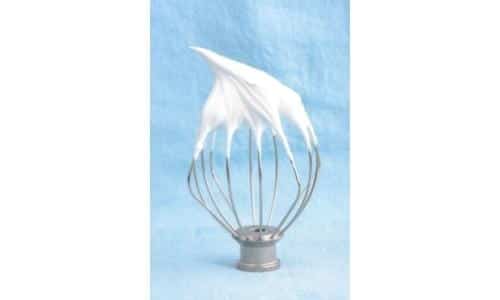 Also, beat the whites in a bowl that is absolutely clean and dry. Anything less will diminish your attempt. Feel free to use a stand mixer or you can use a handheld electric mixer. The whisk and elbow grease combo is really not necessary and is a time sucker.
Be mindful when folding the egg whites into the chocolate mixture. You want them incorporated, until no more white streaks are present, but do this slowly and with intent.
Speaking of not rushing, don't rush the baking process. Remove your soufflés from the freezer and put them straight into the preheated oven. Then, leave them alone. Opening the oven too soon could make the soufflés fall, and fallen soufflés are sad. Still edible, but sad.
François Payard, one of New York's foremost pastry chefs, knows soufflés well. He recommends a test for doneness by very gently inserting just the tip of a knife into the center of the soufflé. If it comes out clean, it's done. If not, return it to the oven for a minute.
Lastly, the soufflé waits for no one! In other words, have your confectioners' sugar ready to dust and serving dishes close by so you can serve the soufflés immediately after they come out of the oven.
For even more detailed information, see the recipe post titled Perfect Chocolate Souffle from your Freezer to the Oven.
Step 3: Save Time with Early Preparation and Extra Help.
Call me crazy, but have the other couple bring the wine.
Thoughtful friends will ask what they can bring anyway, so let them bring the wines. Just give them the wine recommendations below which will pair beautifully with the menu.
You would be surprised how much time you can save on the day of your budget-friendly double-date dinner by prepping all of your vegetables a day or two in advance.
Chop all of the produce, except the apples and avocado. in advance. You can put the salad mostly together minus the dressing and nuts to save more time. But make the dressing a day or two ahead.
Make the appetizer the day before and finish getting it ready to serve just before your company arrives. Wait to chop the avocado, if using, until just before garnishing.
Clean and prep your produce as the recipes instruct. Then, put them in covered and labeled containers in your refrigerator. Be sure to save the avocado and apples until you are ready to serve. No one likes the look of spoiled avocado and apples.
Make the dressing ahead, but wait to put it on the salad until you are ready to serve.
Also, make your From the Freezer Chocolate Soufflés two or three days ahead. Don't worry, they will be great!
Don't forget to set the table the night before with glassware turned upside down. See tips below for a beautifully romantic Valentine's Day table setting from Mantel and Table.
Speaking of the table, you can start with high candles and remove them before sitting down or keep the lighting low with a scatter of white fragrance-free candles in votives. I get all of mine from the Dollar Tree. Lighting does not have to be expensive to look elegant.
And, finally, select and set aside your serving pieces. It saves time when you know what you are going to use in advance.
Step 4: Organize Before Guests Arrive.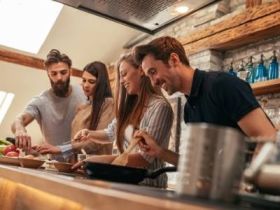 Run your dishwasher early in the day and empty it. You know you will need the room and you don't want to hand wash a bunch of plates.
Fill a pitcher with water and keep it in the refrigerator to fill the water glasses. Then refill it to keep water quickly at hand.
Wash as you go. Wash as you prepare dishes as you'll be using many of the same tools. Enlist help from your sous-chef! Everyone helping makes preparation more efficient. When the appetizer is finished, put the dishes in the washer before starting the Risotto.
Again, let everyone help! Put one of your guests in charge of serving the wine. By giving guests tasks you relieve your own pressure and it invites them to converse while prepping dinner.
Step 5: Leave the Glasses.
Wash everything the night of the event, but leave the glasses until the next day. You are tired and it is probably late. So don't take a chance on breaking glass and ending the night with frustration. Leave them until tomorrow.
When you wash them, reflect on the success of the evening and the enjoyment of sharing a wonderful meal with friends. Celebrate your success and how you helped friends, and yourself, feel better by connecting over a great meal.
Wine Pairings for your Double Date Dinner
All of the wine recommendations are found in larger grocery stores and national wine retailers.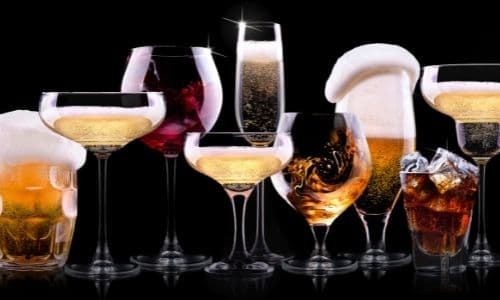 Mumm Napa Brut Rose – $16- $18
You can enjoy this throughout the meal. It balances the heat of the Faux-spacho, makes the Pan-Seared Salmon taste even richer, and is particularly delightful with the Chocolate Soufflé. A tawny port or hearty berry red like a Petit Sirah are also good choices with a chocolate dessert. Get two bottles and use them throughout the dinner or add an option below and experiment with your palate.
A more modestly priced alternative is this Rosé Sekt by Schloss Biebrich. You can read my review of it here.
Château Ste. Michelle Riesling – $7-$9
A medium-dry Riesling that delivers everything you want from a good wine without robbing your wallet. This lovely light fruit, not sweet wine pairs beautifully with the Faux-spacho! It balances the spice very nicely and welcomes the acidity of the combination.
King Estate Pinot Gris – $15-$18
I adore a good Pinot Gris. It is my go-to when I am making a fish dish that is not fussy. This beauty sang with the Simple Pan-Seared Salmon! And, it went quite well with the Faux-spacho as well as the Green Salad with Apple and Celery which can be a tricky pairing. The wine stood with the Baked Risotto, although I must admit, the flavor profile of the wine was a bit diminished — probably due to the cheese. But still very nice!
If you want to make a Pinot Gris selection a bit more wallet-friendly try the Château Ste. Michelle Pinot Gris – $8 – $10. It does not beat the King Estate, but it isn't too far behind for the value.
Valentine's Double Date Dinner Tablescape
Just in case you are making this for Valentine's Day celebration, I have some table setting support to give you a leg up on making a beautiful, swoon-worthy tablescape.
At Mantel and Table, you will discover help to create A BEAUTIFUL ROMANTIC TABLE SETTING PERFECT FOR VALENTINES DAY. It is gorgeous, romantic, elegant, and easily adaptable to your taste and supplies.
If you don't receive the romance, then give the romance. Everyone enjoys a bit of it from time to time.
Recipes for the Entire Double Date Dinner Menu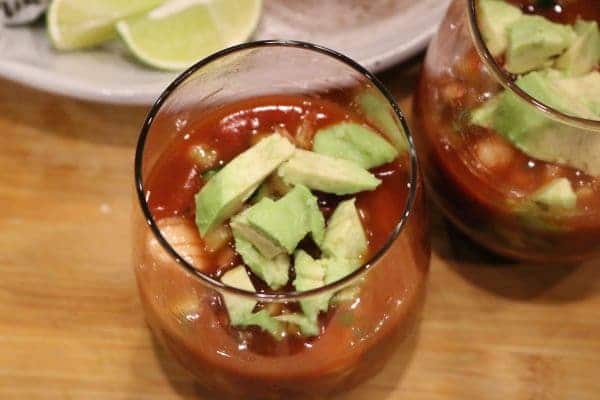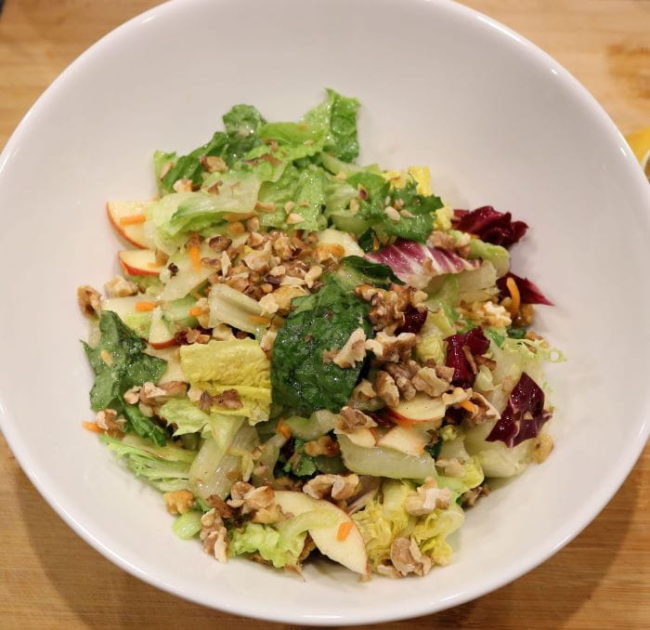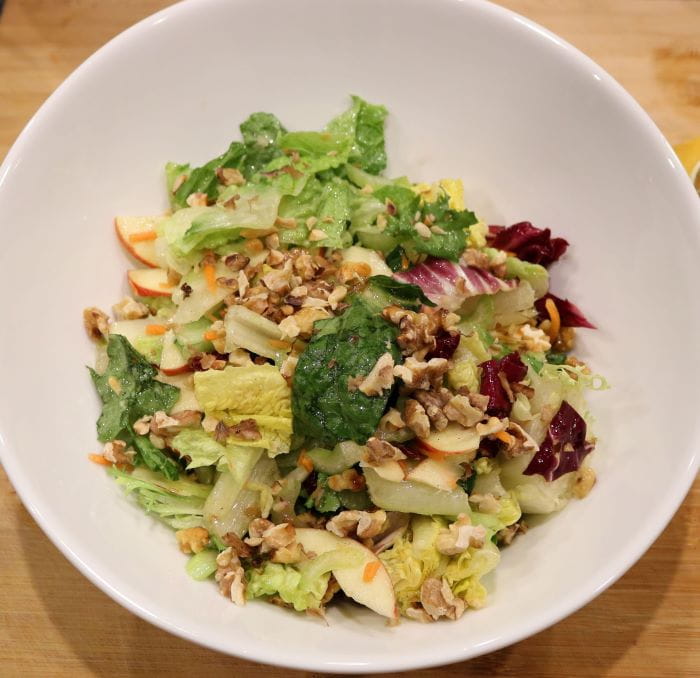 Green Salad with Apple and Celery
Make a simple and easy green salad to go with your dinner. This Green Salad with Apple and Celery recipe is healthy and simple but is so good you'll make it again and again. It includes a fantastic vinaigrette that takes just five minutes to make.
The recipe makes a flavorful dish that is bright enough to serve any time of year. It will lighten up a heavy winter meal and entice your palate with fresh elements like bright apple and crunchy celery.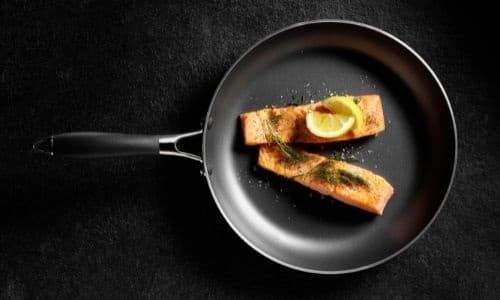 Simple Pan-Seared Salmon
This Simple Pan-Seared Salmon recipe makes an elegant, healthy, and delicious main dish you can confidently share with others.
Salmon is a deliciously healthy fish that can be prepared in many different ways. In this blog post, we will show you the best way to cook salmon, with the skin on, using your stove. This dish is simple but elegant enough for company!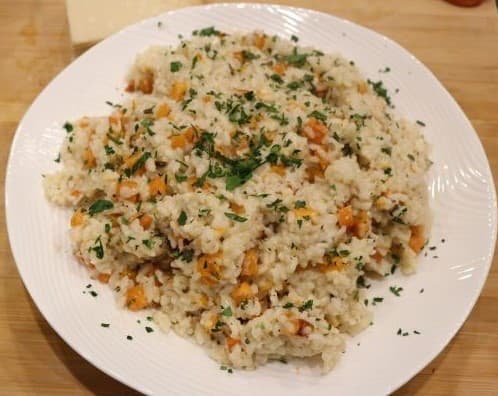 Baked Risotto with Butternut Squash and Sage
This Baked Risotto with Butternut Squash and Sage is an excellent Arborio rice recipe. That is NOT a mistake. I did type BAKED!
This recipe is incredibly easy to make and is packed with flavor. It has a delicious Autumn vibe with plenty of Parmesan cheese! It cooks in the background while you focus on the Simple Pan Seared Salmon.
The biggest secret to happiness is giving. And what could be more satisfying than giving your friends and loved ones a delicious home-cooked meal?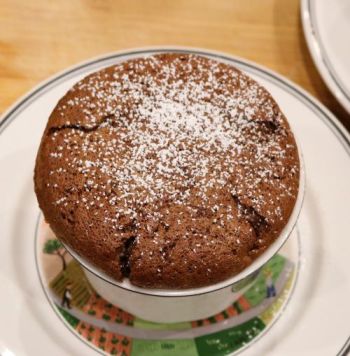 Perfect Chocolate Soufflé – Made in Advance!
Mix up these indulgent, individual serving Chocolate Soufflés and store them in the freezer until you are ready to bake. You can complete the preparation several days in advance of your elegant event.
Your guests will be able to enjoy a warm, luxurious, rich, and delicious perfect Chocolate Soufflé that did not keep you in the kitchen all day.
Host a Fabulous Budget-Friendly Double Date Dinner
Don't be overwhelmed by having friends for dinner. Use the complete menu, recipes, and wine recommendations and follow the 5 easy steps.
Shop in advance.
Follow the Soufflé support tips.
Make sure to prepare early and ask for help.
Get organized before guests arrive.
Please leave the glasses to wash the next day.
Follow these steps and you are well on your way to enjoying a fabulous Double Date Dinner!
Cheers Y'all
P.S. Sharing is Caring. If you know of anyone who will benefit from this information please pass it along in an email, on Facebook, or with other social media.