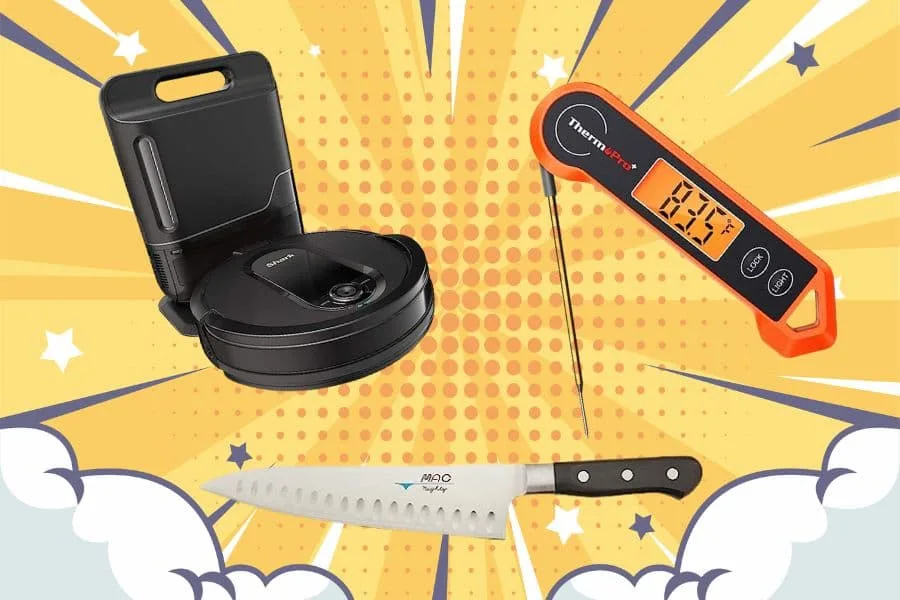 Best Amazon Prime Day Deals & Save Up to 50% Now
Amazon Prime Day is almost here and you can grab the best Amazon Prime Day Deals over the two-day event. There's truly no better time to stock up on all things kitchen and home entertaining.
This post may contain affiliate links for products LSG loves. Lone Star Gatherings earns a small commission on these links at no additional cost to you. Please read my DISCLOSURE POLICY for more info.
Prime Day is the retailer's biggest sale of the year, and it promises all-time low prices across all of its product categories, including appliances, tableware, home goods, smart tech, gardening tools and outdoor products, back-to-school, and office products, and loads more.
This year, Prime Day will start at 3 a.m. EDT on Tuesday, July 11, and last through Wednesday, July 12. So, you'll have just about two days to take advantage of the retailer's major discounts.
Some markdowns will be available throughout the duration of the sale, while others will last only a few hours. So, jump on the best deals when you see them! They may not last due to time or they can sell out.
Prime Day brings a deluge of deals that are only available to active Prime subscribers.
How to Become an Amazon Prime Member to Score Deals
Not a member yet? What are you waiting for?
Learn more about signing up for a Prime Membership or start a trial membership.
Besides giving access to Prime Day bargains, Amazon has come up with a bunch of benefits to entice people to sign up for its Prime service. You can get FREE two-day, one-day, and same-day delivery on many products.
There are loads of streaming and digital benefits. These include access to Prime Video, Prime Music, Prime Gaming, and Amazon Kids! This is a subscription that gives kids access to thousands of kid-friendly books, movies, educational apps, and games on compatible devices. Prime members get up to a 40% discount.
Grocery shopping can be a breeze with Prime at Whole Foods. Shop both in-store and online to use your discounts.
And don't forget about Prime Try Before You Buy: Try on clothes, shoes, jewelry, and accessories from the comfort of your home with no upfront charge, and pay only for what you keep.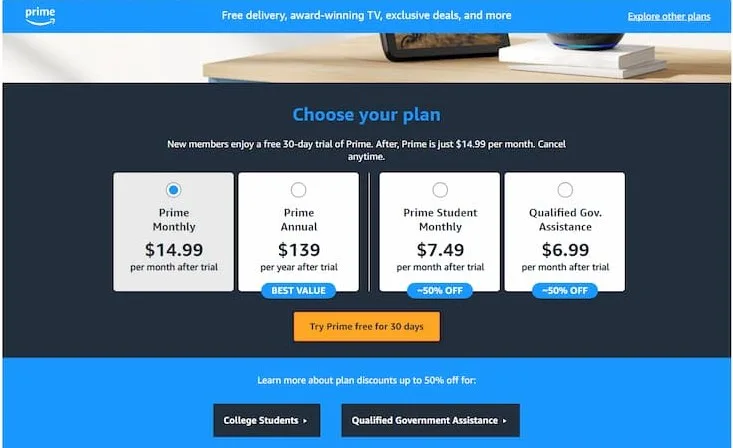 Choose a Plan to Take Advantage of Prime Day Deals
Go to https://www.amazon.com/amazonprime and scroll down to where it reads Choose your plan. (You can, if you want, just immediately click on the button on top of the page that reads Start your free 30-day trial, but don't you want to see what your options are first?)
Choose which plan you want. The basic plan lets you sign up for the service at $14.99 / month or $139 / year, which comes out to a little over $12 / month.
If you're a student, you can sign up for Prime Student. You'll get a free six-month trial subscription, and after that, you'll only have to pay $7.49 a month.
If you're on government assistance or use an Electronic Benefits Transfer (EBT) card, you can also join for less: $6.99 a month with a free 30-day trial.
Ready To Shop the Best Deals during Amazon Prime Day?
Me too! Did you know Amazon now has hundreds of early bird deals ahead of the event? Right now Amazon has early Prime Day deals to include up to 55% off Amazon devices. There are also deals on items I have tried, researched, or purchased and love from popular brands like MAC, Shark (50% off!!), Frigidaire, and FoodSaver.
To help you out, I've rounded up some of my favorite finds, from appliances, kitchen storage, cooking utensils, and affordable grilling tools for getting the best backyard upgrades for super summer fun.
Pro tip: We'll be updating this list as fast as possible with all the latest and greatest deals over the coming days. Be sure to bookmark this page and keep checking back for more as the sale gets closer!
Best Prime Kitchen Deals on Amazon
KitchenAid Classic Euro Peeler, Serrated Edges, $ 5.99 (orig. $9.99)
KitchenAid All Purpose Shears with Protective Sheath, $ 6.62 (orig. $ 11.99) — 45% OFF
30 x 20 Bamboo Extra Large Cutting Board, $ 59.23 (orig. $ 89.99) — Bamboo is sustainable and wood is the best surface for cutting food without dulling your knives. This is a really large board!
KitchenAid 7-Speed Hand Mixer, $ 67.49 (orig $ 89.99) — 25% OFF
Lodge Enameled Cast Iron 6 Quart Dutch Oven, $ 59.99 (orig. $ 133) — from up to 55% OFF and many colors to choose from!
Amazon Basics Silicone, Non-Stick, Food Safe Baking Mat, Set of 2, $ 10.77 (orig. $ 17.99)
Amazon Basics Enameled Cast Iron Covered Round Dutch Oven, 6-Quart, Up to 40% off depending on color choice; 4.7 stars with over 42,000 ratings!
6 Piece Nonstick, Carbon Steel Oven Bakeware Baking Set, $ 17.77 (orig. $ 32.81) — 46% OFF
Rectangular Anti Fatigue Standing Comfort Mat for Home and Office, 20 x 36 Inch, $ 20.24 — 50% OFF — I have these all over my kitchen! Back savers!
Vitamix Blenders up to 45% OFF — I use mine just about every day. You'll wonder why it took you so long to get one.
OXO Good Grips Pro 12″ Frying Pan Skillet, Nonstick Coating, $ 41.99 (orig. $ 69.99)
Hamilton Beach Electric Indoor Searing Grill with Adjustable Temperature Control to 450F, $ 55.99 (orig $79.99)
KitchenAid K45SSWH Stand Mixer, 4.5 Qt, $ 279.99 (orig. $329.99) — My Favorite Mixer before I upgraded to KitchenAid Pro Stand Mixer.
KitchenAid Artisan Series 5-Quart Tilt-Head Stand Mixer – many colors, $ 379.99 (orig. $ 449.99)
SodaStream Sparkling Water Maker with CO2 and Carbonating Bottle, $ 89.99 (orig. $ 159.99) – I use mine every day!
FoodSaver Vacuum Sealer Machine, $ 167.11 (orig. $229.98) – Stock up on Costco meat and keep freezer burn at bay with this great tool!
SMIRLY Charcuterie Board Gift Set, $ 33.99 (orig. 39.99) – Great for entertaining!
Kitchen Mat [2 PCS] Cushioned Anti-Fatigue Floor Mat, $ 42.49 (orig. $ 49.99) – Back saver in the kitchen!
Select by Calphalon™ Self-Sharpening Knife Set with Block, 15-Piece, $ 99.99 (orig. $129.99)
PAUDIN Kitchen Knife Set, 3 Piece High Carbon Stainless Steel, $ 69.99, (15% coupon) – Great chef's knife!
PAUDIN Nakiri Knife – 7″ Razor Sharp Meat Cleaver and Vegetable Kitchen Knife, $ 27.19 (orig. $ 34.99)
Lemon Lime Squeezer Stainless Steel Press, $ 19.00 (orig. $ 26.99)
ThermoPro TP03 Digital Meat Thermometer, $ 14.99 (orig. $ 16.99) – Personal favorite!
Pyrex 2 Piece Glass Measuring Cup Set, $ 12.74 (orig. $ 15.99)
COSORI Electric Smokeless Indoor Grill & Smart XL Air Fryer Combo, $ 135.99 (orig. $ 159.99) — Too hot to grill outdoors? Grill on the fritz? Here is your grilling prayer answered! Plus it will Grill, Broil, Roast, Bake, Crisp, Dehydrate, and More!
Best Dining, Bar, and Tableware Deals
Samuelworld Large Silicone Premium Ice Trays, 2-Pack Combo Spheres and Cubes, $ 12.49 (orig. $ 14.99) – Impressive cubes in your cocktails.
PONPUR Whiskey Globe Decanter, $ 26.99 (orig. $29.99) – Seriously cool for the bar.
UMI UMIZILI Wine Glasses 15.5oz, Set of 6, $ 19.99 (orig. $ 25.99) – Very attractive all-purpose wine glass you can use for red and white wine.
JoyJolt Glass Carafe with Lids, $ 25.95 (orig. $34.95) – Use these for water when you have guests over for dinner and you won't have to keep refilling your water pitcher. Put these carafes on the table and relax!
Elegance 3-Tier Beaded Buffet Serving Stand, $ 43.64 (orig. $ 55.67) — Add elegance to your holiday buffet.
Bartender Bag for Travel, $ 64.97 (orig. $ 89.97) — Be prepared to make your favorite cocktail no matter where you are!
Best Grilling Deals on Amazon Prime Day
Fly Fans for Outdoor Tables, Barbeque, Picnic, $ 27.74 (Orig. $ 32.99) – I use these when I entertain on my back porch and they do a magnificent job of keeping flies out of our drinks and off our food.
Skoo Barbecue Skewers Set – 7 Silicone Handled, $ 15.99 (orig. $ 19.99)
ThermoPro TP25 500ft Wireless Bluetooth Meat Thermometer with 4 Temperature Probes, $ 49.99 (orig. $69.99)
TP910 ThermoPro 650FT Bluetooth Meat Thermometer for Smokers, Rechargeable Wireless Meat Thermometer for Grilling with 2 Probes, $ 35.99 (orig. $39.99)
ThermoPro TP27 500FT Long Range Wireless Meat Thermometer for Grilling, $ 69.29 (orig $ 89.99)
Oklahoma Joe's 3959563R06 Blacksmith Hawg Lifter Spatula, $ 15.50 (orig. $ 24.99)
Instant Read Meat Thermometer, $ 13.09 (orig. $ 15.99) – Great for grilling or in the kitchen!
YITAHOME 100 Gallon Large Resin Deck Box Outdoor Storage Boxes for Patio Furniture and Grill Accessories, $109.99 plus $ 10 coupon off, (orig. $ 139.99) – I put a bunch of grilling stuff in these!
More of the Best Amazon Prime Day Deals
Shark RV1001AE IQ Robot Self-Empty XL, $ 299.99 (orig. $ 599.99) — 50% OFF SHARK!!!!!!!!!! This is a great vacuum especially if you have pets. Mine has become a must-have tool to control pet fur.
Yankee Candles, 30 – 50% OFF an Assortment — Adds a nice ambiance and makes your house smell great after a party.
Cheers Y'all!
P.S. Share with your friends on social media so they can grab these deals as well!
Shared With…