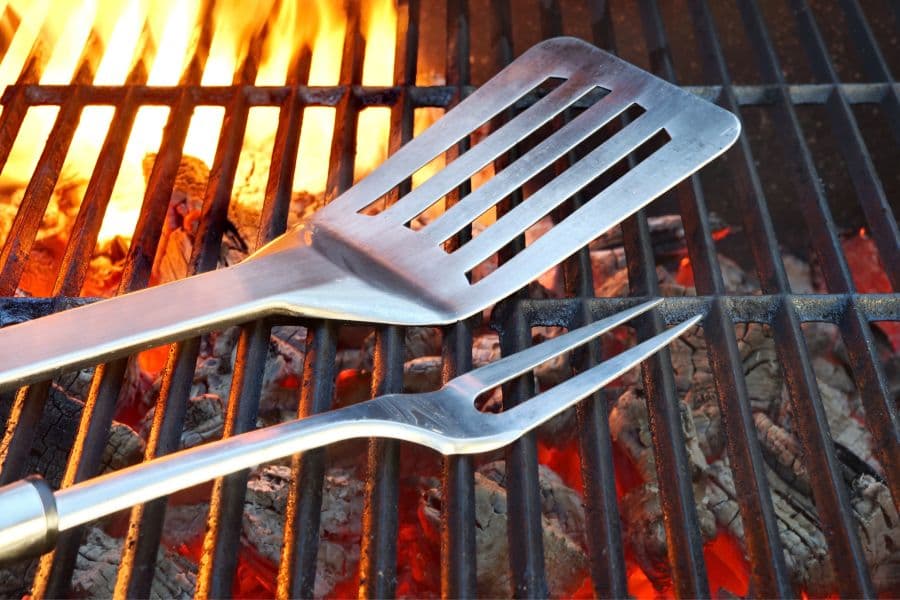 The Best Grill Tools You Must-Have for Your Next BBQ
Here are some of the best grill tools you need. Whether you are a serial griller or fall into the category of occasional grillers, these grill accessories can help you up your barbecue game in countless ways.
Some of the easiest food you can cook is on the grill. Who doesn't love a hamburger, ribs, or hot with great smokey flavor? It is a staple of food cooking all summer long. But having the right tools is essential to producing quality dishes.
No matter what your grill master level is we've got some of the best products for you to try in this roundup of the best grilling tools.
This post may contain affiliate links for products LSG loves. Lone Star Gatherings earns a small commission on these links at no additional cost to you. Please read my DISCLOSURE POLICY for more info.
Grilling Safety
If you are going to indulge in outdoor cooking it is of the utmost importance to understand outdoor fire safety.
Any time you are cooking with an open flame, it is a really good idea to have a fire extinguisher nearby. Even if your grill is on a patio, wind can blow flammable objects into the grill and out of the grill. Always be prepared for a possible fire outside the grill.
You should also use tools to keep yourself from getting burned. Using heat-resistant gloves and tools with heat-resistant handles is helpful to prevent a burn.
Most of the best grill tools are built with a long handle. And even the most basic set of grill tools is designed this way.
Long-handled tools may not make for easy storage, but they are worth the investment in order to grill really well.
Number One Grilling Rule
No matter what kind of grill you use charcoal grill, ceramic grill, or stainless steel gas grill, the number one rule in grilling is to always clean your grill grates!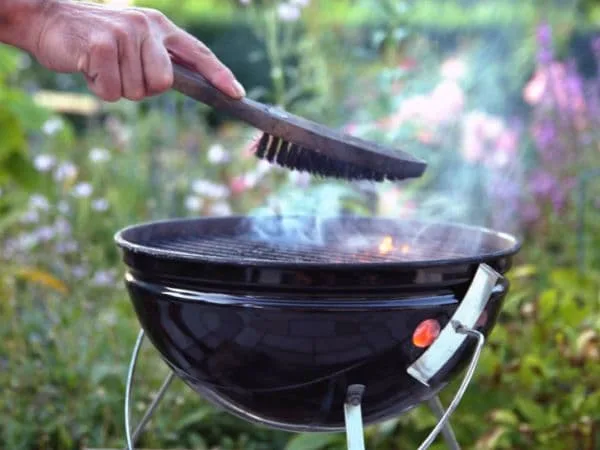 You can use a dedicated grill brush or just some balled-up aluminum foil squeezed between long-handled tongs, but be sure to scrub any cooked-on debris from your grates before you place more food on them.
This helps to prevent flare-ups and keeps flavors from transferring between different foods.
If you have ever had pineapple that was grilled after cooking hamburgers without the grill being cleaned, you know what I mean.
Some are concerned about the reports of metal bristles breaking off grill brushes. No worries! Try this cleaning brush. It doesn't have bristles but cleans like it has extra brush heads due to the layers of flexible wire mesh.
If you want to stay away from brush bristles or any wire cleaner, then you can try this cleaning brush without any wire.
Best Grilling Accessories for Outdoor Cooking
Besides a hot grill and cleaning brush, there are a few other basic tools to consider to produce a delicious barbecue meal.
You might think some of these bbq tools fall into the beginner bbq tool category, but they really are just the right tools to have on hand.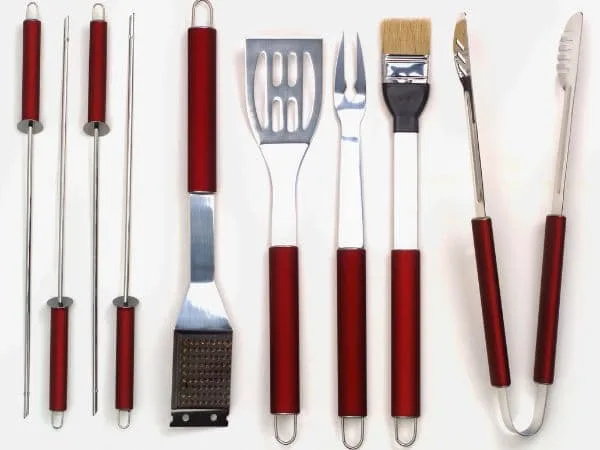 Charcoal Grill Starter
My top pick for grills is definitely the charcoal grill. I am an avid fan.
But I like my food to taste smokey, not full of chemicals. So we don't use lighter fluid anymore to fire up our grill. We have a chimney starter now.
If you have never used one, you are in for a grilling treat! They are very simple to use and do a good job of helping you control the amount of charcoal you use.
Meat Thermometers
Buying just quality cuts of meat alone won't guarantee a great meal. You need to know what meat temperatures you want to reach in order to cook it right. Notice I did not say "well".
In order to make sure any meat is cooked properly, use a meat thermometer. The exception might be hot dogs, but for beef, pork, or chicken dishes use the proper temperature tool.

You can use instant-read thermometers or get fancy with a long-range wireless digital meat thermometer, but either way, you need to see what temperature your food reaches on the grill.
For a little guidance or refresher on cooking steaks to flame-cooked perfection, read more about How to Grill the Perfect Steak Dinner.
Best Grill Tongs
You might think you can use the same tongs as you do in the kitchen, but I disagree.
Again, you want long-handled tools in the 14 – 16 inch range when using them on the grill. And an even better tool for the grill has heat-resistant handles like these tongs.
You can also up your grilling game with a set of extra-long tongs that have an oversized tooth design. These allow you to turn tender meats as well as grip and move foods with longer teeth.
The tongs in this set even have a built-in bottle opener! Just keep your iced-down beer compartment close by and you don't even have to leave the grill to open a cold one.
Best Spatulas for the Grill
If you want a heavy-duty stainless steel option this spatula will flip burgers, cut food, and open your bottle. It has a long handle to help reduce your exposure to the grill heat. It comes with a downloadable cookbook with plenty of new recipes for you to try.
Wide grill spatulas are very useful when turning larger pieces of meat. This stainless steel extra-wide spatula with a heat-resistant handle is over 19 inches long. Perfect for the grill.
A comfortable grip and heat-resistant handle is a nice addition to this sturdy spatula. It is a classic durable design and is 18 inches long to easily reach the back of the grill.
Optional Best Grill Tools
Some of you may be considering a fork for turning food on the grill. These are definitely optional as the spatula and tongs will take care of this task very easily. Additionally, I am not a fan of piercing the meat before it has rested. I want all of the meat juices to return to the center of the meat while it rests, not spill out on my grill.
What I do use often is a silicone basting brush. These are the easiest way to put marinade on foods while they grill and add extra sauce to my ribs while they are cooking. They are a great asset as the silicone can withstand very high temperatures. I just let them cool and toss them in the dishwasher for easy cleanup. Get the long-handle version.
You may not consider a cast iron skillet one of the best grill tools, but you are not thinking far enough outside the kitchen and general household use box. It is an excellent tool for any type of cooking especially on the grill. This is the best grill tool for baking biscuits, bread, or even a cake on the grill. You can use it to saute foods on the grill, make pancakes, or griddle just about anything over an open flame.
This cast iron skillet is my favorite. But this skillet fits a round grill a bit better.
Best Grill Tool Sets
Tool sets are a nice idea for gift-giving. They make a great Father's Day or birthday gift for any avid griller.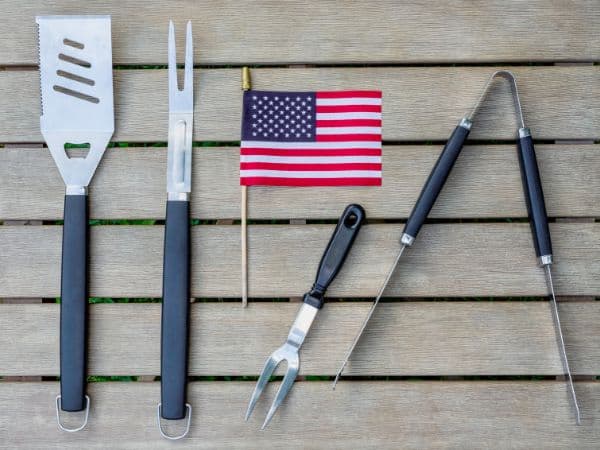 Also, these sets are a fantastic gift for those new to grilling!
Keep it simple and don't fall for all the extra frills that will just take up storage space. Look for good quality kits with well-made tools.
This stainless set has tools that are 18 inches long with good-hinged tongs.
This set would be excellent for those that cook when they travel. Take it along for your summer vacation or even a day trip to the beach.
This travel set has essential tools plus a knife and even has corn holders!
And if you decide you want a kit that has everything you could need to grill anything while on the road, check out this deluxe kit complete with a traveling instant-read thermometer.
Best Advanced Grill Tools to Consider
Grill masters typically have a few unique grill tools in their grill tool collection to take on more challenging recipes.
Best Grill Tool for Smoking Foods
If you love the flavor of smoked food, but don't have the room on your deck or in your budget for a stand-alone smoker, then a smoker box might be the answer for this grilling experience.
According to Smoked and Brewed, "a smoker box is a metal container used to provide a smokey flavor to foods as they cook. The smoker box contains wood chips or pellets, which is then placed over a charcoal or gas fire, which produces smoke."
It can definitely take your grilling flavors to the next level. A smoker box can be used to add flavor through the smoke to food that you wouldn't have from just the grill. You can use hickory, mesquite, oak, or any flavored wood chips in these boxes to really amp up your food.
If you are smoking a Boston butt or a larger piece of meat, these pork claws make quick work of removing the meat from the grill and even shredding it up. They are easier to use than tongs when it comes to larger cuts of meat.
Best Grill Tools for Vegetables and Fish
Many people have vegetable gardens brimming with produce that should be grilled! Of course, you can get skewers and make veggie kebabs or shish kabob with pork and vegetables using larger produce.
But how do you grill the more fragile items or produce that won't fit on skewers?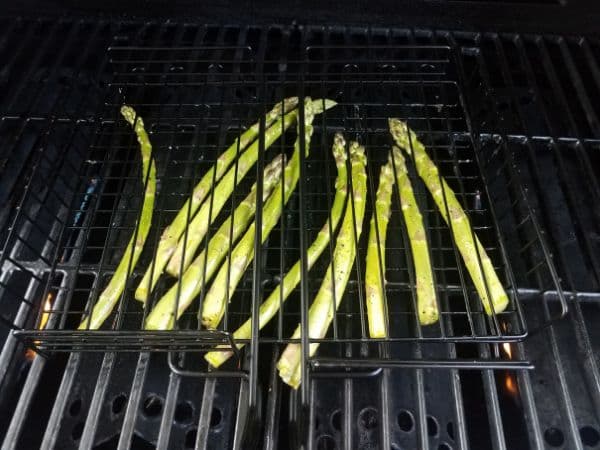 Grill baskets to the rescue! These are great for vegetables and fish.
Even the most experienced grill master has trouble with fish from time to time.
I use this kind of grill basket any time I am grilling veggies or fish. It is so much easier than filling individual skewers, especially if you have a lot of vegetables. And it makes cooking fish on the grill a breeze.
The best way to approach heavier veggies is by grilling par-boiled root vegetables. Just a few minutes in boiling water helps the root veggie cook more evenly. You don't want the outside burned and the inside raw!
Most other vegetables can just go straight to the grill after cutting and basting them with a little oil, salt, and pepper. This open-style basket is one of my favorite barbecue tools.
If you are looking for something larger a grill mat is also a very good choice for creative cooking on the grill. They keep food from falling through the grates and they help keep your grill a bit cleaner. For easy cleaning, let them cool and toss them in your dishwasher. You can also use these in the oven.
Those grill masters with larger collections of grill accessories might use a Himalayan salt block for fish on the grill. It not only looks impressive it has second-to-none heat retention. If you want to know more about this very interesting way to cook on the grill, read more about it at Fire, Food, and Friends.
Best Grill Tools for Pizza
No grill challenge would be complete without a way to cook pizza outdoors.
Now you could invest thousands and get one of those special pizza ovens for the patio, but I am a bit more budget-minded. How about a pizza stone?
Yep, just the stone. And when choosing a pizza or bake stone make sure to find one that can be used on the grill. You don't want to have your baking stone blow up or crack because it was used improperly.
This bake stone for pizza is a best seller and comes with several options.
What to Cook With the Best Grill Tools
You can grill up a main course or any kind of staple side dish with these tools. Here are some for you to try on the grill:
Mediterranean Grilled White Fish
Cook Bell Peppers and Onions for Fajitas
Backyard BBQ Dinner Party Ideas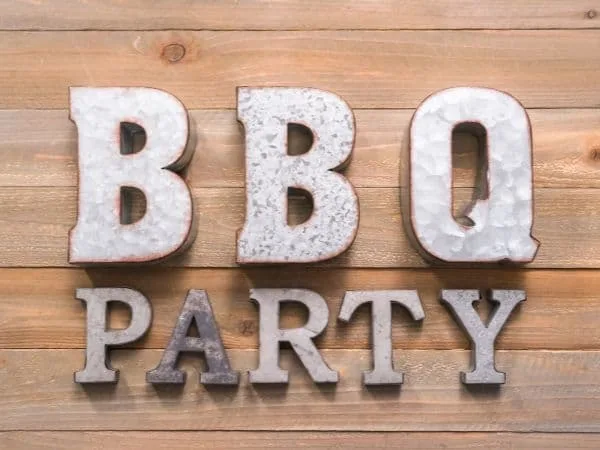 Use the Best Grill Tools for a Cookout With Friends
Grilling gives you new ways to cook food. And the best grill tools highlighted here will give you different techniques for grilling food.
Pick up a couple of new products after you research the best prices and you'll be ready for the next cookout.
Make your next cookout a potluck so your friends will take care of other cooking tasks while you focus on becoming the grill boss!
Cheers Y'all!
P.S. Please share with friends and spread the good word!
Shared With…