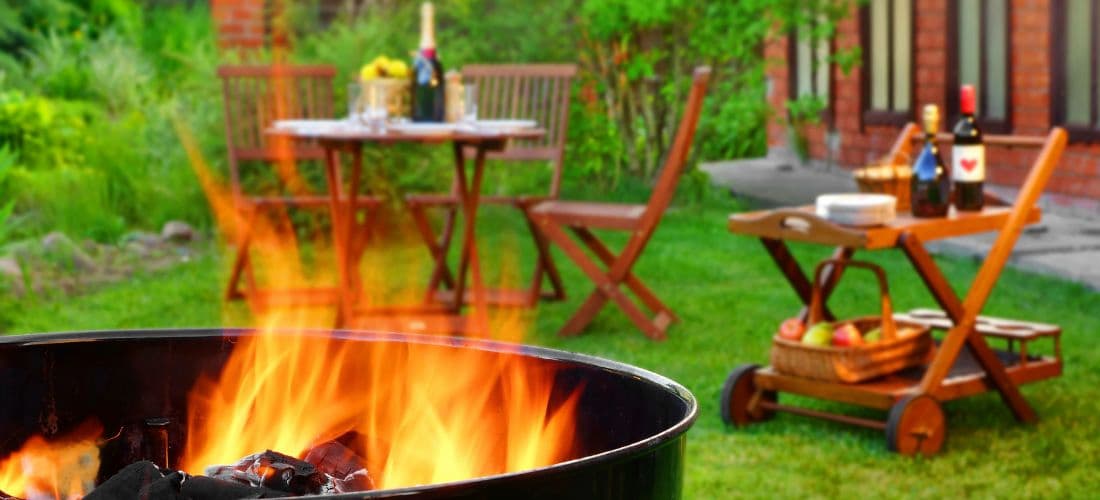 Best Backyard BBQ Dinner Party Ideas: Easy Outdoor Guide
These backyard bbq dinner party ideas will help you celebrate any warm weather weekend.
It's finally Labor Day weekend! The unofficial end of summer and warmer months. The warm weather is ending for many, so fire up the grill and enjoy a summer night with an al fresco dinner party.
Here are some easy grilling recipes and a complete barbeque menu with wine pairings for your Labor Day cookout or use them for any weekend patio party you want to throw in your own backyard. These easy grilling recipes will take the guesswork out of hosting your next outdoor dinner party. Get ready to impress your guests without being stuck in the kitchen all day.
Easy Backyard BBQ Dinner Party Hosting
Don't stress out about having people over for your cookout. These tips and recipes should help you organize and throw a wonderful gathering.
First, come up with your guest list.
Second, pick the date and time.
Finally, use this post to help you start planning.
Start with the Right Recipes
The key to being a great backyard BBQ host is having the right recipes. You want recipes that are easy to follow and won't take all day to prepare.
These easy grilling recipes fit the bill perfectly. Plus, they're delicious! Your guests will be impressed with your culinary skills and you'll enjoy spending time with them instead of being stuck in the kitchen.
Plan Out Your Beverages
Remember to get your beer and wine in advance and always buy a little extra.
You'll want to plan for about one glass of wine or beer per person per hour. Basically, for the wine consumption, you'll calculate one bottle of wine for two people every two hours. So, if your barbeque goes four hours and you have six people over, you'll want to have six to eight bottles of wine.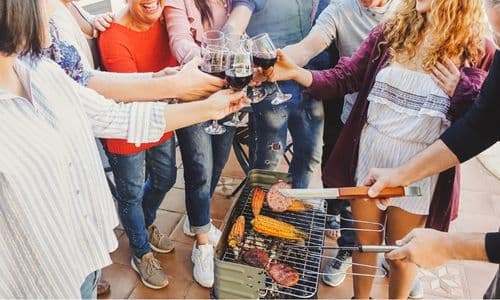 As you can see, the calculated plan calls for six bottles, but a little extra is always a good idea and you can always use it later if you end up with one or two unopened bottles of wine!
You'll find Wine Recommendations for this backyard bbq dinner party at the bottom of this post.
One word of caution: Don't have an open bar. Keep it simple by making a plan for one or two cool cocktails that are easy to make and offer only those to your guests. You don't want to be tied to the shaker all night and miss out on good conversations with your company. Mix up a batch of cocktails in a pitcher and let your guests refresh them with ice.
Don't forget to have plenty of water on the buffet or table with easy refills from a pitcher.
Tips for Hosting a Backyard BBQ Dinner Party
Hosting a backyard party is a great way to enjoy the last few days of summer. Here are some tips to help make your party a success:
First Step: Plan Ahead – Planning is key when hosting any type of party. Make a list of what you need to do and when you need to do it. This will help keep you organized and ensure that nothing is forgotten.
Set up a Barbecue Area – If you're grilling, set up your grill in an easily accessible spot. Make sure you have everything you need, including charcoal, lighter fluid (or better a charcoal chimney), a water spray bottle, and grilling utensils.
Decorate Your Outdoor Space – A little bit of decoration can go a long way in making your party feel like a special occasion.

String lights are a great option to highlight your beautiful dinner table.
You don't have to use fine linens or fabric napkins, but put out some colorful tablecloths and set out floral centerpieces with fresh flowers or fresh basil to add some life to your table decor.
I also search thrift stores for low candle holders that I place down the middle of the table for a little extra ambiance.
For your table setting, you could use white dishes. Or disposable plates are perfectly acceptable on an outdoor table.
Jazz the place settings up a bit with individual place cards.
You can even set a low table for the kids in the same fashion.

Keep Things Casual – The best part of a backyard party is that it's laid back, casual, and should be a simple dinner party. Guests should feel free to wander around and socialize as they please. So, relax and enjoy yourself!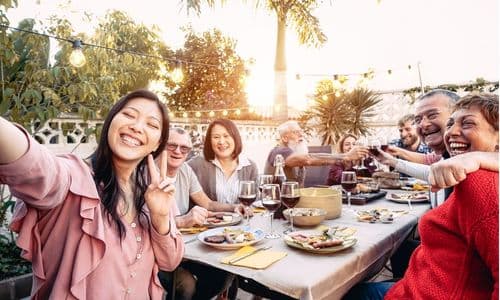 Adults are pretty easy to entertain anyway. Make sure everyone has cool wine or a summer cocktail and a designated seating area to relax and enjoy good conversation. We don't take enough time for that and it is typically exactly what folks want at a gathering.
Games for Your Backyard BBQ
If your backyard barbeque will have kids then a fun idea is to include a few activities that will keep them entertained. A few great ideas from the Child Development Institute include:
1. Balloon Games –
Water Balloon Relay – This is always a hit with kids of all ages. Make sure you have plenty of water balloons and a good place to run. Each team of two runs from the start to turn around and back while throwing the water balloon back and forth between them. But the goal is to reach the finish line with the balloon intact. Be sure to keep towels by the back door!
If you don't want the mess of the water then another balloon game is "Keep your Balloon Airborne". Give each participant a balloon to blow up. They have to stay in a designated area and keep their balloons afloat using their hands. The last one with their balloon still floating wins.
2. Piñata – A piñata is a great way to get the kids excited about the party. Hang it from a tree and let them take turns hitting it with a stick until it breaks open and the candy spills out.
3. Classic Outdoor Games – Think horseshoes, badminton, cornhole, and croquet. A small investment in these game kits can provide hours of entertainment in the yard. You'll always be ready for an impromptu party!
4. Bubbles – Bubbles are always a hit with kids. Set up a bubble station and let them go to town.
You never know, your adult friends might even enjoy some of these games.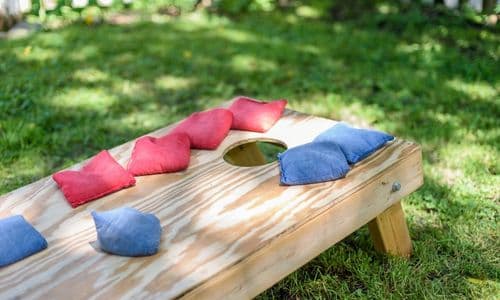 Outdoor Dinner Party Ideas
Labor Day is a time to celebrate the end of summer and enjoy some good food with friends and family. While Labor Day is celebrated in many different ways, food is always a central part of the festivities. Here are some of the most popular Labor Day food traditions:
Grilling is probably the most popular way to cook food for Labor Day. Burgers, hot dogs, chicken, and steak are all common choices. Make sure you have everything you need to grill appropriately, including charcoal, lighter fluid, utensils, and plates and napkins for serving.
A picnic is another popular way to celebrate Labor Day. Pack a basket filled with your favorite foods and drinks and head to your favorite spot in the park or at the beach.
Host a potluck. Why not let your guests do some of the cooking this year? You make a fabulous entrée and let your friends do the rest! You could even send them the recipes from this menu. Additionally, you can ask them to bring their favorite side dish or dessert to share at your Labor Day party. This is a great way to try new recipes and get a variety of foods to enjoy.
Easy Grilling Recipes for your Backyard BBQ Dinner Party
If you want to keep control of the menu and food then here are some successful ideas.
If you're looking for easy grilling recipes that will impress your guests, you've come to the right place. We have grilling recipes for chicken and even a Grilled Coleslaw recipe that the whole crowd will love.
We've got you covered. And best of all, these recipes are simple and easy to follow. So, let's fire up the grill and get cooking!
Grilling Recipes Chicken
There are many different ways to grill chicken, and each method produces a slightly different result. Here are a few of our favorite options for grilled chicken recipes:
1. BBQ Chicken – This is the classic grilled chicken recipe. Marinate your chicken in your favorite BBQ sauce and cook it over the grill for a delicious and easy meal. Our recipe below is for BBQ Chicken Sliders.
2. Grilled Lemon Pepper Chicken – This recipe is simple but flavorful. Season your chicken with lemon pepper seasoning and grill it until it's cooked through.
3. Teriyaki Chicken – This recipe is perfect for those who love sweet and savory flavors. Marinate your chicken in teriyaki sauce and grill it until it's nice and juicy.
4. Greek Chicken – This recipe is perfect for those who want something a little bit different. Season your chicken with Greek spices and grill it until it's cooked through.
For this backyard bbq, we are sticking with the traditional Barbeque Chicken, but serving as sliders instead of whole chicken pieces. However, this recipe allows you to grill it or use your slow cooker. Either way, this chicken is delicious and incredibly flavorful.
Vegetarian Grilling Recipes
I don't know about you, but I adore grilled vegetable side dishes! There's something about those smoky, charred flavors that just makes vegetables taste so much better. The grilling time softens vegetables but increases their flavor profile.
Just prep your veggies with a simple oil, salt, and pepper mixture. Throw them on the grill until they get a good char. Remove and chop before tossing with a finishing vinaigrette. It is a delicious taste of summer!
Menu for Backyard BBQ Dinner Party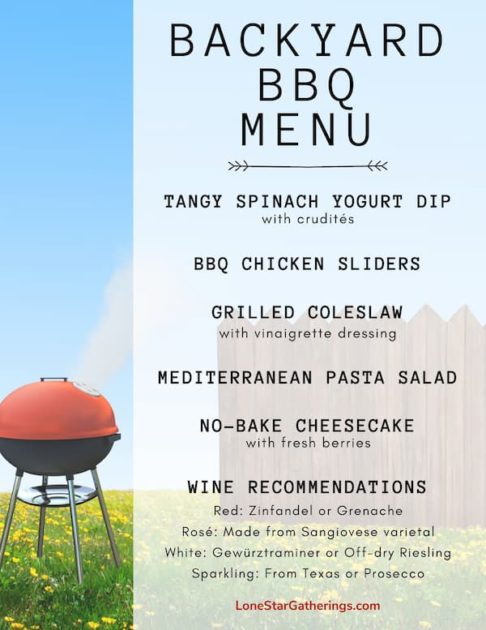 Tangy Spinach Yogurt Dip with Crudités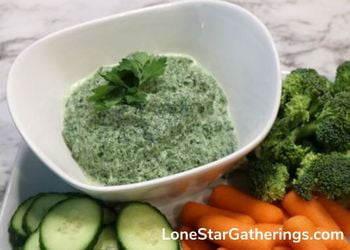 Sure, you can throw out a bag of chips and Ranch dressing for a dip, but since it is Labor Day, why not put a little labor into impressing your guests?
No one said anything about sweating over the stove for hours to prepare! There is no need to increase the heat in your kitchen to make this impressive appetizer. Keep the heat outside on the grill and focus on keeping it cool inside with an additional four more light and refreshing appetizer ideas that do not require you to cook.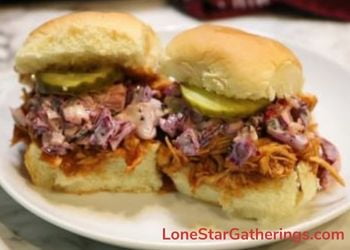 It may seem untraditional to cook the main course of a "cookout" in your slow cooker, but these barbeque chicken sliders are so easy the recipe is hard to pass up! The best part? Cleanup is a snap!
You can also cook the chicken on the grill if you like and then add it to the simmering sauce. That option is included in the recipe.
Grilled Coleslaw with Vinaigrette Dressing
Forget the same old boring side dishes at your next cookout! Grilled coleslaw is a fun and easy way to add some excitement to the menu. The tangy vinaigrette pairs perfectly with the sweetness of the cabbage and carrots, and the grilled flavor gives it a delicious smoky taste.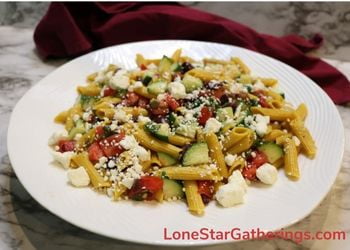 This easy pasta salad recipe is bursting with the bold, fresh flavors of the Mediterranean. It's a perfect summer salad for your next cookout! Packed with healthy ingredients and customizable to suit your taste, it's a dish everyone will love.
No-Bake Cheesecake with Berries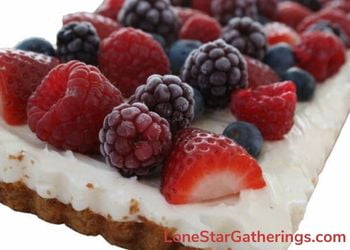 This no-bake cheesecake is light, refreshing, and a perfect menu item for summertime gatherings. It features tangy yogurt and reduced-fat cream cheese for a rich flavor without the guilt. So go ahead and indulge in this heavenly creamy dessert!
Wines to Pair with your Backyard BBQ Dinner Party Menu
Red BBQ Wines
Whenever you pair wine with chicken you always want to consider the sauce. Since this menu has barbeque sauce with the chicken, stay focused on that element.
With a sticky barbeque sauce, I recommend pairing a Zinfandel or Primativo (Zin's cousin) with your main dish. These wines are fruity, not sweet, with low tannins and deep berry flavors. They will balance the sweetness in the sauce and amp up any spice notes. I also enjoy a good Spanish Grenache or Garnacha with barbeque sauced meats.
White Wine with BBQ
If you have guests who are white wine-centric, try to coax them to indulge in a Rosé with a little wine tasting. If not, then have a Sauvignon Blanc, Gewürztraminer, or Off-Dry Riesling at the ready. These white wines will pair quite well with the Grilled Coleslaw and Mediterranean Pasta Salad.
Rosé is Perfect for a Backyard BBQ Dinner Party
Rosés are great for barbeque and grilled foods. They are higher in acidity than red wines but have the body to stand up to grilled meats.
Look for the Texas and California Rosés that are made with the Sangiovese varietal. These Rosés are typically darker pink to rose-colored, with good body to stand up to grilled meat. You'll experience just a bit of barely sweet fruit, and lovely acidity which helps cut through the deep flavors in this backyard bbq menu.
Rosé will go with every dish on this menu.
Sparkling Wines for any Occasion
A fun and flirty glass of bubbles is a great way to beat the heat of summer.
Sparkling wines actually pair quite well with grilled recipes overall. Stick to the flavorful Prosecco or off-dry sparklers available stateside and let the cellar champagnes sit this one out.
Texas makes some great sparkling wines that go very well with grilled foods! They know how to beat the grill heat with bubbly in the Lone Star State!
Invite Friends to Enjoy a Backyard BBQ Dinner Party
Now that you have your menu planned and your wines picked out for your next outdoor party, all that's left to do is fire up the grill and enjoy your backyard BBQ!
Labor Day is the perfect time to relax with family and your closest friends. So, invite them over and enjoy yourself!
Cheers Y'all!
P.S. Share this post on your favorite social media! Thanks!
Shared With…