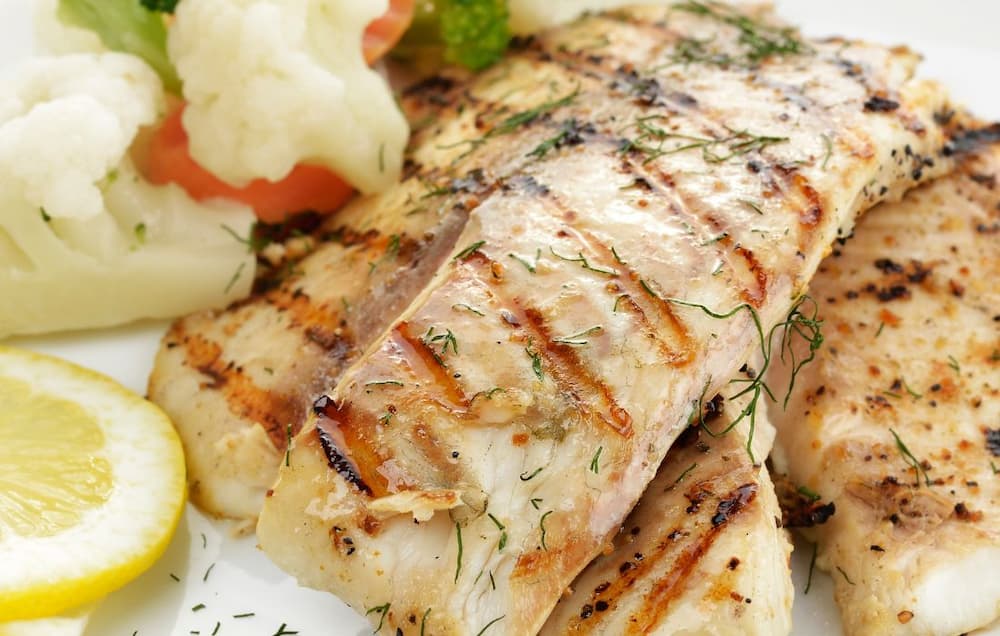 The Best Recipe for Simple Mediterranean Grilled White Fish
This super simple recipe for the best white fish to grill will keep your barbecue season full of flavors in a healthy way!
Grilling fish is one of my favorite ways to enjoy it. If this is your first time cooking fish on the grill you are in for a tasty and healthy treat!
This post may contain affiliate links, meaning I get a small commission if you decide to make a purchase through my links. This is at no additional cost to you. Please read my DISCLOSURE POLICY for more info.
Eating Fish for Health Benefits
Fish is a healthy way to consume protein and it, unlike most meat, is low in saturated fat. Regularly eating some simply seasoned fish and cooking seafood recipes at home is associated with a lower risk for cardiovascular disease. Also, research shows omega-3 fatty acids, found in fish, can reduce your risk of heart disease and stroke.
The American Heart Association recommends eating two servings of fish, especially fatty fish, every week. Fatty fish such as anchovies, herring, mackerel, black cod, salmon, sardines, bluefin tuna, whitefish, striped bass, and cobia are all high in omega-3 fatty acids which are very good for your heart.
Their recommendation for a serving is 3 ounces cooked or about ¾ cup of flaked fish.
Tips for How to Grill White Fish
Fish is one of the healthiest and most delicious foods you can prepare for yourself, but it can be difficult to grill.
There is definitely an art of grilling fish, but let's start with a few tips to get you going.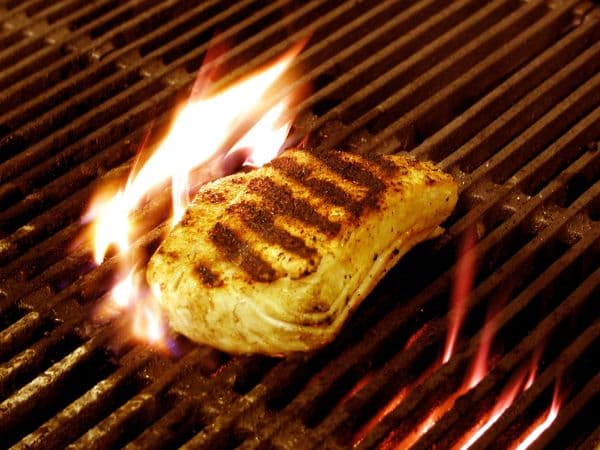 These tips will provide a basic technique to help you grill any kind of fish whether you are grilling a whole fish or delicate fillets.
Nine Tips for the Best Grilled White Fish
For Your Grill
The first rule of grilling is to always preheat your grill on high. If you are using a charcoal grill like I do, then use a chimney full of charcoal for the preheat. When preheating to temperature before placing your fish on the grill will allow the fish to caramelize and provides the grill marks which give immense flavor to your food. It will also lessen the time your fish is on the grill which improves the chances for moist fish.
Additionally, preheating will prevent the worst fear when grilling fish that is sticking. Despite being very lean, fish should naturally release itself from the cooking grate when it is done if the grill is preheated correctly.
No matter what you are cooking on your grill, you should always clean the grill grates after preheating. You can use a brush, a grill scrubber, or ball up some aluminum foil and use tongs to remove all prior cooking debris before placing more food on the grill. Clean grill grates also reduce the chances of food sticking.
After you clean the grates use a paper towel and tongs to lightly oil them with vegetable or olive oil.
For Your Fish
When grilling fish with the skin on or off, use medium to medium-high heat. Follow your recipe recommendation, but you can use 400-450 degrees Fahrenheit as a general rule. If you are cooking on a charcoal grill, check for the flame to die down and the charcoal has a white ash covering.
Believe it or not, thinner fillets or fish steaks should be cooked at a higher heat. This allows a good crust to develop which helps release the fish from the grill grate.
Cook for about 3 – 4 minutes per inch of fish thickness. Again, this is a general rule of thumb, so check your recipe.
Finally, flip the fish only once. This reduces the chance of it sticking and disintegrating when you turn it over. You may not have to flip it if your cook with your grill lid closed.
When is it done? Fish is best when it is barely cooked through. You don't want a super flaky fish as that could mean it is dried out. Your fish should be a little flaky, moist, and have a silky bite.
Optional Equipment to Grill the Best White Fish
You can cook fish on charcoal or gas grills. Both are good choices!
Other than a hot grill, there is some other equipment that can get you grilling fish like a pro in a short amount of time.
If your fish fillets are thin, a grill basket or a grill pan can be very helpful. These let the fish take on the flavors of grilling, but allow you to maneuver and flip the fish with more care.
A fish basket is a good option when cooking whole fish or larger fillets. It allows you to easily turn the fish over on the grill.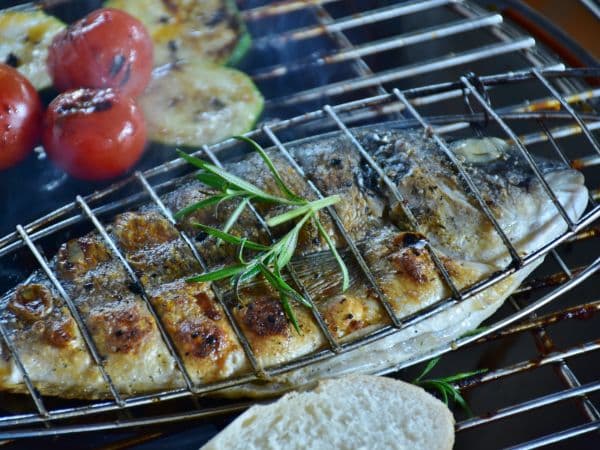 You can also cook your fish in aluminum foil. This helps lemon slices and herbs stay on the fish while cooking and keep moisture locked in as well.
A wide spatula makes it easy to turn fish fillets with less chance of the fish breaking apart. It can make it easier to separate the skin from the fish when it is done grilling as well.
Cedar planks can add some great flavor to fish when cooked on the grill. They are easy to source but can be a bit expensive.
Best White Fish to Grill
There is no one "best fish" to grill. However, salmon and good thick white fish like Chilean sea bass and halibut are the best fish for grilling. If you buy thin fish like rainbow trout it is best to cook it whole or in foil on the grill as this is a flaky fish and very delicate.
There are many fish varieties that are great cooked on the grill. You can buy popular fish in your local grocery store at the seafood counter. Grocery stores often have a variety of good grilling fish.
However, the best way to source sustainable fish is at a fish market. If you have one near you, a trip to your local fish market can be a perfect choice for finding any type of fish from sustainable fisheries.
What is White Fish?
According to Seafood Nutrition Partnership, "Whitefish is generally a mild-flavored, often slightly sweet fish, which can be interchangeable in recipes." Some of the best white fish include wild Alaska pollock, bass, cod, grouper, haddock, and halibut.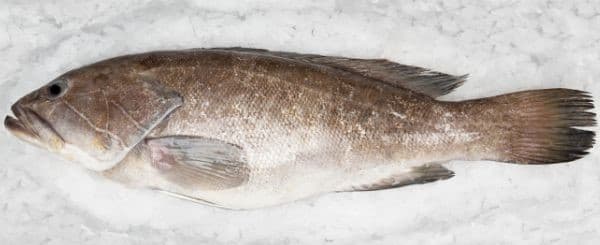 Merriam-Webster defines whitefish in a little different way as follows: "Any of various freshwater salmonid food fishes that resemble the salmon and trout in having an adipose dorsal fin but have a smaller, often toothless mouth and that inhabit cold lakes and streams of the northern hemisphere."
In general, white fish is also the term for any firm white-fleshed fish with a mild flavor. Whitefish is also characterized by its high protein and low-fat content. When served as sashimi, it has a firm almost hard-boiled egg texture.
Best Types of White Fish for Grilling
Some of the most popular types of fish to grill are halibut, swordfish, mahi-mahi, tuna, red snapper, and grouper. These are the best types of fish to grill because they are hearty and healthy fish. You can swap any of these fish in recipes and enjoy a similar flavor profile.
Halibut
Halibut is a very popular white fish that can be found globally. It is the oiliest of the white fish meats. So, it is a fattier fish full of omega-3 fatty acids and is typically sold as thick fillets. Great for your heart health! It is a firm, lean, meaty flesh fish with a mild, slightly sweet flavor. It is a really good grilling fish but can be a bit expensive.
Swordfish
Swordfish can also be considered a white fish. It is a mild-tasting, white-fleshed fish with a meaty texture and is sold exclusively as swordfish steaks which are great off the grill.
Mahi-Mahi
Mahi-Mahi is a Hawaiian name meaning "strong-strong." This fish is also called dolphinfish but is not related to the mammalian dolphin family. So, you are not eating "Flipper." The flesh is firm, with a semi-mild and somewhat sweet flavor. It is a reasonably priced fish that tends to cost less than halibut or swordfish.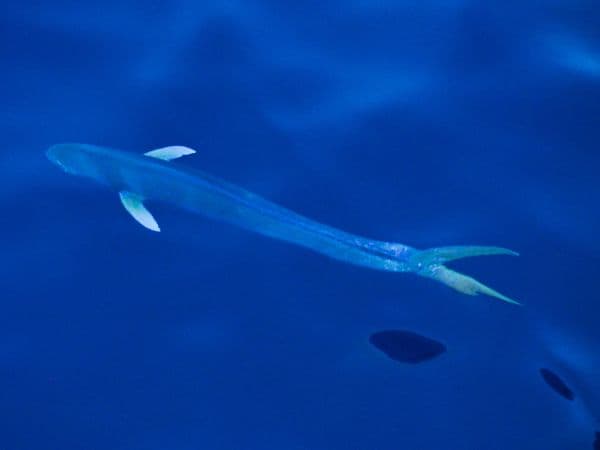 Red Snapper
Red snapper is a firm-textured fish with mild-tasting moist white flesh. It's very versatile and responds well to a variety of cooking methods, including broiling, baking, steaming, poaching, frying, and grilling.
Tuna
Tuna steaks can taste a lot like tender, young beef. This is a meaty fish that is oilier and juicier than many fish. And tuna has a creamy, salty, buttery flavor that leans to the savory side. It does not have a pungent fishy smell either.
Salmon
Another great fish to grill is salmon. Salmon is considered a freshwater whitefish in some circles but is a very oily fish. So many refer to it that way. It is known for its mild flavor and high omega-3 fatty acid content. Both salmon steaks and salmon fillets fare well on the grill.
Ingredients for the Best Grilled Mediterranean Style White Fish or Halibut
You will need the following ingredients to make this fabulous Grilled Mediterranean Style Halibut.
You can find everything at local grocery stores, but if you have a fish market near you it is a great place to source higher-end and sustainably caught fish.
Ingredients
Two lemons for 2 tsp fresh lemon juice. Use the rest for lemon wedges or lemon slices for serving.
Two tablespoons extra-virgin olive oil
1 – 2 garlic cloves minced
1 ½ teaspoons dried Greek oregano. You can substitute Mexican oregano, but since it is more pungent than Greek oregano just use 1 teaspoon.
1 teaspoon drained capers finely chopped
Kosher Salt and pepper to taste
Two 5- to 6-ounce halibut steaks about 3/4 inch thick or substitute white fish fillets or steaks of your choice
These ingredients make two servings as this recipe is part of a Date Night menu, but the recipe is easily doubled or tripled for a larger group.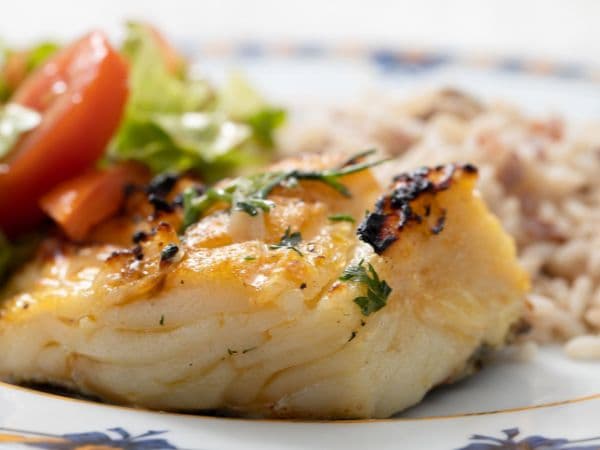 How to Make the Best White Fish on Your Grill
The first step is to preheat your grill. A preheated grill is critical to a successful outcome when grilling fish. Prepare the grill for indirect, medium-high heat. When you have a hot fire going, clean the cooking grate.
Next, remove the fish from your refrigerator. Pat dry with paper towels and set it aside.
Whisk lemon juice, olive oil, and minced garlic in a small bowl to blend. Stir in 1 ½ tsp oregano and capers. Season vinaigrette to taste with salt and pepper. This can be prepared 1 hour ahead. You can let it stand at room temperature while you prepare other items.
Season each side of the fish with Kosher salt and pepper. Brush the fish with 1 tablespoon vinaigrette making sure to divide it equally among the fish.
If you are using one, place the fish in a grill basket or on a grill pan. You can also grill halibut steaks right on the cooking grate.
If you have thinner fillets, you can create foil packets to make it easier to turn the fish and keep it moist. This way the open flame will not dry out your entree, but you won't have as much smoky flavor in the fish.
Grill halibut steaks or fillets until just cooked through. The cooking time will vary depending on the thickness of your fish, but about 3 – 5 minutes per seasoned side should work.
Transfer fish to plates and tent with foil if needed. Whisk remaining vinaigrette and pour over fish and serve with lemon wedges for an extra squeeze of lemon tartness.
Ingredient Substitutions
There are so many great ways to adapt fish recipes! Even this one!
You can add fresh herbs or substitute them for the Greek oregano to the vinaigrette to create a flavor profile you like.
Skip the capers and use fresh lemon zest instead.
Make garlic butter with fresh garlic or garlic powder to brush on the fish before grilling in foil packets.
Spice things up with a little chili powder which is really good on fish especially when making fish tacos.
Add umami with some Worcestershire sauce or soy sauce in the vinaigrette. Just don't use too much or you will overpower the mild flavors of the fish.
What to Serve with this Recipe for the Best Grilled White Fish
Serve this up as part of the main course in this Hot Date Night Menu.
Include a delicious zippy Tomato Panzanella Salad in the hotter months to keep heat out of the kitchen.
Or add these delicious Garlic and Rosemary Roasted Potatoes in the cooler months.
Add some healthy grilled vegetables like Grilled Zucchini with Dill Vinaigrette or Magic Grilled Broccoli.
Finish with a light, yet indulgent dessert like this Adults Only Chocolate Dipping Sauce served with fruits and cookies. It can be made days in advance!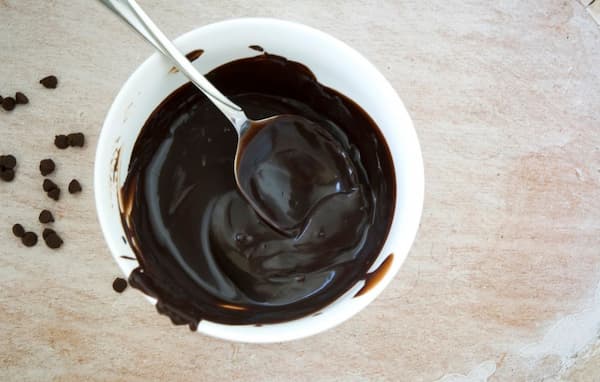 Wine Pairing
A Pinot Gris or Pinot Grigio will pair very well with this fish dish. This dish stands well with an acidic white wine with some fruit and citrus on the palate.
Specifically, the King Estate Willamette Valley Pinot Gris is a stunner with fish and for around $20 it is a great value.
There are classic hallmarks of Pinot Gris on the nose with aromas of ripe pear, lime zest, peach, honeysuckle, and lemon blossom. There are ripe fruit flavors of citrus and pear with good body and structure. It has a gorgeous bright acidity that carries through to a fresh, balanced, and lingering finish.
The acidity and round citrus flavors allow this wine to pair very well with all of the main course recipes on Your Hottest Date Night Menu.
Enjoy a Date Night or Double Date with this Recipe for the Best White Fish to Grill
Getting your grill on doesn't have to mean heavy meats and spicy barbecue. Love those, but it is nice to be able to have some healthy foods come off the grill as well.
This makes for an easy weeknight dish as well as a delicious entree perfect for two or more special guests and is even befitting a special occasion.
Cheers Y'all
P.S. When you make this please let me know how it turns out in the comments below. Also, pass this on to friends with your favorite social media! Thanks!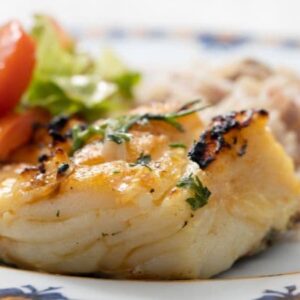 Grilled Mediterranean Style Halibut
A quick and tasty heart-healthy fish cooked on the grill.
Ingredients
1 -2

lemons – 2 tsp fresh lemon juice

and the rest cut into wedges

2

tablespoons

extra-virgin olive oil

1 – 2

garlic cloves

minced

1 1/2

teaspoons

dried oregano

Greek

1

teaspoon

drained capers

finely chopped

Salt and pepper to taste

2 – 5 to 6-

ounce

halibut steaks

about 3/4 inch thick
Instructions
Whisk lemon juice, olive oil, and minced garlic in small bowl to blend. Stir in 1 ½ tsp oregano and capers. Season vinaigrette to taste with salt and pepper. (Can be prepared 1 hour ahead. Let stand at room temperature.)

Prepare grill for indirect, medium-high heat. Season halibut steaks with salt and pepper. Brush fish with 1 tablespoon vinaigrette, dividing equally.

Place in a grill basket or pan. Grill halibut steaks until just cooked through, about 3 – 5 minutes per side. Transfer fish to plates.

Whisk remaining vinaigrette; pour over fish and serve with lemon wedges.
Notes
Can substitute any white fish (tuna, mahi-mahi, grouper, etc) for the halibut.
Shared With…