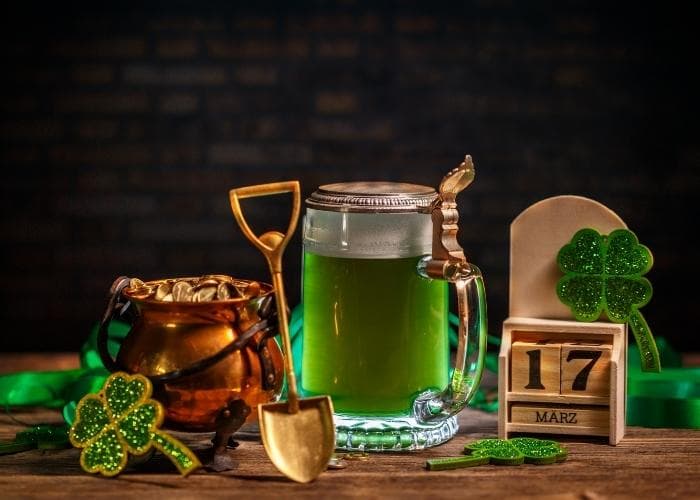 St. Patrick's Day Party Foods and Drinks to Make you Dance Like a Happy Leprechaun
Make these St. Patrick's Day Party foods! Add some green drink recipes and use the wine recommendations to create your own Leprechaun-worthy St. Patrick's Day celebration!
In America, we love to celebrate holidays. And what better way to do it than with food?
This St. Patrick's Day, get your Irish on and try out some of the best traditional dishes from the Emerald Isle. From hearty stews to flavorful desserts, there's something for everyone to enjoy! So, mix up your favorite green beverage and get cooking!
Here is an entire menu of St. Patrick's Day party foods and some great drink suggestions for your gathering on March 17.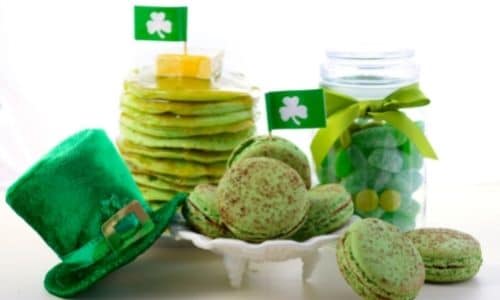 What are Some St. Patrick's Day Party Foods?
I have an entire menu for you to make for your St. Patrick's Day celebration!
This hearty and healthy-ish menu will serve 10 – 12 hungry guests quite easily.
Also, you can make just about all of it in advance of your celebration. This way you can focus on your guests and have a stress-free good time rather than be stuck in the kitchen worrying whether the food will turn out on time.
St. Patrick's Day Party Appetizers
Keep the appetizers easy so you can focus on the main course and desserts.
Don't make a big deal out of appetizers as you have a filling meal ready to dazzle your guests.
Put out a simple board of Irish Cheeses and crackers or bread and some green grapes.
If you want more choices, add a tray of veggies and simple Green Goddess dip for lighter fare.
Add a Healthy Green Salad to Your St. Patrick's Day Party Foods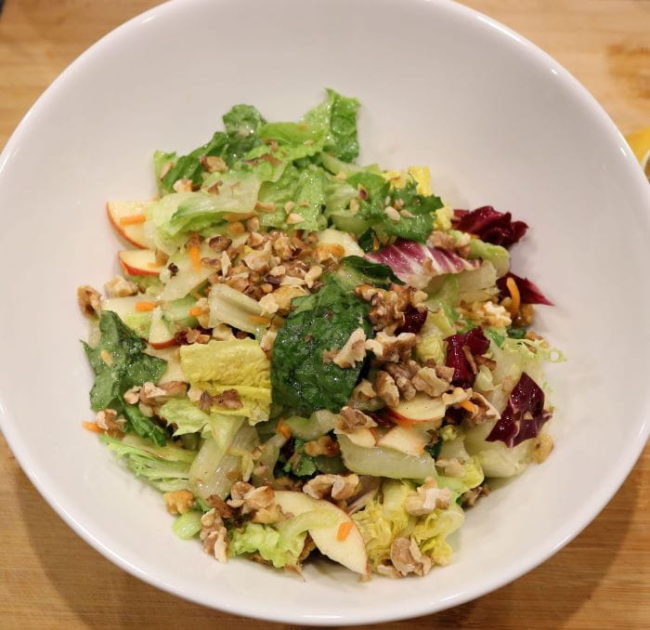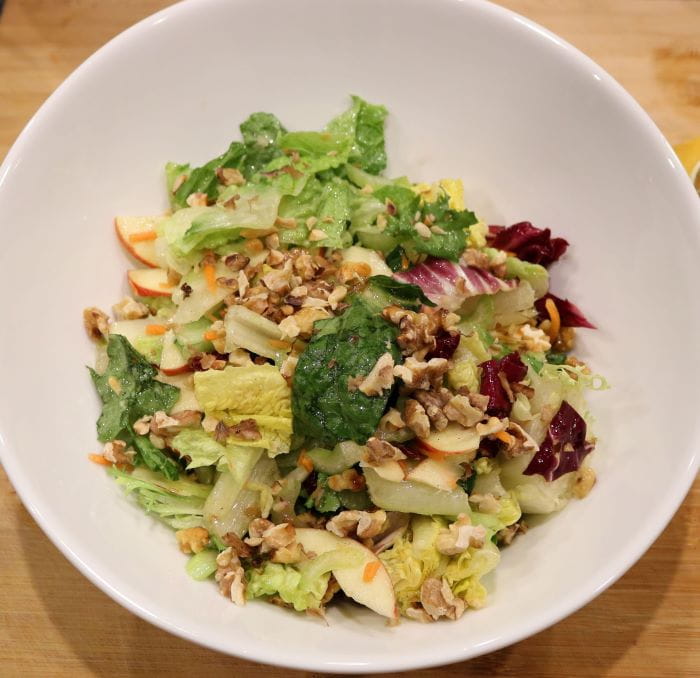 Hey, green is the theme for the day after all. But just because you have a salad on your table or buffet doesn't mean it has to be boring.
How about including this very green Simple Green Salad with Apples and Celery to add texture to the meal? It is not boring and includes heart-healthy walnuts and homemade vinaigrette to give it healthy bragging rights.
Traditional Guinness Beef Stew Slow Cooker Style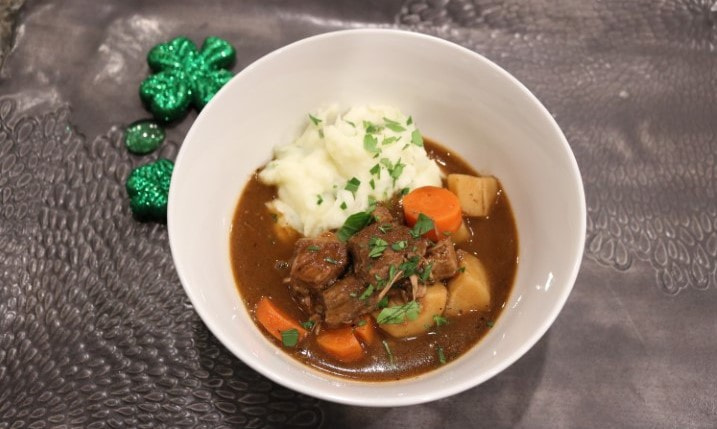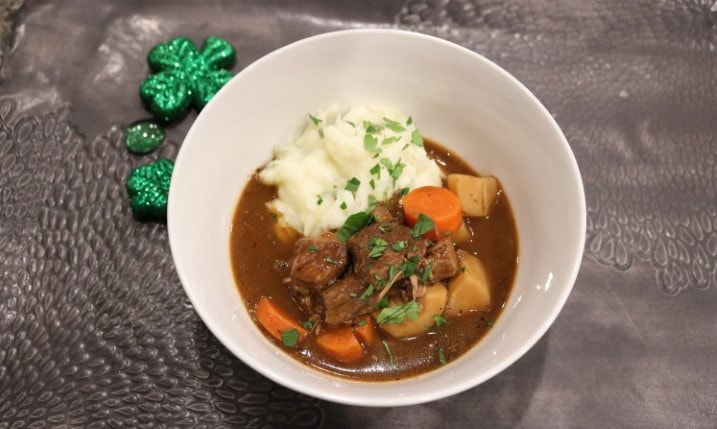 Break out the slow cooker in your cabinet to save time and free up your party planning schedule.
With it, you can make this flavorful and hearty Slow Cooker Beef and Guinness Stew.
It is rich, flavorful, and incredibly easy to make.
Serve it over Mashed Potatoes with Roasted Garlic for a full bowl of hearty, belly-warming comfort food.
Irish Soda Bread for Traditional St. Patrick's Day Party Foods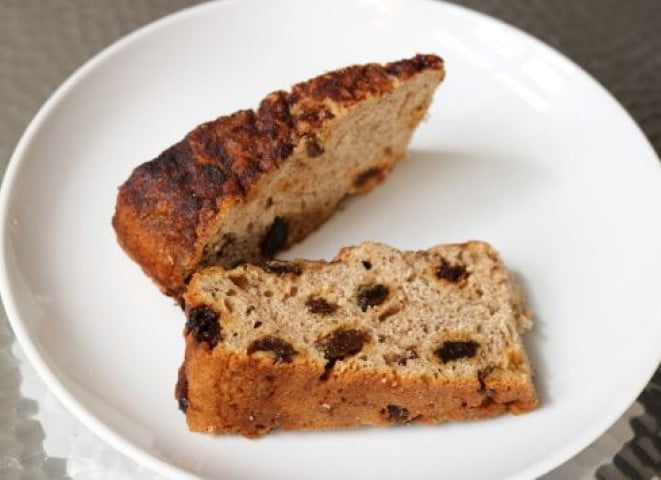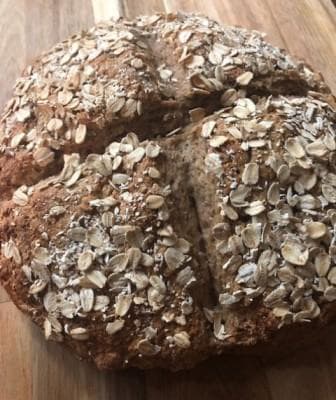 You really should add some traditional Irish Soda Bread to the meal. At my house, it is an absolute not-to-be-missed addition to the celebration.
You can make sweet Irish Soda Bread loaves with raisins and cinnamon to go with the meal or dessert.
I also recommend adding a loaf or two of savory wheat Irish Soda Bread. It is great to mop up the beef stew sauce. If you have leftovers, they are great with butter, jam, and a pot of tea.
Easy St. Patrick's Day Party Foods for Dessert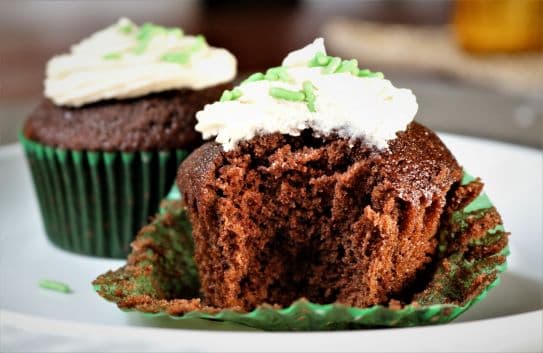 Finish the meal with a bite of rich Chocolate Stout Cupcakes with Irish Cream Frosting. These cupcakes are sure to please your guests!
What are Some St. Patrick's Day Drinks?
Well, Guinness beer will go with this meal. You can also lighten up with a good lager for the occasion.
Wine Recommendations for St. Patrick's Day Celebration Menu
A Paso Robles, California or Washington Cabernet Sauvignon Blend would match the St. Patrick's Day Party foods menu above very well. Since you have slow-cooked your Beef Stew with Guinness for hours, an aged Cabernet Sauvignon is an excellent choice. It will stand up to the hearty flavors of this Beef Stew but still complement the complex tastes in the sauce. Look for a Cabernet Sauvignon that has more black fruit and savory flavors. A Cab with vegetal notes of green peppercorns, aged leather, vanilla spice, and smoke will really complement the heartiness of this beef stew.
A Syrah or Australian Shiraz typically has lovely black pepper and spice notes that can excite a hearty beef stew. The delicious dark chocolate, jam, raspberry, vanilla, and smoke will complement the Slow Cooker Beef Stew very well and enhance the flavors from the Guinness.
If you want to go a little further try an Italian Barolo. This bold red wine is an interesting pairing with Beef Stew but will balance the acidity of the tomato component in the recipe. Tomatoes often make lesser wines taste like they came out of a rusty can due to the clash of the tomato acid and tanning in the wine. However, Barolos are tannic beasts and can stand up to the tomatoes in the beef stew without a problem.
A personal favorite is to pair an Argentinian Malbec with beef dishes to include this beef stew.
Malbecs from Argentina are classically full-bodied, big-fruited, earthy, and dusty (in a good way) wines are terrific with beef in many forms. They have a very approachable price point as well. You can find a good Malbec for $10 – 15 very easily. Sometimes it's worth splurging, but you might save that for a smaller dinner party or gathering that will be less boisterous than a St. Patrick's Day celebration.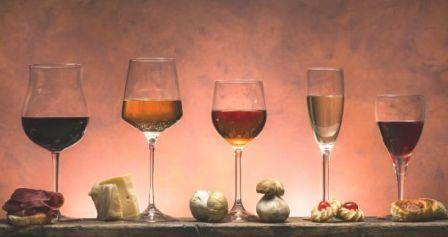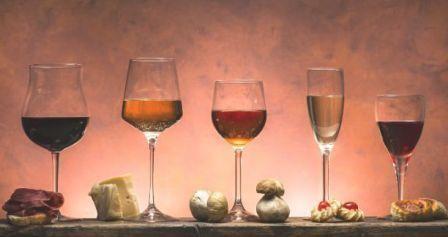 What White Wine Goes with Beef Stew?
Boy, this is a tough one. I am not of the school that says white wine goes with fish and red wine goes with beef. I think you have to look at the entire preparation of the dish to make an interesting pairing.
That said, the complex flavors of a beef stew will probably drown out or clash with most white wines.
Anthony Vietri, farmer, and proprietor at Va La Vineyards in Avondale, Pennsylvania, had a discussion with Food and Wine about this very topic.
He stated, "Oaked Chardonnay, which can be made in a range of weights all the way from a medium-bodied White Burgundy all the way to an opulent, full-bodied example from California, is a perfect variety to pair with steak…suitable for any cut."
Master Sommelier Jack Mason, of Texas-based Pappas Bros. Steakhouse, is in agreement to some extent. However, these fans of the unjustifiably taboo pairing also discussed grilled steak and beef as a standalone element with white wines.
Heavy sauces like that in this beef stew present another complication for white wine.
If I had to choose, I would pick a fairly heavily oaked, (but not stinky), White Burgundy or Chardonnay.
Short of that, a Champagne, not Prosecco, or Blanc-de-Blanc would be worth a confident pairing.
Go ahead and engage in this taboo on St. Patrick's Day. It won't land you in jail!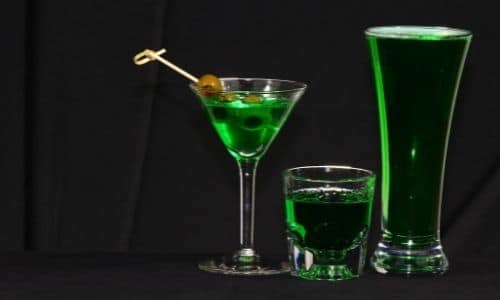 Other St. Patrick's Day Drinks
Try sipping on a green drink other than beer for your St. Patrick's Day celebration. I know beer with green food coloring is a staple in most commercial establishments, but it isn't the only thing that can be green for your holiday celebration!
Think about Appletinis, Gin and Tonics with lime, Mojitos with mint, or Hendrick's martini with a cucumber garnish.
You can make some delicious adult and kid-friendly drinks that are just as festive and better tasting than the stale green beer in a mug idea!
Check out the 20 Best St. Patrick's Day Drinks That Everyone Will Love according to Good Housekeeping.
Host a Fabulous St. Patrick's Day Celebration
So, this St. Patrick's Day, forget about being stuck in the kitchen and stressed out over your food.
Instead, take a few minutes to prep some of these dishes ahead of time and enjoy your guests!
We've put together a delicious menu of St. Patrick's Day Party foods that will be sure to please everyone, so make sure to give it a try. And if you have any questions or need help getting started, don't hesitate to reach out. We're always here to help make your celebrations as fun and stress-free as possible!
Cheers Y'all!
Shared with