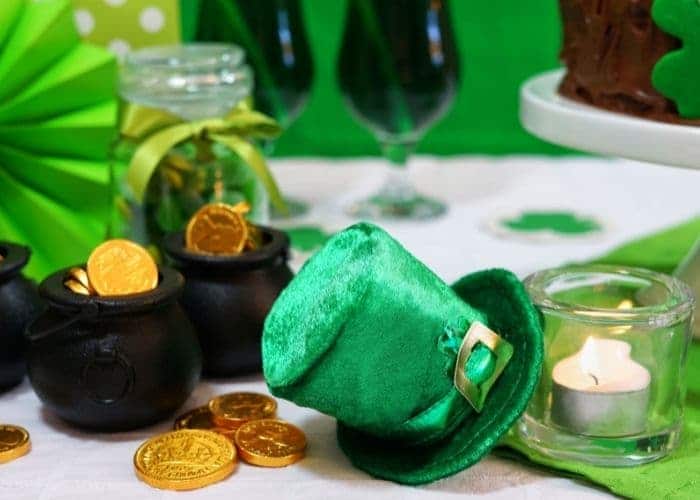 Celebrate St. Patrick's Day in Your Best Leprechaun Style
If you're looking to celebrate St. Patrick's Day in style, look no further! Here are some ideas to get your Irish on and have a party that everyone will enjoy. Whether you're planning a big bash or just a small gathering, we've got you covered. So put on your greenest clothes and let's get started!
Why is there a Celebration of St. Patrick's Day?
Wikipedia gives a good history. They state Saint Patrick was a 5th-century Romano-British Christian missionary and bishop in Ireland. It is believed that he was born into a wealthy British family and his father and grandfather held prominent roles in the Christian church. Apparently, at the age of sixteen, he was kidnapped by Irish raiders and taken as a slave to Ireland where he worked as a shepherd, and during this time, he found God. He finally fled captivity and made his way home to become a priest.
According to tradition, Patrick returned to Ireland to convert the pagan Irish to Christianity. Patrick's efforts were eventually turned into an allegory in which he drove "snakes" out of Ireland, despite the fact that snakes were not known to inhabit the region
Tradition holds that he died on 17 March and was buried at Downpatrick. Over the following centuries, many legends grew up around Patrick and he became Ireland's foremost saint. Wikipedia has this picture of a stained-glass window by Andreas F. Borchert depicting St. Patrick.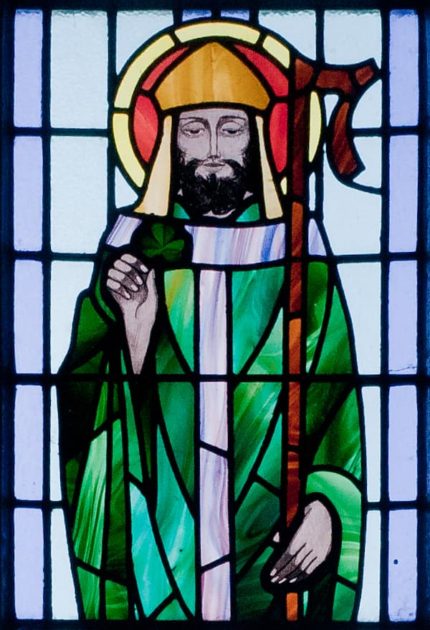 Current Celebrations of St. Patrick
Today there are many ways to celebrate St. Patrick's Day, but not many are very religious.
Now, celebrations are dramatically different than the religious festivals held long ago in the church. Celebrations generally involve public parades and festivals, Irish traditional music sessions, drinking green beer, and wearing green attire or shamrocks.
Some zealous partygoers will pinch you if you don't wear something green on March 17th to celebrate St. Patrick's Day!
What are Some St. Patrick's Day Party Foods?
I have an entire menu for you to help you celebrate St. Patrick's Day! This menu will serve 10 – 12 guests easily. Also, you can make the most of it in advance of your celebration so you can focus on guests rather than be stuck in the kitchen.
You can check out the menu and get the recipes in the post titled St. Patrick's Day Party Foods and Drinks.
Keep the appetizer easy so you can focus on the main course and desserts.
We have a flavorful salad, a hearty stew, and amazing bread for your table.
Finish the meal with a small bite of rich, chocolate dessert that is sure to please your guests!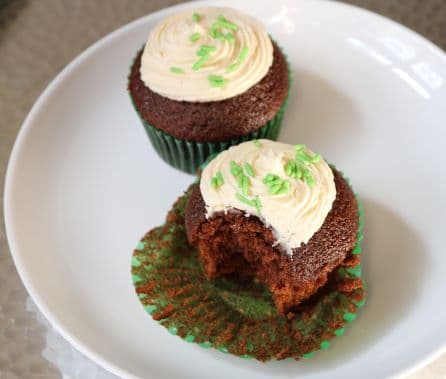 Now that we have the food sorted out, here are some ideas for entertaining your guests.
What are Some Activities for St. Patrick's Day?
Things to do at Home to Get Your Irish On
Have a Costume Contest – It is a must to wear green on St. Pat's Day. Why not take it up a notch with a costume party? Break out those leprechaun hats and green sweaters! Have a friendly costume contest to see who has the most festive outfit at your St. Patrick's Day party.
Recite an Irish Blessing or Give an Irish Toast – There's nothing luckier than reciting an Irish blessing out loud or raising your glass to honor another to celebrate St. Patrick's Day. Here are some ideas from the Irish Post for Blessings and Toasts for your St. Pat's festivities.
Bake Irish Soda Bread – Any St. Patrick's Day celebration would not be as festive without some classic soda bread on the table. You can make this traditional Irish specialty with this recipe for Traditional and Sweet Irish Soda Bread. And you can make a hearty wheat version called Irish Brown Soda Bread as well.
Watch a St. Patrick's Day Parade – Nothing local? Watch virtually! There are parades and celebrations popping up online and even some from last year, so check them out.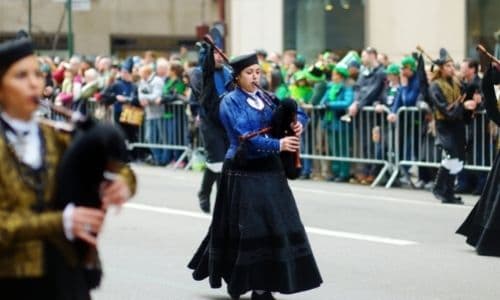 Create an Irish Music Playlist – Make your party more festive and enrich your life by exposing yourself to the Irish culture through music. Listen to classics or modern hits, and if you become stuck, Spotify and Pandora have you covered.
Watch an Irish Movie to Celebrate
Or at least a movie with Irish scenery to celebrate St. Patrick's Day. Here are some options.
Dramas and Romance
Brooklyn (IMDb) — An Irish immigrant lands in 1950s Brooklyn, where she quickly falls into love with a local. When her past catches up with her, however, she must choose between two countries and the lives that exist within.
Far and Away (Wikipedia) — A 1992 American epic Western romantic adventure drama film directed by Ron Howard. Tom Cruise and Nicole Kidman play Irish immigrants seeking their fortune in 1890s America, eventually taking part in the Land Run of 1893.
Action Comedy
Quiet Man (Wikipedia) — A 1952 film starring John Wayne and Maureen O'Hara. Chemistry! After accidentally killing an opponent in the ring, boxer Sean Thornton (John Wayne) leaves America and returns to his native home, Ireland. He wants to buy his family's homestead and live in peace. But love and other characters coveting the property stand in his way. There are great moments between Wayne and fiery O'Hara as well as a long, climactic, semi-comic fist fight involving John Wayne, of course.
Romantic Comedy
Leap Year (Rotten Tomatoes) — When yet another anniversary passes without a marriage proposal from her boyfriend, Anna (Amy Adams) decides to take action. Aware of a Celtic tradition that allows women to pop the question on Feb. 29, she plans to follow her lover to Dublin and ask him to marry her. Fate has other plans, however, and Anna winds up on the other side of the Emerald Isle with the handsome Declan — an Irishman who may just lead Anna down the road to true love.
P.S. I Love You (Harper's Bazaar) — This 2007 film is somewhat formulaic. Hilary Swank didn't win any awards for her lead part in this overly saccharine film. However, the film does whisk its audience away on a virtual trip through some of the most beautiful parts of the Emerald Isle. The movie is about a woman who receives posthumous letters from her husband that takes her from New York City to Ireland to start a new life. It will lift you from the standard brooding Irish cinema mood you may not want in a celebration of St. Patrick's Day.
Historical / War Drama
The Wind that Shakes the Barley (IMDb) — Against the backdrop of the Irish War of Independence, two brothers fight a guerrilla war against British forces.
In the Name of the Father (Wikipedia) — This is a 1993 biographical film starring Daniel Day-Lewis and Emma Thompson. It is based on the true story of the Guildford Four, four people falsely convicted of the 1974 Guildford pub bombings, which killed four off-duty British soldiers and a civilian.
More Movie Options
If these options don't float your boat to feel the luck of the Irish and celebrate St. Patrick's day, then Harper's Bazaar has a list of 22 movie recommendations to watch. Rom-coms, dramas, and a few well-known tear-jerkers are among the titles to choose from in their slideshow.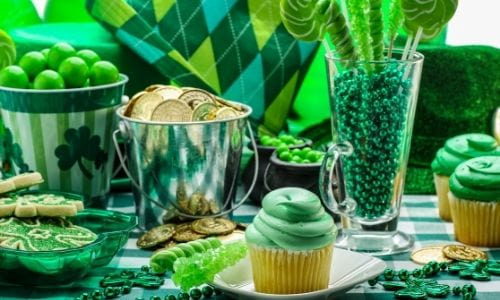 Host your Own St. Patrick's Day Celebration
So, what are you waiting for? Get your party-planning hats on and start celebrating St. Patrick's Day in style!
We hope these ideas have given you some inspiration, and we can't wait to see all the amazing things you come up with. Have fun and be sure to share pictures of your celebrations with us on social media!
Sláinte!
Cheers Y'all
Shared With…