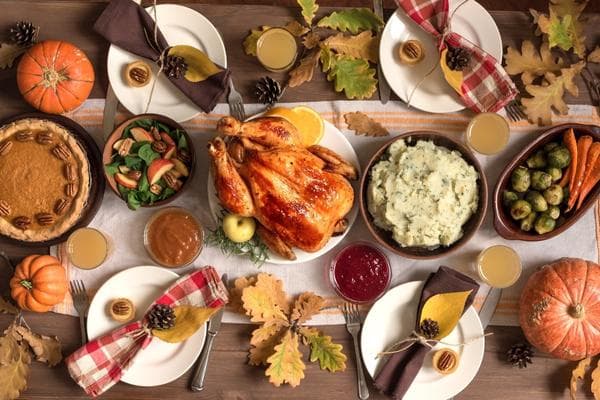 60 Recipes with Thanksgiving Leftovers: Best and Delicious Ideas
Here are 60 of the best recipes with Thanksgiving Leftovers to create delicious meals.
The best part of Thanksgiving dinner is the leftovers! Well, maybe the second best part is the food coma you get afterward. But after all that turkey, stuffing, and pie, you're going to have a lot of leftovers.
Rather than eating them the same way for days on end, why not try some new recipes?
Altogether we've gathered 60 recipes that will help you use up your Thanksgiving leftovers in delicious ways. From breakfast to dinner to dessert, we've got great recipe ideas!
You can pull many of these easy recipes together very quickly, so there will be something delicious for dinner the next day after all of your Black Friday shopping.
Leftover Turkey Recipes
I love using up my Thanksgiving turkey leftovers in creative ways. There is no one perfect recipe but here are leftover ideas for that roasted turkey.
Obviously, we found recipes for making a leftover turkey pot pie to making a leftover Thanksgiving casserole. But you'll also find some new favorite ways to incorporate turkey meat into some great options for appetizers, lunch, and dinner.
Additionally, there are many versions of healthy and hearty turkey pot pie. Subsequently, you can add in those leftover green beans and top it with biscuits, crescent rolls, or a buttery crust whichever suits your mood.
Leftover Thanksgiving Turkey in "Pies"
Turkey Casserole Recipes with Thanksgiving Leftovers
Not Your Typical Turkey
Tex-Mex Inspired Recipes with Thanksgiving Leftovers
Mashed Potato Recipes for Thanksgiving Leftovers
Just between us, I double my mashed potato recipe to make sure I have enough for those at my Thanksgiving meal. They are everyone's favorite Thanksgiving side dish so I always want to make sure I have enough of this best comfort food for leftover mashed potatoes recipes.
Here are some ways to put them to good use beyond the standard potato balls. You could also use sweet potatoes in some of these recipes for a slightly sweet flavor profile.
Also, there is nothing wrong with making a delicious potato soup with a dollop of sour cream and green onion garnish, but don't leftover mashed potato pancakes sound more creative? Additionally, Potato Waffles make an entrance here for another delicious Thanksgiving leftovers breakfast idea.
Golden brown mashed potato cakes can be a perfect dish for the main course or served on the side next to leftover turkey and green bean casserole. They are delicious and a bit easier to make than potato croquettes.
Breakfast Ideas with Leftover Mashed Potatoes
Creative Ideas for Cranberry Sauce
So, here are some delicious recipes with Thanksgiving leftover cranberry sauce!
You can repurpose leftover cranberry sauce or cranberry relish in so many ways! You can make a delicious spread with cranberry and cream cheese and use it on bagels. Add a simple side of fresh fruit and breakfast is complete!
Another delicious way to use up cranberry sauce is to make a dazzling cranberry vinaigrette dressing by swapping the Dijon mustard out for your leftover cranberry sauce in this salad dressing recipe.
Further, one simple idea is to simply spoon the leftover cranberry sauce on top of vanilla ice cream!
And Cranberry Breads
Recipes with Thanksgiving Leftovers: The Stuffing Section
The whole family can enjoy these ideas for extra stuffing. It's not just for side dishes anymore! Go ahead and top those savory stuffing waffles with a fried egg for a great way to enjoy an easy meal at any time.
Delicious Pumpkin Recipes
Looking for a fun way to use up pumpkin pie or extra pumpkin puree? You can certainly use leftover sweet potato casserole in these drinks and desserts as well.
All-in-One Recipes with Thanksgiving Leftovers
These Thanksgiving leftover recipes are great because they are an easy way to use up so much food.
Beyond the typical recipe that makes one big Thanksgiving leftover casserole, we have empanadas, tacos, and gravy balls that take your leftover turkey day extra food from "not again" to amazing!
Surprisingly, these may very well become your new favorite recipes.
Bake up these Recipes with Thanksgiving Leftovers
Satisfying Soup Recipes with Thanksgiving Leftovers
Get your pressure cooker, slow cooker, or instant pot out and make up some of these new ideas for a delicious soup.
Unquestionably, the best thing about soups is you can use all sorts of holiday leftovers in them. You can add any leftover vegetables to a simple soup and make it a hearty dish. Soups are, in my opinion, the best way to use up all the leftovers from your turkey dinner.
Also, don't forget, you can make a big batch of stock with the carcass! Take your favorite turkey or chicken stock recipe and cook it up using the turkey carcass. Also, freeze some of the stock in ice cube trays or quart-size bags to use at a later date.
Gotta Have That Leftover Turkey Noodle Soup
Terrific Turkey Sandwiches
Generally, sandwiches may just be the easiest way to use up leftovers. They are a perfect way to provide a quick, portable, and go-to bite my family loves. But they don't have to be boring!
Of course, we have the classic turkey sandwich, but we also have sliders, paninis, and even leftover turkey salad recipes to pique your tastebud interest.
Some Turkey Sliders to Savor
Bonus Recipe
Thanksgiving Leftover Breakfast Casserole
This (fairly) healthy breakfast option is called Southwest Style Thanksgiving Breakfast Leftover Casserole and is a perfect way, and one of the easiest ways, to use up leftovers from your Thanksgiving day meal. The great thing is your friends and family will not realize they are eating leftovers again!
I think this casserole is a great dish to share at breakfast, brunch, lunch, or even dinner! This easy recipe can be changed to your liking to use up even more of your Thanksgiving dinner leftovers.
Try These Recipes with Thanksgiving Leftovers
Basically, don't let your Thanksgiving leftovers go to waste! Whether you're looking for a way to change up your breakfast routine or want some new ideas for dinner, we've got great ideas and recipes with Thanksgiving leftovers!
These recipes are sure to please even the pickiest of eaters, and they'll help you use up all of those Thanksgiving leftovers. So what are you waiting for?
Finally, try out some of these recipes and enjoy your food in new and exciting ways. Let me know how it goes in the comments below or on the blog's social media pages. I can't wait to hear about your culinary creations this holiday season!
Cheers Y'all!
SHARED WITH…