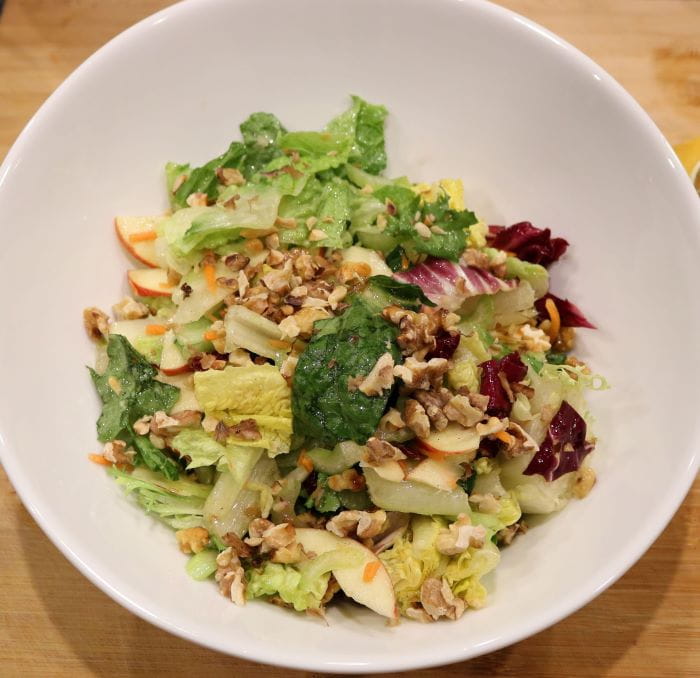 A Simple and Easy Green Salad Recipe You'll Make Again
This simple and easy green salad recipe makes a flavorful dish that is bright enough to serve any time of year. It will lighten up a heavy winter meal and entice your palate with fresh elements like bright apple and crunchy celery.
Invite friends over and serve this elegant and easy green salad recipe as part of the Double Date Dinner menu. The menu also includes wine recommendations for your meal!
Is green salad good for you?
According to WebMD, the nutritional value of any salad greens really depends on the variety. Generally, use red or darker green leaves in your salad as they typically have higher nutrients and vitamins.
Salad greens are rich in Vitamin A which is important for eye health, cell division, immunity, growth, and reproduction. A 100-gram serving of romaine or red and green leaf lettuce gives you more than twice the amount of Vitamin A you need every day.
Greens are a good source of Vitamin K which is vital for blood vessel health and building strong bones. Frisée is also rich in phytonutrients which is a unique compound that acts as antioxidants that can help prevent chronic diseases.
Escarole is listed as one of the top 100 richest food sources of polyphenols (another name for phytonutrients). Other salad greens on the list include curly endive, green leaf, and red leaf lettuce.‌
WebMD also states eating leafy green vegetables daily can improve brain health and reduce cognitive decline.
You'll never think salad is boring again!
What are the Ingredients in this Easy Green Salad Recipe?
Frisée, torn into small pieces
Butter lettuce, torn into small pieces

OR if you cannot find the greens above, use a bag of premixed salad greens with frisée or endive in the mix

Gala or Golden Delicious apple
Celery
Toasted walnuts
Gold Standard Vinaigrette (recipe included)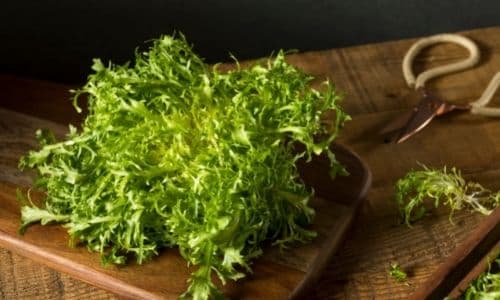 What Is Frisée?
Frisée is a member of the chicory family, which is a group of bitter, leafy vegetables. The family includes radicchio, escarole, and Belgian endive. Heads of frisée, also known as curly endive, are thick and bushy with lacy, frazzled stems.
Is Frisée Sweet or Bitter?
Frisée comes by its deliciously bitter edge naturally but is not overpowering. It also has a nice crunchy texture that holds up well in dressed salads.
What Is Butter Lettuce?
Butter lettuce is a type of lettuce that is also known as Bibb lettuce, butterhead lettuce, and is close to Boston lettuce. It is named for its butter-soft texture rather than its flavor, which is mild with a hint of floral sweetness.
All varieties of butterhead lettuces tend to have smooth, broad, loosely-coiled leaves. Sometimes you'll find them at farmer's markets with the roots still attached to preserve freshness.
Can you Sutstitute other Greens?
Other Greens you can use in place of Frisée include Belgian endive, but you will have a crunchier texture in your salad. You can also use Radicchio which is softer than endive and it will add a pop of bold color to your dish.
You can replace the butter lettuce with Boston lettuce or Romain, but the latter will also add extra crunch to your salad.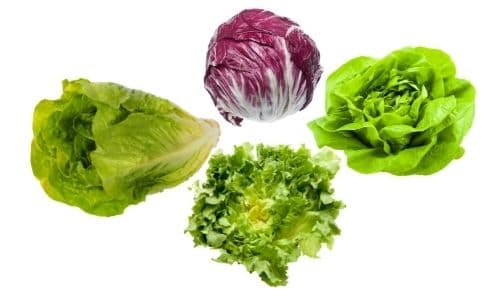 Apple Substitutions for this Easy Green Salad Recipe.
When it comes to apples, there are a number of different varieties that you can choose from. Some of the best apples for salads include Granny Smith, Honeycrisp, and Rome apples. However, a milder and sweet apple goes well with this salad.
This is why this recipe calls for Gala or Golden Delicious apples. These are reliable, fairly sweet apples that won't overtake the melded flavors in this salad including the vinaigrette.
Many would agree that the grocery store Gala apple can be quite bland and boring. However, it should be noted that the Gala is hard to beat if you want a consistent sweet easy-eating apple. The Gala apple is actually a cross between Kidd's Orange Red and Golden Delicious, so it has a similar flavor profile as a Golden but is a little sweeter.
Specialty Produce gives a good breakdown of the nutritional values of the Golden Delicious. They report this apple is low in calories and is a good source of soluble fiber, which has been scientifically proven to help lower cholesterol, control weight, and regulate blood sugar. This also makes them heart-healthy food. They also contain vitamins A, B1, B2, B6, C, E, K, as well as potassium, manganese, and copper.
You can easily substitute the Gala or Golden Delicious apples in this recipe with Honeycrisp or Opal apples if you have them near you.
All of these apples are high in fiber and nutrients, and they taste great in salads. So next time you're following an easy green salad recipe, be sure to add one or two of these delicious apples!
What can I Use Instead of Walnuts?
If you don't like or don't have walnuts, use toasted or slivered almonds instead.
Keep this Green Salad Mix Healthy with a Homemade Vinaigrette
Since we have gone through all the trouble of making a healthy salad, please don't drown it with the dressing!
The Gold Standard Vinaigrette is wonderful with this salad and will take less than five minutes to make. The recipe makes enough dressing for not only this leafy green salad but, several more salads during the rest of your week as well!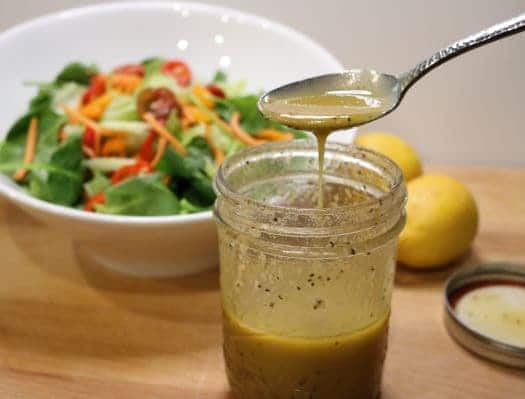 What Should I serve with this Simple Green Salad Recipe?
It is a great addition to any meal and is a nice change from the typical lettuce, tomato, and carrot salad.
This recipe is great with the Double Date Dinner menu which you can read all about!
Invite Friends Over to Enjoy this Easy Green Salad Recipe!
Greens are some of the healthiest foods you can eat. They are high in fiber, vitamins, and minerals, and are also a good source of antioxidants, which can help protect your body against disease.
So, if you're looking for a healthy and nutritious way to boost your diet, be sure to add this Green Salad with Apples and Celery to your next meal!
Use the Double Date Dinner menu to create a complete, elegant meal. Lone Star Gatherings is here to help you entertain with ease.
Cheers Y'all!
P.S. Caring is Sharing this post. If you found this helpful please pass it along in an email, post it on Facebook, Instagram, or with your preferred social media account. Thanks in advance!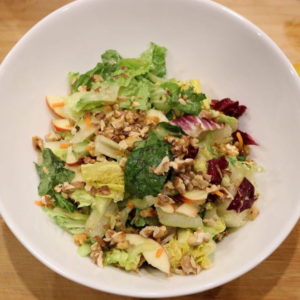 Green Salad with Apple and Celery
Simple, healthy, and delicious any time of year.
Ingredients
Gold Standard Vinaigrette
1/2

tbsp

finely minced shallot

1/2

tbsp

Dijon-type mustard

1/4

tsp

salt

1/2

tbsp

freshly squeezed lemon juice

1/2

tbsp

Red wine vinegar

1/3-1/2

cup

excellent olive oil extra virgin

Freshly ground pepper
Salad
I small head Frisée torn into small pieces

1

small head butter lettuce

torn into small pieces

OR 1 bag premixed salad greens with frisée in the mix

about 6 cups

1

Gala or Golden Delicious apple

cored, halved and thinly sliced

2

celery ribs

sliced very thin

1/3

cup

walnuts

toasted and chopped, divided
Instructions
For the dressing: Simply combine ingredients and shake in a screw-topped jar!

For the salad: Place lettuce, frisée, apple, celery, and half of the walnuts in large bowl. Toss to combine. Drizzle with dressing and toss until greens are evenly coated. Season with salt and freshly ground black pepper to taste. Sprinkle with remaining walnuts. Serve immediately.