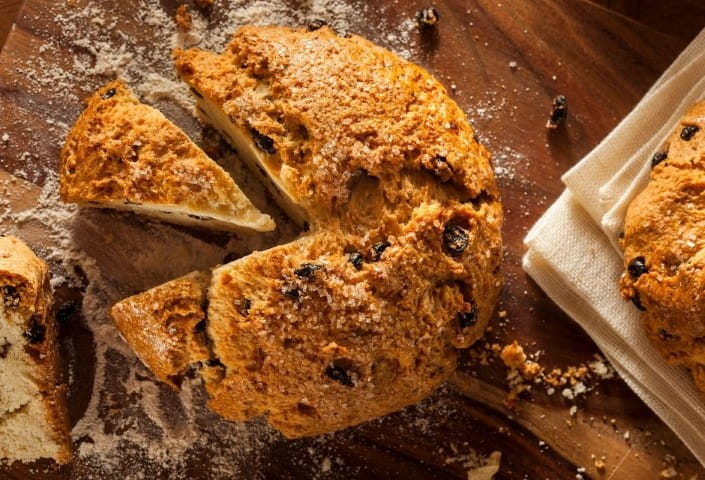 Bake this Irish Soda Bread Traditional Recipe for an Amazing St. Patrick's Day Celebration
This Irish Soda Bread is a traditional recipe to make for your St. Patrick's Day celebration!
If you are looking for a delicious and warm way to celebrate St. Patrick's Day, look no further than this traditional Irish Soda Bread recipe. This bread is easy to make and can be enjoyed for breakfast, as a snack with tea, or for dessert.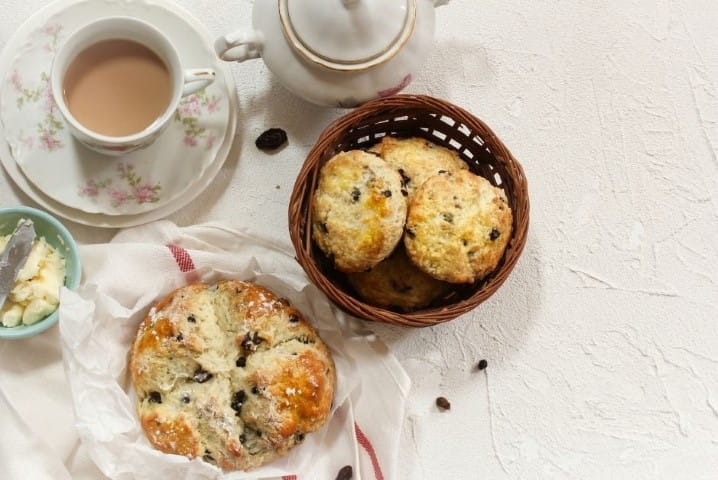 The dough comes together quickly making two loaves so you will have some leftovers to enjoy. Raisins add a little sweetness as does the sugar and cinnamon on top. Slice while warm and give it a good lather of Irish butter for a warm treat anytime.
Salute St. Patrick's Day with this traditional Irish Soda Bread on your table during the festivities!
What Are Some Irish Family Traditions?
One of the many things that make Irish culture so special is the family traditions that are passed down from generation to generation. From celebrating St. Patrick's Day each year to telling stories around the fire, these traditions bring families together and create lasting memories.
Here are a few examples of some popular Irish family traditions:
–St. Patrick's Day: This is without a doubt the most well-known Irish tradition. Every year on March 17th, people all over the world celebrate everything Irish. Parades, food, and drinks are just a few of the things that make up this festive celebration.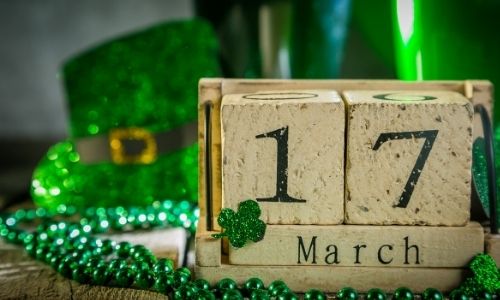 – Storytelling: Telling stories around the fire is an age-old tradition in Ireland. These stories often have a moral or teach a lesson, and they are passed down from generation to generation.
-Music: From traditional Irish folk music to modern pop songs, music is an important part of Irish culture. Families gather around the piano or guitar for hours on end, singing and playing their favorite tunes.
– Feasting: One of the best parts of Irish culture (and my favorite) is the food. From hearty stews to delicious desserts, there is something for everyone to enjoy. Families often come together to feast on their favorite dishes, and there is always plenty of leftovers for later!
Recipes for Irish Soda Bread Traditional in Ireland
According to The Society for the Preservation of Irish Soda Bread (yeah, it's THAT serious), it wasn't actually invented in Ireland!
Their history regarding Irish Soda Bread states "Just like the bagpipes weren't invented by the Scots, the chemical reaction that makes Soda Bread what it is, wasn't invented by the Irish. The earliest reference to using soda ash in baking bread seems to be credited to American Indians using it to leaven their bread. Pearl Ash was used prior to 1800 to make flat cakes on hot rocks by combining it with an acidic ingredient in the dough. However, as the Scots have made the bagpipe their instrument, the Irish have made Soda Bread theirs."
Interestingly, the Irish did not adopt this way of making bread by choice as much as by necessity due to poverty across Ireland in the 1830s. Soda bread was the easiest and least expensive way to put bread on the table.
The combination of soda and Irish "soft" wheat flour creates a quick and inexpensive way to produce a quick bread. And this became very popular in Ireland.
Can You Make Traditional Irish Soda Bread Without Buttermilk?
Traditionally, sour milk was used in the making of soda bread in Ireland which in the 1930s could be easily purchased from the local creamery.
As you know, today buttermilk is used instead of sour milk since it is more easily found.
However, if you wish to use sour milk, you can actually make your own instead of waiting for it to go sour. Simply combine a cup of fresh milk (low fat or whole) with 1 tablespoon of lemon juice or distilled white vinegar. In about 15 minutes you will have a substitute for buttermilk.
Ta-da!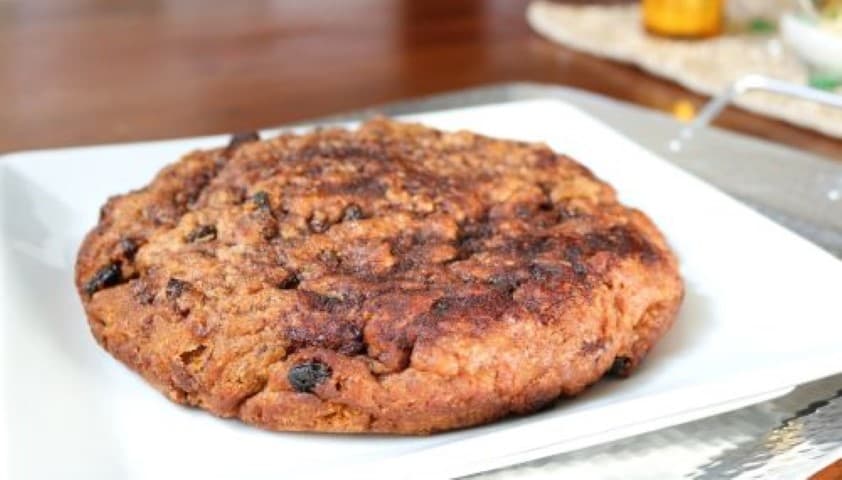 My Irish Grandmother's Tradition
My Mamaw came from a long line of the O'Dwyer lineage in Ireland and she had the copper top hair to prove it.
She made her traditional Irish Soda Bread with sour milk. Mamaw also added cinnamon for a little spice and passed the recipe on to me. My grandmother delighted us with her Irish Soda Bread and many other treats just about every time she visited. The excitement in the kitchen was electric when that delicious bread came out of the oven! Smiles filled the space.
When I was older, my Mom taught me how to make Mamaw's recipe, but I still don't think it is as good as hers. Grandmothers add warm hugs and love to their baking that just cannot be replicated no matter how much you try.
What are the traditional Irish Soda Bread Ingredients?
All-purpose flour
Baking powder
Baking soda – of course!
Table salt
Ground Cinnamon
Granulated Sugar
Crisco – Plain or Butter flavored
Buttermilk or sour milk
Raisins or currants
Caraway seeds – optional, but traditional
Butter – some melted for the top of the loaves before baking and some to spread on the warm bread out of the oven. Delish!
How is Irish Soda Bread Made?
The standard practice is to preheat your oven to 375 degrees F. Then grease two 8- or 9-inch cake pans with butter or spray on a good coating of non-stick cooking spray.
Using a large mixing bowl, whisk together flour, baking powder, baking soda, salt, cinnamon, and 6 tablespoons sugar. You'll use the rest of the cinnamon and sugar for a coating on top before baking. Mix these and set them aside.
Next, cut in Crisco using a pastry cutter or dough blender, or two knives, or your hands. Keep working the mixture until it is incorporated and the dough is like small pebbles. Pour the buttermilk or sour milk over the pastry and mix well.
Moving on, the final mix is to fold in the raisins or currants, and the caraway seeds. Mix this very well. The dough will be quite sticky.
Now, divide it in half and shape each into a 5-inch round. These don't have to be perfect but do need to be about the same size in order to bake evenly. I typically flatten the dough in my bowl and cut it in half before removing it to shape. Use a little flour on your surface to help with the sticky dough. No kneading is required, just a little shaping. Then I place the loaves in the pans.
Finally, score the top of each loaf with an X about a quarter-inch deep and brush with the melted butter. Sprinkle with mixed sugar and cinnamon.
Bake at 375 degrees F for 35 – 45 minutes until golden. Cool on a wire rack for about 10 minutes before slicing and eating warm.
So GOOD!!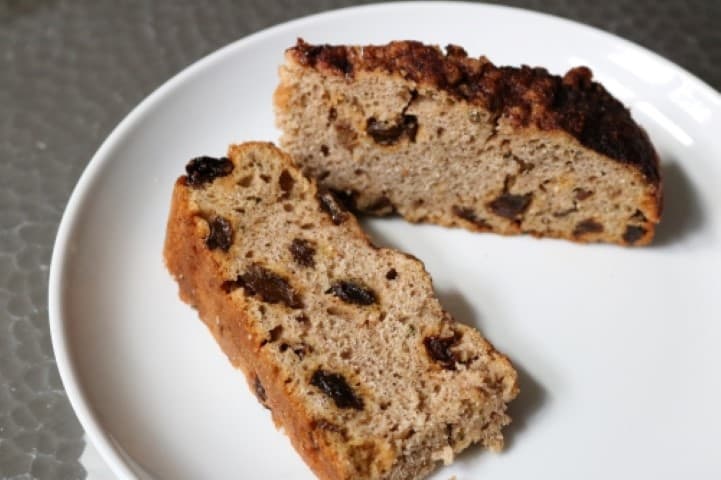 What Else Can I Make for a St. Patrick's Day Feast?
Your main course will be a hit with the Best Slow Cooker Recipe for Guinness Beef Stew. It is hearty and deeply delicious.
Serve it over creamy Mashed Potatoes with Roasted Garlic.
Include a savory version of bread with Irish Brown Soda Bread to mop up the stew.
Add a light Simple and Easy Green Salad perked up with apples and celery for taste and texture balance.
And finish the delectable meal with Chocolate Stout Cupcakes with Irish Cream Frosting.
You will have the bombdiggity best St. Patrick's Day Feast with these recipes!
Invite Some Friends Over and Celebrate St. Patrick's Day
I hope you enjoy this traditional Irish Soda Bread recipe on St. Patrick's Day! Slice it while warm and give it a good lather of Irish butter for a warm treat anytime.
Salute St. Patrick's Day with this delicious bread on your table during the festivities. If you make it, be sure to share a picture with me on Instagram or Facebook. I can't wait to see how it turns out!
Cheers Y'all!
P.S. Make this delicious sweet and savory treat for your table and let me know how it turned out! Post on your favorite social media platform and send me a picture!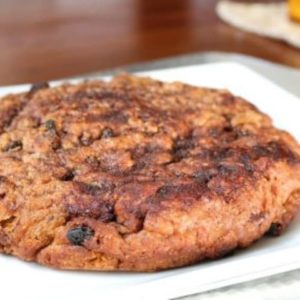 Traditional Irish Soda Bread
Sweet and hearty bread for breakfast, dessert, or a delicious snack with tea!
Ingredients
4

cups

All-purpose flour

unsifted

3

tsp

baking powder

1 1/2

tsp

baking soda

1 1/2

tsp

salt

8

Tablespoons

sugar

divided

1

Tablespoon

plus 2 teaspoons cinnamon

divided

6

Tablespoons

Crisco

2

cups

buttermilk or sour milk

See Note

1 1/3

cups

raisins

3

teaspoons

Caraway seeds

1

Tablespoon

unsalted butter

melted
Instructions
Preheat oven to 375 degrees F. Spray two 8 or 9-inch cake pans with non-stick spray. Set aside.

Mix 1 Tablespoon sugar with 2 teaspoons cinnamon and set aside.

In a large bowl mix together the flour, baking powder, baking soda, salt, and the remaining sugar and cinnamon.

Cut in the Crisco with a pastry blender or your fingers until the mixture looks like small pebbles.

Pour milk over flour mixture and mix well with a spatula.

Add raisins and Caraway seeds stirring to incorporate.

Cut dough in half and shape each into a 5 inch round in the cake pans. Score an X a quarter inch deep on top of each loaf. Brush with melted butter and sprinkle with sugar and cinnamon mixture.

Bake at 375 degrees F for 35 – 45 minutes until golden. Cool on a baking rack and serve warm or room temperature.
Notes
Instead of buttermilk: To make 2 cups (500 mL) sour milk for baking, use 2 Tablespoons (30 mL) white vinegar or lemon juice and enough milk to equal 2 cups in a measuring cup. Stir and let stand for 5 minutes before using.
Shared With