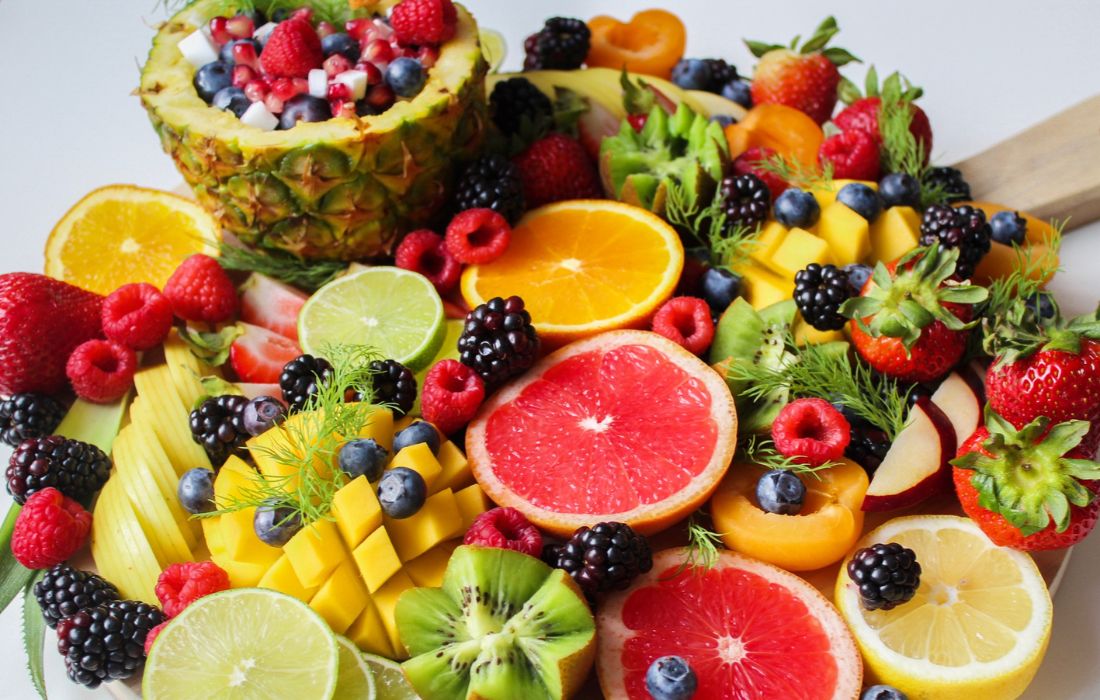 Easy Ideas How to Make a Beautiful Fruit Charcuterie Board
Here are some great ideas for how to make a beautiful fruit charcuterie board. It is so easy to create a simple fresh fruit board in your own kitchen.
Fruit charcuterie boards are an easy and favorite way of mine to present an appealing appetizer or dessert. Use the easy recipe techniques and ideas below to make a great appetizer worthy of any breakfast or brunch.
It is also perfect for special occasions like baby showers and bridal shower brunches.
Take your date night to the next level with a fruit charcuterie board! It can be a great addition to your romantic night as it is a great option for dessert! Make a great board of cut fruits and whole strawberries. Add small bowls of powdered sugar, whipped cream, or this Chocolate Dipping Sauce, and feed each other the fruits dipped in these sweet toppings. You can create your own new flavors to share.
What is a Charcuterie Board?
Wikipedia states a charcuterie board is typically served first thing or as an appetizer before the main course. Food items, usually cheese, meat, pate, bread, and fruit, are served on a wooden board or stone slab in a way that the food can be eaten right from the serving platter.
The term charcuterie came about in the 15th century and comes from the French word for "flesh" which is "chair" and "cooked" which translates to "cuit".
It is a perfect way to begin any Gathering as it does not take hard work to create a good charcuterie board.
Having this easy appetizer can make a huge difference in your workload before a dinner party or brunch.
Fruits for Charcuterie Boards
I have been throwing brunch parties for more than a couple years and one of my favorite things is to make a fruit charcuterie board. It is always a hit with my guests.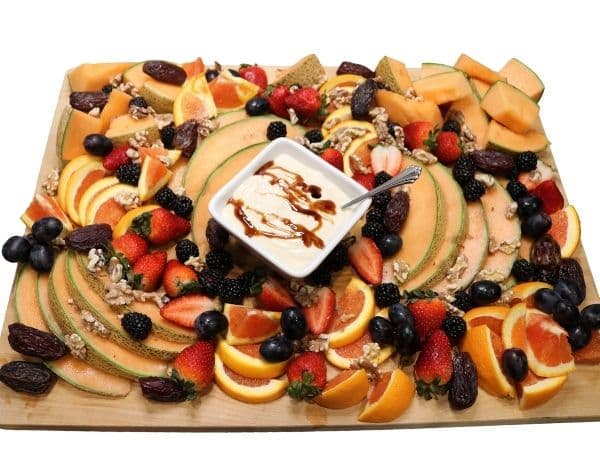 There are so many different ways to create your own beautiful fruit charcuterie board. It is a great choice for a large crowd or intimate gathering.
Here are some of the best things to keep in mind when making the ultimate fruit board.
First, don't overthink this. Keep this board easy by making it simple, but interesting.
If you are not sure which fruits go well on a fruit charcuterie board, how about starting with your favorite fruits?
Additionally, focus on seasonal fruits! The Seasonal Food Guide breaks out not just each season fruit and produce is best, but you can search by each month and state as well! So it can tell you what to expect at your local Farmer's Market in advance.
Shopping at your local Farmer's Market is a great way to source ripe fruit for a fresh fruit charcuterie board. They will always have the best kind of fruit that is available in your region.
Moreover, be sure to purchase different kinds of fruit for your fruit tray. Think about picking up both fresh berries as well as fruits to cut. Shop for different colors like you are putting together a rainbow fruit charcuterie board. The different shapes and colors make for an attractive presentation.
Also, choose an odd number of fruits. Odd numbers are more aesthetically pleasing than even ones. If you only have four fruits, then serve them in five piles or rows. If you choose grapes, break them up into odd numbers of clusters to place around the board.
Buy some extra fruit for decoration. There are some fun ways to cut kiwis, oranges, pineapples, and almost any fruit to make it pretty on the platter, but these can be difficult to eat. So a few extra pieces can make a nice presentation even more beautiful even if they won't be eaten during your event.
The best way to prepare large fruits or fruits with a peel is to cut them into slices. It is a fun way to present the food and makes it easy for your guests to pick up and enjoy. A great idea to save time is to chop most fruit in advance and store it in an airtight container in your refrigerator. Then you can quickly lay it out on your board before your company arrives.
Another great idea is to add dried fruits to your board. These are a great choice to add some color and can be a fun way to add texture to your board. Some of the best fruit choices include dried apricots, dates, figs, and mango slices. These are also typically easy for your guests to pick up and enjoy.
A word of caution when using apples on your fruit platter. You'll want to slice them, but don't do it in advance due to oxidation. Brown apple slices are not attractive. One way to help slow oxidation down is to toss the apple slices with lime or lemon juice before placing them on your favorite charcuterie board.
Feel free to serve your fruit platter at room temperature. However, if you have dips or additions that need to stay cool put them out on your fruit board right as your guests arrive.
Additional Ideas for your Fruit Board
Along with your fresh fruit and dried fruit, you can add other items to step up the presentation and variety of your soon-to-be favorite fruit board.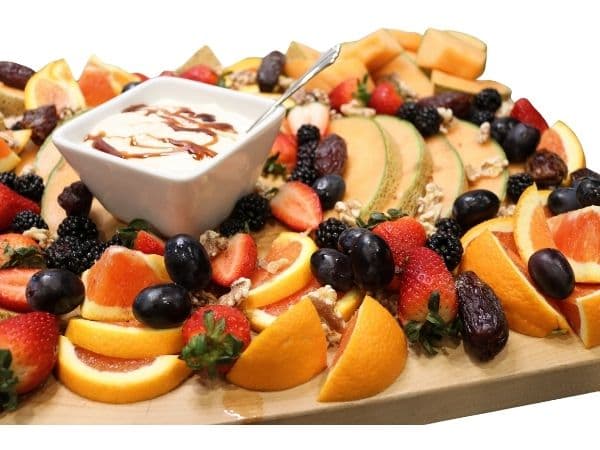 I often serve fruit with a yogurt dip. One suggestion is to drizzle dark honey over plain yogurt. It adds a deeper flavor without adding too much sweetness. You can use flavored yogurt for this or plain yogurt with a drizzle of honey or vanilla.
You can use any kind of flavored yogurt for a fruit dip, but be careful about zingy flavors like lemon or lime. These can contrast sharply with other fruits on the board. A nice vanilla, strawberry, or banana-flavored yogurt will complement most other fruits.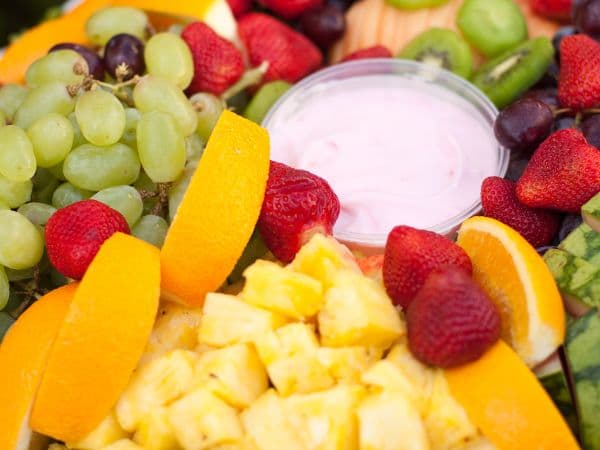 You can also add some whipped cream directly on the board or in a bowl on the side of your board.
Nuts are a great compliment to a fruit board. You can use any kind you like to add texture and interesting flavor to your platter. Roasted nuts or praline nuts are also good choices.
Raw nuts are a great option if you are following a lower-sodium diet. Toast them for a few minutes in the oven at 300 degrees F just until fragrant. About 5-10 minutes. Let them cool and sprinkle them all over your fruit board.
Fruit and Cheese Board Ideas
If you are looking for something a little heartier to serve at your next party than just fruit think about putting together a fruit and cheese charcuterie board. Who doesn't like an assortment of cheeses as an appetizer?
Find a variety of cheeses you like in different sizes. Also, mix up the textures between hard cheese and soft cheese.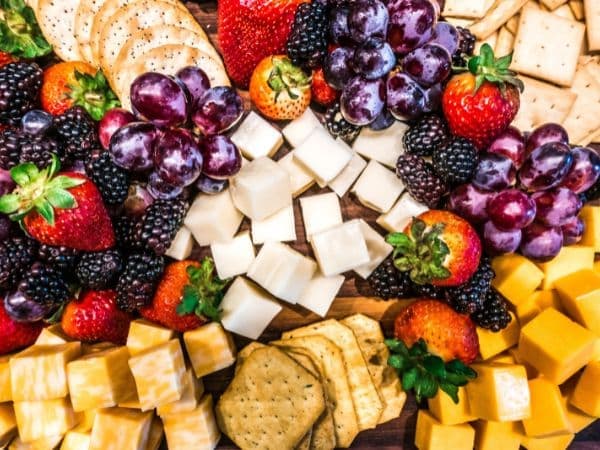 Creamy cheese like blue cheese, goat cheese or fresh mozzarella balls sprinkled with fresh basil leaves can add a nice texture to your cheese board.
Cream cheese topped with pepper jelly, fig jam, spices, salsa, or herbs is also a good addition to a cheese board.
For hard cheese, you can use larger items of whole cheese and add in a few piles of cubes or slices of cheese. Some cheddar, Havarti, and smoked Gouda are good choices.
Add in fruit like green and black grapes, sliced pear or apple, and strawberries for color and tang. A small jar of quince or fig jam is also a nice touch. Adding a small bowl of olive oil with some freshly ground black pepper is another good addition.
You can add in some meats or at least a Genoa salami rose, but with all the other items on the board, you don't need to. You don't want your guests full before they try the main course.
This means the only other thing you need to make an epic cheese board is some fresh bread. Grab a loaf of French bread or baguette from your local bakery, slice it thin, and put it in a basket next to your cheese platter or board. You can also use crackers.
And the best part about a fruit and cheese board is that it can easily be served as a dessert charcuterie board. I adore cheese and fruit for dessert! Add a nice pour of port or Madeira and you are set for the last course at your dinner party.
Here are a few more Charcuterie Board ideas for fruits, cheeses, and meats. Some are Easter themed, but you can use them any time of year.
How to Arrange a Fruit Charcuterie Board
For the base of your fruit charcuterie board pick something simple. After all, the fruit is the star of the show.
Choose a cutting board, but make it a fairly large board. You want plenty of room for your fruit. Or if you have large serving trays choose one of them to use.
You don't have to cover the entire board but fruit should take up the most space.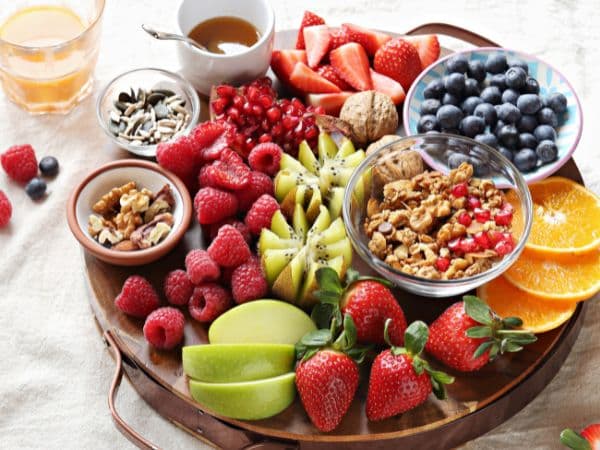 If you are using small bowls to contain berries, nuts, yogurt, fruit dip, or your favorite fruits chopped up, then place them on the board first. It is a nice presentation to use a hollowed-out half cantaloupe or pineapple to hold smaller cut fruit.
Then begin arranging the fruit. Your best option is to start placing the fruit from the outside to the inside so you can build a "barrier" with the larger fruit if needed.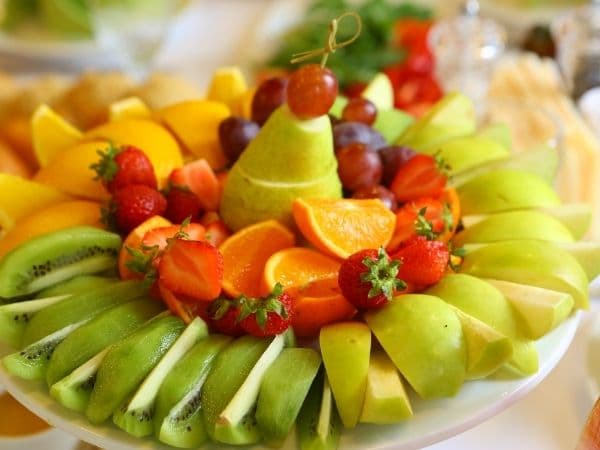 Larger cut pieces of fruit can line the outside of the board. Like slices of cantaloupe, orange, grapefruit, or watermelon.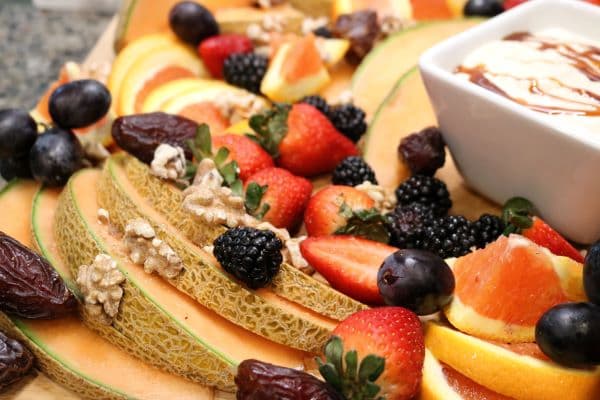 You can also place these fruits in rows on a platter for a more organized look especially if you don't have smaller fruits that can roll off of your board.
Then you can add sections of smaller pieces of fruit in between the larger sections of sliced fruit. Again, focus on odd numbers of piles, rows, or kinds of fruit.
If you want to break it up, scatter berries or nuts on top of the cut and whole pieces of fruit.
Pro tip: A nice touch is to add some interestingly shaped cuts of fruit like stars, circles, or squares. An easy way to do this is by using cookie cutters. It is a beautiful way to present the fruit.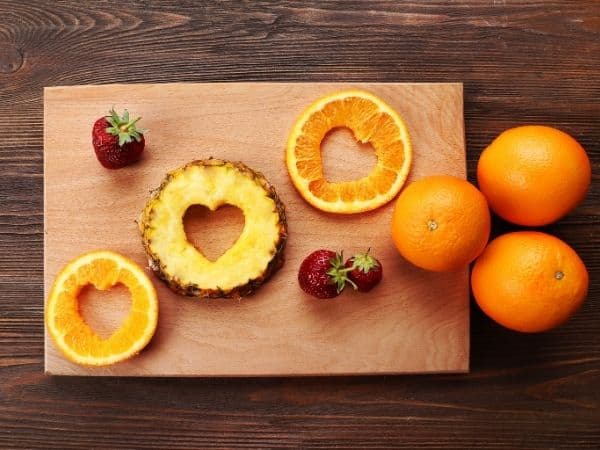 Honestly, there is no wrong way to arrange a beautiful board of fresh and dried fruits.
I hope these pictures help you develop a good idea or two so you can be on your way to enjoying your fruit charcuterie board creation.
Call Friends Over for Brunch and Serve a Beautiful Fruit Charcuterie Board
A fruit charcuterie board really does make a perfect appetizer for breakfast or brunch. It is also a great option for a hot summer night dessert!
There are endless possibilities for putting one of these together.
Take a creative step in your kitchen and make it for your next gathering. I'll bet you find it to be a very satisfying process and a delicious crowd pleaser as an appetizer or dessert.
Cheers Y'all!
P.S. Please share on your favorite social media site. And don't forget to comment below especially if you used these ideas for your own fruit charcuterie board!
SHARED WITH…