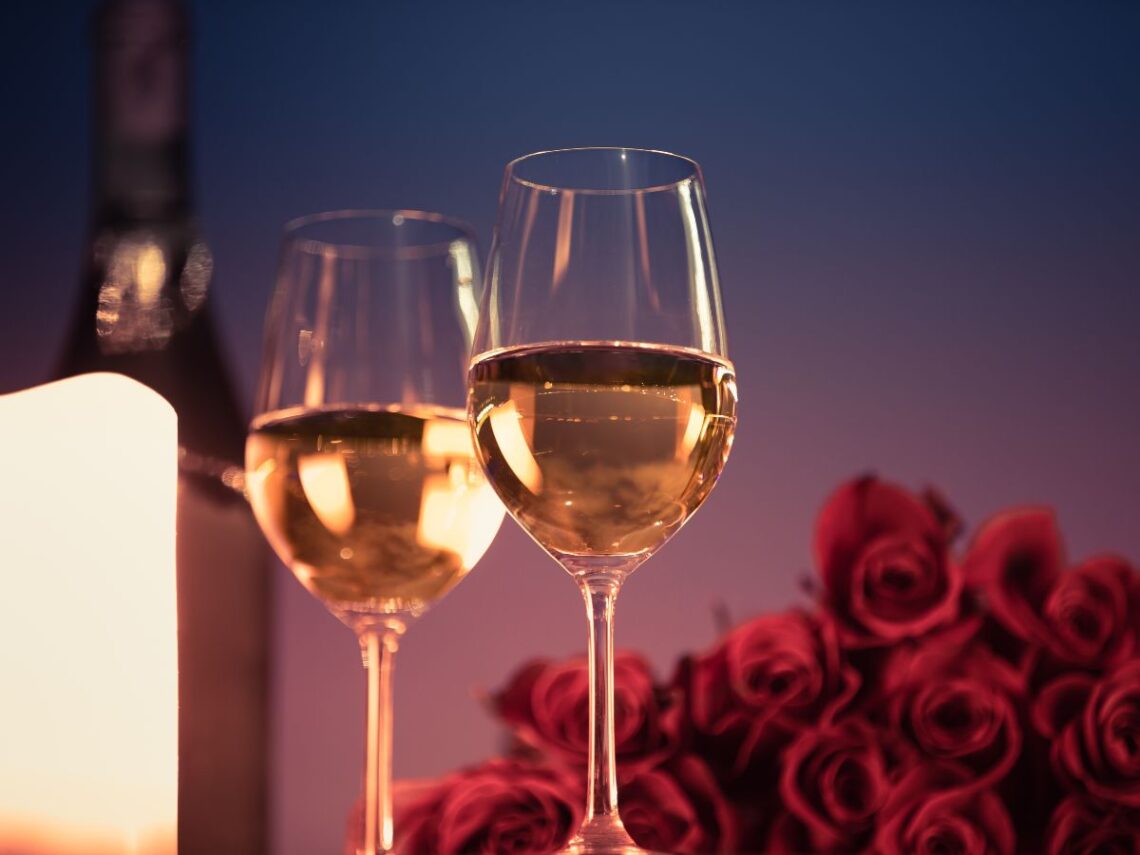 Heart Healthy Mouthwatering Menu for your Hottest Date Night
Enjoy this heart-healthy mouthwatering menu for your hottest date night meal from the grill. Heat up your relationship, not your kitchen. Working from home, schooling from home, and staying home becomes pretty monotonous. It is time to mix it up a bit!
Many of us have had a lot of time at home and together. Maybe you need a break or maybe you really need to shake it up a bit. So how about mixing it up and having a night for the two of you away from electronics, TV, kid talk, boss talk, and worry talk?
Pick a night this week or next and call it your date night. Freshen up after your workday by putting on a nice outfit that you would wear if you were going to a restaurant. It will help transition your mind from work to fun. Meet in the kitchen, pour a glass of wine, and get cooking – together.
Healthy Date Night Ideas
In the post "Healthy Date Night HOT Off the Grill" I wrote about the heart-healthy aspects of nuts, fish, and connection. Check it out for some heart health info (www.heart.org) as well as conversation ideas.
In the post, I provided a list of some open-ended questions for an activity idea over dinner. As long as you have been with that person across the table, you don't know everything about them. Mix up your conversation and you might be pleasantly surprised by what you learn.
A little ambiance with a nice tablescape will add to the charm of the evening. Your best dishes, real napkins, and low votive lights will provide just the right amount of elegance. You can either plate the food or put each item on individual platters for a little more elegant flair. This way seconds are not far away and are presented in a pleasing manner.
Keep romance in the air with a little playlist from Pandora. Jazz Lounge Radio and Dinner Party Radio are nice background playlists that won't interfere with your intimate conversation.
Date Night Meal Preparation
Start off the date with some nuts and a glass of wine while quickly working through the preparation for the meal. Any kind of mixed nuts will do, but almonds, brazil nuts, pine nuts, walnuts, and pistachios are listed among the favorites for aphrodisiac properties. Wink, wink.
Set the table, fire up the grill, and then get cooking when all the prep is complete. This meal comes together very quickly. You'll want to take it off the grill, plate it, and get it on the table lickety-split!
You can easily make the Adults Only Chocolate Sauce a night or two before and just warm it up before serving. It just takes a few 30-second zaps and stirs in the microwave to warm it up. Don't let it get hot! Don't let hot chocolate sauce derail your dessert. You just want it warm enough to dip the strawberries.
Do all the prep work for the Tomato Panzanella Salad, but wait to add the pita chips or toasted bread until just before serving. You don't want soggy bread in the salad.
Also, grill the zucchini before the fish. Or if you grill both at the same time, put the zucchini on first so the fish doesn't sit and get cold while you are finishing the zucchini.
Best White Fish from Your Grill
Fish is one of the healthiest and most delicious foods you can prepare for yourself, but it can be difficult to grill.
There is definitely an art of grilling fish, but let's start with a few tips to get you going.
The tips provided in the post The Best Recipe for Simple Mediterranean Grilled White Fish will provide a basic technique to help you grill any kind of fish whether you are grilling a whole fish or delicate fillets.
The recipe is for Grilled Mediterranean Style Halibut, but you can substitute any firm white fish in this recipe.
Savory Summer Side Dishes
Recipe for Tomato Panzanella Salad
A Panzanella salad is not as much of an Italian tomato salad as it is a stale bread salad with vegetables and olive oil. It is my favorite way to serve fresh-cut tomatoes in a salad during the summer months.
Wikipedia defines Panzanella as "A Tuscan and Umbrian chopped salad of soaked stale bread, onions, and tomatoes that is popular in the summer. It often includes cucumbers, basil and is dressed with olive oil and vinegar." You can think of it as a marinated tomato salad with bread.
It is popular all over the Mediterranean and is one of the best tomato salads you can make. It is a great addition to any warm-weather meal.
Make this delicious recipe for Tomato Panzanella Salad. You will also get some tips on How to Cut Tomatoes for Salads as well.
Recipe for Grilled Zucchini with Dill Vinaigrette
Whether it is the beginning of zucchini season and you are looking for inspiration on how to use smaller zucchini or your vegetable garden has overgrown zucchini into baseball bat size, here is a great way to grill zucchini.
You can make this easy recipe for Grilled Zucchini with Dill Vinaigrette using any of your small, medium, or even oversized zucchini. This is one of my favorite recipes that I use all summer long.
Dessert for Your Hottest Date Night
Make this delicious Adults Only Chocolate Dipping Sauce recipe for your next date night!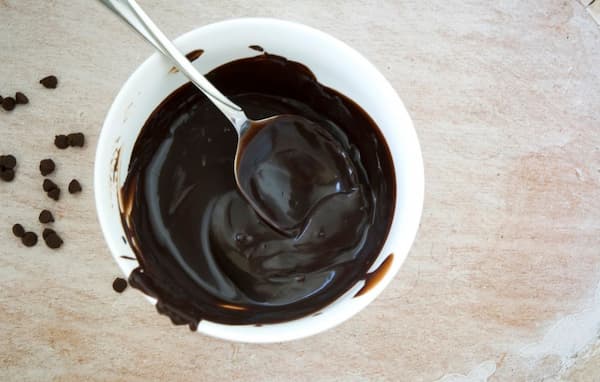 This easy chocolate sauce recipe is perfect for romantic dinners like Valentine's Day. Even if you dine out in a restaurant, skip the dessert and come home to this decadent yet light dessert.
Chocolate Dipping Sauce is a great recipe for an indulgent, adult-only, kind of dessert. However, you can leave out the alcohol and make it family-friendly as well.
Wine Pairing
I reviewed a lovely Vinho Verde recently which would pair very well with this meal. You can easily enjoy a Sauvignon Blanc as well and you'll find a recommendation for Oyster Bay Sauvignon Blanc and Josh Cellars on my website.
Another great wine recommendation is Pinot Grigio or Pinot Gris.
This dish stands well with an acidic white wine with some fruit and citrus on the palate.
Specifically, the King Estate Willamette Valley Pinot Gris is a stunner with fish and for around $20 it is a great value.
There are classic hallmarks of Pinot Gris on the nose with aromas of ripe pear, lime zest, peach, honeysuckle, and lemon blossom. There are ripe fruit flavors of citrus and pear with good body and structure. It has a gorgeous bright acidity which carries through to a fresh, balanced, and lingering finish.
The acidity and round citrus flavors allow this wine to pair very well with all of the main course recipes on Your Hottest Date Night Menu.
Enjoy a Night In with your Special Person
Take a moment, take a breath, and take a break with your spouse or significant other. Enjoy an evening together free from the daily grind.
This meal comes together quickly leaving time for what you really want and need which is to connect to the one you love. Enjoy this healthy date night menu from the grill so you can heat up your relationship, not your kitchen.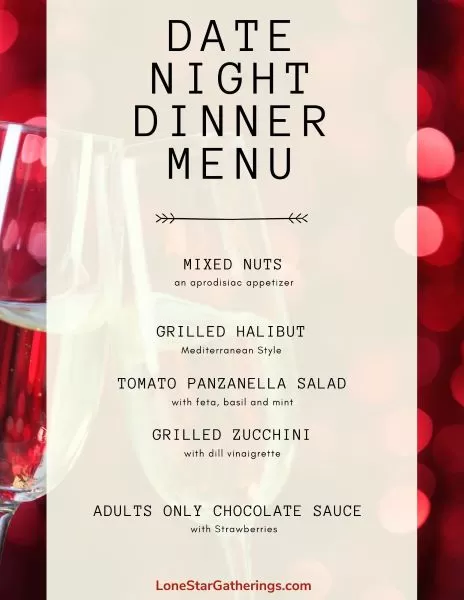 Cheers Y'all!
P.S. If you like this menu please share it on your social media! Don't forget to comment after you have made it and let me know how you enjoyed the dishes!