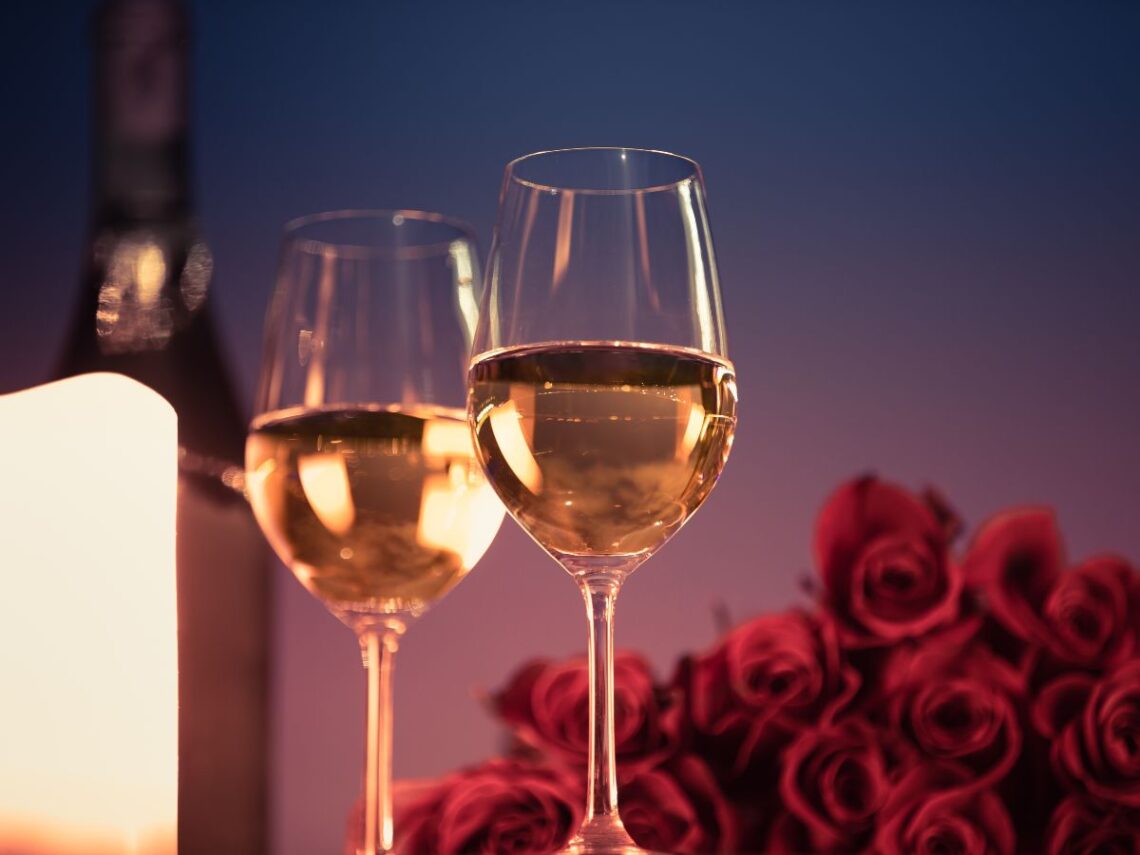 Heart Healthy Mouthwatering Menu for your Hottest Date Night
Enjoy this heart-healthy mouthwatering menu for your hottest date night meal from the grill. Heat up your relationship, not your kitchen. Working from home, schooling from home, and staying home becomes pretty monotonous. It is time to mix it up a bit!
Many of us have had a lot of time at home and together. Maybe you need a break or maybe you really need to shake it up a bit. So how about mixing it up and having a night for the two of you away from electronics, TV, kid talk, boss talk, and worry talk?
Pick a night this week or next and call it your date night. Freshen up after your workday by putting on a nice outfit that you would wear if you were going to a restaurant. It will help transition your mind from work to fun. Meet in the kitchen, pour a glass of wine, and get cooking – together.
Healthy Date Night Ideas
In the post "Healthy Date Night HOT Off the Grill" I wrote about the heart-healthy aspects of nuts, fish, and connection. Check it out for some heart health info (www.heart.org) as well as conversation ideas.
In the post, I provided a list of some open-ended questions for an activity idea over dinner. As long as you have been with that person across the table, you don't know everything about them. Mix up your conversation and you might be pleasantly surprised by what you learn.
A little ambiance with a nice tablescape will add to the charm of the evening. Your best dishes, real napkins, and low votive lights will provide just the right amount of elegance. You can either plate the food or put each item on individual platters for a little more elegant flair. This way seconds are not far away and are presented in a pleasing manner.
Keep romance in the air with a little playlist from Pandora. Jazz Lounge Radio and Dinner Party Radio are nice background playlists that won't interfere with your intimate conversation.
Date Night Meal Preparation
Start off the date with some nuts and a glass of wine while quickly working through the preparation for the meal. Any kind of mixed nuts will do, but almonds, brazil nuts, pine nuts, walnuts, and pistachios are listed among the favorites for aphrodisiac properties. Wink, wink.
Set the table, fire up the grill, and then get cooking when all the prep is complete. This meal comes together very quickly. You'll want to take it off the grill, plate it, and get it on the table lickety-split!
You can easily make the Adults Only Chocolate Sauce a night or two before and just warm it up before serving. It just takes a few 30-second zaps and stirs in the microwave to warm it up. Don't let it get hot! Don't let hot chocolate sauce derail your dessert. You just want it warm enough to dip the strawberries.
Do all the prep work for the Tomato Panzanella Salad, but wait to add the pita chips or toasted bread until just before serving. You don't want soggy bread in the salad.
Also, grill the zucchini before the fish. Or if you grill both at the same time, put the zucchini on first so the fish doesn't sit and get cold while you are finishing the zucchini.
Dessert for Your Hottest Date Night
Make this delicious Chocolate Dipping Sauce recipe for your next date night!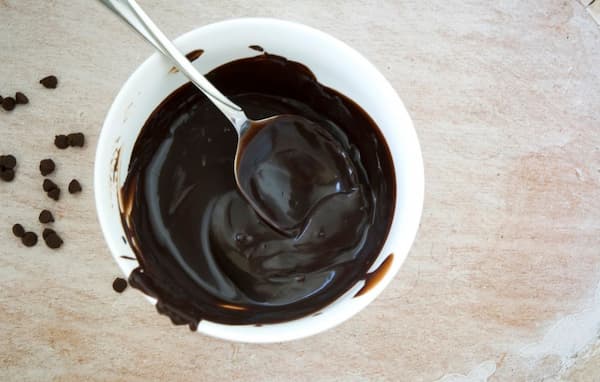 This easy chocolate sauce recipe is perfect for romantic dinners like Valentine's Day. Even if you dine out in a restaurant, skip the dessert and come home to this decadent yet light dessert.
Chocolate Dipping Sauce is a great recipe for an indulgent, adult-only, kind of dessert. However, you can leave out the alcohol and make it family-friendly as well.
Wine Pairing
I reviewed a lovely Vinho Verde recently which would pair very well with this meal. You can easily enjoy a Sauvignon Blanc as well and you'll find a recommendation for Oyster Bay Sauvignon Blanc and Josh Cellars on my website.
Take a moment, take a breath, and take a break with your spouse or significant other. Enjoy an evening together free from the daily grind. This meal comes together quickly leaving time for what you really want and need which is to connect to the one you love. Enjoy this healthy date night menu from the grill so you can heat up your relationship, not your kitchen.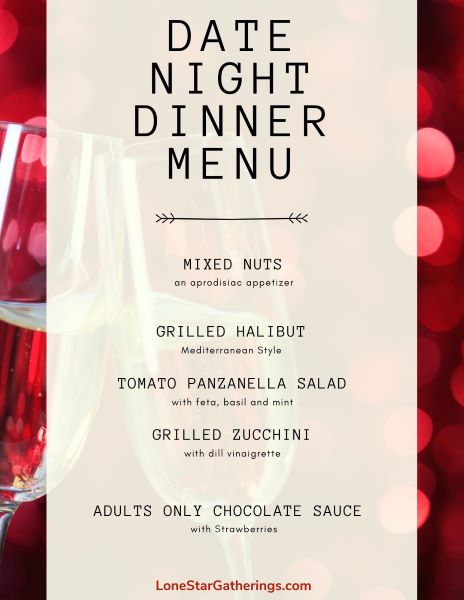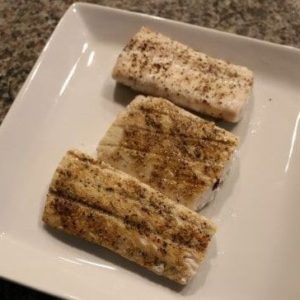 Grilled Mediterranean Style Halibut
A quick and tasty heart-healthy fish cooked on the grill.
Ingredients
1

lemon – 2 tsp fresh lemon juice

and the rest cut into wedges

2

tablespoons

extra-virgin olive oil

1 – 2

garlic cloves

minced

1 1/2

teaspoons

dried oregano

Greek

1

teaspoon

drained capers

finely chopped

Salt and pepper to taste

2 – 5- to 6-

ounce

halibut steaks

about 3/4 inch thick
Instructions
Whisk lemon juice, olive oil, and minced garlic in small bowl to blend. Stir in 1 ½ tsp oregano and capers. Season vinaigrette to taste with salt and pepper. (Can be prepared 1 hour ahead. Let stand at room temperature.)

Prepare grill for indirect, medium-high heat. Season halibut steaks with salt and pepper. Brush fish with 1 tablespoon vinaigrette, dividing equally. Place in a grill basket or pan. Grill halibut steaks until just cooked through, about 4 – 5 minutes per side. Transfer fish to plates. Whisk remaining vinaigrette; pour over fish and serve with lemon wedges.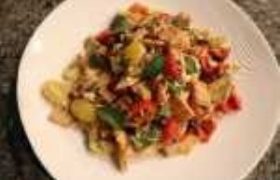 Tomato Panzanella Salad
Refreshing, quick, and a beautiful summer salad with any meal!
Ingredients
¾

lb.

heirloom tomatoes

about 2, sliced into 8 – 12 wedges depending on size

6

oz.

Cherry tomatoes

halved

1

tsp

kosher salt

divided, plus more

1

lemon for zest and juice

Small garlic clove

3

Tbsp

extra-virgin olive oil

1

Tbsp

za'atar

½

tsp

oregano

Greek

1

c

pita chips or 1/4 baguette sliced and toasted

½

tsp

honey

2

oz

feta cheese crumbles

¼

cup

basil leaves

torn if large

1/8

cup

mint leaves

torn if large
Instructions
In a medium bowl, toss heirloom wedges and cherry tomatoes with ½ tsp kosher salt to combine and set aside.

Finely grate ½ the lemon and combine with finely grated garlic. Put lemon aside.

Heat 3 Tbsp oil in a small saucepan or skillet over medium heat just until starting to shimmer. Add za'atar and cook, for about one minute, stirring occasionally. It should become slightly darkened in color and fragrant. Add lemon zest and garlic and cook for 15 seconds, then remove from heat. You just want to cook out the raw flavor of the garlic, not brown it. Transfer the za'atar oil into a measuring cup.

Place pita chips or toasted baguette in a bowl and toss with 1 tbsp za'atar oil and a pinch of salt. Try not to break the chips.

Cut reserved lemon in half and squeeze the juice into a small bowl. Add honey, ¼ tsp salt, and stir to combine. Gradually stir in za'atar oil whisking constantly until emulsified. Add more lemon, honey or salt if needed.

Pause here if other elements of the meal are not complete. Complete the next two steps just before serving the salad.

Add feta, basil, mint and reserved tomatoes to bowl with chips and drizzle dressing all over. Toss to combine.

Place salad onto a platter with all the juices in the bowl. Serve quickly so the bread does not get soggy.
Notes
(Adapted from Bon Appetit)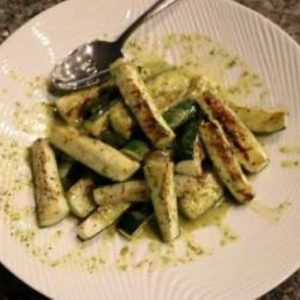 Grilled Zucchini with Dill Vinaigrette
Ingredients
1 ½

Tbsp

white wine or champagne vinegar

2

tsp

fresh lemon juice

1

tsp

honey

1

tsp

Dijon mustard

2

Tbsp

chopped fresh dill

Kosher salt and freshly ground black pepper

¼

cup

plus 1 1/2 Tbsp olive oil

2

medium zucchini

quartered lengthwise
Instructions
Heat grill to high or cook over direct heat.

Combine the vinegar, lemon juice, honey, mustard, 1 ½ Tbsp fresh dill and salt and pepper to taste in a blender. Blend until smooth. With the motor running, slowly add ¼ cup olive oil and blend until emulsified.

Brush zucchini with the remaining oil and season with salt and pepper. Grill turning, until lightly golden brown on all sides, about 6 – 8 minutes.

Remove from the grill and cut each quarter in half crosswise. Place on a platter and immediately drizzle with the vinaigrette. Garnish with the remaining dill.
Notes
(Adapted from Bobby Flay's Grill it!)
Cheers Y'all!
P.S. If you like this menu please share it! Don't forget to comment after you have made it and let me know how you enjoyed the dishes!