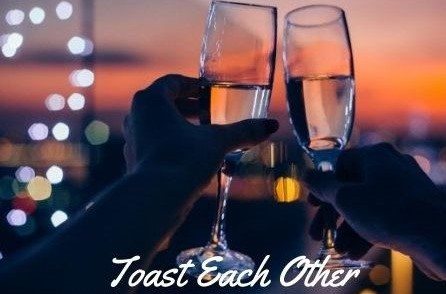 Healthy Date Night HOT Off the Grill
Enjoy this healthy date night meal from the grill so you can heat up your relationship, not your kitchen. Working from home, schooling from home, and staying home can become pretty monotonous. It is time to mix it up a bit. Just when we thought we were going to get the "all-clear" message we have locked down again!
Heat up your Lovin' not your Oven
Rather than getting in a slump for what we do not have, let's focus on what we do have right now. Many of us have had a lot of time at home and together. Maybe you need a break, but maybe you really need to shake it up a bit. So how about mixing it up and having a night for the two of you away from electronics, TV, kid talk, boss talk, and worry talk?
Working from home means you have to be careful about stopping work. Pick a night this week or next and call it your date night. Pick a time to stop work and a time to go on your date. Freshen up after your workday by putting on a nice outfit that you would wear if you were going to a restaurant. Meet in the kitchen, pour a glass of wine, and get cooking –together.
Where's the beef?
Since the Covid-19 outbreak, beef roast prices have increased by almost 20% and steaks have gone up about 12%, but the actual numbers vary depending on your source. Cattle prices may be going down, but the processing plants shutting down or reducing operations due to COVID has caused meat prices to increase. Beef purchases at stores have increased by 95% since the spring. So supply and demand are clearly part of the issue.
Yes, you could pick a chicken breast recipe, but let's raise the bar a bit. Chicken can get boring and really is an "everyday meat", so why not try a little harder on a date night and elevate the meal with fish? It is good for the heart!
Save the all-veggie night for another time as well. Meatless nights have their healthy place, but not on your date night especially if you are used to meat-based protein meals. No offense to vegetarians out there, but pescatarians can I get an A-men?
Aphrodisiac Appetizer
To start off your healthy date night meal from the grill, how about a healthy aphrodisiac appetizer? Very simply, start with some nuts. You went there, didn't you? Hang on now! Give me a second.
According to www.eatsomethingsexy.com nuts are listed as one of the favorite aphrodisiac foods especially brazil nuts, almonds, pine nuts, walnuts, and pistachios.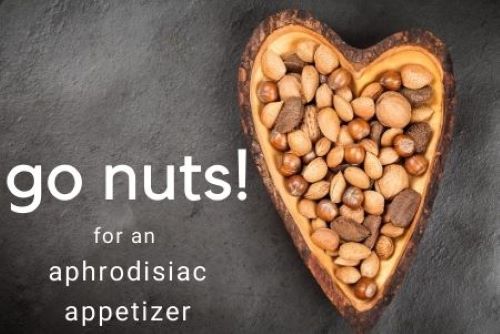 First, they are packed with protein. Protein helps provide sustained energy for any type of exercise, including bedroom "calisthenics." And that protein is also valuable in promoting dopamine and norepinephrine in the brain which studies have shown affect sexual arousal.
Second, nuts are a particularly good ingredient for men because they support testosterone production. Testosterone is the main male sex hormone, however, it is found in higher levels in women as they age. Combined with estrogen, the female sex hormone, testosterone helps with the growth, maintenance, and repair of a woman's reproductive tissues, bone mass, and human behaviors. 
For men, testosterone plays a key role in male development, and low levels can affect sexual function, mood, energy levels, hair growth, bone health, and more. Almonds contain high levels of the mineral zinc which is known to raise testosterone levels in people who are zinc deficient. And, Brazil nuts are said to boost testosterone levels due to their high selenium content.
Seriously Heart Healthy…
Third, nuts are packed with heart-healthy fats. And the combination of healthy fats, protein, and fiber can help suppress appetite and prevent overindulging.  So you won't be overly full and will have room for that dessert you two have been anticipating over dinner. Also, nuts have been proven to reduce cardiovascular disorders by lowering total cholesterol, LDL-cholesterol, and triglycerides as well as by supplying omega-3 and omega-6 fatty acids which are believed to be essential for a healthy heart.
Finally, nuts are rich in essential fatty acids some of which are the building blocks for the production of sex hormones. So crack some nuts!
Healthy Date Night – Fish from the Grill
Speaking of heart-healthy fats…there are many Heart Health benefits of eating fish. So, your healthy date night meal from the grill includes fish!
The American Heart Association (www.heart.org) recommends that people eat fish rich in unsaturated fats at least twice a week. The unsaturated fats in fish are called omega-3 fatty acids. Omega-3 fatty acids and other nutrients in fish may benefit heart health and reduce the risk of dying of heart disease.
Halibut is packed with nutrients that contribute to a healthy heart. Each serving contains omega-3, niacin, selenium, and magnesium. These nutrients help your heart by increasing your good cholesterol and reducing your triglycerides. It can also help lower your blood pressure and reduce your risk of blood clots.
Another nutrient that halibut contains is phosphorus. The second most abundant mineral in your body, phosphorus helps build bones, regulates metabolism, maintains a regular heartbeat and more. A serving of halibut provides 45% of your dietary needs.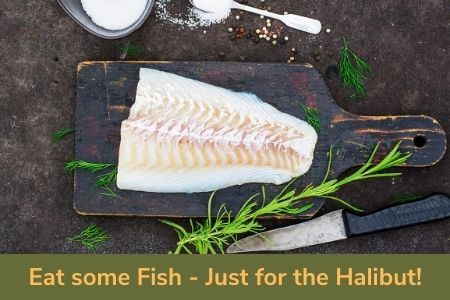 Portion sizes
Two four-ounce servings a week is good. So the size of fish you should eat at one sitting is about the size of a deck of cards.
Women who are pregnant, plan to become pregnant or are breast-feeding should eat up to 12 ounces of seafood per week from a variety of choices that are lower in mercury contamination.
Costco is great for single serving size of all kinds of fish, but you do have to pick up a big bag. If you are not a member or don't have freezer room, then your local grocery store can help. Your local grocery store seafood department will have a selection of fish they can cut to size. The majority of these fish are previously frozen and thawed in the cooler upon delivery, but the quality should still be good.
Tips for buying fish:
The meat of the fish should be firm, moist, and freshly cut without any dry spots.
It should not smell funky fishy. Fresh fish should smell like seawater or cucumber. If you wrinkle your nose, don't buy it.
Warm cars can cause a fish's quality, texture, and flavor to fade, so go straight home after you've left the grocery store and put your fish in the coldest part of your fridge as soon as possible.
For optimum freshness, cook your fish within 24 hours of purchase.
Another benefit is fish cooks very quickly on the grill, so this meal comes together very quickly. You have time to focus on each other, not lots of prepping and cooking.
Connection and Conversation
Make the evening even more special by dining in a different location. How about Al fresco on the patio or your deck or balcony? If it is too hot, then set an elegant table with your nicest dishes and use real napkins. Throw in some small votives and tea lights from the dollar store, turn down the lights, and you have an edge on romance. Add a favorite playlist of music to keep the ambiance going.
Asking a variety of open-ended questions is a great way to build that emotional connection that we all long for on a date night. Love is not self-sustaining. It requires constant maintenance.
Relationships take work! We can so easily get stuck on surface topic conversations due to the daily overwhelm. What we really need to work hard at is diving deep into those heart level conversations. Date night is not the time to talk about soccer schedules, your crazy boss, or your never-ending to-do list.
Instead, try some open-ended questions on your next date night and take turns asking and answering them. Spend time listening to your spouse's heart and soul. You may be surprised by what you learn.
Activity: Open Ended Questions
If you didn't have to work, what would do with your life?
What's another career that you think you'd love?
To your best knowledge, how do others perceive you?
If you could be insanely talented at one thing, what would you choose?
What's your favorite childhood memory?
How would you spend your time if the electricity goes out everywhere for 24 hours?
What's your favorite sex position?
What was the first thing you thought of me?
What can I do that best says, "I love you."?
How have I succeeded in our marriage this week?
Wrap it Up: Sexy Dessert
Your healthy date night wraps up with strawberries, whipped cream, dark chocolate, and your creativity. If you need more aphrodisiac assistance, look up Dr. Ruth on YouTube! She's a hoot and gives really great advice.
Wine Pairing
I reviewed a lovely Vinho Verde recently which would pair very well with this meal. You can easily enjoy a Sauvignon Blanc as well and you'll find a recommendation for Oyster Bay Sauvignon Blanc and Josh Cellars on my website.
Take a moment, take a breath, and take a break with your spouse or significant other. Enjoy an evening together free from the daily grind. This meal comes together quickly leaving time for what you really want and need which is to connect with the one you love. Enjoy this healthy meal from the grill so you can heat up your relationship, not your kitchen.
Select the menu below to go to the recipes.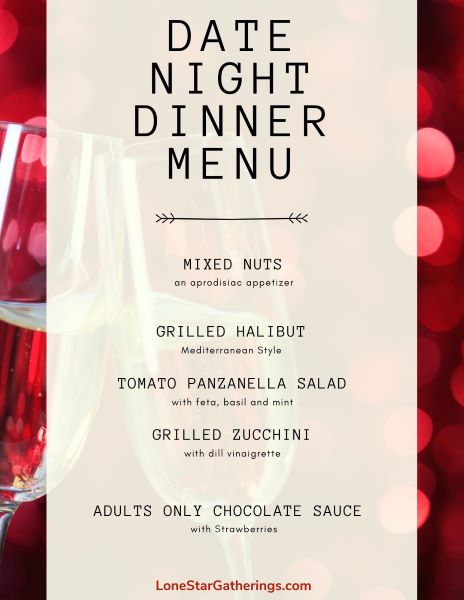 Cheers Y'all!
P.S. If you enjoyed this please share it with friends! You can email them the link and share on Facebook or your favorite social media.