Wine Exploration – Casal Garcia a Great Patio Pounder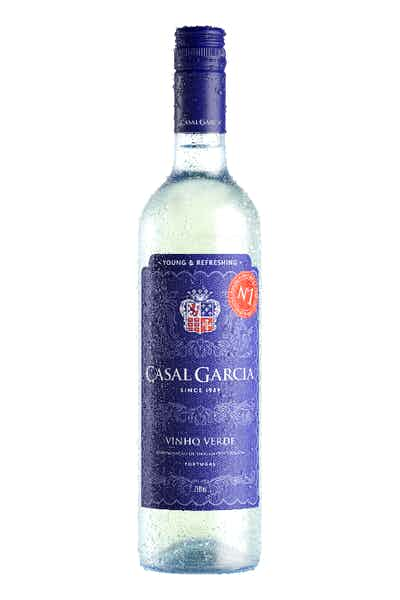 It's a Wine Up Wednesday and for this wine exploration, we are tasting Casal Garcia a great patio pounder! A Vinho Verde from northern Portugal!
At the initial tasting of Casal Garcia Vinho Verde white wine, I found it is young, refreshing, and will most likely make you smile while you enjoy its light fruit notes and minerality.
Have you ever had one of those moments, a quiet almost sneaky moment, when you are sitting in an idyllic setting, the world is right in your soul, and you just smile?
In those peaceful quiet times of reflection, you smile at the beauty before you. You smile at the enjoyment of the moment, feeling the rarity of it. There is a wellspring of gratitude that comes up with thanks for what you are experiencing, and you smile.
Add this Vinho Verde to the picture and your smile gets bigger!
Producer
Vinho Verde is a widely consumed white wine from Northern Portugal. This wine is not named for the varietal, but for the area where it is grown. Many people in the region suggest that the name comes from the verdant natural setting which is comprised of nine sub-regions in the Douro Valley.
The Vinho Verde wine region starts just below the Portuguese-Spanish border and extends all the way to the Atlantic Ocean. This region was established in 1908, though the area didn't receive its Denominação de Origem Controlada (DOC) until 1984. The wine is thought to have originated in the Minho province in the far north of Portugal.
Casal Garcia winery is located in the northern part of Portugal just east of Port. This winery has been in business since 1939. The story of the winery begins with a coincidence. Apparently, in 1939, a French winemaker named Eugène Hélisse was traveling by train through the area.
He was so impressed by the condition and layout of the vineyards he saw in this part of the country that he got off the train which was returning him home. He had to know more about this wine region! He did not know at the time that this serendipitous interruption in his journey would take him on a completely different and unexpected path.
Eugène Hélisse went to a particularly impressive vineyard and inquired with the owner, Roberto Guedes, about his property, cellar, and its winemaking capabilities. In short order, a new partnership was born.
What is Vinho Verde?
Vinho Verde is a grape varietal that can be produced to make a light, refreshing wine. It has lots of floral and green fruit notes which should be enjoyed young.
I would not keep these wines for more than two years. After you have enjoyed one, you will find saving them is hard to do. This could easily become your new favorite porch pounder, especially in the hot summer months!
Vinho Verde white wine is usually made from local grapes such as Alvarinho (Albarino), Loureiro, Trajadura, Arinto, and Azal.
Wine Exploration: Casal Garcia and t
he
Vinho Verde Wine Blend
Casal Garcia is a blend of Trajadura, Loureiro, Pedernã, and Azal.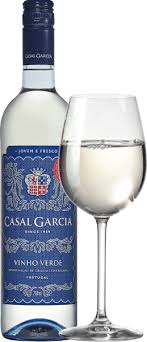 Trajadura or Treixadura as it is known in Spain lends lemon aromatics to the blend along with white floral notes.
The aroma of Loureiro wines is said to resemble that of laurel flowers, also orange blossom, acacia and lime blossom, overlaying apple and peach fruit.
Pedernã or "Arinto" in Portugal, makes vibrant wines with lively, refreshing acidity, often with a mineral quality, along with gentle flavors reminiscent of apple, lime and lemon.
Azal is the second most widely planted grape variety in this region after the Loureiro variety. Wines blended with this grape are light yellow colored and give flavors of orange citrus and green apple. It always adds a little 'zest' to the bottle.
This particular Vinho Verde is still, but if you pick up a different brand, you might enjoy some fizz.
Vinho Verde wines often have slight carbonation to them, though not enough that it could be referred to as sparkling wine. The Italians often refer to it as "frizzante".  This is a semi-sparkling wine, where the second fermentation takes place in special pressurized tanks. Following the formation of bubbles, the wine is bottled. The frizzante type has about half the pressure of Spumante or champagne.
Generally speaking, you could say frizzante wines are a good choice when you want a joyful, quintessentially entertaining, democratically priced wine of which you can cheerfully polish off the entire bottle. You'll empty the Casal Garcia bottle pretty easily even without the playful frizzante.
Wine Tasting Notes: Vinho Verde
Time for some wine exploration of this Casal Garcia Vinho Verde.
Swirl
Upon giving the wine a tour around the glass I found the color is a very light yellow with a transparent green hue. Much like you would find on a slightly under-ripe lemon peel. It is incredibly clean and light with a pass around the glass.
Sniff
The nose transports you to a lemon grove surrounded by budding citrus trees with white floral scents floating in the cool breeze. You'll find fresh Meyer lemon, apricot, honeysuckle, and white flower notes abound.
Sip and Savor
The Trajadura grape is very much in play on the front of the tongue. It is primarily a blending variety that adds body and light lemony aromatics to wines. You really get the lemon, but as an aromatic, not the tart juice. Lime peel, Thai basil, apricot, and white floral acidity dance across your tongue begging for raw seafood.
There are minerality and salinity tastes to the wine that plays in the background, mostly tamping down the citrus and adding some base elements. Cold, roasted pineapple plays around the citrus notes adding to the salivating factors in the mouth. There is also an element of green apple and under-ripe pear that balance out the citrus. Although there is some really yummy fruit-forward play in the wine, it is definitely not sweet.
Possible Pairings from this Wine Exploration of Casal Garcia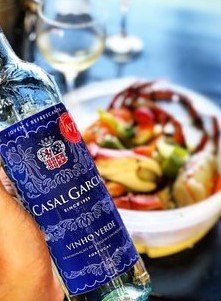 Try this with my Grill out for Labor Day Menu!
If you are tasting this Vinho Verde white wine (yes, there is a red), you will find the high acidity makes it ideal for pairing with all forms of seafood, particularly when complemented by a rich sauce or a coating of fried breadcrumbs which is traditional in Portugal.
Because of the wine's bracing acidity and oceanic minerality you should entertain it as a fantastic partner to raw shellfish as well. As the dominant food of Portugal is seafood, it makes sense that the wines produced there would pair well with it. However, pork and potato dishes are also quite common.
I would not hesitate to serve it with spicy Asian dishes either.
Recommendation
I hope you enjoyed this wine exploration of Casal Garcia. I highly recommend this wine which is also an incredible value. This tasty bottle will set you back a whopping $6- 9 depending on where you shop. Your eyes have not deceived you! Yes, less than $10 a bottle!
Grab it by the case cause you'll drink this refreshing, zippy wine all summer long.
Cheers Y'all!