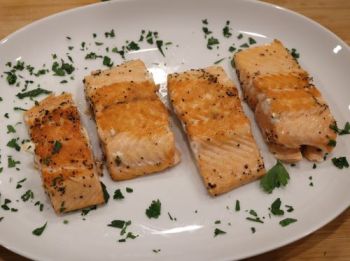 Simple Pan-Seared Salmon Recipe for an Elegant, Healthy, and Delicious Dish
This Simple Pan-Seared Salmon recipe makes an elegant, healthy, and delicious main dish you can confidently share with others.
Salmon is a deliciously healthy fish that can be prepared in many different ways. In this blog post, we will show you the best way to cook salmon with skin on the stove. This dish is simple but elegant enough for company!
First, brine it to season the fish and keep it moist. Then pan sear with no oil – just salt and pepper.
Invite friends over and make this simple and elegant dish as part of your Double Date Dinner menu today!
Why Salmon IS Good For You!
Salmon is the king of fish when it comes to nutrition. It has high levels of Omega- fatty acids, which are essential for brain function and heart health. Plus, salmon contains anti-inflammatory properties which are a root cause of many chronic diseases including heart disease, arthritis, diabetes, and cancer.
Even bears know salmon is healthy!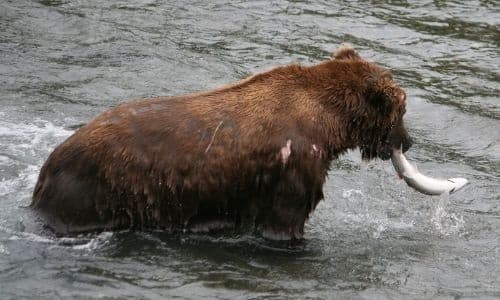 Salmon Benefits Your Health
Healthline lists the following benefits of eating salmon.
Salmon is rich in long-chain omega-3 fatty acids, which have been shown to reduce inflammation, lower blood pressure, and decrease risk factors for disease.
This fish is an excellent source of protein which your body needs to heal, protect bone health, and prevent muscle loss. Salmon provides 22–25 grams of protein per 3.5-ounce (100-gram) serving.
Also, salmon is an excellent source of several B vitamins, which are needed for energy production, controlling inflammation, and protecting heart and brain health.
Consuming salmon can help protect against heart disease and stroke. Salmon's ability to boost levels of omega-3 fatty acids in the blood helps balance the omega-6 fatty acids. This balance can lower the risk of heart disease.
It is a good source of potassium which helps manage blood pressure and in turn reduces your risk for stroke.
These benefits are amazing! Adding salmon to your diet just two times a week can help boost the nutrients your body needs to fight diseases.
What are the Ingredients in this Pan Seared Salmon Recipe?
This salmon recipe is so simple it only has five Ingredients:
– Center-cut (3/4 to 1 inch thick) salmon fillets with the skin on
– Kosher salt
– Freshly ground black pepper
– Lemons
– Water for the brine solution
How do you Brine Salmon?
To make the brine you just dissolve ½ cup of salt in 8 cups or 2 quarts of water in a large pot or container. Place the fish in the solution and let the fillets soak for 15 minutes. Leave the container on the counter at room temperature.
There is no need to refrigerate it during this process.
Why Should You Brine Salmon?
Brining the salmon adds seasoning to the fish as well as moisture. This helps it stay moist during the cooking process. Dry fish is not very tasty nor does it have an appealing texture.
What is the best way to cook Salmon on the stove?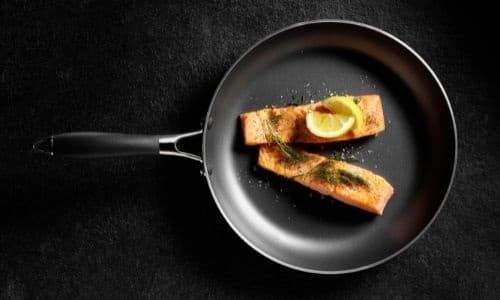 I find a non-stick skillet works really well. Start with a cold 12-inch skillet. Sprinkle ½ tsp salt and ½ tsp pepper evenly around the bottom of the skillet. Place the salmon skin side down on top of the salt and pepper. Then turn the burner up to medium-high to cook your fish.
What is the Correct Salmon Temperature When Cooked?
The USDA recommends cooking fish and shellfish to an internal temperature of 145 degrees F (62.8 degrees C). Many cooks find this temperature overcooks the salmon. Unlike how you cook many white fish varieties, you don't want salmon to be super flaky when cooked.
Treat salmon a bit like a steak when cooking. Think rare, medium-rare, medium, and well done.
The internal temperature in the center of the salmon when cooked medium should measure between 125 to 130 degrees Fahrenheit. Make sure you insert the probe into the thickest spot.
Keep in mind the fish continues to cook after you remove it from the heat source.
If you prefer medium-rare or if you are cooking wild-caught salmon, you can stop cooking at 120 degrees.
For this pan-seared salmon recipe, the fish is considered "done" when the internal temperature reaches 125 degrees Fahrenheit. With this salmon recipe, we cooked our salmon for about 6 – 8 minutes a side on medium-high heat to reach this temp, and it was perfect!
Again, if you are using wild-caught salmon, which is what I use, then remove the fish from the heat with an internal temperature of 120 degrees Fahrenheit.

What do you serve with Simple Pan Seared Salmon?
Serve your salmon fillet with green beans or roasted potatoes as a healthy side dish!
You can also add a nice leafy green salad like the Salad Greens with Apple and Celery which boosts the health benefits of this meal. It also has a very tasty vinaigrette for the dressing which you can use on any salad.
Extend seafood on your menu with a spicy gazpacho soup with shrimp. Or as I call it, a Faux-spacho recipe.
For a complete meal, use the Double Date Dinner menu and recipes for a healthy, elegant, and delicious meal to share with friends.
Invite Friends Over and Cook this Simple Pan Seared Salmon Recipe!
This simple and elegant pan-seared salmon recipe is a great way to start off the new year. The dish is amazingly healthy, tastes fantastic, and will only take you about 30 minutes from start to finish. To make this meal even more special for your guests, try using our Double Date Dinner menu as well!
If you're not sure how to put together an entire dinner party on your own or if it feels like too much work right now, don't worry – we've got you covered with everything but the food here at LoneStarGatherings.com!
The Double Date Dinner menu includes planning tips, recipes, wine recommendations, and support to pull this delicious menu together with ease.
Cheers Y'all!
P.S. Please share this post with your friends and family! Please pass it along in an email, on Facebook, Instagram, or with your favorite social media site.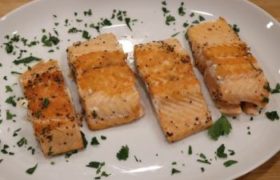 Simple Pan-Seared Salmon
Equipment
12-inch non-stick skillet
Ingredients
1/2

cup

Kosher salt plus more for seasoning

Freshly Ground Black Pepper

4

6-ounce skin-on, center cut salmon fillets

Lemon wedges
Instructions
Dissolve 1/2 cup salt in 8 cups water in a large container. Submerge salmon in brine and leave on the counter at room temperature for 15 minutes. Remove salmon from brine and pat dry with paper towels.

Sprinkle a 1/2 teaspoon salt and 1/2 teaspoon pepper in the bottom of a 12-inch nonstick skillet. Place fillets, skin side down, in cold skillet and sprinkle tops of fillets with a couple pinches of salt and pepper. Heat skillet over medium-high heat. Cook fillets without moving them until fat begins to render. The skin will just start to brown and the bottom ¼ inch of fillets turns opaque, 6 to 8 minutes.

Flip fillets with tongs and continue to cook without moving them, about 6 to 8 minutes more. Using the tip of a paring knife, check the fillet centers. They should be translucent and register 125 degrees or 120 degrees if cooking wild-caught salmon. Fillets should be golden brown and crisp on top. Transfer fillets skin side down to serving platter and let rest for 5 minutes. Or use a spatula to peel off skin before transferring to a warm platter. Serve with lemon wedges.
Notes
Adapted from Cook's Illustrated.
Note: You don't need oil in your pan for this recipe. The fat underneath the skin on the salmon fillet acts as the cooking medium.
Shared With…