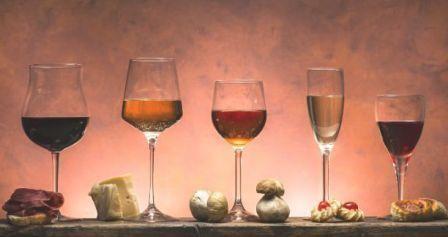 Understand Wine and Food Pairing: How to Savor your Amazing Adventure
Wine and food are meant to be together! Just ask the Italians or the French or anyone who dines in California wine country or the Finger Lakes of New York. However, creating a good wine and food pairing at home can be a challenge. Do you understand wine and food pairing?
The glorious problem with wine and food pairing is that there are so many wines and foods to choose from! So, how do you begin to understand wine and food pairing?
---
To help you get started on your amazing adventure snag my Free Perfect Pairing Guide at the bottom of this post! It gives you a wine and appetizer recipe to try together as well as tasting notes to help you explore the wine.
---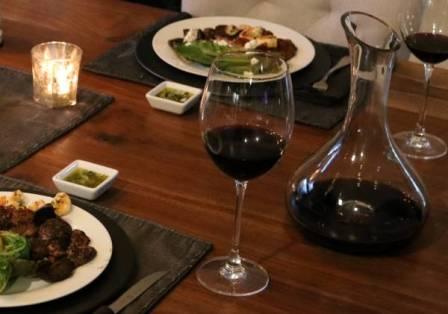 If wine and food can truly make each taste better, then they can also make each other taste BAD. Likewise, there are those thrilling pairings where the wine and the food combination enter the sublime.
Obviously, this is not about perfection and there is a lot of trial and error involved. (Oh darn! You need to drink more wine and eat more food to figure it out.) But the upside is gaining enough confidence to know roughly what to pick so that the outcome of your wine and food pairing is at a minimum good.
Humble beginnings
Although I found a passion for entertaining at home, my enjoyment of cooking came first. My wine journey actually started quite a bit later. I didn't know how to pair wine and food, so I just bought what was recommended at my local wine store.
Like many new to wine, I started out drinking sweet pink wine in a box. I kept one box in reserve which I stored above my refrigerator (gasp) until it was time to replenish the dedicated spot inside the fridge. So, I do not laugh at people who purchase box wine as I was right there in line with you at one point in time.
In other words, everyone starts at their own humble beginnings. Starting is what counts.
Do You Understand Wine and Food Pairing?
Wikipedia states wine and food pairing "is the process of pairing food dishes with wine to enhance the dining experience". In many cultures, pairing wine with food has a deep historical connection. This is especially true in those regions where wine has always been a staple at the dinner table.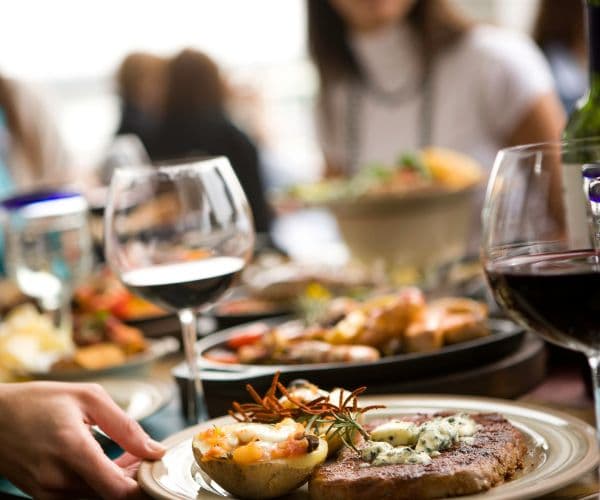 Accordingly, the wines in southern Italy pair incredibly well with the food of that region, just as the wines of the Loire Valley in France pair very well with that local food. It is all grown and consumed in the local culture, so it makes sense that it should match. Back in the day, no one needed to know if the food was acidic or fatty or had an umami element because they ate and drank what was local and was meant to go together.
Consequently, I believe consuming the local wine and food of any place you visit allows you to participate more deeply in that culture. It enhances your overall experience of any place you travel. When I travel, I basically eat my way across the region I am visiting. I usually remember the meals more than the museums.
The Fusion of it all
Our global economy changed this idea of pairing only specific regional foods with regional wines. However, "Fusion" cooking mixed things up and became the new dining expectation.
The upside is the ability to experience wines from around the world, but the downside is "fusion" broke the natural wine and food connection. This does mean, however, we get to explore and experiment more with wine and food pairings, which I would ultimately call an upside as well.
Wine and Food Pairing Mania
Surprisingly, the "art" of modern-day wine and food pairing is a relatively recent phenomenon. In the 1980s, food and wine pairing in the United States became very competitive and overly complex. Competition means rules because you have to know how to play. These rules, however, were not "standardized" and were completely dependent on the person giving their opinion at the time.
Subsequently, there are many conflicting opinions regarding the "art" of wine and food pairing. Some of the most highly regarded voices back in the day created "rules" which are downright crazy.
Too many rules…..
There were "rules" requiring the selection of a specific wine if your steak was cooked rare and then a completely different wine if your steak was medium-rare.
Additionally, the wine selection changed if your steak was graced with freshly ground black pepper. Uptight much? No wonder people were put off by wine. With these kinds of "rules", wine and food pairing seems snobbishly incomprehensible!
Later, in the 90s, yep dating myself here, things in the pairing "rules" world settled down a little. Wine and food pairing became a bit more simplified and began to appear somewhat rational.
For instance, I remember going into wine stores and seeing food pairing signs next to specific wines they were promoting. This wine goes with fish or lamb or roasted chicken. At least that pointed you in a direction without getting crazy, but it was an incredibly generalized direction. It was as if when asking for directions to a specific address you received "head that way" as a good answer.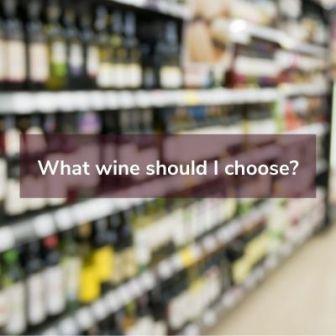 Although those store signs gave you a very basic start, they did not come close to telling the whole story. For this reason, you have to go a little deeper with your food to gain clarity for the wine selection.
My philosophy is, "Wine should be an ingredient of your meal not just an accompaniment to the food."
Dig Deeper to Understand Wine and Food Pairing
Lamb is a good wine and food pairing challenge. Specifically, think about how you are serving the meal, not just the meat. Are you serving grilled leg of lamb marinated with garlic and rosemary, roasted potatoes, and balsamic green beans? Or will the lamb be served with minty mushy peas and mint jelly on the side? How about roasting it with Moroccan spices? Due to the spices and different flavor profiles, these do not necessarily call for the same wine pairings.
Another challenge is serving chicken. Do you pair it with a red or a white? Well, are you serving chicken which is grilled with herbs under the skin or are you serving Coq au Vin? The base of your recipe is not always the way to pair the wine. Instead, look to the sauce or strongest herbs and spices in the recipe for direction.
Now take that chicken and completely change the texture and flavor profile by frying it. I know fried chicken is a picnic staple throughout the warm weather for many, but I look forward to it in the fall (or anytime my Mom's friend Wanda makes it) because it can be a heavy meal. Elastic waistband pants here I come!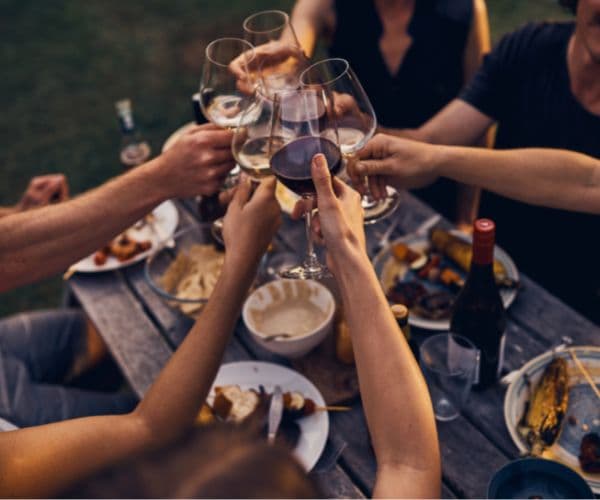 Don't overthink
For instance, let's say I decide to make a fried chicken dinner with mashed potatoes, green beans, biscuits, and mac and cheese. Now what? Firstly, do not get on the scale the next day. Secondly, do I serve this meal with white or red wine? The answer is incredibly complex and incredibly simple. Quite frankly, it depends on who you ask and what they like.
Recently, I read an article about pairing a fried chicken meal with wine. Well, actually the article mentioned five different wines, one for each element of the meal. There was a wine for the biscuits, a wine for the beans, a wine for the mashed potatoes, and different wines for the chicken and mac and cheese. Honestly! Do I really need five wines for my fried chicken meal? Talk about crazy with wine pairings! (Hint: Pick up an off-dry Sparkling Wine or a Rosé and call it good.)
If you want more pairing ideas, check out the Lone Star Gatherings Menus (under "FOOD" on the navigation bar). Each menu includes specific wine recommendations.
What if I only like one kind of wine?
Well, you don't only eat one kind of food, do you? Just start exploring and keep an open mind.
As I mentioned earlier, I started out drinking sweet wine from a box. (Again, not judging!) Most people start out with sweet wine. The palate enjoys it and seems to be more open to it when you are a novice wine consumer. However, some folks do go straight to Bordeaux wines, but they are relatively few in my experience.
Expand your wine world
So, if you want to expand your palate, try a fruit-forward wine that won't kick your palate in the teeth with the tannins. However, advance slowly and enjoy the process of expanding your wine enjoyment. Maybe take a baby step from that good old Moscato standby to a sweet Riesling and then step to a semi-sweet Riesling. Then try a dryer Riesling or a fruit-forward Chenin Blanc to continue your advancement.
Similarly, if you only drink oaky Chardonnay, then pick up a bottle of Chablis. Same grape but it has a completely different style and taste profile. Chablis wines are unoaked Chardonnay grapes produced with a profile of citrus and white flower aromas. They are typically elegant and dry with light-bodied flavors of citrus, pear, flint-like minerality, and some salinity. Then progress to exploring other full-bodied white wines like Viognier, Marsanne, Roussanne, and Sémillon.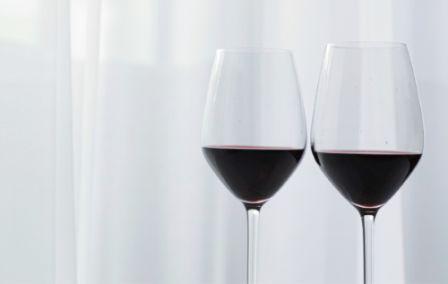 Cabernet Sauvignon and Cheezits anyone? (Actually, that pairing is pretty good.)
If you are the Cabernet Sauvignon drinker who "poo-poos" all other red wines, then I invite you to break out of your rut and accept a challenge! Start your sipping journey with a Bordeaux blend and then ease on over to a Malbec. Follow that excitement with a Syrah and please, please, please explore Petit Sirah. In other words, your palette will thank you.
For the Novice: How to Begin and Actually Savor your Amazing Adventure
Above all, get ready to have fun! You've got some exploring to do and should have fun along the way. Firstly, grab some friends. Then, pick a wine or two from a varietal you have never tried. After that, have a wine tasting event. You can even do it virtually. (Check out how at my Virtual Wine Tasting post.)
Keep it simple with a charcuterie board of a couple of meats, cheeses, crackers, and fruit, both fresh and dried. First, try the wine and take notes about what you like. Second, try the wine with one food item from the board and take note of the changes. Keep tasting while you progress with the different foods on your board.
FREE Perfect Pairing Guide
To make it even simpler to understand wine and food pairing, grab my Free Perfect Pairing Guide below which gives you a wine recommendation, a recipe to serve with the wine, and tasting notes to guide you through the exploration of the wine.
In conclusion, there is a big, beautiful world of wine out there to go with any food you set at your table. Don't get stuck – try something new. After all, you may be surprised where your adventure to understand wine and food pairing takes you.
Cheers Y'all!
P.S. Sharing is caring! In other words, if you know of someone who would appreciate reading this post, please forward it to them. Also, share on Facebook, Twitter, Instagram, or where ever you have a social media account. Thanks!