Beautiful, yet Easy, Simple Mother's Day Brunch Menu Idea
This Mother's Day Brunch idea provides a complete menu of recipes to create an elegant Mother's Day brunch at home.
Mother's Day is a pretty big deal. It is not a holiday you should overlook or take lightly. After all, we are talking about our Mothers. That amazing woman who gave life to you carried you and birthed you.
Maybe she is the same wonderful person in your life who raised you, taught you right from wrong, and protected you as you grew. She could be that special person who has come into your life and is your mother figure. Or she is that strong individual who helps you do anything or through anything.
How did the Idea for Mother's Day Start?
Britannica states "During the Middle Ages the custom developed of allowing those who had moved away to visit their home parishes and their mothers on Laetare Sunday, the fourth Sunday of Lent. This became Mothering Sunday in Britain, where it continued into modern times, although it has largely been replaced by Mother's Day."
Mother's Day in America actually began in Grafton, West Virginia. It became a national holiday in 1914 and is celebrated on the second Sunday in May.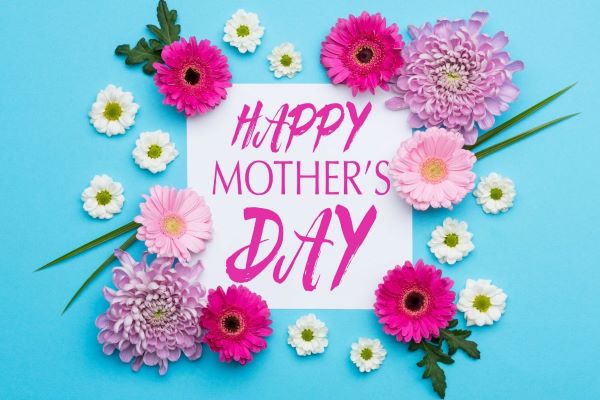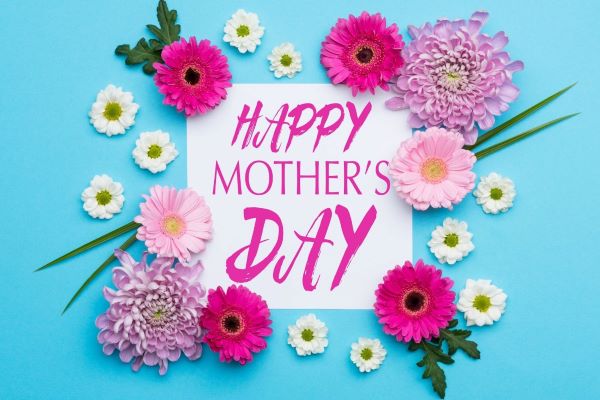 Mother's Day Brunch Idea – Show Mom Love with Food
Mother's Day is one opportunity to say thank you to that wonderful person who loved you before you were born. Who cheered you on at sports events or encouraged your extra-curricular activities or attended all of your plays.
We may not remember to thank them for everything they have ever done for us, but we can remember to show them some special love on their special day.
So, do you cook for Mom or take her out? If you are a Mom reading this, would you rather go out, stand in line to get into the busy, loud restaurant, or relax at home? Hmmmm…
Maybe you are looking for Mother's Day Brunch ideas by researching the best restaurants for a Mother's Day brunch menu. Do you chance going out to a crowded and loud restaurant? Maybe you are thinking about ordering food to pick up and bring home? How cold will it be when you get it home?
Despite the many options for take-out or "curbside pickup", I ask is this worthy of your mom?
In other words, how special will mom feel when the styrofoam boxes of cold food are opened to reveal the green beans are coated in mashed potatoes? AND everything is cold.
I must admit this is not a pretty sight. And not really worthy of representing a heartfelt thank you to this amazing woman who does so much for you!
What is a good Mother's Day Brunch Menu?
There are loads of things you can cook for your Mother's Day brunch. But, we want this to be more than just scrambled eggs and bacon. Mom deserves a bit of wowing on her day as well as much-deserved pampering.
I suggest Eggs Benedict! (Gasp! Homemade???)
Hey, maybe you want to stretch yourself a little bit in the kitchen. Now is a good time! Talk about a forgiving guest! Mom will love you all the more for trying.
In addition to satisfying this Mother's Day Brunch idea, maybe you are also searching for a meal that you can savor creating. The reward is twofold. You'll feel pride in attempting something new and you'll see the appreciation on your special person's face.
Her delight in the meal you create will reward you with beautiful memories you'll cherish forever. Priceless.
What are some Mother's Day Brunch Ideas?
Well, relaxing at home sounds good to me. But what do you cook to make Mother's Day special?
This Mother's Day brunch idea presents a beautiful yet easy simple Mother's Day brunch menu you can absolutely cook. Believe it or not, you can make it for your Mom or a special person in your life in relatively short order.
In addition, if you are the one to be honored, here is another idea for Mother's Day brunch. Simply hand this menu and these recipes to your special person and ask them to make this delicious Mother's Day Brunch menu for you. Sometimes a nudge in the right direction is all they need.
Here is Your Beautiful Mother's Day Brunch Menu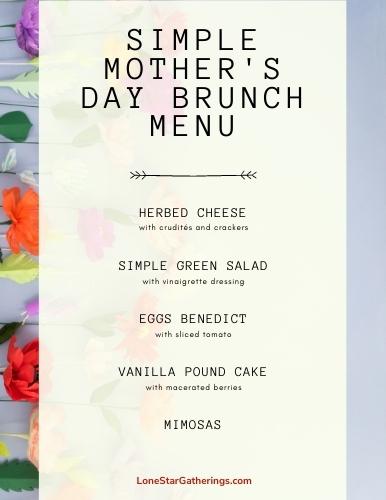 Appetizer
We are beginning the Simple Mother's Day Brunch Menu with a beautiful yet easy appetizer. Purchase an herbed cheese like Boursin and serve it with sliced cucumber rounds and some crackers.
Or if you would like to step it up a little bit, make this recipe for Creamy Salmon Cucumber Bites. It is elegant and so delicious! However, you save time by making it mostly in advance, so serving is a breeze!
It is always a good idea to have a little nosh available for your honored guest to enjoy while you finish up things in the kitchen. It takes the edge off your self-imposed pressure to produce brunch. You won't need to worry that Mom is starving, so you can focus on making that gorgeous hollandaise sauce.
Mother's Day Brunch Idea for the Main Course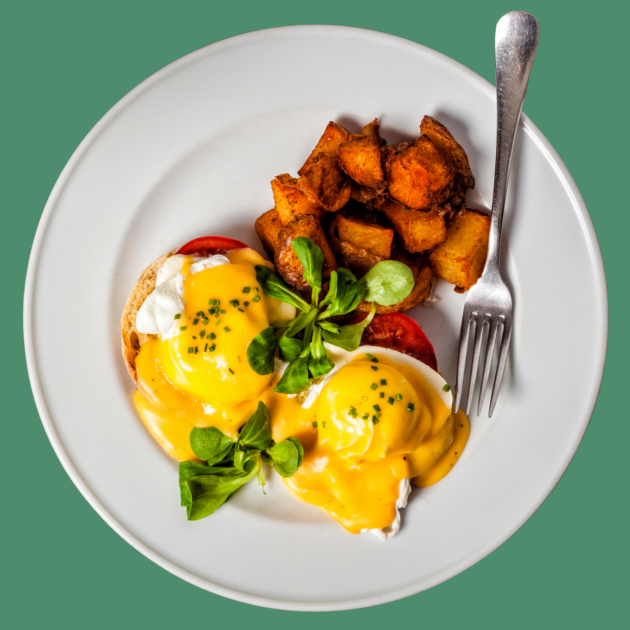 This Mother's Day brunch idea is centered on Eggs Benedict for your main course. Now before you proclaim this is too difficult and exit stage right, please keep reading. You will see this menu is absolutely achievable by even a fairly new cook. Just take a few breaths and take your time.
For a breakdown of Eggs Benedict techniques check out the post on how to poach eggs at "Happy Eggs Benedict – The Poach". You can also learn about different ways to make hollandaise sauce at "Happy Eggs Benedict – The Sauce". You'll find out about the traditional sauce plus how to make hollandaise in a blender. There is also a healthy hollandaise recipe and even one with untraditional avocado! Could this be how "green eggs" and ham were started? I digress.
Side Dish
Eggs Benedict is so rich and filling! I have ordered it at restaurants many times and am usually disappointed. Not only is there not enough hollandaise sauce but there is often a side dish of deep-fried potatoes. No, no, no!
A simple green salad with a lovely homemade or store-bought vinaigrette is all you need for your side to Eggs Benedict at home.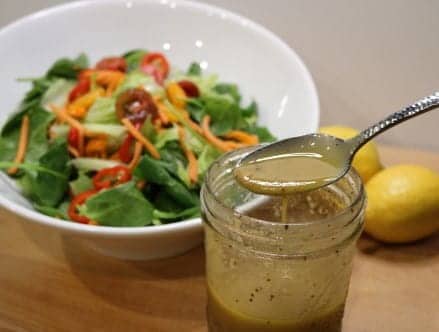 For instance, you could make this Spring Brunch Salad with Dijon vinaigrette for a delicious addition to your brunch. But there is absolutely nothing wrong with buying a "salad in a bag" and adding a store-bought vinaigrette.
Salad keeps things lighter and healthier. You save time by making most of it in advance (like that homemade vinaigrette or chopping veggies). Plus it helps you feel less bloated so you can have room for dessert!
And speaking of Dessert…
With this Mother's Day brunch menu, we are exercising the simple, easy, and beautiful parts with dessert. Purchase a fresh pound cake from your grocery store bakery. Serve this with macerated berries on top for a delicious, fairly light, eye-catching, and delicious dessert.
It looks beautiful. You couldn't make a dessert this lovely any easier. And despite being simple, it is incredibly delicious.
Your Beautiful, yet Easy, Simple Mother's Day Menu Awaits
Now that you know what you are going to cook for Mother's Day it is time to get shopping.
If you need some quick assistance, pick up my complete grocery list for your beautiful, yet easy, simple Mother's Day Brunch Menu. Just sign up for it below.
Not only will you receive my grocery list, but you will also get a STEP-BY-STEP plan to complete the entire menu for Mom's enjoyment.
This plan has step-by-step directions to prepare the appetizer, main dish, side dish, and dessert. And, all of your dishes come out at the right time. Nothing left behind or forgotten!
Even Easier Mother's Day Brunch Idea
If you think the Eggs Benedict is too much, then you can certainly opt for this Crustless Quiche. It also comes together quickly and can be served with the rest of this menu.
For an Even More Elaborate Mother's Day Brunch Idea
Perhaps you are looking for a more elaborate Mother's Day Brunch menu idea? No worries! I have even more amazing and delicious ideas for your fabulous brunch!
Please read all about this Elegant Mother's Day Brunch Menu for other Mother's Day brunch recipe ideas.
Mother's Day Brunch Ideas for Wine Recommendations
The Mother's Day Brunch menu has Mimosas listed. Not sure how to make it?
Pour one ounce of orange juice in a Champagne flute.
Top juice with Prosecco or Champagne of your choice.
If your special guest is not an orange juice fan, you can also use cranberry juice for a festive look.
Of course, you do not have to add anything to a good Prosecco or glass of Bubbly.
If you are in search of Sparkling Wine suggestions to go with your Eggs Benedict then I have something for you to read. Check out my post on "American Sparkling Wine: The Case to Celebrate Amazing Local Bubbles".
A Beautiful Mother's Day Brunch Idea
With or without orange juice, this Beautiful yet easy Simple Mother's Day menu will make you and your Mom feel even more special on Mother's Day.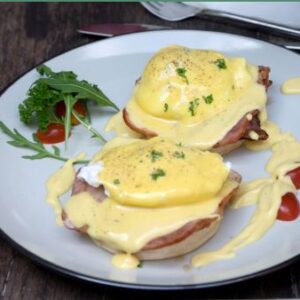 Eggs Benedict, Step by Step
This is fairly easy, delicious, and impressive. To keep the eggs benedict warm, place a jelly roll pan or platter in the oven and heat to 200F. When you get to step 7, turn the oven off so you won't overcook the elements warming on the platter.
Equipment
Small Sauce pan

Measuring cup

blender

4 small bowls or ramekins

12 inch skillet

Slotted spoon or spider

Large skillet for the bacon

Whisk
Ingredients
Hollandaise
3

large egg yolks

1/4

tsp

salt

Pinch

pepper

I use a small pinch of cayenne

1-2

tbsp

fresh lemon juice

I use closer to 2 tbsp

1/2

cup

unsalted butter
Base
8

large eggs

1

T

White Vinegar

4

English muffins

split

8

slices

Canadian bacon

bacon or Prosciutto

2

tablespoons

finely chopped fresh chives

butter
Instructions
Prepare for poaching. Fill a large 12-inch skillet with one inch of water and add 1 tablespoon white vinegar. Cover with a lid and bring the water to a boil. Crack 4 eggs into separate small bowls or ramekins. Set aside.

Make the Hollandaise. Melt ½ cup butter in a small saucepan on low. Heat until melted, hot and foamy. Transfer to a measuring cup. Set pan aside.

Place the egg yolks, 1 tablespoon lemon juice, and salt in a blender and blend on high speed until combined, about 5 seconds.

Remove the insert in the blender lid while still blending, and immediately start pouring the hot melted butter in a thin stream of droplets. (You may need to protect yourself with a towel in case of spatter.)

By the time two thirds of the butter has gone in, the sauce will be a thick cream, but continue to stream all the butter into the blender until incorporated. Sample the sauce, and blend in more seasonings and/or lemon juice to taste.

Transfer the sauce into the pan you used to melt the butter. Press a piece of plastic wrap directly onto the surface of the sauce, pop on the lid, and set aside.

Toast the English muffins. Spread a little butter on each and place on a platter or jelly roll pan warmed in the oven. Keep warm in the oven.

Cook the bacon. Place 4 slices of the bacon in a large skillet over medium-high heat. If using regular bacon, cut the slices in half and cook eight pieces at a time. Cook, flipping once, until the bacon is warmed through and crisp, about 2 minutes per side. Drain on paper towels. Repeat with remaining bacon.

Place one slice of Canadian bacon or two half pieces of regular bacon on each buttered English muffin half. Return the pan or platter to the warmed oven. Place four dinner plates in the oven (which you remembered to turn off) to warm.

Poach the eggs. When the water is boiling, remove the lid and reduce the heat to a low simmer — just a few bubbles should be rising to the surface. Holding the ramekin just over the water, gently slide each of the 4 eggs in one at a time. Put the first egg at the 12 o'clock position of the pan, the next at three, then six and nine. Cook until the white is set but the yolk still jiggles when you lift up the egg with a slotted spoon, 4 to 6 minutes.

While eggs are cooking, crack the remaining 4 eggs into the now-empty bowls.

Remove each egg starting at the 12 o'clock position with a slotted spoon and place in a saucepan of warm water. Repeat the poaching process.

Putting it together. Remove the platter of muffin halves and bacon from the oven. Carefully remove one egg from the poaching pan with a spider or slotted spoon and blot excess water from the spoon with a paper towel. Place 1 poached egg on top of the muffin with bacon. Repeat the process with all of the eggs. If the hollandaise has thickened, thin it out by whisking in 1 to 2 teaspoons hot water. Spoon some hollandaise on the eggs and top with a sprinkling of chives. Pour the remaining Hollandaise in a bowl or gravy boat.

Serve the Eggs Benedict family-style on the warmed platter or transfer to warmed plates. Serve with the extra Hollandaise sauce.
Cheers Y'all!
P.S. Sharing is Caring. I would so appreciate it if you would share this post! Think of friends that would enjoy this information and either email them a link or post on your FB page. Thanks in advance.
Shared With…
Between Naps on the Porch, Met Monday #690