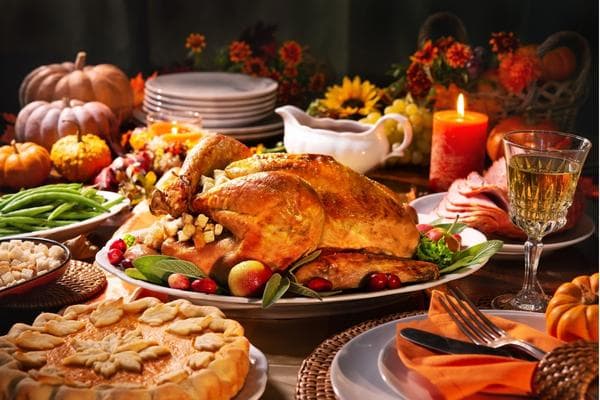 Choosing Great Sparkling Wines and Best Champagne for Thanksgiving Dinner
If you are in search of great sparkling wines and the best champagne to pair with your Thanksgiving dinner then grab a glass of wine and read on.
The holidays are fast approaching, and that means it's time for Thanksgiving! This is one of my favorite times of year because I love getting together with family and friends to celebrate. Of course, no celebration is complete without some delicious food. But what should you drink with your Thanksgiving feast? Champagne and sparkling wine pair perfectly with everything on the table! In this blog post, we will explore the best champagne and sparkling wines to pair with your Thanksgiving dinner.
Thanksgiving: A Great American Holiday
Thanksgiving is a holiday that is steeped in history. It dates back to the early days of the United States, when the first settlers arrived from England. History claims the Pilgrims celebrated their first Thanksgiving in 1621.
The first Thanksgiving was reportedly a time of great celebration. The Pilgrims had just harvested their first crop, and they were eager to give thanks for their bounty. They invited the Wampanoag Indians for an autumn harvest celebration.
According to History, the meal may have included wild turkey, venison, fish, shellfish, onions, beans, spinach, cabbage, carrots, and perhaps peas. Corn was plentiful, but it might have shown up in a porridge sweetened with molasses. Mashed potatoes and pumpkin pie were not on the menu.
In 1863, during the Civil War, Abraham Lincoln declared Thanksgiving to be a national holiday. He did this in an effort to unify the country during a time of great strife. Thanksgiving has been celebrated as a national holiday ever since.
Every year on the fourth Thursday of November, families gather together to enjoy a feast of turkey, stuffing, and all the fixings. It is a time to give thanks for all that we have been blessed with.
Champagne and sparkling wine are the perfect beverages to enjoy with this special meal.
Why You Should Serve Sparkling Wines and the Best Champagne for Thanksgiving
There are many reasons why champagne and sparkling wine make good choices to serve on Thanksgiving.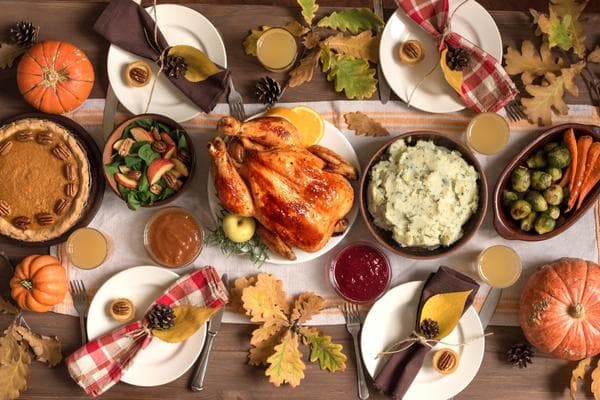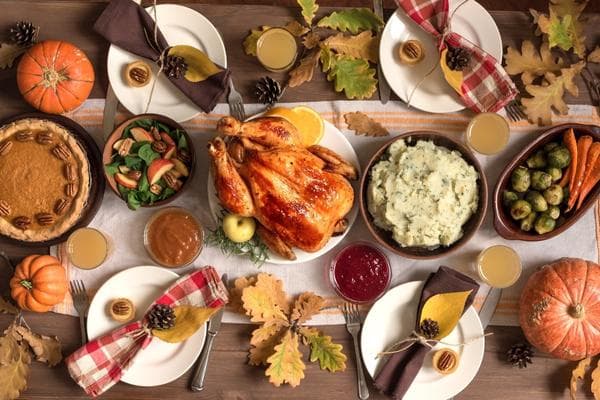 First of all, they are incredibly versatile and food-friendly. Bubbles transition very well between light and heavy foods, so they can be enjoyed with everything from the turkey to the pumpkin pie.
Additionally, the bubbles act as palate cleansers as they scrub away the flavors of your last bite of food. You can easily transition from salad to the main course to your dessert with bubbly.
Furthermore, bottles of bubbly are great aperitifs and dessert wines as they have a bit of fruitiness or sweetness.
Finally, champagne and sparkling wine also add a touch of elegance to any occasion and make a toast more festive.
Believe it or not, you can find budget-friendly bubbles! There are many great options to choose from that won't break the bank.
Still Wines for Thanksgiving
I admit there are many great wine choices for Thanksgiving wines.
Red wines like Cabernet Franc are great for the rich flavors on your table on Thanksgiving day. Beaujolais Nouveau is a personal favorite for my main event as it is good for turkey and Thanksgiving food pairings. Cabernet Sauvignon may be a personal favorite of yours, but it can overwhelm some of the more delicate foods and sweeter foods like sweet potatoes on your table. A Cru Beaujolais would be a better choice.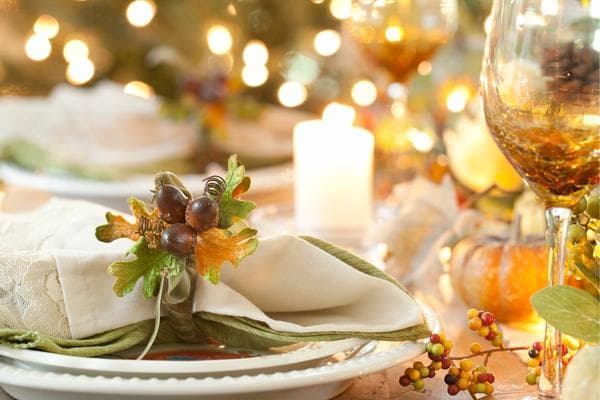 A white wine good match to consider is Chenin Blanc. It pairs well with a wide range of foods and can reveal lovely tropical fruit flavors along with apple, pear, and honeysuckle. Additionally, Sauvignon Blanc and Pinot Grigio are quite popular.
If you are looking for budget-friendly Thanksgiving still wines read about the Best Budget-Friendly Wines you need for Thanksgiving Dinner.
What is the Difference Between Sparkling Wine and Champagne?
Sparkling wine and champagne are both sparkling wines, but there is a difference between the two. Champagne is made in the Champagne region of France and must follow strict guidelines in order to be called champagne.
As a general rule, sparkling wine can be made anywhere in the world. It is also typically less expensive than champagne. Both types of wine are made with bubbles, but champagne is usually considered to be of a higher quality.
For more read Sparkling Wine the Ultimate Celebration Libation – a Love Letter.
Sparkling Wine
Think of sparkling wine as champagne's cousin with its own, unique character that compares very well with its French counterpart. Sparkling wine itself is a generic term for categorizing any bubbly made worldwide outside of Champagne, France.
Sparkling wine is typically produced using the Charmat method or the Traditional method. The Charmat method is also known as bulk fermentation because it takes place in a pressurized tank instead of inside each bottle. This allows for the mass production of sparkling wine. The Traditional method is more labor-intensive and time-consuming, but it produces a higher-quality sparkling wine.
Champagne
Many use "champagne" as a generic term for sparkling wine. However, legally the name can only grace the labels of those wines which use a specific and strict set of rules to create them and they must come from the Champagne wine region of France.
Also, there are seven varietals grown in Champagne, but the three main grapes for bottles of champagne are Chardonnay, Pinot Noir, and Pinot Meunier. the latter are the only two red grapes grown in the region.
To make a Blanc de Noir (French for "white of black") Champagne, winemakers blend only Pinot Noir and Pinot Meunier or make 100% Pinot Noir sparkling wine. These Champagnes are typically full-bodied and fruity. Pinot Meunier lends a distinctly red fruit flavor and freshness, while the Pinot Noir grapes round out with stronger citrusy notes. The combination is lovely and has body to stand up to a variety of foods. Pinot Noir Blanc de Noirs are more elegant with tasting notes of apple, lemon, and honey.
To make a Blanc de Blancs (French for "white of whites") champagne, they use only Chardonnay grapes. Winemakers may also use Pinot Gris, Pinot Blanc, Petit Meslier, and Arbane white wine grape varieties in the blanc de blancs, but chardonnay is usually the most prominent.
Blanc de Blancs made from 100% Chardonnay grapes tend to have strong citrus and green apple fruit as well as mineral flavors. They gain a sweetness of honey and creaminess of butter notes with aging.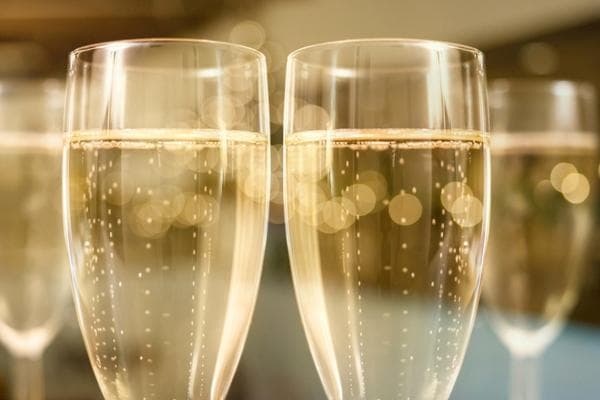 Styles of Sparkling Wines and Best Champagne for Thanksgiving
There are many different styles of sparkling wine, and they can be made from a variety of grape types. So we can't really tell you about specific flavors as a sparkling chardonnay will have a very different flavor profile than a sparkling pinot noir.
So rather than focus on the varietals, we'll discuss the styles and sweetness of sparkling wines that would be a good fit for Thanksgiving meals.
There are three main styles of champagne: brut, sec, and demi-sec. Brut champagne is the driest, sec is medium dry, and demi-sec is the sweetest. The sweetness level of champagne is determined by the amount of sugar that is added after the wine has finished fermenting.
Brut
Brut is dry champagne or sparkling wine, This style is quite dry and crisp, with very little sweetness and more fruit flavor. Brut in French means "dry". It is the most common style of sparkling wine. These contain between 0 – 12 grams of sugar per liter which makes them very approachable for food pairing.
There is also Brut Nature which is the driest most bracing sparkling wine.
In addition, you can find Extra Brut which is "extra dry" and highly acidic for a good food pairing.
Sec
The next most common style is sec, which is medium dry.
Sec sparkling wines are made with slightly more sugar than brut, and they have a bit more sweetness. So you won't have the same level of mouth-watering acidity of Brut.
However, this style is a good go-between for those at your Thanksgiving table who like sweet wines and those who appreciate dryer styles.
You might look for a Prosecco as it is a slightly sweet, more fruit-forward sparkling wine. Additionally, Spanish winemakers use this style for their Cava which is a typically dry, Spanish sparkling wine.
Keep in mind when searching for a sec style wine, search using the term "medium dry" for the best results.
Demi-Sec
One of the sweetest styles of sparkling wine is demi-sec. You will find more sugar in demi-sec sparkling wines than sec, so they have a sweeter taste. Here you will experience the intense fruit flavors of apricots and lychee in these wines.
For the sweetest sparkling wines look for a Moscato d'asti or Moscato.
A Word about Cremant
Cremant is a sparkling wine made around, but outside of the Champagne region. Winemakers produce cremant the same way as Champagne, so it has a similar taste and appearance for a bit less money.
While classic Champagne is crisp and effervescent, Cremants are typically creamy.
Additionally, cremants are not varietal specific as the grapes come from the local regions where they grow.
Cremants still have bubbles like champagne, but the bubbles come across as more subdued than champagne. They are also a bit softer than an Italian Prosecco.
Rosé Sparkling Wines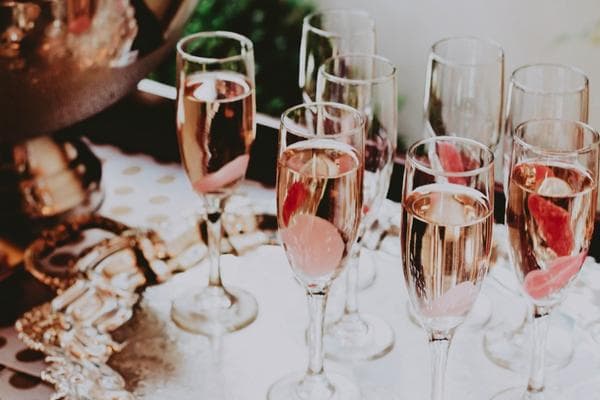 Rosé sparkling wines and champagnes have flavor profiles all their own. I appreciate both the flavor profile as well as the heavier body of a rose sparkling when it comes to food pairing. The fruity aromas, citrus flavors, and crisp finish allow this style of wine to be incredibly versatile, especially with a Thanksgiving menu.
I always have a Rosé sparkling wine at Thanksgiving. Utterly delightful and incredibly festive with it's gorgeous pink to salmon color.
For some Great Sparkling Rosé ideas under $20 a bottle, check out these Total Wine recommendations. They have so many options to research by what your palate enjoys. From sweet to very dry, there is something for everyone. Get some ideas from this list and shop with your local wine sellers.
How to Choose the Best Champagne or Sparkling Wine for Your Thanksgiving Dinner
Now that you know a little bit more about champagne and sparkling wine, it's time to choose the right one for your Thanksgiving feast.
There are a few things you should take into consideration when making your selection.
First, think about what food you will be serving. If you are having a light meal, like turkey and vegetables, you will want to choose a lighter wine. If you are having a heavier meal, like ham or roast beef, you will want to choose a fuller-bodied wine.
You should also consider the sweetness of your food when making your selection. If you are serving sweet dishes, like pumpkin pie or cranberry sauce, you may want to choose a sweeter wine for your dessert course.
Great Sparkling Wines and Best Champagnes for Thanksgiving Dinner
Now that you know why champagne and sparkling wine are the perfect choices for your Thanksgiving feast, it's time to choose the right bottle.
Best Champagne for Thanksgiving or any Holiday Splurge
Here are some of the best champagnes and sparkling wines expert sommeliers might suggest you pair with your Thanksgiving dinner. Vintage champagne might break the bank, but one bottle for a starting toast could be a worthy splurge.
– Veuve Clicquot Brut Yellow Label: This is classic champagne that pairs well with turkey, ham, and all the fixings. It has a beautiful golden color and delicate bubbles. If you are a fan of the movie "Casablanca", then this is the champagne for you!
– Dom Perignon Brut Champagne: This luxurious champagne is perfect for special occasions. It has intense flavors of citrus and stone fruits.
– Krug Grande Cuvee Brut Champagne: This full-bodied champagne has rich aromas of freshly baked bread and ripe fruits. It pairs well with hearty dishes like roast beef or lamb.
– Billecart-Salmon Brut Rosé Champagne: This beautiful pink champagne pairs well with turkey, ham, and all the fixings. It has delicate flavors of strawberries and cream.
– Louis Roederer Brut Premier Champagne: This is a bottle of well-balanced champagne with hints of citrus, stone fruits, and toast. It pairs well with all types of food.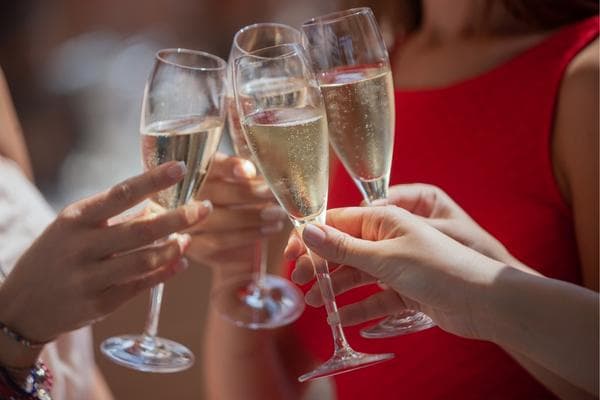 Budget-Friendly Sparkling Wines
If you to have more volume and value in your sparkling wine, then try a Prosecco, Cremant, Cava, or American sparkling wine with your Thanksgiving feast.
American Sparkling wines are really gaining ground as value-driven, good-quality wines. Learn more about them by reading American Sparkling Wine: The Case to Celebrate Amazing Local Bubbles. It seems very appropriate to have an American- made sparkling wine for our Thanksgiving celebration.
How to Find the Best Budget-Friendly Sparkling Wines and Champagne for Thanksgiving
For a quick pick of budget-oriented sparkling wines, just do a search on your favorite wine shop website. Type in a search for your desired style of sparkling wine and a selected price point. Such as "medium dry sparkling wine under $25".
A word of caution. Anything that runs in the $5 – 10 range is highly questionable in my book. It is probably over-processed, has very high sugar (headache producer), and is low quality. I would steer clear of these for Thanksgiving. Invest a little bit more and enjoy a higher-quality wine to go with your elevated meal on this special occasion.
Also, when your guests ask what they can bring, besides their favorite beet salad, let them know a bottle of sparkling wine to share would be very welcome!
Invite Folks Over to Share the Best Sparkling Wine at Thanksgiving
There are many great champagnes and sparkling wines that make a perfect complement to your turkey day. There are so many to choose from, so have fun exploring all the options!
Champagne and sparkling wine are great choices for your Thanksgiving feast. So invite family and friends over and toast this special occasion with a glass of good bubbles.
Cheers Y'all!
P.S. Sharing is Caring! Pass this along to your family and friends who will enjoy this information.
SHARED WITH…