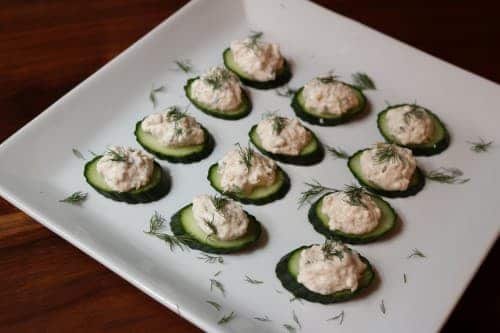 Brunch Appetizer Recipe for Quick and Elegant Easy Salmon
This brunch appetizer recipe makes a beautiful platter of elegant and impressive Creamy Salmon and Cucumber Bites.
When you are hosting a brunch, you want to make sure that your guests are impressed from the start. What could be better than an elegant finger food appetizer?
This recipe is simple but looks and tastes amazing. You can make it ahead of time, so it is perfect for busy hosts, and it will add a touch of elegance to any brunch menu.
Beautiful Brunch Ideas
A brunch can be a casual affair, or it can be more elegant. It all depends on your style and the type of brunch you are hosting.
You can host a brunch for a baby or bridal shower. Brunches are also perfect for celebrating a friend's birthday or anniversary.
Hosting a brunch is a great way to celebrate! Have everyone over on a Saturday or Sunday afternoon. Make it early – like one o'clock. This gives you some preparation time in the morning and enough time after the meal to clean up.
You want to start the brunch with a little nosh to ease your guests' hunger, but not make them full. This easy brunch appetizer recipe will do the trick. It is actually quite simple but also very impressive to serve.
Finger food is always a hit, and this recipe is sure to impress your guests at the start of your brunch.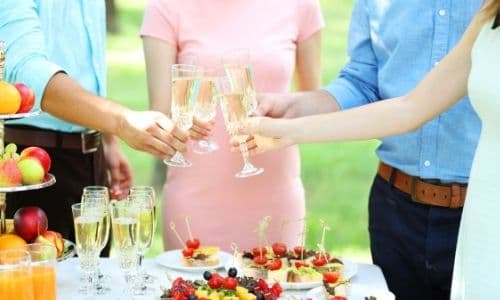 Make-Ahead Individual Brunch Appetizer Recipe
This brunch appetizer recipe can absolutely be made ahead of time! You can do the majority of the preparation up to three days in advance.
All you need to do is prepare the ingredients for the creamy salmon and put the mixture in a sealed container. Then, just pop it in the fridge until you are ready to serve. This will free up your time so that you can focus on the rest of your brunch menu.
Wait until at least the day before your brunch to slice your cucumber. You don't want a gushy base for this finger food. And you know how cucumbers can get after slicing. Wait too long and they get soft and slimy. Ugh.
Elegant Finger Food for a Special Occasion
This quick and easy appetizer is perfect for any special occasion. It is elegant and beautiful, but it is also easy to make. I have included it in a brunch menu idea, but you can use this to begin any gathering.
It really will elevate any occasion. Especially if you serve it with bubbles which pairs perfectly with creamy salmon.
And since you can prepare it ahead of time it is the perfect appetizer dish for busy hosts. Guests will love this delicious finger food, and it will add a touch of elegance to your brunch, lunch, and dinner menu.
Can I Make this Finger Food for a Large Party?
Absolutely! You can easily double or even triple this brunch appetizer recipe for a large party. You can still make the creamy salmon in advance and keep it in the refrigerator.
On the day of your party, you can prepare all of the Creamy Salmon and Cucumber Bites and keep them in the refrigerator until you are ready to serve them.
What are the Ingredients in Creamy Salmon and Cucumber Bites?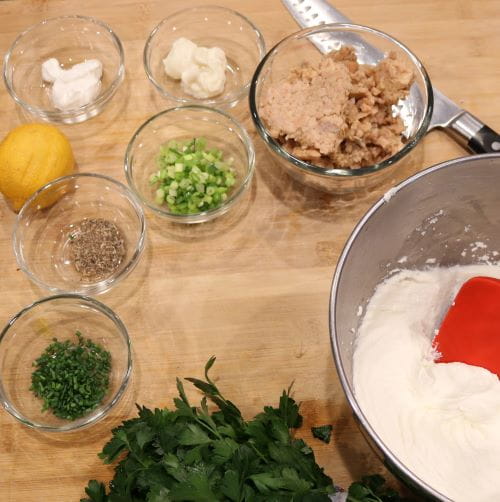 Everything you need for this recipe can be picked up at your local grocery store or purchased online.
Cream Cheese
Canned Salmon
Sour Cream
Mayonnaise
Lemon Juice
Cilantro, fresh leaves
Fresh Chives
Fresh Thyme
Cayenne – Just a tiny bit. This is not a spicy dish!
Kosher salt
English Cucumber
Fresh Dill for the garnish
How to Make this Elegant Appetizer Finger Food
You can use a hand mixer or a stand mixer. For this recipe I think the hand mixer is quicker with less clean up.
Beat the cream cheese in a small bowl until soft and very creamy.
Add the salmon, sour cream mayonnaise, lemon juice, cilantro, chives, thyme, cayenne, and a ¼ tsp Kosher salt. Beat on medium-low until combined.
Slice your cucumber on the diagonal in thick slices.
When you are ready to serve, dollop a rounded teaspoon of the salmon mixture on each cucumber slice and place on a platter. Garnish with a shred of dill.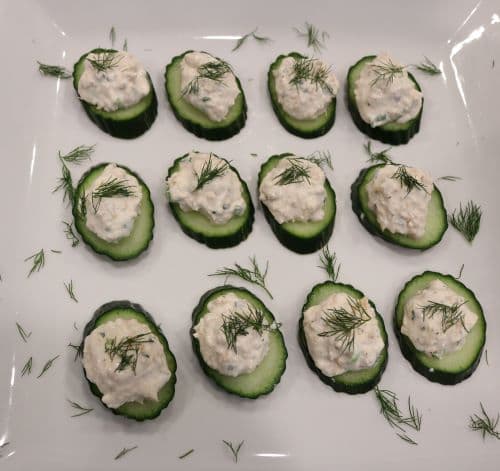 Is Salmon Healthy for You?
If you are following the Mediterranean Diet, it recommends eating fish and seafood at least twice a week. This appetizer is an easy way to increase your fish consumption, even though one serving of this brunch appetizer recipe is not considered a complete serving of fish.
The FDA Dietary Guidelines for Americans recommends we eat fish as part of a healthy eating pattern. The FDA states adults should eat at least 8 ounces of seafood per week based on a 2,000 calorie diet.
Those who are pregnant or breastfeeding consume between 8 and 12 ounces per week of a variety of seafood from choices that are lower in mercury.
Salmon falls into the category of "Best Choices" especially concerning mercury levels.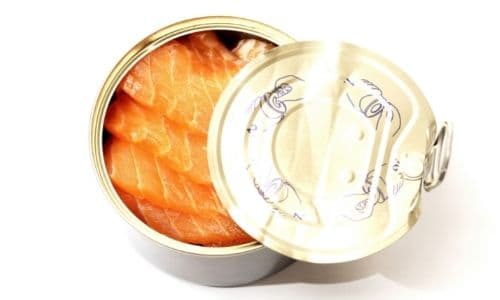 Is a Can of Salmon Healthy?
This is a question that many people have. The answer to this question is yes, a can of salmon can be healthy. It is also an easy and affordable option that takes cooking out of the time required for this brunch appetizer recipe. And it still delivers the same delicious flavors as well as the nutritional value of fresh salmon.
Salmon is a great source of protein and omega-three fatty acids. It also contains some B vitamins and minerals such as potassium, magnesium, and selenium. Salmon is also low in saturated fat. All of these nutrients make salmon a healthy choice.
However, not all salmon are created equal. The healthiest kind of salmon is wild-caught Alaskan salmon. This type of salmon is low in contaminants and contains the most nutrients. Farmed salmon is also healthy, but it can be higher in contaminants and omega-six fatty acids than wild-caught salmon.
Not sure which brand to buy? The Manual has a breakdown of what they report are the 11 Best Canned Salmon Brands to purchase. Maybe it will point you in the right direction.
Basically, yes, canned salmon can be healthy, but it is important to choose the right kind of salmon. I use wild-caught Alaskan salmon in the majority of my recipes as it is the healthiest option and is a great choice for this healthy brunch appetizer.
Salmon Appetizer Ingredient Substitutions
Although these are small bites, you can lower the calories in this brunch appetizer recipe.
Substitute lower-fat cream cheese in place of full-fat cream cheese. Just don't use fat-free or the texture will be really different.
You can also substitute light mayonnaise and light sour cream for the regular versions. Just be careful of the added sugar in some brands.
If you don't favor cilantro, you can leave it out of this brunch appetizer recipe altogether.
Not a fan of Salmon? Replace it with canned tuna. It still tastes pretty good, but it does not look as elegant.
Love Smoked Salmon? Go ahead and use it in place of the regular salmon. It will pack a much bigger flavor, but won't be quite as delicate an appetizer. I would leave out the dill garnish if you use Smoked Salmon as well.
If you cannot find or don't want to use English Cucumbers you can replace this with toasted baguette slices. It will increase the calories and carbs in the dish, but it will do in a pinch.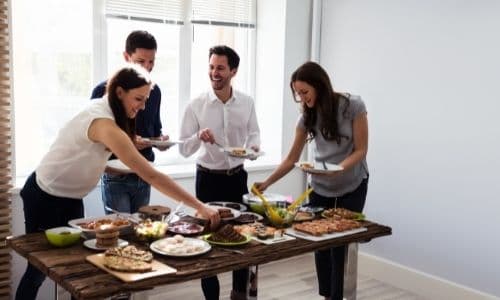 Wine Recommendations
Sparkling, baby, sparkling! Grab your bubbles and pour away as it is perfect with this dish!
If you need a little help choosing, read up on the delicious decadence of Sparkling Wine as the Ultimate Celebration Libation.
And if you want to explore Sparkling Wines in the United States you can get some inside info by reading all about American Sparkling Wines.
Another great pairing with this appetizer is a sparkling Rosé like this Rosé Sekt by Schloss Biebrich in Germany. It has good body and structure to stand up with food, bubbles to be celebratory, and the price tag is really easy on the wallet.
Invite Friends Over and Enjoy this Easy Salmon Appetizer
If you're looking for a brunch appetizer recipe that will wow your guests, this one is perfect! It's simple to make and it looks beautiful. The Creamy Salmon and Cucumber Bites are sure to be the talk of any brunch party.
Hosting can be tough sometimes but with this easy-to-make appetizer on the menu, all of your friends will think you're an amazing hostess (even if they don't know how much effort goes into making food).
Want more recipes like these? You should check out our other menus and recipes!
Cheers Y'all!
P.S. Caring is sharing this with your friends! Please add it to your favorite social media!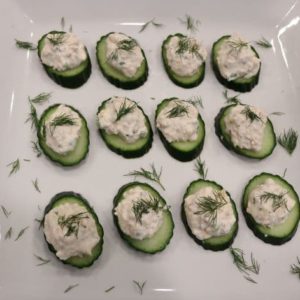 Creamy Salmon and Cucumber Bites
Delicious Creamy Salmon on Cucumber for an elegant appetizer.
Ingredients
1

block

8-ounces cream cheese

7-

ounce

canned salmon

drained

1

Tbsp

sour cream

1

Tbsp

mayonnaise

1

tsp

lemon juice

2

tsp

cilantro leaves

finely chopped

1

Tbsp

fresh chives

finely chopped

1

Tbsp

fresh thyme leaves

finely chopped

1

pinch

cayenne

Kosher salt

2

English cucumbers

thickly sliced on the diagonal

1

Tbsp

fresh dill shredded
Instructions
Using a hand mixer on medium speed, beat the cream cheese in a small bowl until soft and very creamy. Add the salmon, sour cream mayonnaise, lemon juice, cilantro, chives, thyme, cayenne, and a ¼ tsp Kosher salt. Beat for 1 minute on medium-low until combined.

Place a rounded teaspoon of the salmon mixture on each cucumber slice and top with a shred of dill.




Notes
You can prepare the salmon mixture up to two days in advance and refrigerate in a sealed container.  Slice the cucumber up to one day before you intend to assemble and serve.
Shared With…