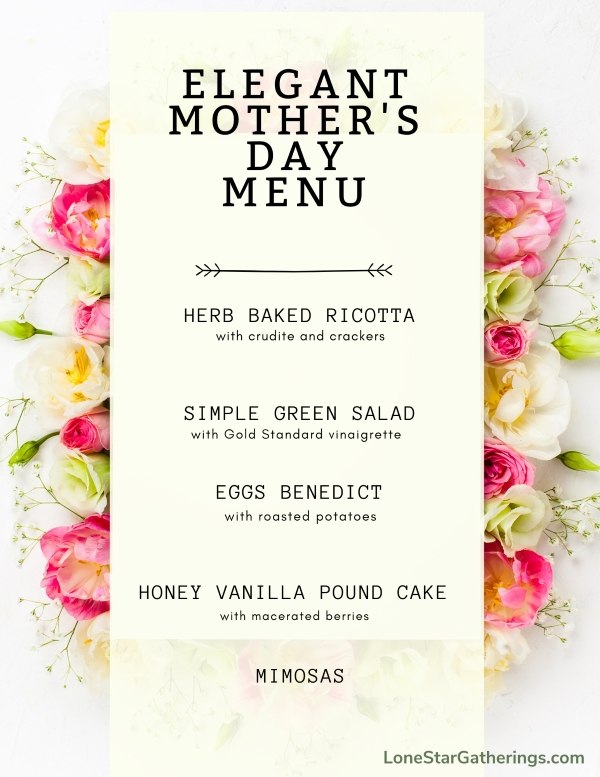 How to Make an Elegant Menu for Mother's Day Brunch Ideas
This menu is a bit more involved but so worth the effort for this beautiful, memorable brunch for Mom.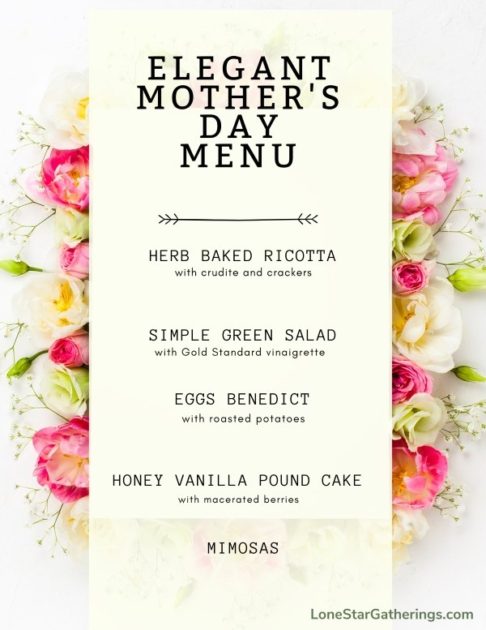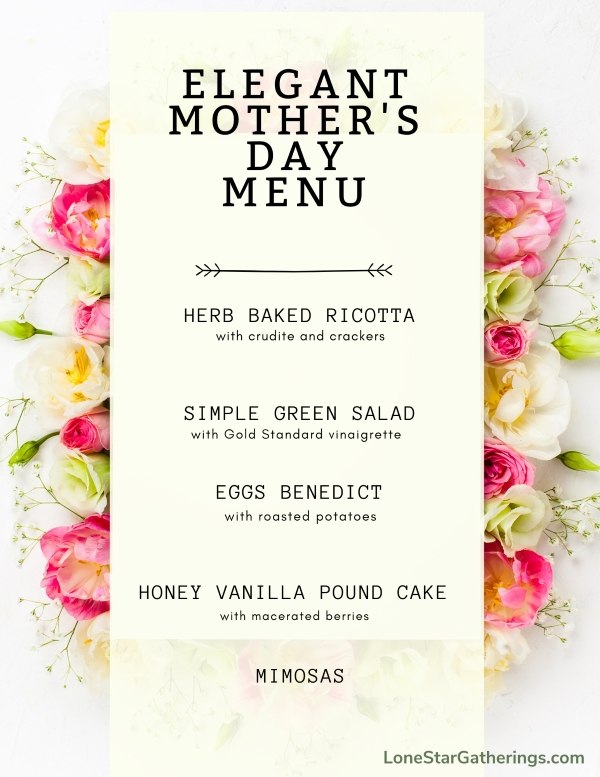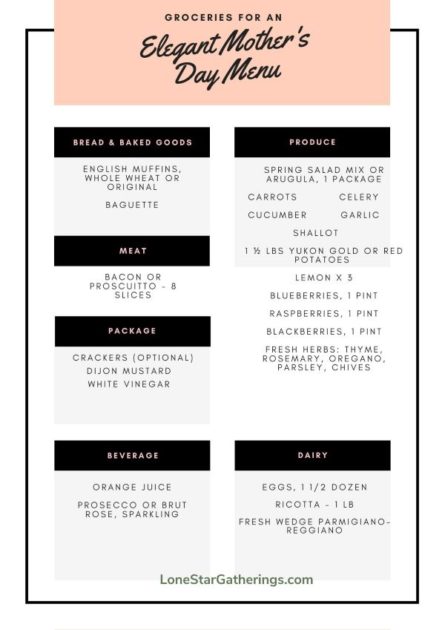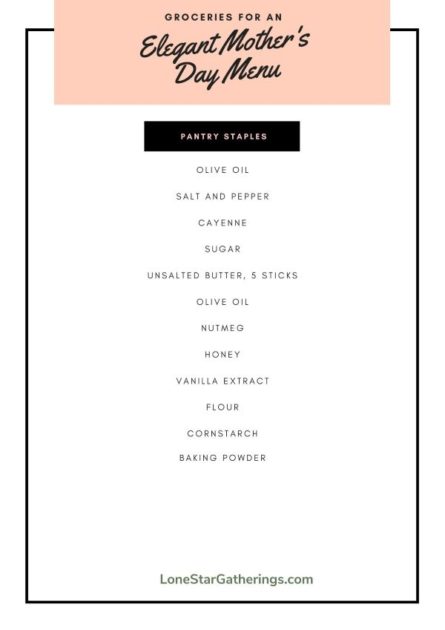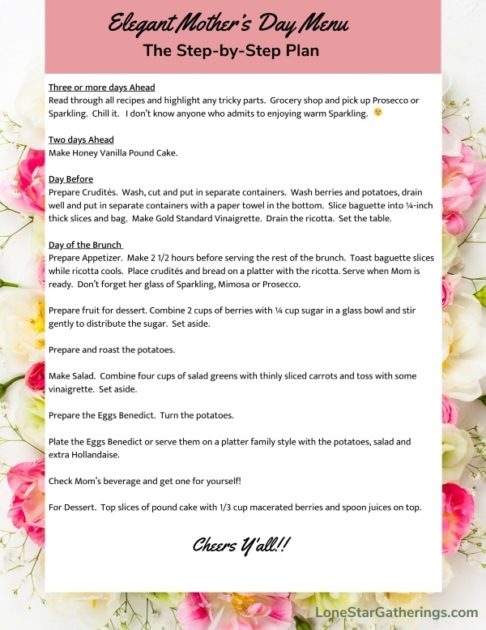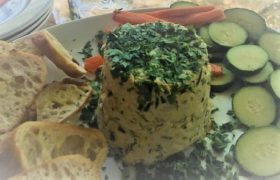 HERB BAKED RICOTTA
A richly flavored savory cheese appetizer.
Equipment
ramekin or small souffle dish

baking sheet

large bowl
Ingredients
Butter

to grease baking dish

1

pound

fresh ricotta cheese

drained (see Note)

1/2

cup

grated Parmigiano-Reggiano cheese

1

large egg

beaten

1

Tbsp

each, fresh thyme leaves, fresh rosemary, fresh oregano

chopped

2

Tbsp

each

fresh parsley and fresh chives, chopped

2

tsp

lemon zest

¼

cup

olive oil

Couple pinches Salt and pepper

to taste

Freshly grated nutmeg
Instructions
Preheat the oven to 350°F. Butter a large ramekin or small soufflé dish.

In a bowl, stir the ricotta, Parm, egg, thyme, rosemary, oregano, lemon zest, olive oil, salt, pepper and a few grates of nutmeg. Scrape into the ramekin, smooth the top. Set it on a baking sheet, and bake until just set, about 45 minutes. Let cool for 30 – 45 minutes or until just a little warm. Don't rush the cooling period.

Turn out onto a platter and top with parsley and chives. Serve with crackers, crudités, or toasted baguette slices.
Notes
NOTE. Drain ricotta overnight in a colander over a bowl, in the refrigerator.
Gold Standard Vinaigrette from Julia Child
The best vinaigrette recipe you'll enjoy using over and over again.Julia Child's vinaigrette recipe adapted from Julia's Kitchen Wisdom: Essential Techniques and Recipes from a Lifetime of Cooking.
Ingredients
1/2

tbsp

finely minced shallot

1/2

tbsp

Dijon-type mustard

1/4

tsp

salt

1/2

tbsp

freshly squeezed lemon juice

1/2

tbsp

wine vinegar (*see notes)

1/3-1/2

cup

excellent extra virgin olive oil

Freshly ground pepper
Instructions
Simply combine and shake in a screw-topped jar or whisk in a bowl and enjoy!
Notes
Julia Child included some sage advice about her dressing. She wrote, "The beauty lies solely in the quality of your ingredients. Note that you will so often see proportions of 1 part vinegar to 3 parts oil, but that can make a very acid, very vinegary vinaigrette. I use the proportions of a very dry martini, since you can always add more vinegar or lemon but you can't take it out."
*Wine Vinegar Note.  Here are some options to change up the vinaigrette flavor to suit your salad.
Zippy flavor:  Red Wine Vinegar
Traditional flavor:  White Wine Vinegar
Mild flavor:  Champagne Vinegar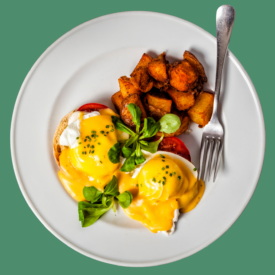 Eggs Benedict
This is a traditional approach to Eggs Benedict. Feel free to substitute for the bacon and English muffins.
Equipment
Small Sauce pan

Measuring cup

blender

4 small bowls or ramekins

12 inch skillet

Slotted spoon or spider

Large skillet for the bacon
Ingredients
Hollandaise
3

large egg yolks

1/4

tsp

salt

Pinch

pepper

I use a small pinch of cayenne

1-2

tbsp

fresh lemon juice

I use closer to 2 tbsp

1/2

cup

unsalted butter
Base
8

large eggs

1

T

White Vinegar

4

English muffins

split

8

slices

Canadian bacon

bacon or Prosciutto

2

tablespoons

finely chopped fresh chives

butter
Instructions
Prepare for poaching. Fill a large 12 inch skillet with one inch of water and add 1 tablespoon white vinegar. Cover with a lid and bring the water to a boil. Crack 4 eggs into separate small bowls or ramekins.

Make the Hollandaise. Melt ½ cup butter in a small saucepan on low. Heat it till it's melted, hot and foamy. Transfer to a measuring cup. Set pan aside.

Place the egg yolks, lemon juice, and salt in a blender and blend on high speed until combined, about 5 seconds.

Remove the insert in the blender lid while still blending, and immediately start pouring the hot melted butter in a thin stream of droplets. (You may need to protect yourself with a towel during this operation.)

By the time two thirds of the butter has gone in, the sauce will be a thick cream, but continue to stream all the butter into the blender until incorporated. Sample the sauce, and blend in more seasonings and/or lemon juice to taste.

Transfer the sauce into the pan you used to melt the butter. Press a piece of plastic wrap directly onto the surface of the sauce, pop on the lid, and set aside.

Toast the English muffins. Spread a little butter on each and place on a platter or jelly roll pan warmed in the oven.

Cook the bacon. Place 4 slices of the bacon in a large skillet over medium-high heat. If using regular bacon, cut the slices in half and cook eight pieces at a time. Cook, flipping once, until the bacon is warmed through and crisp, about 2 minutes per side. Drain on paper towels. Repeat with remaining bacon. Proscuitto will take about 1 minute per side. Just crisp.

Poach the eggs. When the water is boiling, remove the lid and reduce the heat to a low simmer — just a few bubbles should be rising to the surface. Gently pour each of the 4 eggs in one by one. Cook until the white is set but the yolk still jiggles when you lift up the egg with a slotted spoon, 3 to 5 minutes.

Remove each egg with a slotted spoon and place in a pan of water warmed to 150 degrees F. Crack the remaining 4 eggs into the now-empty bowls and repeat the poaching process.

Putting it together. Place one slice of bacon or two half pieces on each buttered English muffin half. Then, carefully place 1 poached egg on top of the bacon. If the hollandaise has thickened, thin it out by whisking in 1 to 2 teaspoons hot water. Spoon some hollandaise on the eggs and top with a sprinkling of chives. Pour the remaining Hollandaise in a bowl or gravy boat.

Serve the Hollandaise along with the Eggs Benedict and any side you prepared.
Notes
Substitute as you like or add additional ingredients like avocado, sauteed greens, tomato, etc.  Put your own flair on it!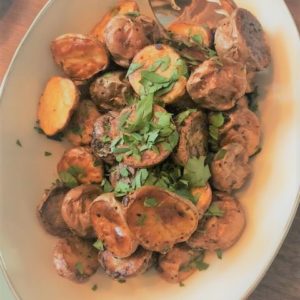 Garlic and Rosemary Roasted Potatoes
Crispy on the outside and soft on the inside. Yum!
Equipment
sheet pan or jelly roll pan
Ingredients
3

pounds

small red, Yukon gold or fingerling potatoes

I used tri-color fingerling potatoes

1/4

cup

extra virgin olive oil

1 1/2

teaspoons

kosher salt

1

teaspoon

freshly ground black pepper

5-6

cloves

garlic

minced

1

Tbsp

fresh rosemary

chopped
Instructions
Preheat the oven to 400 degrees F. Spray sheet pan with cooking spray or line with parchment paper.

Cut the potatoes in half or quarters for 1 1/2 inch pieces and place on a rimmed sheet pan. Drizzle olive oil over potatoes and sprinkle with salt, pepper, minced garlic, and chopped rosemary. Toss until the potatoes are well coated. Spread out into a single layer.

Roast in the oven for 35 – 45 minutes or until browned and crisp. Shake the pan once or turn potatoes with a spatula during cooking to keep them from sticking and ensure even browning.

Remove the potatoes from the oven, season to taste, and serve warm.
Notes
If you don't like rosemary leave it out. They are great with just garlic.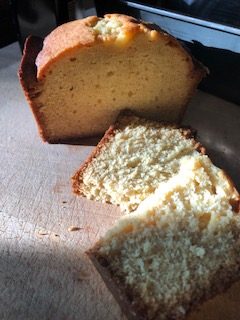 Honey Vanilla Pound Cake
Adapted from Ina Garten, Barefoot Contessa Back to Basics
Ingredients
½

pound

2 sticks unsalted butter, at cool room temperature (see Note)

1 ¼

cups

sugar

4

large eggs

room temperature

2

T

honey

2

tsp

pure vanilla extract

1

tsp

grated lemon zest

2

cups

sifted cake flour

see Note

1

tsp

kosher salt

½

tsp

baking powder
Instructions
Preheat oven to 350 degrees F. Grease the bottom of a loaf pan and line the bottom with parchment paper. Then grease and flour the pan.

Using an electric mixer fitted with the paddle attachment, cream the butter and sugar on medium speed for 3 – 4 minutes, until light. While it is mixing, put the eggs, honey, vanilla, and lemon zest in a glass measuring cup but do not mix. With the mixer on medium-low speed, add the egg mixture, one egg at a time, scraping down the bowl as needed. Allow each egg to become incorporated before adding the next egg.

Sift together the flour, salt, and baking powder. With the mixer on low speed, add it slowly to the batter until just combined.

Finish mixing the batter with a rubber spatula and pour it into the prepared pan. Smooth the top.

Bake for 50 – 60 minutes. A toothpick inserted in the center should come out clean. Cool for 15 minutes. Remove from pan and let completely cool on a baking rack.
Notes
NOTE. Remove from refrigerator 15 minutes or so before using. It should not be refrigerator hard, nor should it be room temperature soft. This makes a difference in the texture of the pound cake.
Cake Flour Substitute.   For every cup of cake flour called for in the recipe, you can substitute a combination of all-purpose flour and cornstarch.  Take one cup of all-purpose flour and remove 2 Tbsp of flour. Then, add 2 Tbsp of cornstarch and sift together.
P.S. If this helps you please share or forward it to friends!
Cheers Y'all!