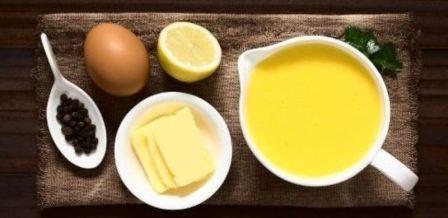 Happy Eggs Benedict – How to Make Hollandaise Sauce 5 Ways
Your key to happy Eggs Benedict is the Hollandaise sauce. It doesn't matter if your yolks run beautifully, your English muffin is toasted perfectly, or your bacon is star-worthy crisp if you don't make a great hollandaise sauce. Here are five ways to make delicious Hollandaise sauce for happy Eggs Benedict.
Who invented Eggs Benedict?
Hey, here's one for you.
What do a traitor, a guy with a hangover and a pope have in common?
Eggs Benedict! Ba-dum-bum!
The origin of Eggs Benedict is a bit muddy, but the name clearly matches that of a famous traitor. Benedict Arnold actually had a short, but successful career in the Continental Army achieving the rank of Major General before all the bruhaha surrounding his downfall and defection. Some say this egg dish was named for him because it was his favorite.
Another report sites Lemuel Benedict as the inventor. He ordered "buttered toast, poached eggs, crisp bacon, and a hooker of Hollandaise" to help a hangover while staying at the Waldorf-Astoria in New York. The maitre d'hotel loved the order and improved upon the recipe. It became a favorite menu item at the establishment.
Discussions in some newspapers indicate the origins of Eggs Benedict may go back to the 18th Century. Some credit is questionably given to Pope Benedict XIII who reportedly had a bit of an obsession with an egg dish for health reasons.
Regardless how it came about, it is a delicious dish with many incredible variations.
Eggs Benedict has become synonymous with a brunch menu item to be ordered out rather than fussed over at home. Everywhere Eggs Benedict pops up it has some amazing variant on the menu. It is not just for basic hangovers anymore.
The Canadian bacon is often replaced by crab cakes, avocado, chipotle sweet potatoes, hash, prosciutto and many other options. There are many variations to this dish, but the poached egg and hollandaise are consistent.
We previously tackled the basics of the egg. If you want to know more about how to poach an egg check out the post "Happy Eggs Benedict – The Poach".
The Key to Happy Eggs Benedict – The Hollandaise Sauce
Now it is time to address the daunting Hollandaise Sauce.
To cook or not to cook? Shall we blend or whisk? As with poached egg options there are also many ways to make Hollandaise Sauce.
Personally, I don't care how many servings there are listed on a recipe. However much sauce it makes, I call it two servings. I want my Eggs Benedict to swim in the sauce! For me, the hollandaise is the reason I make Eggs Benedict. I might as well call it hollandaise with eggs and stuff on the side.
Some people lick cookie dough beaters. I like Hollandaise sauce whisks. Just saying.
A Classic French Sauce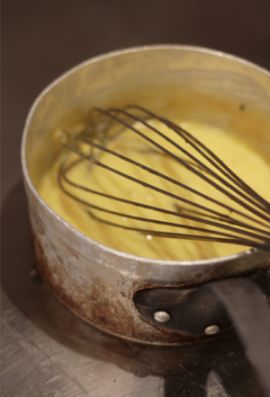 Hollandaise basically means Holland-style or from Holland.  Many believe the modern-day hollandaise was originally called "Sauce Isigny" after Isigny-sur-Mer, a town in Normandy well known for its good butter.  
Today, Normandy is considered the cream capital of France, but during World War I, butter production came to a halt in France.  It was imported from Holland, so the sauce name was changed to Hollandaise to indicate the source of the butter.  It was never changed back.
Hollandaise is one of the five mother sauces of French cuisine. Traditionally the recipe uses butter and egg yolks as binding agents. The basic sauce and its variations should have a buttery-smooth texture, be a pale lemon color with some luster but not oily, and smell like rich butter.
The basic ingredients include butter, egg yolks, lemon juice, salt, white peppercorns (white pepper), vinegar, water, and cayenne pepper (totally optional).
Although it seems strange to put butter and vinegar together – hello curdle – the lecithin in the eggs serves as an emulsifier.   This allows the mixture of the normally immiscible butter and lemon juice to form a stable emulsion.  Wouldn't you love to be the person who figured that out?
That said, here are several options regarding hollandaise sauce from your home. The recipes for each are located at the bottom of this post.
Hollandaise Sauce for Eggs Benedict – Five Recipes
Option One: Traditional Hollandaise Sauce.
Julia Child's classic Sauce Hollandaise from Mastering the Art of French Cooking. Julia instructed that there are two key points to keep in mind if you make hollandaise by hand.
The first is to mind the heating and thickening of the egg yolks. They must be heated slowly and gradually to allow the egg yolks to thicken into a smooth cream. Too sudden heat will give them a granular texture. Over cooking scrambles them. You may beat them over hot water or over low heat; it makes no difference as long as the process is slow and gentle.
The second deals with the Butter. Julia Child was incredibly specific about butter in recipes. In her tome, Mastering the Art of French Cooking Julia wrote, "egg yolks will readily absorb a certain quantity of butter when it is fed to them gradually, giving them time to incorporate each addition before another is presented."
She went on to say, "When too much [butter] is added at a time, particularly at first, the sauce will not thicken. And if the total amount of butter is more than the yolks can absorb, the sauce will curdle. About 3 ounces of butter is the usual maximum amount per yolk. But if you have never made hollandaise before, it is safer not to go over 2 ounces or a 1/4 cup."
Although Julia Child also has a blender version of her Sauce Hollandaise, she believed in learning to make it by hand as part of every good cook's general knowledge.
Option Two: Blender Hollandaise Sauce.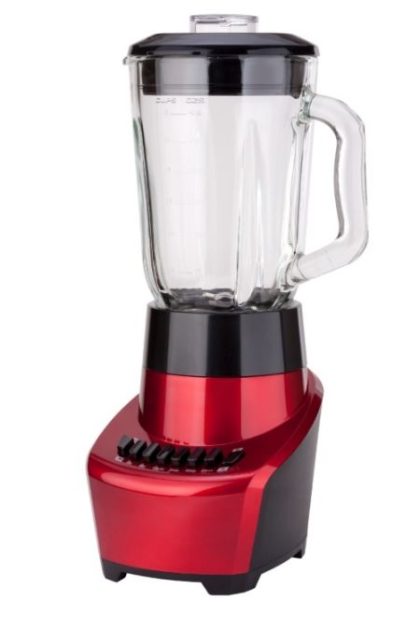 This sauce is an adaption of Julia Child's blender sauce. It groups a few steps and adds cayenne for a little zip.
Since this sauce uses uncooked egg yolks, there is a small risk of Salmonella infection. Buying pasteurized eggs will lower your risk of infection as well as keeping the eggs properly stored in your refrigerator. When you are separating the egg, make sure to use only the yolk and none of the white in this recipe. Keep the egg whites for other recipes.
Option Three: Healthier Hollandaise Sauce – 2 Recipes.
There are quite a few recipes available that lighten the calories and/or saturated fat of the traditional hollandaise. There are also eggless or "mock" sauce options, but these vary widely in the ability to mimic the real hollandaise flavors.
For those on a heart-healthy diet, these two recipes might be a good options for you. However, considering how often you eat Eggs Benedict or anything with hollandaise on it, I question the need to replace this luscious, palate delighting sauce with a lower quality and less rich tasting product.
As I appreciate attempts at healthy options that taste like the traditional sauce, I included a couple of those recipes. One with olive oil (Heart Healthy Hollandaise) and one with a combination of yogurt and sour cream (Light Hollandaise Sauce). They might surprise you!
Option Four: When in Texas, Add Avocado.
I'm just going to admit up front that this option isn't even close to the traditional Hollandaise sauce. No butter, no egg yolk and no whipping in a pan. However, it tastes really good and presents a creamy consistency much like the traditional sauce.
For those who prefer a dish of Huevos Rancheros or Chilaquiles served with a poached egg, an avocado based Hollandaise style sauce could fit the bill. If you are making vegetarian Eggs Benedict this would also be an excellent option.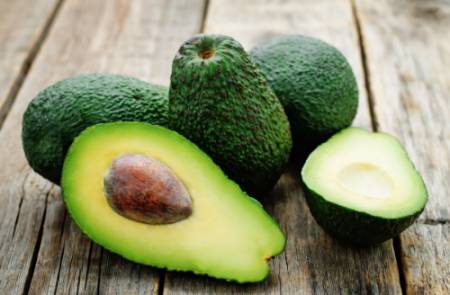 Avocados have great heart-healthy benefits and are a creamy addition to any dish.
Four Ways with Five recipes to make Hollandaise Sauce for your Eggs Benedict.
Well, there you have options which are good if sometimes confusing. These approaches should give you the flexibility you desire to create a wonderful Hollandaise Sauce for Eggs Benedict and beyond. Whip it up for a celebratory brunch at home and don't forget the champagne.
Bubbly goes perfectly with Eggs Benedict and that is a delicious combination I will happily toast!
Cheers Y'all!
P.S. Remember Sharing is Caring. Email this link to friends or post it on Facebook or Instagram for your friends to enjoy as well!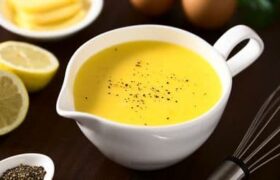 Sauce Hollandaise
A sauce of warmed egg yolks emulsified with butter and flavored with lemon juice.
Adapted from Mastering the Art of French Cooking; Julia Child, Simone Beck and Louisette Bertholle.
Equipment
Small Saucepan, whisk, bowl of very cold water
Ingredients
6-8

ounces

butter

(3/4 to 1 cup or 1 1/2 to 2 sticks)

Plus 2

tbsp

cold butter

set aside

3

egg yolks

1

tbsp

cold water

1

tbsp

lemon juice

Big

pinch

salt

salt and pepper
Instructions
Cut the 6 – 8 ounces of butter into pieces and melt it in the saucepan over moderate heat. Then set it aside.

Beat the egg yolks for about 1 minute in the sauce pan, or until they become thick and sticky.

Add the water, lemon juice, and salt, and beat for half a minute more.

Add one tablespoon of cold butter, but do not beat it in. Then place the saucepan over very low heat or barely simmering water and stir the egg yolks with a wire whip until they slowly thicken into a smooth cream. This will take 1 to 2 minutes. If they seem to be thickening too quickly, or even suggest a lumpy quality, immediately plunge the bottom of the pan in cold water, beating the yolks to cool them. Then continue beating over heat. The egg yolks have thickened enough when you can begin to see the bottom of the pan between strokes, and the mixture forms a light cream on the wires of the whip.

Immediately remove from heat and beat in one tbsp cold butter, which will cool the egg yolks and stop their cooking.

Then beating the egg yolks with a wire whip, pour on the melted butter by droplets or quarter-teaspoon-fulls until the sauce begins to thicken into a very heavy cream. Then pour the butter a little more rapidly. Omit the milky residue at the bottom of the butter pan.

Season the sauce to taste with salt, pepper, and lemon juice.
Notes
Keeping the sauce warm:
Hollandaise is served warm, not hot. If it is kept too warm, it will thin out or curdle. It can be held perfectly for an hour or more near the very faint heat of a gas pilot light on the stove, or in a pan of lukewarm water. As hollandaise made with the maximum amount of butter is difficult to hold, use the minimum suggested in the recipe, then beat softened or tepid butter into the sauce just before serving.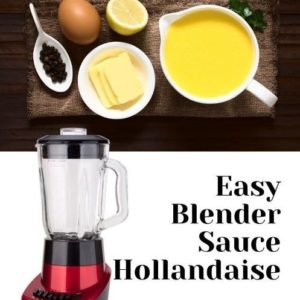 Blender Hollandaise Sauce
Adapted from Julia Child's recipe in Mastering the Art of French Cooking.
Equipment
Stand Blender

Kitchen towel
Ingredients
3 

Large egg yolks

¼

tsp

Salt

Pinch

Cayenne pepper

1 – 2

tbsp

Fresh lemon juice

½

cup

Unsalted butter
Instructions
Place eggs yolks, salt, cayenne, and 1 tbsp lemon juice in the blender jar. Start with 1 tbsp of lemon juice as you can beat in more juice to taste when your sauce is done.

Cut the butter into pieces and heat it in a small saucepan until it's melted, hot and foamy.

Or, place the butter in a glass measuring cup. Heat butter in the microwave for about 1 minute, or until completely melted and hot.

Cover the jar of the blender and blend the egg yolk mixture at top speed for 2 seconds. Working quickly and with blender running, remove the lid insert and immediately start pouring the hot melted butter in a thin stream of droplets. (You may need to protect yourself with a towel during this operation.)

By the time two thirds of the butter has gone in, the sauce will be a thick cream. Omit the milky residue at the bottom of the pan or measuring cup. Taste the sauce, and blend in more seasonings and lemon juice to taste.

If not used immediately, set the blender jar in lukewarm, but not warm, water. Use the sauce within a few minutes of blending; it will solidify if not used quickly.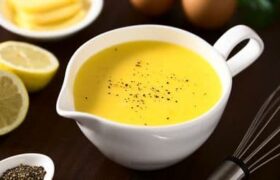 Heart Healthy Hollandaise
This recipe uses olive oil instead of butter which reduces saturated fat by 70%, but still makes a flavorful and silky-smooth sauce. Use a mild-tasting olive oil – bolder oils that are good to finish dishes can be a little bitter in larger amounts. Adapted from Cooking Light.
Ingredients
½

c

mild extra-virgin olive oil 

½

c

pure olive oil

3

large egg yolks

5

tbsp

warm water (110F to 120F), divided

2 ½

tbsp

fresh lemon juice

½

tsp

kosher salt

½

tsp

white pepper

pinch

cayenne pepper
Instructions
Heat both olive oils in a small saucepan over low until warm, about 120°F.

Combine yolks, 3 tablespoons warm water, lemon juice, salt,white pepper and cayenne in a blender. Pulse until combined. Pour heated oil into a spouted measuring cup.

With blender running, slowly add oil in a thin, steady stream. If sauce is too thick, add up to 2 tablespoons warm water, 1 tablespoon at a time, and process until desired consistency is reached.
Light Hollandaise Sauce
Good Hollandaise Fewer Calories
Equipment
double boiler or large bowl, sieve, saucepan, and whisk
Ingredients
½

cup

low fat Greek yogurt 

½

cup

sour cream

You could use light, but regular has a better consistency for this sauce.

1 – 2

tbsp

lemon juice

3

egg yolks

½

tsp

Dijon mustard

optional

pinch

salt

pinch

pepper or cayenne
Instructions
In a large heat-resistant bowl, beat yogurt, sour cream, 1 Tbsp lemon juice, and egg yolks well.

Bring 1/2 inch of water in a saucepan or double boiler to a simmer.

Transfer mixture to a double boiler or place the large heat-resistant bowl on the saucepan of barely simmering water (don't let bowl touch water) and heat, stirring frequently, until sauce has thickened. Approx 15 min (sauce will become thinner after about 10 min and then thicken again).

Remove from heat and stir in salt, pepper or cayenne and mustard (if using).  Keep warm.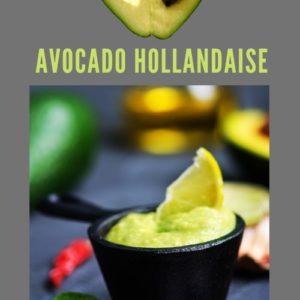 Avocado Hollandaise Sauce
A vegetarian option to Hollandaise with avocado goodness.
Ingredients
1

avocado

Ripe with some give to the skin.

1 – 3

tbsp

lemon juice

1 – 3

tbsp

Greek Yogurt

Can use Extra Virgin Olive Oil.

pinch

salt

pinch

cayenne

1/4

cup

Hot water

As needed.
Instructions
Cut avocado in half, remove the seed and scoop the flesh into a blender.

Add 1 tablespoon of lemon juice, 2 tablespoons of Greek Yogurt or olive oil, salt and cayenne to blender. Process on high until smooth.

Add water 1 tablespoon at a time for consistency. You can also add more yogurt and lemon juice to taste.
Cheers Y'all