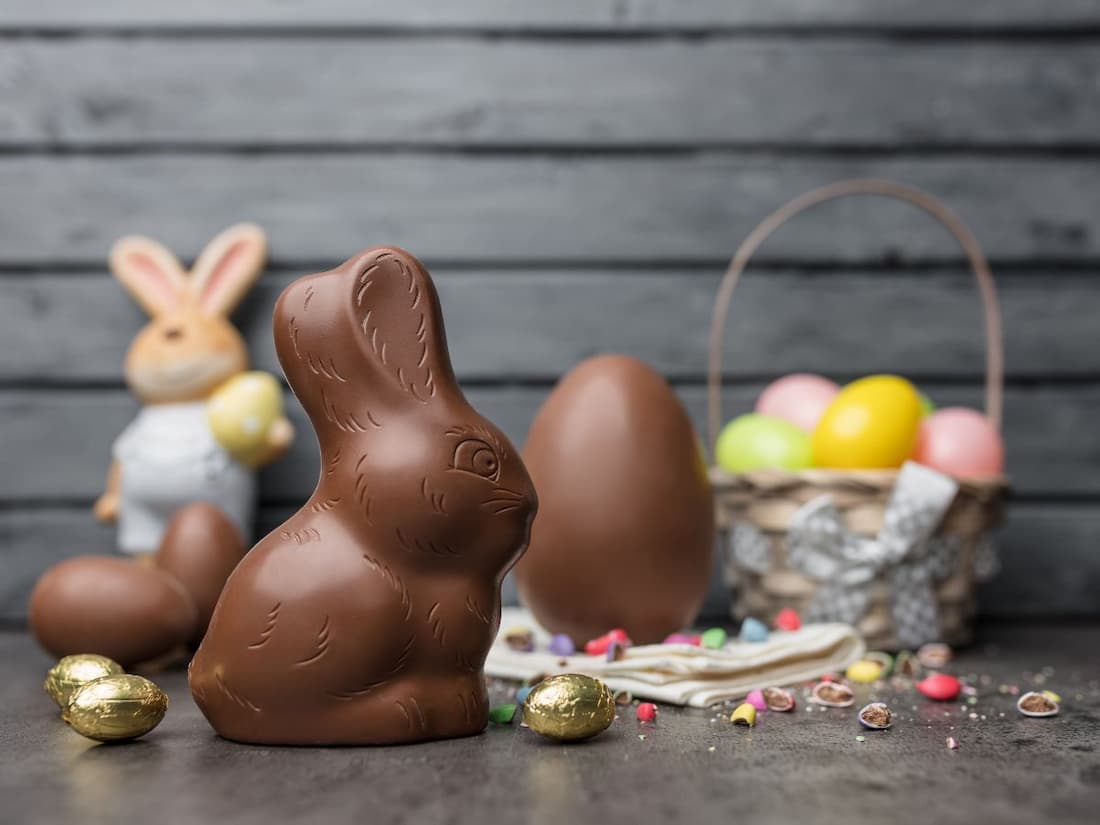 How to Make These Easy Easter Charcuterie Board Ideas
These Easter charcuterie board ideas are easy and a fun way to add some flair to your next gathering. They are the perfect addition to your celebration meal. And the best part is you'll have as much fun creating one as filling the kids' Easter baskets.
Spring is on the way and so is Easter! It is a festive time with colorful decorations. Time to change out the door wreath for something more colorful to welcome the Spring season.
Easter is a great time to have company over for brunch or dinner. An easy way to start or finish your Easter gathering is with a beautiful Easter charcuterie board.
Whether you have a large gathering or a more intimate group, an Easter board of food items for an appetizer or dessert is a great way to add some creative flair to your Easter holiday gathering.
Complete Easter Brunch Menu
If you are looking for ideas for your Easter Brunch, then check out this Complete Menu with Wine Pairings for a Fabulous Spring Brunch Gathering. You can make the whole menu or swap out any of the Charcuterie Board ideas below for the appetizer or dessert.
What is a Charcuterie Board?
The word charcuterie is pronounced "shar-ku-trie" in French. However, when ordering a charcuterie board in English, many people pronounce it "shar-ku-ter-ie".
The term comes from the French word chair ("flesh") and cuit ("cooked"). Today the charcuterie board is a staple of casual parties. The term is typically used for any kind of variety of foods arranged on a board or platter for an appetizer, snack, or dessert.
One of my favorite things for holiday appetizers is to make themed charcuterie boards. This post provides ideas for you to create your own Easter themed charcuterie board.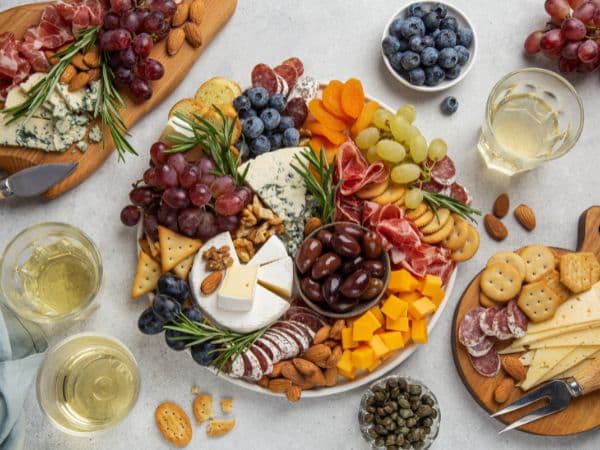 How to Make an Easter Charcuterie Board
First, relax! There is no wrong way to make a DIY charcuterie board.
However, here are a couple of tips to keep in mind when creating an Easter charcuterie platter or board for your next Easter party.
Start with a large platter or clean wooden cutting board. It doesn't have to be a really big board either. Just use whatever particular board you have on hand and make your appetizer or dessert that size.
You want to tempt your guests' taste buds by providing a variety of flavors, colors, and textures.
Work with odd numbers of items when creating your delicious boards. Three or five cheeses. Or three kinds of cheese and two types of meat and two fruits or vegetables. Odd numbers make for a visually appealing board.
Don't overcrowd the board. Feel free to leave a little white space in between items. Or section items with little bowls or muffin tin liners.
Traditional Charcuterie Boards
This type of board will be great to serve before an Easter Dinner.
When you put together an Easter Charcuterie Board appetizer, keep it fun and fairly light. It doesn't have to be all meat or cheese. Add a few clusters of grapes to break up the sections.
If you are focusing on meat products for your Easter charcuterie board appetizer just use what you find at your local grocery store.
Use a variety of meats that you can buy sliced or have your deli slice up what you want. Select three types of deli meats and have them sliced pretty thin. About a quarter pound of each kind of meat should be enough. Lay the meat out in parallel lines or make small piles on the board. Add some tongs or small forks so your company can pick up individual slices.
Keeping with the Easter theme, but not overly cute, make some hard-boiled eggs and add deviled eggs to your festive board!
Add small bowls of pitted kalamata olives, nuts, or cornichons.
Place crackers on the board if you have room or place them next to the board in a bowl.
If you still have room or want something a bit lighter, include a section of fresh vegetables with ranch dip in a small bowl on one side of your appetizer board.
How to Make a Salami Rose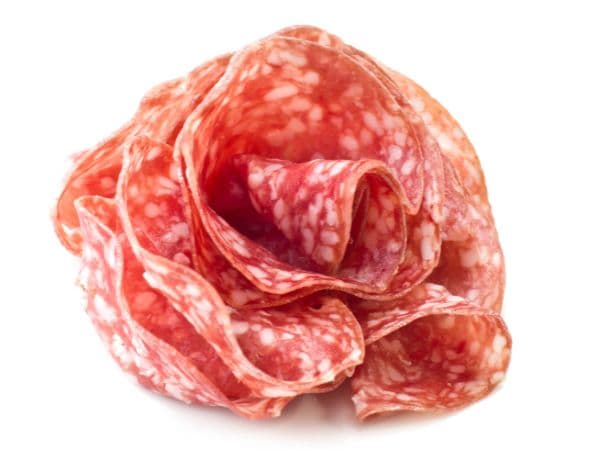 A fun idea for decoration is to pick up sliced salami and make a few salami roses for decoration.
Grab 7 slices of salami and a champagne flute and watch this video. It shows a really simple way to create a beautiful salami rose on your own charcuterie board.
Easter Cheese Board
Another easy holiday charcuterie board idea to serve before Easter Dinner or Easter Brunch is a cheese board.
Cheese makes a delicious grazing board! And it is such an easy charcuterie board to create.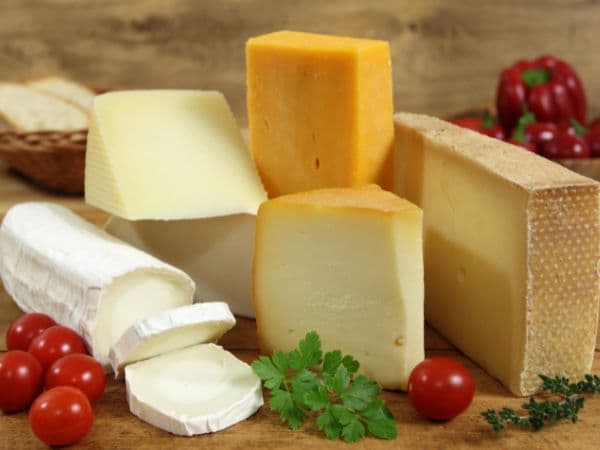 You'll want several types of cheese. Include soft cheeses as well as a few hard kinds of cheese cut into different shapes.
Take a wooden board that is a good cutting surface to use as your appetizer board. Arrange the cheeses in a creative way leaving enough space around each cheese for your guests to be able to cut their slices.
Be sure to have separate knives for the hard cheeses and the soft cheeses. This way your guests won't cross "contaminate" the cheese.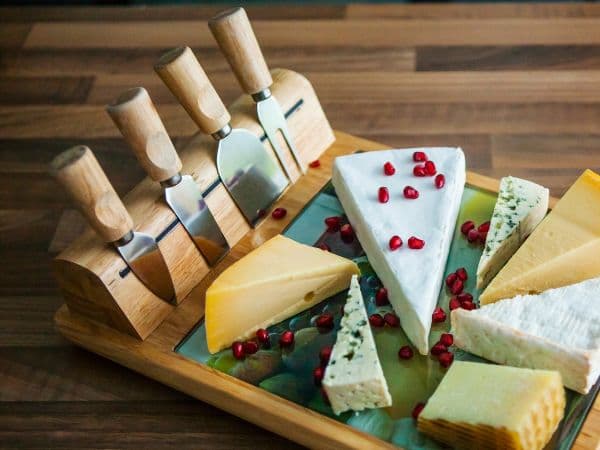 Feel free to add a few clusters of grapes in between the cheeses. It is a classic pairing. Use both green and dark red or black grapes for some color.
Place your crackers in plies on the board if you have room or put them in bowls next to the board.
To keep with the Easter cheese board theme, how about adding an Easter bunny to your board? Here is a recipe from Wisconsin Cheese for an Easter bunny cheese ball that will make for a festive board!
Easter Fresh Fruit Board
If you are hosting an Easter breakfast or brunch, making a fresh fruit appetizer tray is a great way to start your meal. Fresh fruit makes for a healthy Easter charcuterie board and allows for a bit of sweetness with your meal, but in a good way!
Also, it is a simple way to add a big pop of visual appeal beyond a traditional fruit salad.
Shop for different kinds of fruit using whatever looks good and is in season at your local farmer's market. Eating in-season fruits and vegetables is beneficial as they are typically more flavorful and less expensive than other produce. "In season" typically refers to harvest seasons near where you live.
With the advent of Spring the following fruits are coming into season:
Apricots
Bananas
Cherries
Citrus fruits
Kiwis
Mangos
Pineapples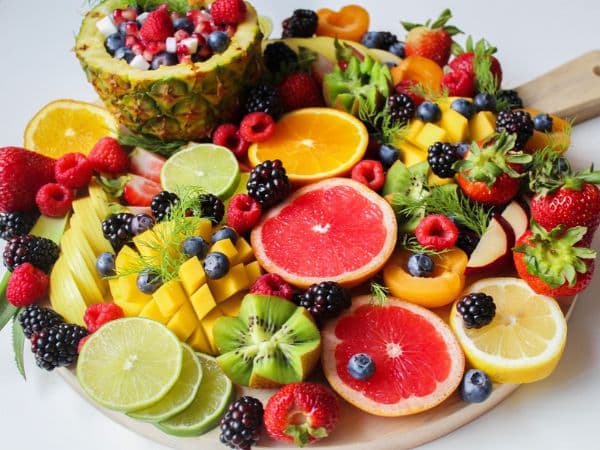 Pick several of these fruits for a very colorful grazing board.
Buy a mix of colors and textures and cut larger fruit into small bites. Group the fruits on a board or platter in piles.
If you have berries, put them on the board in between the larger cut fruit so they won't roll away.
To add a little more variety to fruit snack boards serve some sweet bread on the side. Not super sweet as the Easter candy baskets are going to fill that need! Think light sweet like hot cross buns, banana bread, or Irish Soda bread. It's good all year!
Easter Dessert Board
Make Chocolate bunnies the center of this yummy and colorful board! An Easter candy charcuterie board is a huge hit with adults and kids alike. It may not fall in the category of traditional Easter desserts but, it is a very fun way and easy way to finish your Easter brunch or dinner.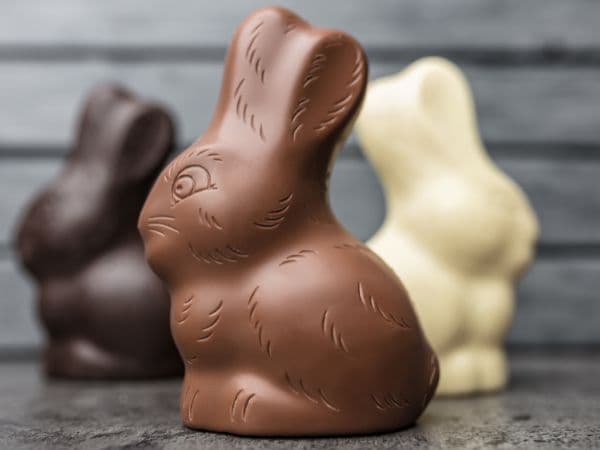 When creating dessert boards don't overthink your creation. If you make Easter baskets, you can use leftover items to create a dessert board. Or you can shop for more of your favorite candies!
Shop for your favorite Easter candy or favorite treats wrapped in pastel colors to include on a candy board.
Purchase a big chocolate bunny for the center and surround it with lots of sweet treats. This time of year you can easily include many kinds of your favorite sweet treats wrapped in bright colors.
Think about adding different kinds of chocolate eggs in colored foil. Include both dark and milk chocolate to satisfy every sweet tooth.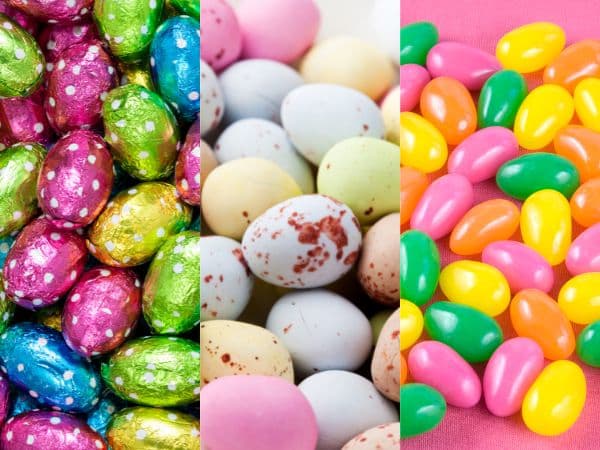 Add small bowls or muffin tin liners to the platter and fill them with colorful candies like jelly beans or robin eggs.
If you find nicely decorated Easter themed sugar cookies, add some of those to your dessert board.
Scatter a few cute Marshmallow peeps to help create a fun Easter charcuterie board as well.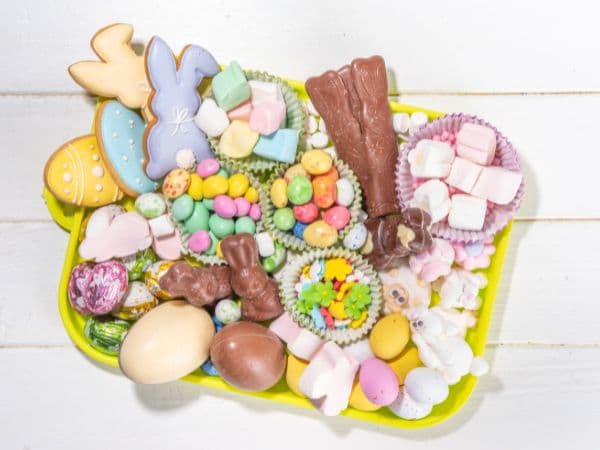 Easter S'mores board
I have also seen the Marshmallow peeps on an Easter S'mores board.
Basically, you use the technique for traditional s'mores. However, you use peeps in place of regular marshmallows which makes for an Easter-themed dessert.
Set out different kinds of peeps on a platter with graham crackers, small chocolate bunnies, and some skewers. Then take the platter out to your fire pit and cook dessert.
This is a particularly fun dessert if it is still chilly where you live.
Easter Charcuterie Board Ideas to Make and Share
Any of these Easter-themed snack boards will help you celebrate a wonderful time with friends and family.
They are easy to make and allow you to focus your time on the main parts of your Easter brunch or dinner.
Make any of these boards to delight your company and "Egg-spress" your Easter Bunny style.

Cheers Y'all!
P.S. I would love to read your comments below. Please share with friends on social media!
SHARED WITH…