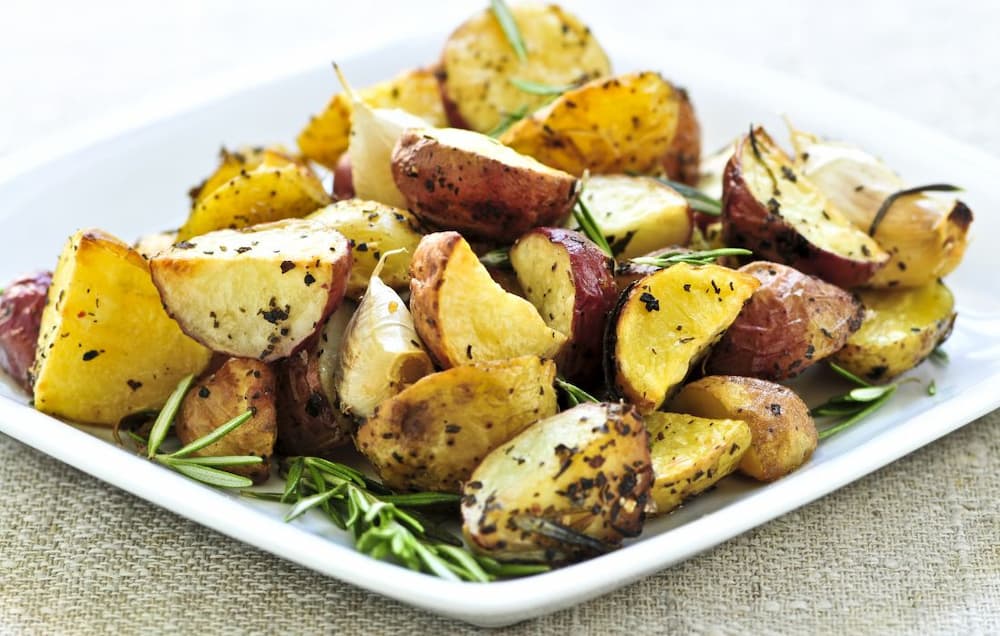 How Many Pounds of Roasted Potatoes Per Person for this Easy Recipe
Here is a great recipe for Garlic and Rosemary Roasted Potatoes, but do you know how to determine how many pounds of roasted potatoes to serve per person? Also, how do you know what the serving size is for potato recipes in general? Here are some tips to help clarify how many pounds of potatoes you need to purchase.
Potatoes are probably the most popular vegetable around. From french fries at barbecues to mashed potatoes at Thanksgiving and Christmas dinner, they are delicious comfort starchy foods any time of year. And, the best part is potatoes are incredibly versatile.
They are not only a good choice for side dishes, but they are also a good idea for a main dish. Cooked potatoes are an excellent choice as the base for your family dinner main course as they can be topped with anything, are inexpensive, and are actually a healthy option if not deep fried.
How many Pounds of Potatoes are in a Serving?
The weight of a potato actually depends on the potato type and size.
According to the USDA Dietary Guidelines and MyPlate the serving size of a potato is 1 cup diced or mashed, or 1 medium-sized potato 2 ½ to 3 inches in diameter baked or boiled. This equates to about 6-8 ounces of potatoes although many claim a serving is 5.3 ounces. Good luck with that.
A medium potato weighs about 5 – 10 ounces, is 2 -3 inches in diameter, and fits in the palm of your hand like a baseball or tennis ball. It appears the scale slides a bit.
So when shopping for potatoes always weigh them to be sure of your amount. When considering servings, a five lb bag of potatoes will have about 10 medium-sized potatoes inside or 10 servings. Or if you have a large potato, use it for two servings.
When using fingerling or small potatoes, a serving is about three to four potatoes.
Keep in mind when reading a recipe it typically calls for raw potatoes unless noted. Serving suggestions usually indicate cooked potatoes. And since potatoes are generally 79% water, they will shrink as they cook. So the size and weight of a potato will decrease somewhat during the cooking process.
A general rule for determining how many pounds of roasted potatoes per person is to factor 8 – 10 ounces a serving.
Nutrition Values for Potatoes
Potatoes are about 79% water, so they are quite filling and typically an inexpensive part of your diet.
Potatoes get a bad rap regarding their nutrition and high glycemic index, so many people who focus on weight loss won't consume them. But about four ounces of potato, or about ½ a medium potato, is around 100 calories.
The nutrients are in both the inner flesh and the potato skins. Potatoes actually have more potassium than a banana and are a fairly good source of fiber, calcium, vitamin b 6, and magnesium.
Unlike many foods, potatoes can be cooked in the microwave without losing their nutritional value. To retain nearly all the nutritional value in a medium-sized potato, cover it with plastic wrap, poke a few small holes for ventilation, and cook on high for 5 – 7 minutes. This cooking method produces a steamed potato with the appearance of an oven-baked potato.
The problem is not necessarily the potato itself, but the way it is prepared.
Type of Potatoes and Their Size
There are thousands of varieties of potatoes, but they fall into basically seven general categories for types of potatoes.
Within these categories, there are starchy, non-starchy, and in-between potatoes. You can find most varieties at your local grocery store or farmer's market.
Fingerling Potatoes
You'll find these small potatoes come in multiple colors and can be shaped a bit like a finger. A fingerling potato is a stubby potato that naturally grows small and narrow. They average 2 – 3 ounces each.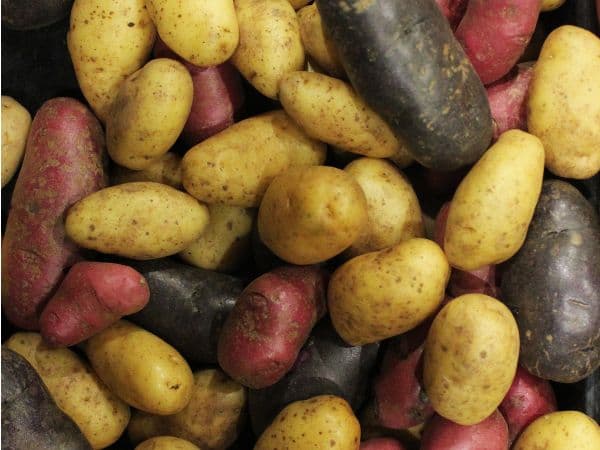 Their size and shape make them a visually interesting addition to almost any dish.
Split fingerlings are excellent to roast in the oven as they cook quickly and hold their shape quite well. These waxy potatoes have a nutty buttery flavor and firm texture and are a bit more expensive than other potatoes.
Recipe Use: Bake, Roast, Sauté, Steam, Microwave
Petite Potatoes
Petite Potatoes are basically bite-sized versions of larger potato varieties. Some call them baby potatoes. They weigh around 2 – 3 ounces each and usually come in 2 – 3 pound bags.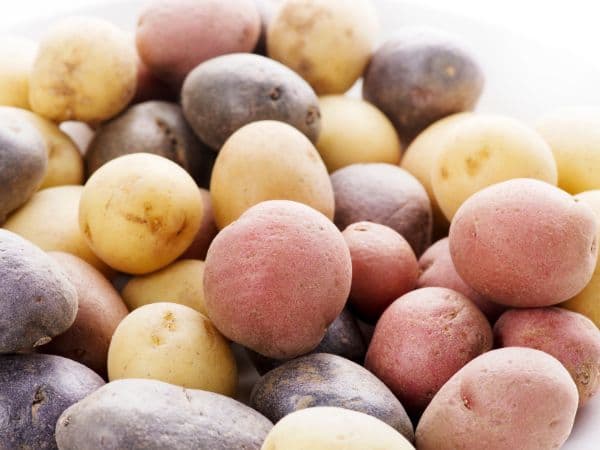 While the skin, color, and flesh can be like any of the other types of potatoes, their flavor is more concentrated. These smaller potatoes are easy to cook and serve whole, so using these potatoes can reduce prep time. They are excellent to roast as a side dish or in salads.
Recipe Use: Bake, Roast, Sauté, Steam, Microwave
Purple Potatoes
These have a medium skin thickness with an earthy or nutty flavor and are denser than white potatoes. Their skin has a blue-purple to almost black color. While the inner flesh is a brilliant purple, even after cooking.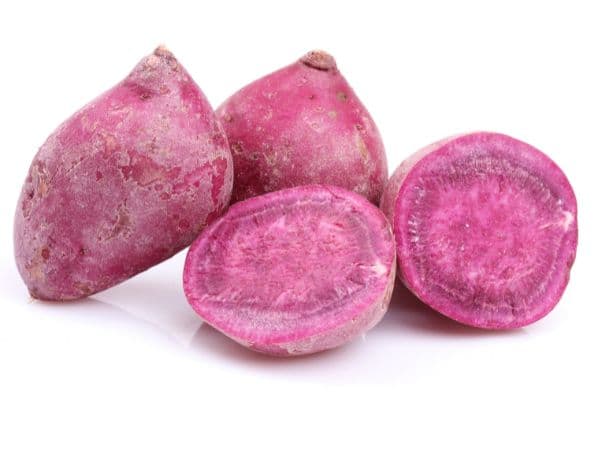 According to Healthline, if you are watching your blood sugar then eating purple potatoes instead of white potatoes is a good move.
Consuming purple potatoes can boost your antioxidant intake and potentially reduce inflammation. Purple potatoes are especially rich in anthocyanins. These antioxidant compounds are known to improve both eye and heart health. They are also linked to a lower risk of chronic disease.
Recipe Use: Bake, Roast, Steam, Salads, Microwave
Red Potatoes
These smaller potatoes sometimes called Red Bliss or new potatoes have thin light red skin with creamy white inner flesh and a subtle sweet flavor. The skin is so thin you can scrub it off. But leaving it intact increases the fiber in your dish. So opt to cook these with the skin on after a thorough, but gentle wash.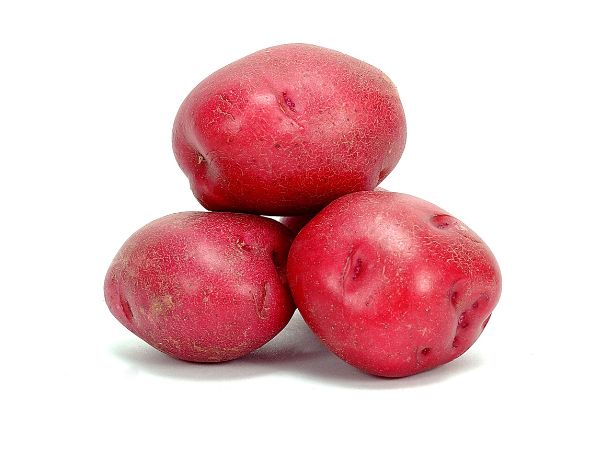 Red potatoes have a waxy texture so they remain firm throughout the cooking process. They roast beautifully and their red skin makes for a colorful side dish. How many pounds of roasted potatoes per person using these? About three to four potatoes per person or a half pound.
Recipe Use: Bake, Roast, Soups, Grill, Steam, Salads
Russet Potatoes
These are medium to larger potatoes, with dark brown skin and few eyes. The flesh is white, dry, soft, and fluffy. These are starchy potatoes and are the king potato for French fries.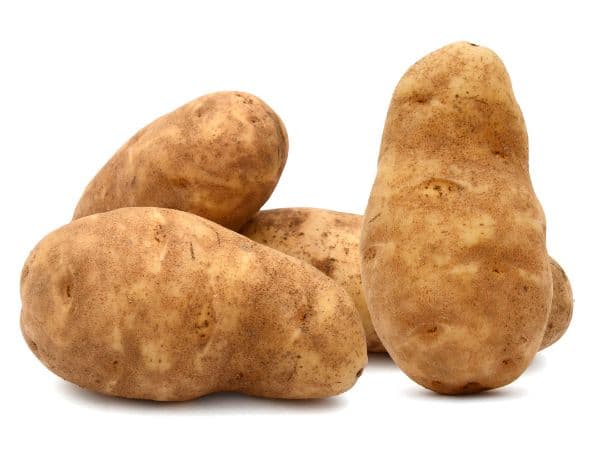 This kind of potato can range widely in size from a few ounces to several pounds. When determining how many pounds of roasted potatoes per person using Russet potatoes, purchase one medium potato per person or about 5-6 medium Russets for six servings.
Russet potatoes are also known as Idaho potatoes in the United States.
Russet Potatoes have an earthy flavor and are the perfect choice for baking and making light, fluffy mashed potatoes. They can be cut into wedges or planks for oven fries as well.
Recipe Use: Bake, Roast, Sauté, Mashed, French Fries
White Potatoes
These potatoes are small to medium-sized with a round to long shape. Their skin is typically white or light tan with white inner flesh that has a subtle sweet and nutty flavor.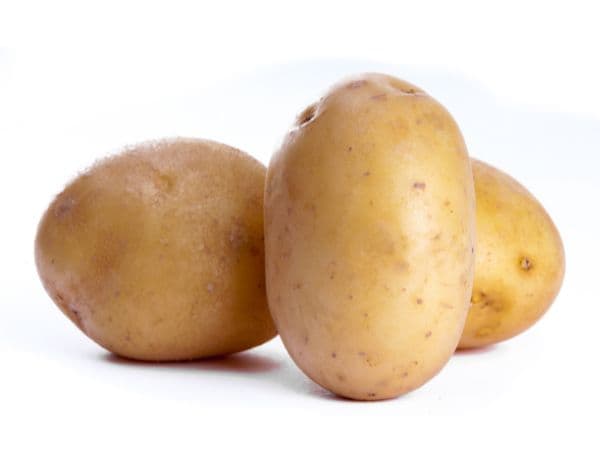 White potatoes hold their shape quite well after cooking.
Additionally, as they have delicate, thin skins leave them on when using these spuds for mashed potatoes. The skins add just the right amount of texture to a velvety mashed potato dish. Just boil, drain, and add warm milk, butter, and cream cheese or sour cream when mashing for a delectable dish.
Also, grilling white potatoes brings out a more full-bodied flavor.
Recipe Use: Saute, Salads, Steam, Mashed, Grill
Yellow Potatoes
These spuds can range from marble size to large size. They tend to be round or oblong in shape with light tan to golden-hued skin. Their flesh can be yellow to golden in color with a slightly waxy, but creamy, moist texture. They are commonly called Yukon gold potatoes.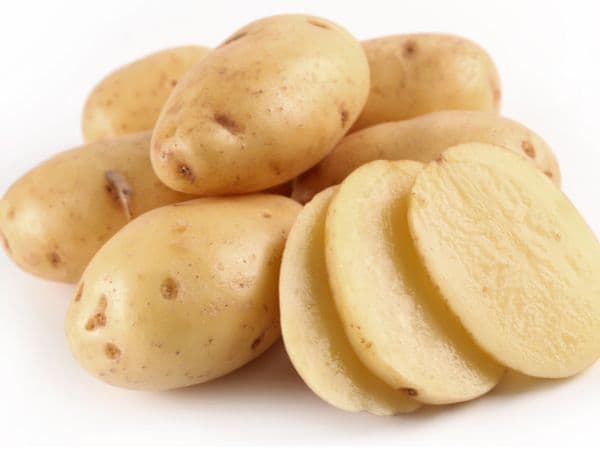 They have a subtly sweet, rich almost buttery flavor. These are great for grilling as their flesh is dense and becomes a bit caramelized when cooked on the grill.
Use yellow potatoes when making lighter dishes, since their golden color means that less oil or butter needs to be added to enjoy flavorful eating.
Recipe use: Bake, Roast, Salads, Soups, Mashed, Grill
A Note About Sweet Potatoes
Sweet and regular potatoes are both considered root vegetables but are actually distantly related.
Sweet potatoes are from the morning glory family. While the average potato is from the nightshades family. This means that regular potatoes are more closely related to tobacco, eggplant, and tomatoes than sweet potatoes.
The commonality is that the edible part of these plants are the tubers that grow on the roots so they are both considered root vegetables.
Sweet potatoes typically have brown skin and orange flesh but also come in purple, yellow, and red varieties.
They do have a sweeter taste than regular potatoes, however, their glycemic load or scale is actually lower than a white potato when both are baked. They are also lower in carbs and calories than white potatoes.
I like to keep a small amount of sweet potatoes on hand to make homemade oven-cooked sweet potato fries!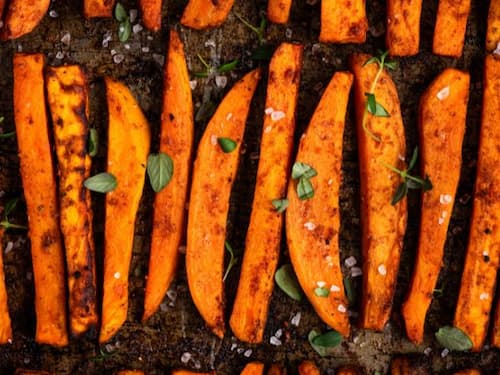 Potatoes Make an Easy Side Dish
Clearly, potatoes make a great side dish in many ways!
Try these side dishes with potatoes:
Best Baked potatoes – Cooking techniques and topping ideas for a main dish
Garlic and Rosemary Roasted Potatoes (recipe below)
Always use the weight of raw potatoes when making a recipe unless otherwise noted.
As you read above you can prepare potatoes in many ways. With each cooking method, you can use them with the skin-on or peeled, whole or cut up, and in many kinds of dishes.
The recommendation is to serve most potato dishes hot. However, some are first cooked, then served cold or at room temperature, such as summertime potato salad or barbecue-worthy potato chips.
Many people make mashed potatoes with a family favorite recipe especially in the fall and winter and for holidays. Their creamy texture is so addicting!
Special holidays are a great time to amp up the potato by making au gratin or scalloped potatoes. These are great with pork chops, roast chicken, or grilled turkey.
Hasselback potatoes are a fun way to change up steak night. Or even french fries from your oven or air fryer tossed with truffle oil can elevate the meal.
Potatoes can be quickly grated and formed into potato pancakes or used in a hash for breakfast.
Baked potatoes are an easy side dish but can serve as the main dish when stuffed with broccoli and cheese, chili and sour cream, or leftover stew.
How Many Pounds of Roasted Potatoes per Person
Roasting is a fast cooking method that allows the flavor of the potato to deepen and carry all kinds of different seasonings to the palate.
Leftover roast potatoes are also great for breakfast casseroles. Or chop and add to this Crustless Quiche.
When you are serving roasted potatoes as a side dish you should factor in approximately 8 – 10 ounces of raw potatoes per person.
This doesn't allow for lots of leftovers or second servings so I typically round up a bit when planning for a large group. You can use this idea for baked potatoes as well.
Here's the idea:
2 People: 1 -1 1½ pounds (3 medium potatoes or 8-12 fingerling potatoes)
4 People: 2½ -3 pounds (5 medium potatoes or 16-24 fingerling potatoes)
6 People: 3¾ – 4¼ pounds (8 medium potatoes or 25-34 fingerling potatoes)
10 People: 6 – 7 pounds (12 medium potatoes or 35-50 fingerling potatoes)
Recipe for Garlic and Rosemary Roasted Potatoes
These oven-roasted potatoes are simply divine! It is a simple potato recipe that you can adapt using many kinds of seasonings. It is the perfect side dish for roasted or grilled chicken or pork chops. How many pounds of roasted potatoes you need per person to make this recipe is about a half pound per guest.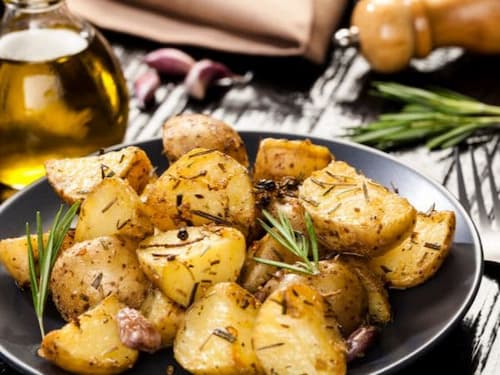 Ingredients for Garlic and Rosemary Roasted Potatoes
3 pounds small red or Yukon gold or fingerling potatoes
¼ cup extra virgin olive oil
One and a half teaspoons kosher salt
1/2 teaspoon freshly ground black pepper
6 cloves garlic, minced
One Tbsp fresh rosemary, chopped
How to Make Garlic and Rosemary Roasted Potatoes Recipe
Preheat the oven temperature to 400 degrees F.
Slice potatoes into one-inch pieces or quarters depending on their size. Place the cut potatoes on a large baking sheet or rimmed sheet pan lined with parchment paper. Drizzle olive oil over potatoes and sprinkle with salt, pepper, minced fresh garlic, and chopped fresh rosemary. Toss until the potatoes are well coated. Spread out into a single layer.
Roast in the preheated hot oven for 35-45 minutes or until golden brown and crisp. Cooking time will depend on your oven. Shake the rimmed baking sheet once to keep the potatoes from sticking and ensure even browning. Or using a spatula turn the potatoes over.
Remove the potatoes from the oven, season with salt and pepper to taste, and serve warm or at room temperature.
Notes
You can use 1 teaspoon of dried rosemary instead of fresh, but fresh rosemary tastes better. If you do not like rosemary simply leave it out.
Add a pinch of cayenne pepper for a little kick as well.
Store any leftovers in an airtight container in your refrigerator for up to four days. But I bet they won't last that long.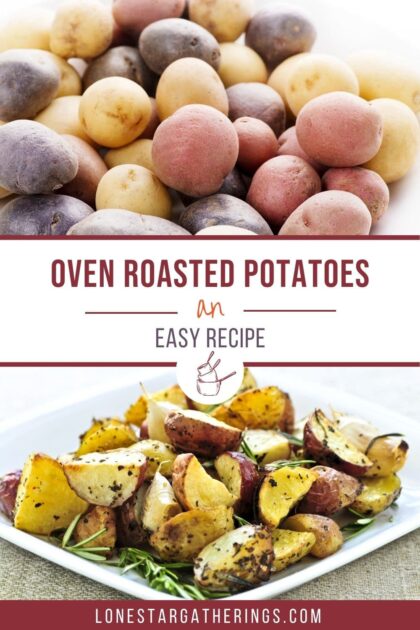 Make this Recipe for Garlic and Rosemary Roasted Potatoes
Now you have a good idea of how to determine how many pounds of roasted potatoes per person you need to buy. And even baked potatoes or mashed potatoes for that matter!
So make the time to invite friends over for a delicious meal in the comfort of your home. You'll build stronger relationships and do your heart some good by connecting with others.
Cheers Y'all
P.S. Please comment below when you make this recipe! And thanks for sharing on social media!!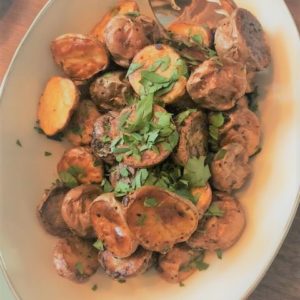 Garlic and Rosemary Roasted Potatoes
Crispy on the outside and soft on the inside. Yum!
Equipment
sheet pan or jelly roll pan
Ingredients
3

pounds

small red, Yukon gold or fingerling potatoes

I used tri-color fingerling potatoes

1/4

cup

extra virgin olive oil

1 1/2

teaspoons

kosher salt

1

teaspoon

freshly ground black pepper

5-6

cloves

garlic

minced

1

Tbsp

fresh rosemary

chopped
Instructions
Preheat the oven to 400 degrees F. Spray sheet pan with cooking spray or line with parchment paper.

Cut the potatoes in half or quarters for 1 1/2 inch pieces and place on a rimmed sheet pan. Drizzle olive oil over potatoes and sprinkle with salt, pepper, minced garlic, and chopped rosemary. Toss until the potatoes are well coated. Spread out into a single layer.

Roast in the oven for 35 – 45 minutes or until browned and crisp. Shake the pan once or turn potatoes with a spatula during cooking to keep them from sticking and ensure even browning.

Remove the potatoes from the oven, season to taste, and serve warm.
Notes
If you don't like rosemary leave it out. They are great with just garlic.