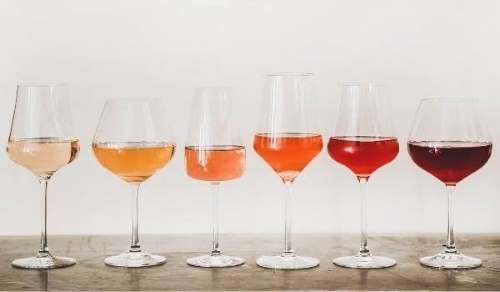 Come and Play! Vinho Verde Rosé, Casal Garcia
Come and play with this Vinho Verde Rosé (you read it correctly) from Casal Garcia and you are going to smile like a kid! Don't let the pink scare you, there is some good dry acidity in this fun-loving bottle!
Vinho Verde Rosé: Your Adult Snow Cone
Did you ever eat a strawberry or cherry Snow Cone when you were a kid? If you did then you must remember what it was like on those hot summer days. Maybe you were at the beach, with the sun beating down on you on a mostly sunny day and just a trickle of sweat on your brow. You didn't really care how hot it was because you were having fun!
Then you spot it – the Snow Cone Stand. Oh man! Do you remember those gleaming white funnels with that head freezing, crushed ice inside, and the endless vibrant colored flavor options waiting to be savored? You would pick your flavor or combination and then dive into that Snow Cone. A third of the way through it you had red or purple or blue or green fruit juice all over your face and shirt, dripping down your arms and making a sticky mess, but you did not care! It was entirely too yummy! There were days I licked myself to my elbows. Seriously. Cold. Goodness.
This Vinho Verde Rosé (you still read that correctly) is like that Snow Cone on a hot summer day. This bottle of wine packages vibrant color, fresh fruit flavors, and just enough fizzy fun to make you smile. Smiles everyone, smiles! You know what I am talking about!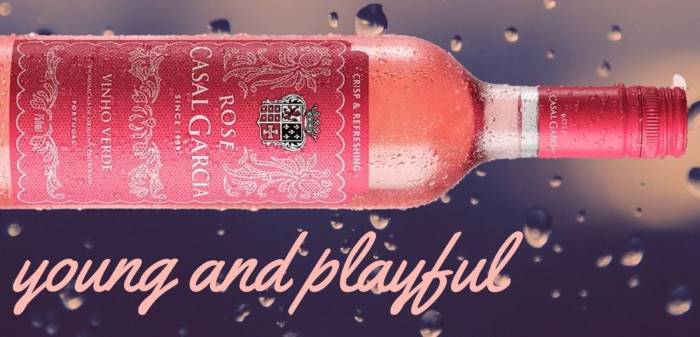 Vinho Verde Region and Rosé Winemaker
Vinho Verde – you are thinking this is a WHITE wine right? Let me nerd out on you and blow your mind just a little!
This wine is not named for the varietal, but for the area where it is grown. Many people are familiar with Vinho Verde and it's famous white wine. The region suggests that the name comes from the verdant natural setting which is comprised of nine sub-regions in the Douro Valley. Known as 'Vinho Verde' in Portuguese, it literally means 'green vine' or simply 'young vine'.
The Vinho Verde wine region starts just below the Portuguese-Spanish border, and extends all the way to the Atlantic Ocean. This region was established in 1908, though the area didn't receive its Denominação de Origem Controlada (DOC) until 1984. The wine is thought to have originated in the Minho province in the far north of Portugal.
If you like, you can read more about the beginnings of the Casal Garcia winery as well as their white Vinho Verde in my tasting notes. This is the white wine you probably expected!
Most people appreciate the Vinho Verde Branco or white wine from Northern Portugal, but what they don't know is this region also produces some truly gulpable reds and rosé. This wine is produced by one of Portugal's largest winemakers, Aveleda.
The Casal Garcia Vinho Verde Rosé is proof that off-dry, spritzy, pink wine can be high quality and still be inexpensive.
Denis Dubourdieu of Bordeaux, provides occasional consultation, but the chief winemaker is Manuel Soares.
Vinho Verde Rosé Blend
Manuel Soares makes his Vinho Verde Rosé with a blend of Vinhão, Azal Tinto, and Borraçal grapes. There is very light skin contact and a touch of residual sugar to create this easy-drinking fun quaff. And at 9.5% alcohol, you won't get brain freeze.
Vinhão is famous for its biting acidity and dark, opaque color and is the most-planted grape of the Vinho Verde/Minho region. Unlike most red grapes, where practically all the color comes from the skins, Vinhão also has red flesh or pulp which provides instant red juice. When this juice sits with the blue-black grape skins it further darkens and provides much of the gorgeous vibrant salmon hue to the wine.
Azal is the second most widely planted grape variety in this region. White wines blended with this grape are typically light yellow colored and give flavors of orange citrus and green apple. It always adds a little 'zest' to the bottle.
Borraçal or Caíño Tinto is a red Galician wine grape variety that is also grown in Spain. This grape provides some of the perfume and noticeable tartness and high acidity in wines.
The Tasting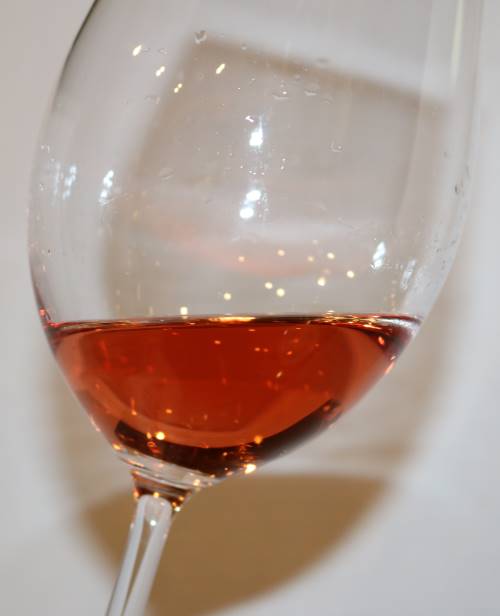 Swirl
The vibrant pink salmon color could fool you into thinking this is a syrupy sweet wine to offer with dessert. No cotton candy in this bottle! You'll find the entertaining color gives way to zippy acidity and ripe fruit.
Yes, your wine looks a little bubbly around the edges, but don't think your wine is off. This wine isn't a sparkling wine or you would see the "pearl lines" of bubbles erupting from the bottom of your glass. The effervescence, or as the Italians say "frizzante", in this Vinho Verde Rosé has about half the pressure of Spumante or champagne, so it is not considered a "sparkling" wine. The fizz is enjoyable and adds a playful refreshment to your sipping delight.
Sniff
Swirl the wine again for a sniff and you'll get a lovely whiff of fragrant ripe strawberries as if you had just plucked off the vine on a sunshine-filled day. Keep your nose in the game and vanilla notes, white floral tree blossoms, and a freshly cut nectarine will entertain your senses. That question on your brow may lead you to pick up just a hint of recently peeled tangerine. Ah, summer in a glass!
Sip
This is a very fruit forward wine with leading notes of raspberries, strawberries, and the tart of ripe cranberry in the background. This light and spritzy rosé, dances with these red berries and includes some light watermelon flavors that carry through to the crisp finish. There is well balanced acidity which characterizes this wine with delightful freshness, good structure, a light body and a soft persistence.
The Pairing
Drink as an aperitif or with spicy Asian, Italian and Latin cuisines. I would not invite a traditional charcuterie board or stinky, creamy cheeses to pair with this wine. Look for non-oily, spicy, tomato based or acidic snacks to serve with this juice bomb.
Check out my homemade Hot Stuff Salsa on my Father's Day Fajitas Menu for a quick and zippy appetizer.
Recommendation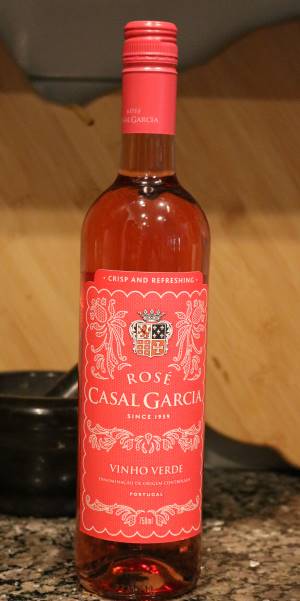 Overall, for $7 bucks at Trader Joe's and less than $10 at other nationwide stores, I would pick up a six-pack for sharing. Throw it in the fridge, make the Hot Stuff Salsa and invite some friends over for this easy, summer porch sipper.
This lovely Vinho Verde Rosé from Casal Garcia will not put a strain on your brain, palate, liver, or wallet! Just chill, unscrew the cap, and enjoy! Your adult Snow Cone is served!
P.S. When you taste this fun wine, add your comments below! Sharing is caring, so send this to a friend and try it during your Virtual Wine Tasting! Check out how to host one by reading How to Host a Virtual Wine Tasting!
Cheers Y'all!