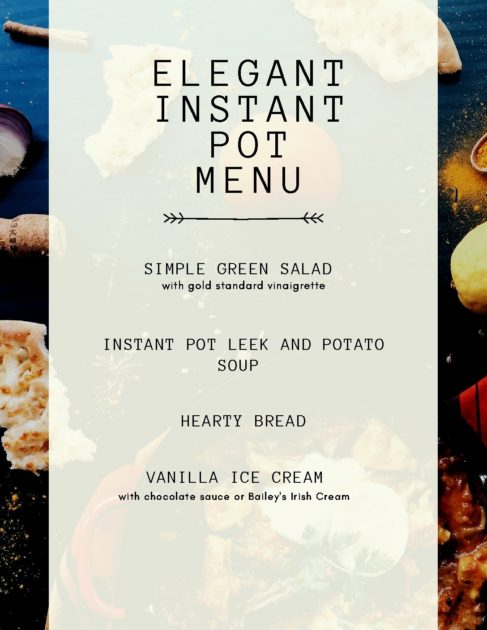 Elegant Instant Pot Gathering.
Here is a great Instant Pot soup recipe and complete menu for a lovely fall dinner.
Are you feeling stuck?  Are you feeling uninspired and tired of cooking at home?  Does that "dump meal in a crock pot" seem pretty stale?  Looking for inspiration and desire to cook an elegant meal?  Does this sound like an as-seen-on-TV commercial?  But wait there's more!
Social distancing really makes it challenging to host a dinner with friends.  Thank you, Ms. Obvious. But that is changing! Ding dong the masks are mostly gone!
Just because we are cooking at home does not mean we cannot enjoy a special dinner with friends and family.  Get everyone involved and cook together! Bond over a joint project. 
Entertain at Home
Pour a glass of wine, play some tunes to get your groove on, and approach creating an elegant, delicious, memorable dinner with joy!  Get everyone involved and make it a memory.
I was approaching the meal planning chore this week and decided, at least one night to make an elegant meal. Remember what it was like to dine without the TV for conversation?
Despite wanting the meal to be elegant and special, I was feeling a bit cooked out.
Quite frankly, I wanted something on the quick side for this particular meal and thought – soup. I love soup, especially during the transitioning season times. It is a bit warmer in our Republic, but the nights offer some coolness — perfect soup weather. And for quick – Hello Instant Pot!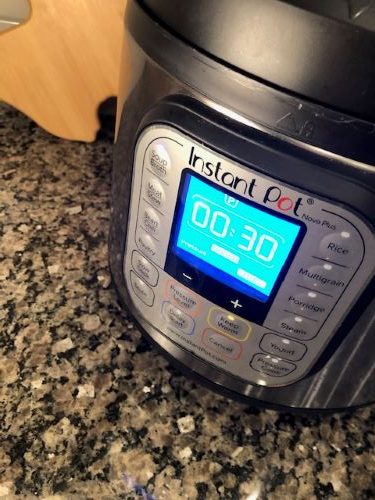 My husband is an Instant Pot fan and has been working to perfect his Leek and Potato soup.  I decided to get on the trial and tweak wagon with him.  This is a pretty easy soup and fortunately, leeks are not currently on the hard-to-find list, so the ingredients are not difficult to source.
This soup is fast thanks to the Instant Pot, but you can also transform it from hearty farmhouse fare to an elegant main with a few tweaks.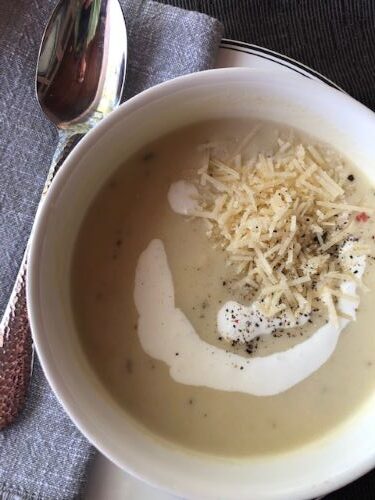 Leek and Potato soup is an Irish staple where leeks and potatoes are commonly grown, so it is rustic at its roots. A good "rib sticker" my Mom would say. It is delicious and approachable by all ages. Every time we made this the company gobbled it up!
Don't let the leeks fool you. They look challenging in the grocery store, but once sautéed they transform into this tender, mild onion goodness.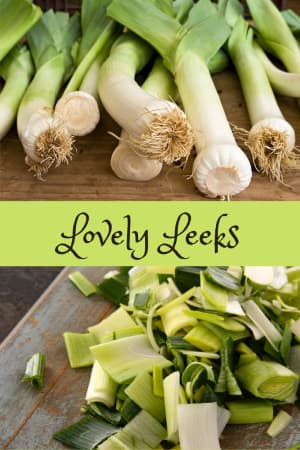 Be sure to clean the leeks really well. A quick way I found is to fill a bowl with water, slice the end or root off the leeks and chop off the dark leaves. (You can use these to make a yummy vegetable stock another time.) Cut the light part of the leek in half and separate the layers. Put them in the water and gently shake them around a bit to dislodge the grit. The grit goes to the bottom while the leek floats on top.
Remove the leaves from the water and let drain in a colander until you are ready to chop.
Different recipes call for Russet or Yukon potatoes. Either is fine really. The Yukon potatoes give the soup a lighter consistency, while the russets are a bit heartier. This choice may be quickly decided by what you have available in your pantry.
You can also make this soup a bit more rustic by leaving the vegetables a bit chunky and top with cheddar cheese and bacon. A more elegant approach is to puree the veggies with an immersion or standing blender into a creamy consistency and serve with a drizzle of thinned sour cream and Parmesan cheese or chives.
Serve the soup with a simple green salad tossed with vinaigrette and hearty bread.
For the dinner, set the mood to connect in a different way. Turn off the TV, dim the lights and gather your family at a candle lit table. Add your favorite background music for ambiance.
Engage in conversation. Ask each person to contribute a story about their favorite vacation memory. Practice gratitude by having everyone say three things they are grateful for right now. What was their high point in the day and their low point? Maybe they could share their most interesting discovery or experience of the day.
With most people in the US staying home and staying safe right now, it is becoming more challenging to find our own space. But it is also challenging to really connect with friends and loved ones. Serve up some love at the dining table. Don't take each other or this time together for granted.
Create a special dinner with some easy recipes and reconnect with who and what matters.
Menu: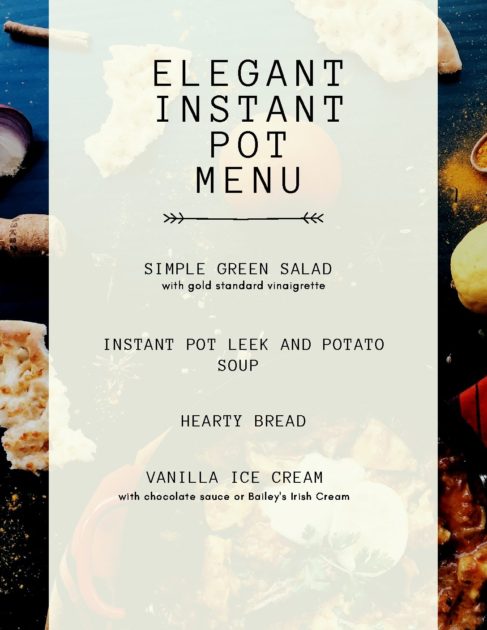 Suggested Wine Pairing:
A delightful pairing with this menu is Conundrum white wine. Yes, you could serve a Chardonnay as well, but the Conundrum is a bit more interesting.
Check out the tasting notes here: Conundrum White
*Get on the stress baking bandwagon and make your own – if you have yeast!  Check out No Knead Bread Central for some really good and easy bread baking video recipes and tips.
Make a yummy and quick beer bread if you don't have yeast. Good eats!
Recipes: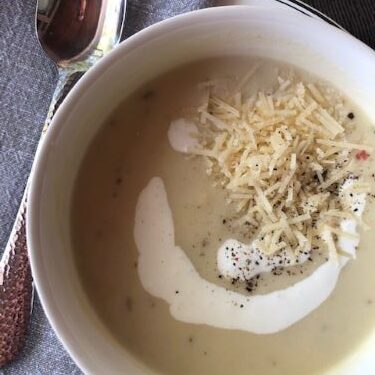 Instant Pot Leek and Potato Soup
This soup is fast thanks to the Instant Pot, but can also transform from hearty farmhouse fare to an elegant main with a few tweaks.
Ingredients
2

tbsp

unsalted butter

3

leeks cleaned and thinly sliced

white and light green parts

1

tsp

kosher salt + more for seasoning

3

cloves

minced garlic

6

sprigs fresh thyme

2

tsp

dried oregano

2

bay leaves

1

cup

white wine

5

cups

vegetable stock

5 – 6

cups

medium potatoes peeled and diced – Russet or Yukon

¾

cup

cream or half and half
Toppings
shredded Cheddar or Parmesan cheese

bacon

chives

sour cream

Crispy pan fried shallots

Reserved sauteed leeks, small dice
Instructions
Using the sauté function, melt the butter in the instant pot. Once melted, add the sliced leeks and salt and sauté until soft. Add the garlic; saute for 30 seconds and turn off the sauté function.

Remove a small portion of the leeks and set aside for serving.

Add the thyme, oregano, bay leaves, white wine, broth, and potatoes to the leek mixture in the pot and stir to incorporate. Set the Instant Pot to high pressure for 10 minutes.

Once complete, quick release and open the pot. Remove the bay leaves, add in the cream and use an immersion or stand blender to puree the soup (see notes).

Set the instant pot to warm and heat the soup through.

Ladle into bowls and add toppings.
Notes
You can make this soup a bit more rustic by leaving the vegetables a little chunky. The more elegant approach is to puree the veggies with an immersion or standing blender into a creamy consistency.
Gold Standard Vinaigrette from Julia Child
The best vinaigrette recipe you'll enjoy using over and over again.Julia Child's vinaigrette recipe adapted from Julia's Kitchen Wisdom: Essential Techniques and Recipes from a Lifetime of Cooking.
Ingredients
1/2

tbsp

finely minced shallot

1/2

tbsp

Dijon-type mustard

1/4

tsp

salt

1/2

tbsp

freshly squeezed lemon juice

1/2

tbsp

wine vinegar (*see notes)

1/3-1/2

cup

excellent extra virgin olive oil

Freshly ground pepper
Instructions
Simply combine and shake in a screw-topped jar or whisk in a bowl and enjoy!
Notes
Julia Child included some sage advice about her dressing. She wrote, "The beauty lies solely in the quality of your ingredients. Note that you will so often see proportions of 1 part vinegar to 3 parts oil, but that can make a very acid, very vinegary vinaigrette. I use the proportions of a very dry martini, since you can always add more vinegar or lemon but you can't take it out."
*Wine Vinegar Note.  Here are some options to change up the vinaigrette flavor to suit your salad.
Zippy flavor:  Red Wine Vinegar
Traditional flavor:  White Wine Vinegar
Mild flavor:  Champagne Vinegar